Last Updated on July 6, 2019 by Christine Kaaloa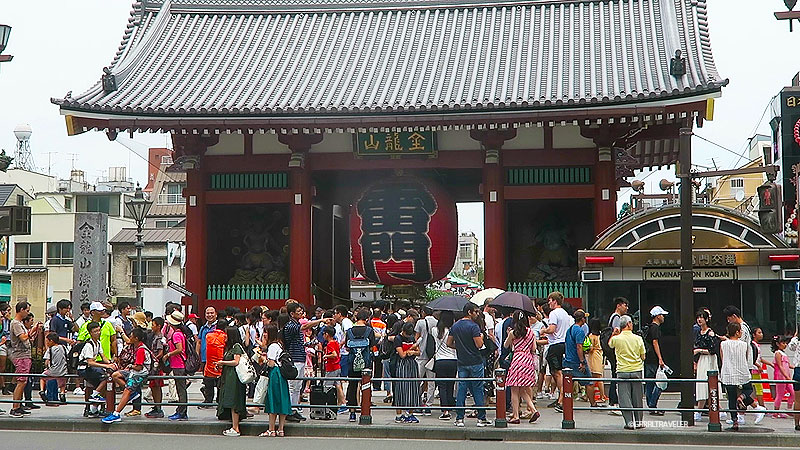 There were two things which surprised my stereotypical expectations of Tokyo- firstly, much of Tokyo is a sprawling urban giant of modernity (meaning you won't commonly see "traditional Japanese architecture and buildings" which you've seen in period Japanese shows and Hollywood films. Secondly, Japan foods are mostly found in small shops and restaurants vs on the streets.  Surprisingly, Tokyo is not flooded with street foods, as travelers coming from Taipei or Bangkok may expect.  What makes Asakusa a popular spot for tourists is that it combines both.
Asakusa is a prefecture in Tokyo, known for preserving a traditional Japanese old world charm. Known for Senso-Ji temple, the giant Kaminaron lantern gate and traditional Japanese architecture, Asakusa offers a nostalgic and cultural retrospective of an older Tokyo.
Asakusa Travel Guide (Video)
I had less than 24 hours to find 14 best things to do in Asakusa (do, see and eat in Asakusa). While there are certainly more than 14 things to do in Asakusa, these are what I found the easiest to get around on foot.
Best things to Do in Asakusa
1. Asakusa Cultural Tourism Information Center
The  Asakusa Cultural Tourism Information Center has free maps, tours and workshops led by volunteers. There are two Asakusa tours This is an invaluable source and where I got some of my information. I highly recommend them to enhance your experience.  Location: Across Kaminaron Gate: 2 Chome-18-9 Kaminarimon, 台東区 Tokyo
2. View Deck of the Asakusa Cultural Tourism Information Center
On the rooftop or eighth floor of the Asakusa Cultural Tourism Information Center, you'll find a viewing deck and cafe. From there you can get an aerial perspective of the Asakusa area and a nice shot of the Tokyo Skytree in the distance.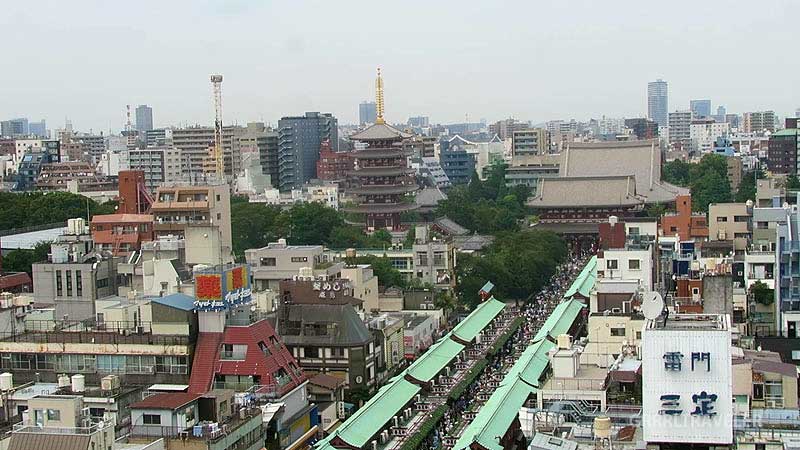 3. Rickshaw Tours
Experience the traditional way Japanese elite used to get around in the 19th century Meiji period,  by taking a human-pulled rickshaw. Pre-taxi days, locals used to get around conveniently using this form of transportation.  The rickshaw tour take you for a ride, showing you the main neighborhood attractions.  Most of the services are found near the Kaminarimon gate entrance and in front of the Asakusa Cultural and Tourism building. Prices range from $50-80 per 30 minutes (read more). The rickshaw or pedicab tours are industry regulated so there's very little haggling involved here.
4. Kaminarimon Gate
The Kaminarimon gate (aka Thunder Gate) is a giant red lantern flanked by intimidating guardian statue spirits and it marks the entrance of Senso ji temple area. The gate's actual name is Fujin Raijinmon which means The Gate of the Gods of Wind and Thunder, which is symbolic of the two prominent and intimidating Shinto gods flanking the gate – the God of Thunder and the god of Wind, while the other two god protectorates are Buddhist.  There is a fifth diety protecting the gate- a dragon. You'll find the dragon symbol located under the lantern.
You cannot miss this gate. Generally you'll find a crowd of tourists taking photos with it. Constructed in 941 by a military commander the gate has been burnt and reconstructed several times. The gate is located across Asakusa Cultural and Tourism office, it is a 5-minute walk from Asakusa Station (Exit 3).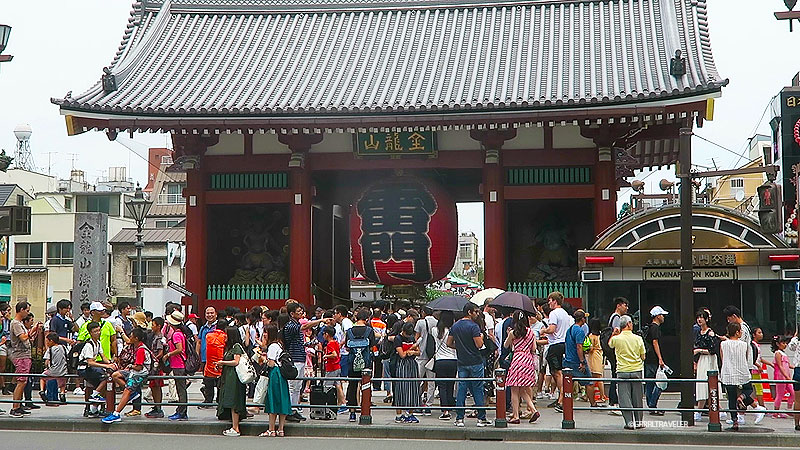 5. Nakamise dori
A stroll through Nakamise Dori marketplace on the way to Senso-ji temple will lead you past small souvenir and snack shops, where you buy souvenirs, traditional clothing and cute memorabilia while watching snacks being made.
6. The Second Gate & Five story pagoda temple
Perhaps two of the most striking landmarks, even moreso than the Kaminarimon and Senso-ji, are the second gate and the five story pagoda.  Whether during the day or lit up at night, they are intimidatingly impressive to behold as secondary landmarks to the temple. Photographers will certainly want a photo of these architectural beauties.
Tip: Visit the temple at night as the temple is lit and is practically electric. Also, there is a medical Buddha in the small gated area off to the frontal side of the pagoda. It is said that if you rub the buddha in the places you experience pain, it will heal you. After a few days of tromping through Tokyo, I gave the Buddha a full body pat down.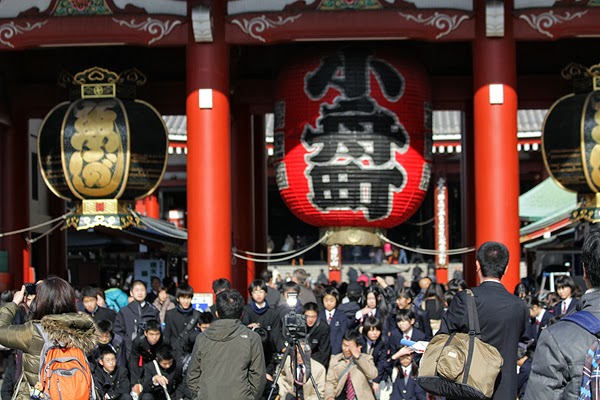 7. Cast your fortuned with Omikuji (aka fortune telling sticks)
Omikuji are fortune telling sticks and they are a common at Japanese temples.  For 100 yen, you can have your go at shaking the sticks until one pops out of the hole. Match the symbol on the stick with its relative drawer and remove your fortune slip. At Senso-ji the written fortunes have English translations so travelers can enjoy the opportunity for luck also. When Japanese get a bad fortune, they tie it to a nearby rack to release it back to the heavens.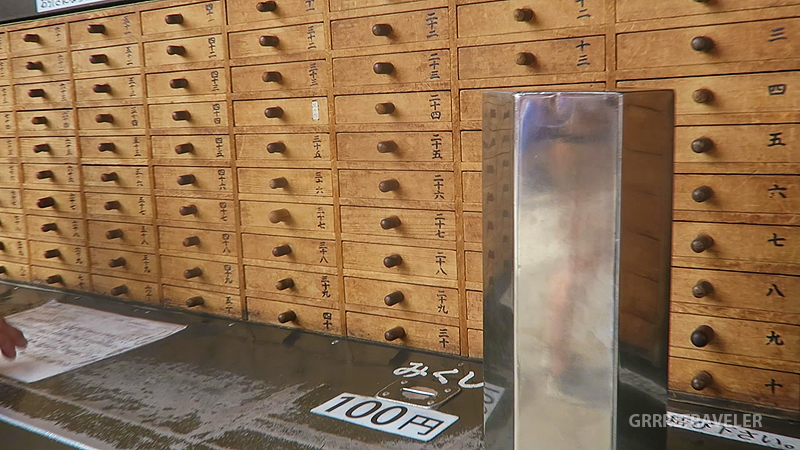 8. Bathe in luck at the Temple Incense Burner Cauldron
The temple incense burner cauldron sits between the second gate and Senso-ji.  Incense has long been both a cleansing ritual as well as one to welcome in prosperity. Douse yourself with the smoke by waving your hand over the burner and bringing the smoke over you.
9. Senso Ji temple
Senso-ji is Tokyo's oldest temple. Built in 645 AD the Buddhist temple is dedicated to the Bodhisattva of compassion. Two large temple gates with guardians mark its entrance as well as Nakamise dori leading to a large incense cauldron. Today, it gains over 30 million guests a year and is one of the top visitor attractions of Tokyo.
10. Senso-ji Park
There is a small park directly next to Senso-ji temple with small shrines and a beautiful Japanese garden.Strolling through the park walking from Senso-ji to the opposite direction you'll come upon an amusement park and several covered lanes for shopping, such as Shin Nakamise Dori and Nishisando.
What to Eat in Asakusa
Tokyo is not generally known as a street food city, but there are a few distinct pockets and Asakusa is one of them. It's not so much street food as it is street snacks. Nakamise dori is the main street but if you explore off-shoot streets, you will find small cafes or bakeries selling dessert snacks as well. You'll find anything from mochi to senbei, melon pan, cold or hot teas and cold treats such as kakigori (aka shaved ice) or ice cream burgers (ice cream in a bun). Some snacks are seasonal as Japanese tend to appreciate their foods to complement the weather.
Costs range: Small items like mochi might run 100 yen, while more popular snacks like ice cream and kakigori can run up to 450-700 yen. Souvenir packages of senbei or manju might cost 500 yen and up.  Read Budget Japan Tips
Melon Pan
When you first see melon pan and the lines for them, you'll wonder what all the fuss is about. Afterall, isn't it just bread? Melon pan is a semi-sweet, baked breaded wheel with raised crusts. It's lightly sugar-coated raised crusts create a crunch that is unforgettably good. It's easy to eat it all on the first sitting.  You'll find some shops around Asakusa selling them.
Senbei
Senbei (aka Japanese rice crackers) is commonly sold on Nakamise dori and you can buy freshly made senbei for street snacking or as souvenir gift packages. The senbei flavors can range depending upon the vendor and some offer samples. You can try flavors from wasabi, to spicy cracked pepper and soy sauce, etc.. it will certainly tempt you to splurge.
Sweet treats
During the summer, sweet icy treats such as kakigori (shaved ice) and ice cream come out. Some of it can get pretty inventive and it's a fun way to cool down from the heat. One thing I've noticed is that the more inventive and novel the treat is, the more it's about the innovation and conceptual artistry, than it is about the flavor. But don't let me sway your thinking away from trying it. You be the judge.
Teas
Depending upon season, vendors may sell hot and cold teas to recharge or warm tired travelers. I've seen anything from green and black teas to seasonal fruit or plum teas. It's a chance to try unique Japanese flavors that you won't find in your country.
Where to Stay in Asakusa
MyCUBE by MYSTAYS Asakusa Kuramae (SEE MAP) Luxury capsule hotel with your own cube with flat screen, luggage storage and free amenities and PJs. 2-minute walk from Kuramae Station, 17 minute walk to Senso-ji.
Gate Hotel Asakusa Kaminarimon . A first rate boutique hotel in Asakusa and 2-minute walk from Asakusa Subway Station and 5 minutes from the Kaminarimon gate and Senso-ji temple.
Other Places to Visit in Asakusa
Kappabashi- It's a street that's frequented by restauranteurs as they sell cooking appliances and … plastic and wax food displays. Walking around, you'll notice Tokyo restaurants stage a lot of plastic food displays in their windows for customers. This is where they get most of them.  Hours: 09:00 to 17:00 Monday to Saturdays. Nearby station: Tawaramachi Station
What would you add to this Asakusa Travel Guide?
If you enjoyed this post, Pin it to Pinterest
Tokyo travel tips playlist  (videos)
Best Travel Insurance for Japan
American travelers often pay a premium on travel insurance.  World Nomads offers economic solutions for travelers who seek security and peace of mind.  It covers 150 countries.