Last Updated on July 22, 2019 by Christine Kaaloa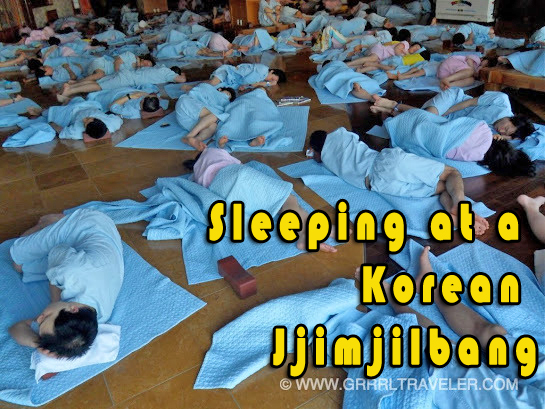 Where can you sleep for cheap in Korea, while getting some insight into the culture?
For travelers and expats, here's a cultural and budget tip for you…
For those wishing a weekend getaway to sightsee in other cities, sleeping at a Korean jjimjilbang is a perfect way to do it, while getting an interesting and fun inside peek at Korean culture.
What is a Korean jjimjilbang?  
They're 24-hour public bathhouses, which allow you to board overnight and they're popular with Koreans. Some jimjilbangs are enormous facilities, featuring luxury amenities from jacuzzi spas, multiple hot and cold saunas and entertainment rooms to occupy your day; others may just offer a simple bathhouse setting with a sleeping room. A jjimjilbang sounds like it may be elite gym or spa, but it isn't.As long as you pay the 7,500W entrance fee, you're in.
.
Who goes to jjimjilbangs?
Everyone and anyone. From travelers and expats, to Korean couples seeking to escape the eagle eye of parental supervision, traveling families and your drunken partiers… all come here to wash, sweat, bathe, play and sleep!
.
Sleeping at a Korean jjimjilbang: Is it safe for solo travelers?
For the most part, Yes… this is Asia and more specifically, conservative Korea.
Not that something shady couldn't happen but on the average, it doesn't.
Bathhouses are separated by sex, although sleeping arrangements can vary from sex-separated to co-ed. The decision is yours. Sexual impropriety or misconduct is probably the last thing you'll find yourself up against in public. The worst you might meet is accidentally getting an arm in your face if you're lying too close to your neighbor.
.
Arriving at Busan's Haeundae Spa and jjimjilbang
1:00 am:  Having spent the entire day sightseeing Busan, I arrived at the front desk of Haeundae Spa!  I asked for jjimjilbang service and gestured "chaya" (aka sleep).
I paid my 7,500w entrance fee, got a locker key for a locker to store my personal belongings in, two medium hand towels and a pair of pink canvas smocks to sleep in.  I was off!
This was my second experience at a korean bathhouse, so I was hoping I had gotten the routine down.  After disrobing and showering, I lounged in the jade sauna before my final scrub down. Tonight wasn't about experiencing the bathhouse and spa aspect of a jjimjilbang, but the sleeping arrangements!
After my final shower, I put on my smock and prepared for bed. I took the elevator to the 2nd floor of the facility: the sleeping room.
Sleeping at a Korean jjimjilbang
2:30 am: Elevator doors opened and my jaw dropped to stunned. Strewn over the heated wooden panel floors (aka ondol) were over a hundred Korean jjimjilbangers in pink and blue smocks (pink smocks are for women; blue smocks are for men), like a  giant co-ed dorm! Bodies everywhere, the room looked like a minefield of fallen soldiers.  I headed over to a pile of bedding materials and  grabbed:
• two blankets
• a wooden block (aka a pillow)
Then I searched for a spot on the floor to bed down for the night. Unfortunately, the only open spot I could find was directly under a light.
Also, I heard that 'the wooden block'  pillow was a comfortable headrest. Whoever told me either lied or had a high tolerance for wooden block rests.  I wasn't comfortable and with my mysterious dry cough that I had developed over the day, the hard wooden floor wasn't providing me with an adequate night's rest.

Where to find a spot to sleep?
My bed.
The main lounging/sleeping room had its home-like comforts; a snack bar, massage recliner chairs, heat and crystal saunas, both, a dvd & PC bang (aka "dvd and pc room") and other non-descript sleeping rooms..
All available floor or chair space were game for sleep.
The dvd room fashioned a wide-screen LCD screen, which played rolling movies for those wanting to fall asleep to entertainment. Some even slept in the sauna rooms! Massage chairs lined a third of the wall space and this offered extra bed support.
People crashed out on the massage chairs
.

What is it like watching sleeping Koreans at a jjimjilbang?
I've never taken notice of other people's sleeping patterns or been aware of how people find comfort. But observing people at jjimjilbangs can offer surprises. I saw young couples entwined in frozen state, entire families draped over each other in criss-cross and dead-like fashion, teens cuddled near a collected pile of manga magazines. Some  sleep mummified; while others monopolize their surroundings with flailed arms or legs.

A jimjil home away from home.
9:00 am: When I awoke, half-dazed and grumpy from my lack of soft and snuggly sleep, I was surprised to discover half the night crowd was still asleep. Perhaps Koreans aren't early risers on the weekends, like travelers who rise early to get a headstart on sightseeing. Maybe this is jjimjilbang weekends are Koreans' downtime from crazy workaholic schedules or nights filled with bottles of soju.  I decided to take tour around.
Walking over snoozing bodies, I realized, I had successfully spent my first night at jjimjilbang!
.
Morning at a jjimjilbang
.
Information
Haeundae Spa
Open 24 hours
Cost: 7,500W jjimjilbang
4,000-6,000 W for just bathhouse
Haeundae, Busan
Getting there:
– 5 minute walk from the Haeundae Bus Terminal – 5 minutes from Subway Station (Line 2)
-10 minute walk from the Tourist Information Center  – 5 minute walk from Paradise Hotel
Are you interested in sleeping at a Korean jjimjilbang? Any jjimjilbangs you'd recommend?