Last Updated on June 7, 2023 by Christine Kaaloa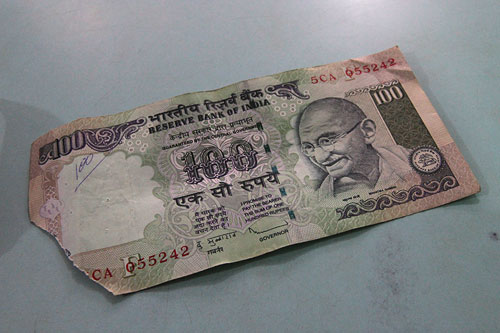 There are times dealing with Indian currency makes me want to bark and growl with  frustration. Especially when it comes to changing money and a torn rupee!  What's the big deal? In India, this is the big deal…
Three ways of dealing with Indian currency and a torn rupee:
1.  The torn rupee
So you have a torn rupee? Money is money, right? Not in India. Many store dealers and vendors generally refuse torn currency.  So what if you got it from the guy two stores down? As a tourist, you're walking neon pawn! Fret not, this doesn't mean the ruppee is not salvagable; just that you'll have a crap time trying to use it. And what if the ruppee has a neatly placed scotch tape bandage over its tear ? It'll be under careful scrutinizing with a 30-70% chance of being accepted.
Advice:
1. Look before you keep!
•   Examine your check for tears or taped ends before walking away from the register. If you find a torn note, show it to the cashier and ask for a good bill. He's got one and if he doesn't, tell him you'll take your sales to another shop (you'll see a new bill quickly surface from the cash register)!
2.  How to get rid of a wounded rupee ?
• Repeat the karma and slyly pawn it off on someone else!
• Use it on rickshaw and taxi drivers, guesthouses and vendors, who want your sale in any form.
• Saying "This is all I have",  works in crunch situations.
.
Photo from www.sessionmagazine.com
2.  "Sorry, I don't have change."
This line often rivals Namaste with vendors and it's gotten to the point, I've learned to be a miser of 20 Rs notes!  Most vendors  never have change for large bills, starting from 100 rupee notes (approx $2.25)! With ATMs and money exchange shops dispensing only large bills, how can you cash in your wad?
Advice:
• Collect many 20 Rs notes in your wallet (they're especially handy in small towns and rural villages).
• Get a Money Exchanger to give you a stock of small notes.
• Spend your large notes on hotel bills or on large purchases, like your hotel stay.
• Popular chain cafes/restaurants (i.e. Cafe Coffee Day, Barista Lavazza or McDonalds) will break bigger bills for you, if you buy something from them.
.
3.  The joint restaurant bill
If you're dining with friends at a restaurant, your waiter may ask you if you'd like a separate or joint check. Don't be fooled; your reply won't matter. The answer is always one bill and it's combined. More annoying is getting a 'combined bill' in shops, when you and your friends are buying drinks and snacks.
Most of the time I'd buy snacks at shops in the hope of breaking my bill to get change. My friend, behind me, would be thinking the exact thing. But those Indian shop keepers are crafty devils!  Rather than giving each of us, change for our purchases, they'd charge our bill as one; thus, screwing us both, out of small bills and leaving us dealing with the debt of owing the other...change (which neither of us has)!  His excuse?  Sorry, I don't have change.
Secondly, as a long-term traveler looking to stretch my budget, I order on the cheap. But in an Indian restaurant, I only win at this if I'm solo. Dining with friends, others order drinks, a few side dishes and a full meal; then the bill comes to us combined. There's always one friend that will chime in something the entire group will agree to, like:  Let's just split the bill evenly.  Really? Do I look like I want to foot the bill for someone's extra stomach, if I'm starving myself?
Advice:
• Don't buy things near your friends.
• Go solo during meal time
• Avoid eating with friends who have big appetites!
Have you ever experienced any frustrations dealing with Indian currency and a torn rupee? Spill it…