Last Updated on May 28, 2020 by Christine Kaaloa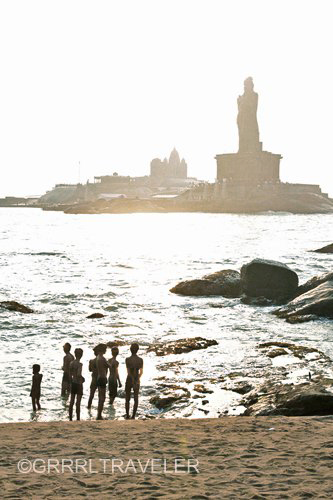 Have you ever been to the southernmost tip of India? I'm talking about visiting Kanyakumari… I have.
This Kanyakumari Travel Guide will share a peek why that Tamil Nadu town is a popular Indian pilgrimage spot and the best things to do in Kanyakumari. It can feel like a small cape town but there are top Kanyakumari attractions you will grab your camera for.
Kanyakumari: What's at the southernmost tip of India?
Sea shell souvenir vendors line the beach sidewalk, Indian pilgrims beach bathing and airing saris out to dry while overlooking the sea… visiting Kanyakumari you feel a spiritual vibe, both reverent and beachy. Kanyakumari is where Gandhi's ashes were released and where the Indian Sea, Bay of Bengal and Arabian Sea swap tides. It's got a gigantic statue of a famous Tamil poet, Tiruvalluvar, standing out of the waters as regal as the Statue of Liberty.
With my yoga pal, Chiaki, we boarded the local bus in Trivandrum and rode out.  Half a day, two bus stations and a bus blaring with Bollywood music videos later,… we rolled into Kanyakumari at night. We lodged near the southernmost tip overlooking Kanyakumari beach and that was the main area we explored the next day.
Kanyakumari Travel Guide:
8 Best Things to Do in Kanyakumari
1.   Temple of Goddess Kumari (or Kumari Amman Temple)
The goddess Kumari was supposed to be wed to the hand of Shiva, but through some act of divine intervention, was kept from this union so that she would remain a virgin and keep her Shakti powers (more info here).Temple of Goddess Kumari  was erected in her name and is said to be 3000 years old.
Men entering  Kumari Amman Temple are required to be bare-chested as a sign of respect. You may come across temple touts who'll offer to walk you through the temple for a 50 rs donation fee. Albeit a bit rushed, I found it helpful, especially going through pujas (aka worship rituals) .
2.   Kanyakumari Beach ( aka bathing ghat)
Visiting Kanyakumari Beach is not the kind of beach you'd strip down to your bikini and lather your body with suntan oil as you lay out to catch a tan. Not that kind of beach at all. Indian tourists splash, frolick and doing yoga around in the waters. But it's a respected ghat located outside the Kumari Amman temple and as the southernmost tip where three oceans converge, it's considered somewhat… holy. Watch women drying their saris.
They say you can see both, the sunrise and sunset in Kanyakumari. The sunrise can be  seen through out the year from the Bay of Bengal.
Best time to visit Kanyakumari:
The sunset can be seen from View Tower (a pink spiral building seen from the beach) through out the year, except June, July and August.
3.   Take a ferry to Vivekananda Rock Memorial and statue of Tiruvalluvar

You can see it from the town and the beach… a rock of an island and a giant statue.  The statue of first BC Tamil poet, Tiruvalluvar is 133 feet high to symbolize the 133 chapters of his epic novel, the Thirukkural. People often climb his foot base. It's advised to get there before 11AM as the rock gets hot once the sun rises and it is tradition to dip your feet in the ocean and walk barefoot up the rock.
The other site is the Vivekananda Rock Memorial. Constructed in 1970, there are two halls on the rock : one is dedicated to Swami Vivekananda; the other, is to the Holy Foot (or the footprint of Goddess Kumari).
I was unable to take the ferry out there but I've heard it's worth the journey.  Hours : 7:30 am- 4pm.  Fee: 20rs to the statue;  10 rs to the memorial. Beware: lines can get long.
4. Visit the Gandhi Mandapam
Did you know that one of Indian's greatest saints had his ashes immersed in the waters here? Gandhi visited Kanyakumari in 1925 and 1937.
On January 1937 he wrote:  "I am writing this at the cape, in front of the sea, where three waters meet and furnish a sight unequalled in the world. For this is no port of call for vessels like the goddess. The waters around are virgin"
Gandhi Mandapam is a memorial building constructed on February 12, 1948,  housed his ashes before immersion.  Hours: 7.00 am to 7.00 pm. Entry fee:  Free
Must Try South Indian Foods in Kanyakumari
5. Dosa
Dosa is like giant pancake/crepes occasionally rolled up like an enormous burrito. They're made of flour and black lentil batter and stuffed with various things from onions, cheese, potatoes, vegetables and/or various spices. Often they're served with some kind of sauce side dish such as yogurt, chutney, etc… They're a staple dish in India as a breakfast meal or as street food.
6. Vada
Not a big breakfast person but want a light morning snack instead? Vada is a donut fritter is made of batter from dhal, lentil, potato or flour.  It's not as sweet as a donut but is flavored with different kinds of spices to give it a uniquely mild taste.
 7. Thali
Thali is a popular lunch and dinner meal you'll find in South India and a few other regions.  Set in a metal platter or in true south fashion, a banana leaf, it comes with rice, some kind of bread (chapati or roti), dahl (aka lentil curry/soup), veggies, potato curry stew, spices and yogurt.  Ideally, you would eat this with your hands (click here for instructions), using the rice and bread to sop up the curries and stews. Travelers may shy away from eating in this fashion, but Indians claim it tastes better and they're right! Give it whirl.
In the South it's cheap (around 60rs or $1 USD)  but the further north you go (and to regions in which it's not their traditional food), prices double.
8. Chai
Once you taste Indian masala chai, you might want to take it home. Chai (aka 'tea') is a popular milky black tea sweetened with Indian spices.  You'll find this throughout India and it's common to see chaiwallahs distributing these on the streets to thirsty customers.
More Photos from my trip to Kanyakumari, click here
How to Get to Kanyakumari
From Trivandrum: Take government bus from Trivandrum station to Kanyakumari. There will be a transfer.
By train:  Trains go to all major cities in India like Chennai, Trivandrum , Kochi, Bangalore, Bombay, Delhi, etc.
By bus:  Regular buses are available from Thiruvananthapuram,the closest major hub. Buses are available from Chennai, Madurai, Bangalore, etc…
Book your India trains and buses online
These days, online booking makes trip planning easier. So far, I've used 12Go Asia for booking my buses and trains in Thailand and they've only expanded their service to meet India! Otherwise, three best website booking engines that Indians use are here.
Where to Stay in Kanyakumari
I stayed at Hotel Maadhini . Spacious room, bathroom ensuite and good view if you ask for seaside.  Located near Kanyakumari beach. Perfect location.
Traveling India Resources:
Planning your first trip to India? Start here. What to Pack for India Backpacking? Check here.  Read about how to Get an Indian SIM , an getting an Indian Tourist Visa for U.S. Citizens
What best things to do in Kanyakumari, should I add to this Kanyakumari Travel Guide?
Related articles