Kuching is an often overlooked as an adventure or budget destination in Southeast Asia. Located in Sarawak, the Malaysian Borneo, Kuching is a safe, clean and tranquil city and a perfect hub for slurping Kolo Mee, and burning it off with wildlife adventures and night safaris where you might spot orangutans and proboscis monkeys in their natural habitat.  A mixture of Malaysian-Chinese modernity and Borneon traditions, you'll find a rich ethnic history to the area, interesting flavors of Sarawakian foods and a surprising wealth of interesting things to do in Kuching. Whether you're a solo traveler or traveling as a family, this Kuching travel guide will share the delightful possibilities that make Kuching a unique, eco and budget-friendly destination.
Table of Contents: Things to do in Kuching, Sarawak (Malasian Borneo)
Kuching Travel Guide
Best things to do in Kuching
What to Eat in Kuching
Getting Around in Kuching
Where to Stay in Kuching
Safety Tips for Solo Travelers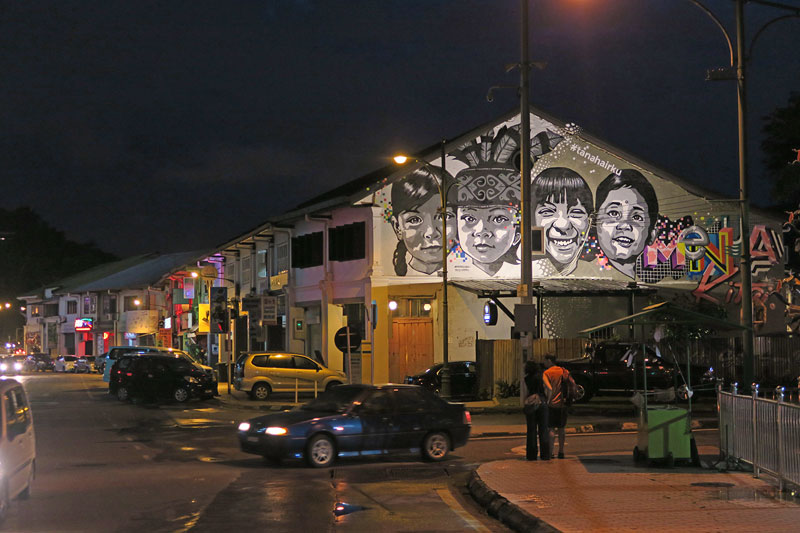 Best things to do in Kuching Sarawak

At first I didn't know what one could do in a small and quiet town as Kuching. But after five days, I quickly extended my stay longer. There's many things to do in Kuching, from exploring Malay Chinese city life to Borneo traditions and of course, experiencing wildlife. Attractions in Kuching can be reached on taxi, foot or local bus. The natural settings imbued with wildlife costs surprisingly and substantially less than an admission ticket to Disneyland.
Note: A handful of attractions listed here are real wildlife reserves and rehabilitation centers. While it is exciting to see wildlife in their natural habitat, be careful with photography. I always advise using a long or zoom lens (see my camera gear here) to get the close shots as getting close or interacting is not advised. For travelres who feel like they might want to get too close, I advise to have your rabies shots and travel insurance. Even an accidental scratch can be life threatenin
1. Bako National Park
If you love wildlife and seeing them roaming free in nature, then 37km from Kuching is Bako National Park , a wildlife sanctuary that's a bit like The Jungle Book adventure . Take a 30 minute boat ride to the island, and you will see free-roaming wildlife from macaques to the bearded pig, endangered proboscus monkeys and more. The island has 16 clearly marked trails, ranging from easy to challenging. Most trails take you along wonderful and diverse vegetation or unique and jaw-dropping landscape, beaches or streams.  While some travelers try to experience this in a day trip, an overnight stay at one of the lodges is a inexpensive and worthwhile adventure. Wildlife roams at night too, and the park offers a wonderful night safari, perfect for children of all ages. Bring a flashlight! Read my review and watch my video for more reasons to visit!
Admission: National Park entrance fee of RM10 . The park has dorms and cabins. All accom in Bako is managed by the national parks office. Accommodation ranges from very basic (15 RM per night dorm room bed) to a 2 person private chalet (RM157.50).  Book reservations ahead.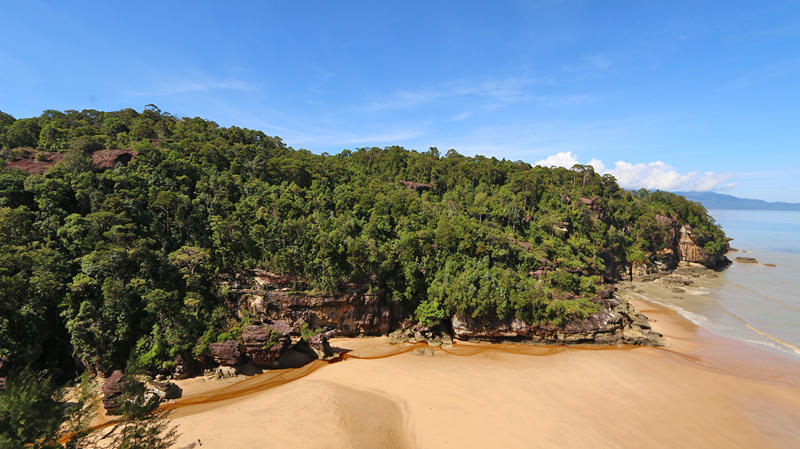 2. Semenggoh Wildlife Centre
Want to observe orangutans in the wild?  Semenggoh Wildlife Centre is a 750 hectare sanctuary committed to the rehabilitation of rescued and orphaned orangutans. Many orangutans have been rescued from captivity and/or human abuse.  This is a legitimate governmental rehabilitation center. They house 26 semi-wild orangutans and the ongoing goal is to re-orient the orangs with their home in the wild with the goal to release them back into the jungle.
Feeding times are at 9am and 3pm (about one hour).  Seeing orangutans is not guaranteed. Check in advance if it is fruiting season.   If they don't make an appearance, this is actually a good thing as it means the center has done its job in reintroducing them back to their  jungle life.
Travel Tip: If an orangutan cross your path (as the centre offers warnings of the possibility), stop, remain still and wait until they complete their path. Do not try to get close to them to get photos. They are all still in rehabilitation and some of them have suffered the abuse of man and might feel aggressive.
Admission: 20 Ringgit. A 30 minute bus ride from Kuching (2 ringgit, Bus No 6, 6A, 6B, or 6C) or you can take a taxi.
3. Kuching Waterfront
For a pleasant or scenic stroll day or night, Kuching Waterfront running aside Jalan Main Bazaar and the Sarawak River and  is sprinkled with occasional snack vendors, musicians and locals. Sign up for a guided boat tour to see the city's lifestyles from the river. At night, the waterfront is lively with live music performers and street snack vendors; it's a chill place to hang out.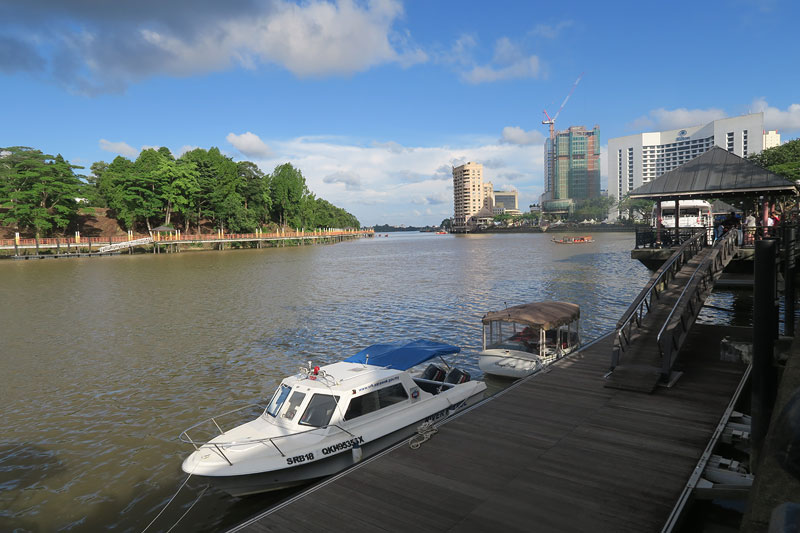 4. Shopping at Plaza Merdeka
If you're wondering where to shop in Kuching, you need look no further. There are a few good malls in central Kuching, but Plaza Merdeka seems to be the largest and most chic.   Although the other malls – tucked into hotels off Jalan Padugan- are decent, Plaza Merdeka is your best bet for mainstream items.  It houses a Pizza Hut, Burger King, a food court on the top floor and and a Lawsons and Everrise supermarket  in the basement. Everrise is a locally-owned chain of grocery/department stores in Sarawak, which will sell anything from household supplies, toiletries, food and more. Getting There: 88 Jalan Pearl.
5. Visit Kuching markets
Primarily a local outdoor market, the Sunday Market sells produce from local farmers.  On Sundays, it's staged in a large open-air lot around back from the Medan Niaga Satok Market  and Kubah Ria Wet market, which houses both, a produce market, food court and wet market.  The market is a little rougher and hotter than the Medan Niaga Satok Market, which is open daily and is a must visit if you're into fresh markets and local fruits of Sarawak. 
Try the Sarawak Laksa at the food court. Saturday to Sunday. Getting there: Take Bus K5, 7,15.  On the way back you can wait for the bus or take one of the minivans that stop at the bus stop.  Minivans cost around 1MYR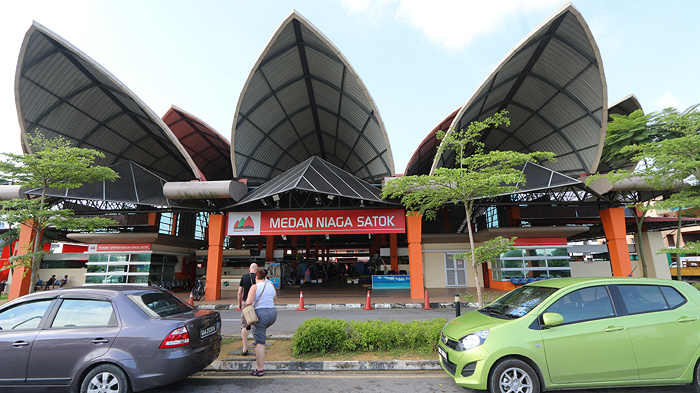 6. Historical Kuching (aka Chinatown)
Historical Kuching is the neighborhood surrounding the Chinatown district, where you'll see old business building with old Chinese signs that remind you of days past. You'll find restaurants, a few bars and temples.  The main street is Carpenter Street parallel to the Kuching Waterfront.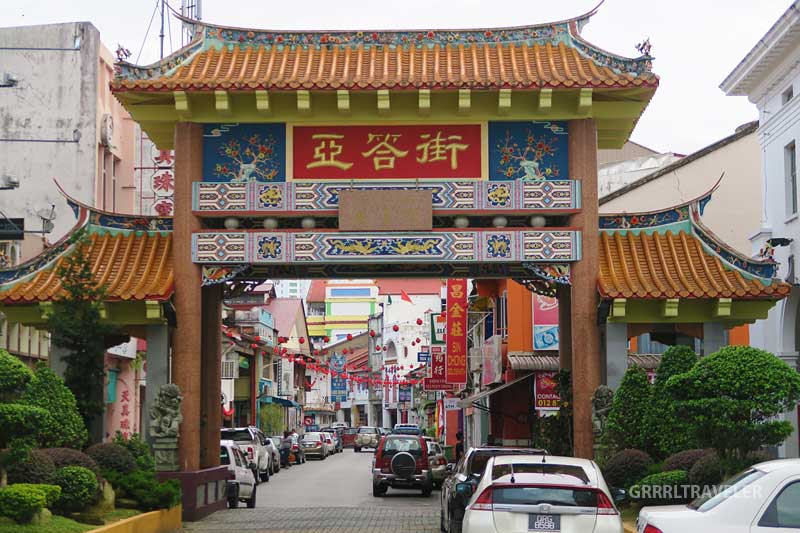 7. Chinese Temples
There are many Chinese temples in Kuching, but Tua Pek Kong Temple is the most beautiful temple on the corner near the junction of Wayang Street and the Kuching Waterfront. You can't miss it. One-ish blocks away and much smaller, is Hong San Si ( 5, Wayang St) , a Hokkien temple  both, architecturally striking and spiritually intriguing.  Go inside and look around by its dried fountains. I'm not sure why they have turtles in them, but they do.
8. Kubah National Park
If hiking and escaping into nature, crystal clear streams, waterfalls and bathing pools is your thing, then you want to visit Kubah National Park.  There are six jungle trails, and a hiking path to  Gunung Serapi (5-6 hours round trip hike).  See more trails here.
Getting There: Bus departs from Saujana bus stop (located nearby Merdeka Shopping Mall, Kuching).Take bus K21 to Polytechnik . Tell the bus driver you are going to Kubah National Park.  One-way taxi fare is 60RM.
9. Take a Sarawakian cooking class
What is Sarawakian cooking? For foodies who want to understand Borneo through their stomach, a cooking class will be a hit. At Bumbu Cooking Class, Chef Joseph shows you the ideas and flavors behind authentic Sarawakian and jungle cooking.  A descendant of the Bidayuh tribe, you'll go shopping for ingredients at the popular Ria Kuba Market ,  shoot back into the kitchen to cook up the flavors and then dine on it to your heart's content. There are vegetarian substitutes for meat dishes.  The Sarawakian foods I learned to make from Chef Joseph were incredible, it's  a must for foodies.
sarawakian cooking class
10. Fort Margherita
"Built by Rajah of Sarawak in 1879 If you're wondering what's up with that yellow building (it looks like a circus tent) along the Sarawak river , the landmark is Fort Margherita. An important aspect of Kuching's history,  Fort Margherita was built to safe guard the city from pirates who invaded via river. Today you can either visit it or enjoy it as a riverside landmark of the city.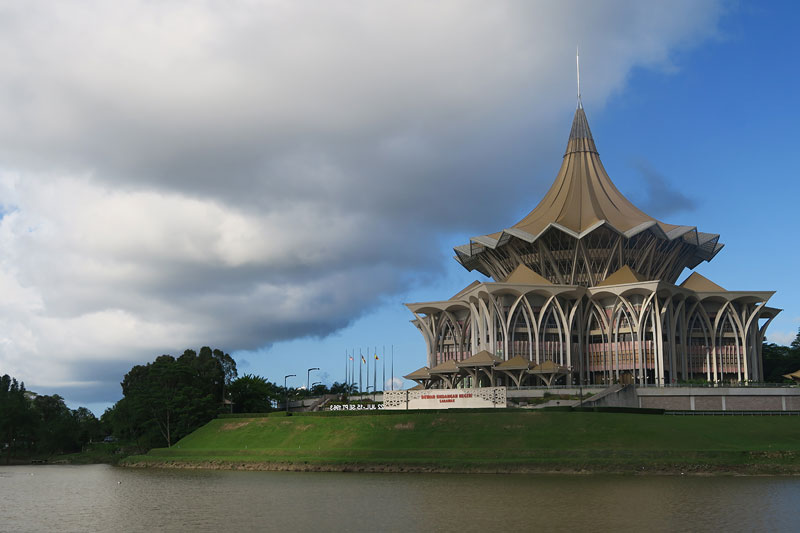 11. Jalan Padungan Street
Jalan Padungan Street is a long and bustling street of restaurants, cafes, hardware stores, a grocery store, bars and bakeries. There are many hotels in the area and it's part of the tourist mecca for those staying in Kuching.  The entrances of the street are marked with Kuching cat monuments and punctuated in the middle by a square tower.
12. Counting Cat Statues
Kuching means "cat" and that is because this furry feline is the town mascot. Here, cats roam the streets… not literally, but there are many lovely monuments dedicated to them.  A little cute and kitschy. Most of these are on Jalan Padungan Street (at entrances and one in the middle of the street) and Jalan Main Bazaar, towards the Textile Museum.
12. Cat Museum
A cat city wouldn't be complete without a Cat Museum.  This quirky Kuching museum is the first museum in the world dedicated to felines, with exhibitions, photos and cat art. Located in Petra Jaya in Kuching's North City Hall, the museum is free to the public. Hours: 9 AM to 5PM.  Getting There: Take CityLink Bus no. K15 from Saujana Food Court Bus stand or take a taxi. See map.
13. Kuching City Mosque
One of the most exquisite spiritual buildings sitting alongside Kuching waterfront, is the Kuching Mosque. It's architecture inspires the idea of Arabian Nights.  With Malay culture being a mixture of both, Chinese and Muslim, it's not too out of place either. Getting there: Just follow the waterfront to 332, Jalan Datuk Ajibah Abol, Kampung No3
14. Sarawak History Museum
Opened in 1891, the Sarawak History Museum is a network of several free public museums from a history (aka ethnological museum), art museum (currently just a shop selling souvenir crafts), Islam Museum, Chinese Heritage Museum, Textile Museum, an aquarium (it's depressingly, ill-kept fishtanks in one large open-air room). The museums are spread out through central Kuching but within fair walking distance from each other. Some are hits and some are misses.
The Natural History Museum has a quirky and odd collection of Borneo taxidermy, birds, scary sea life. A lot of the models look more like artistic replicas but one can never tell.
There is a longhouse exhibition shedding historical facts that its original villagers use to be headhunters. This article sheds some of their quirks.
Check out their website. Location: Jalan Tun Abang Haji Openg, Taman Budaya (past the Merdeka Shopping Mall and the large park lawn).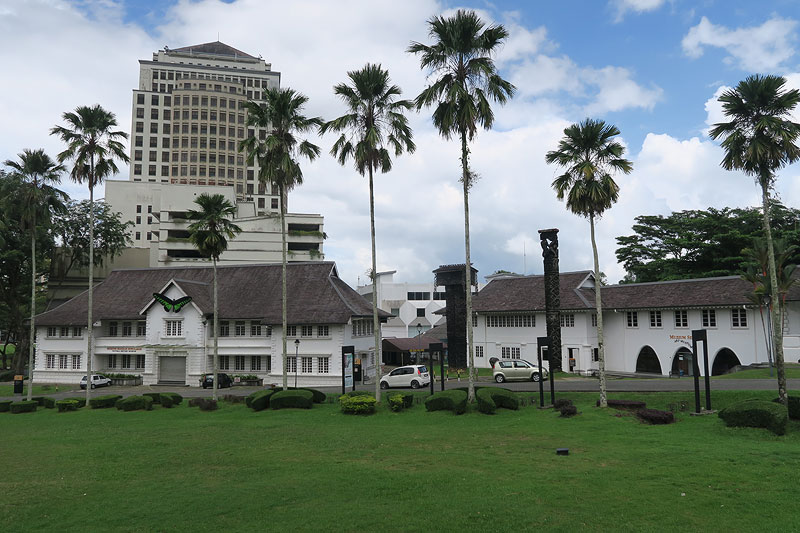 15. Islam Museum
Islam is the second largest religion in Sarawak and 32.02% of Sarawak population are Muslim by religion, so the Islam Museum may be of interesting to you  There are seven galleries centered around a courtyard. Each gallery has a different theme.
Hours: Monday to Friday 9 am – 4.45 pm; Sat/Sun 10 am – 4 pm. Getting There: The museum is about 15-minute walk from the Kuching Waterfront. It can be a little confusing getting there as there's not much to see around it. You may need to ask questions.
16. Matang Wildlife Centre
Unlike Semanggoh Wildlife Centre, animal lovers will have mixed feelings about non-profit, Matang Wildlife Centre, which is said to house orangutan rehabilitation efforts, as well.  Despite their efforts to cull finances through introducing volun-tourism projects, tours, a Monkeebar bar, a lounge, a beer garden, a resort and an adoption campaign for additional funding, it still hasn't changed the fact its facilities appear a sad, neglected and depressing zoo! The orangutan enclosure looks spacious (but there's little shade and no trees to climb in). Cages for other animals from birds, leopards, crocodiles, etc.. look small and lack the integration of natural surroundings. Countless Tripadvisor reviewers feel the animals are distressed and a little stir crazy; I agree. Something doesn't feel right with that centre and it was hard to stomach a visit without a few tears.
Getting there: Although part of Kubah National Park, there are no buses to Matang.  The closest bus is to Kubah and it's roughly a 3 hour hike to Matang.  An alternate option is to take a taxi , 120RM round trip.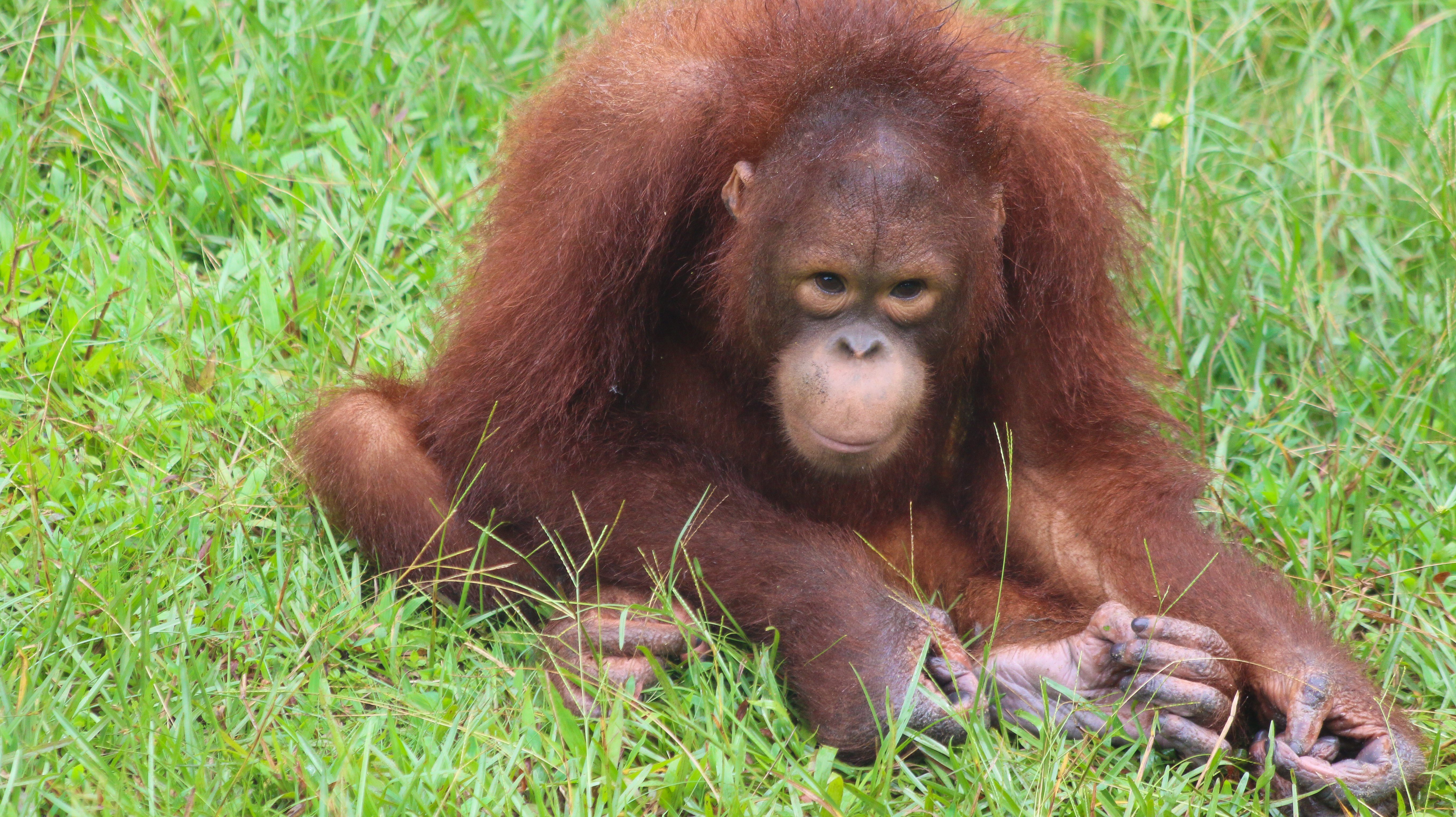 17. Borneo Wetlands National Park
Kuching Wetlands National Park was a 30 minute drive outside of Kuching city center. At 6,610 hectares of wetlands it was a habitat for locals and wildlife native to Sarawak.  It's an ecosystem of mangroves and waterways, with a wide variety of wildlife. Taking a trekking tour of the park is a fun adventure to add on your bucket list as you learn how villagers can survive.
My highlight was taking a trekking tour with a night riverboat safari, where we used flashlights to hunt river wildlife such as Kingfisher birds, Irawaddy dolphins, fireflies and crocodiles.
I took my tour through eOasia and Joseph at Bumbu Cooking Class.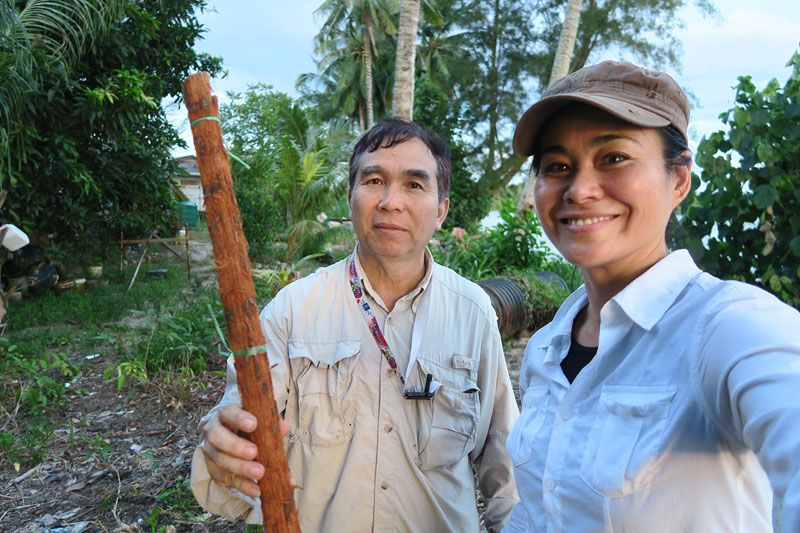 18. Night Safaris
At night there's a new set of nocturnal creatures which awaken from their sleep and you can spot them with flashlights and headlamps on a night safari tour. Spiders, special birds, flying lemurs, croaking frogs, crocodiles… some may not be as big as animals in the daytime but they can be pretty scary enough. But not to worry~  night safaris are fun and often, family friendly.   In Kuching, I experienced to night safaris~ at Bako National Park and on a Borneo trekking tour at Kuching Wetlands National Park.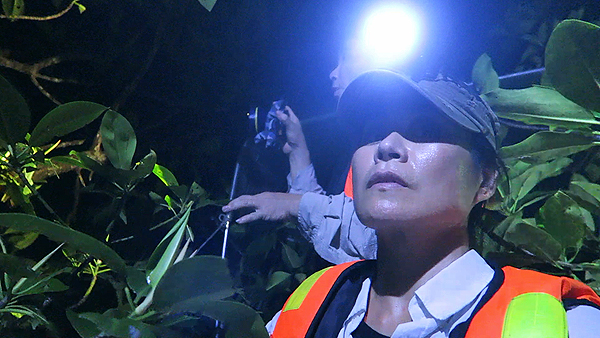 What to Eat in Kuching
While there are many things to do in Kuching, as a vegetarian, I initially did not think Kuching would be an easy city to dine in. I was wrong. Kuching has a handful of vegetarian restaurants! For travelers who are skeptical of trying new food, Kuching has McDonalds, Burger King, Pizza Hut and KFC ( they were advertising a wasabi chicken wrap when I was there!).
There are also neat seafood joints where a stand houses an assortment of things from seafood to veggies and you can pick what you want and they fry or grill it up for you.  I call them Pick n Choose stands but I'm sure there's a local term for it. They add up how much you owe by the piece.  It also has some must try foods symbolic of its culture. Read 10 Top Sarawakian foods in Kuching.
Sarawak Laksa
Spicy with thin vermicelli noodles, the broth is like a watery curry. You'll lick your lips twice.
Kuching ABC
Right off the Main Bazaar and Kuching Waterfront is Ah Yong ABC, a popular street hawker that's known for his  ABC.  He sells a few varieties of ABC at his stand. ABC is a Malay abbreviation for mixed ice. His ABC costs around the 2 RM. The ABC I had was a bowl of shaved ice, milk, syrup, corn, sweet beans and cendol. It's a favorite local dessert that refreshes and helps combat the humid heat.
Kolo Mee
Kolo Mee is a must try comfort food of Kuching. It's said to be the signature dish of Kuching and locals are wild about it. It's boiled noodles with a  bit of a spring, tossed in light oil, soy sauce, garlic and MSG. It's yellowish colored noodle has a flavor that will keep you wanting more than one bowl. – 4 myr bowl
Vegetarian Restaurants in Kuching
Zhun San Yen Vegetarian Food, Jalan Chan Chin Ann | Bukit Mata Kuching. Buffet style, priced by weight, I loved this place. Map here.
Zhen Xiang Zhai Vegetarian Cafe, Jalan Padungan Lot 139, Kuching. Map here.
My Little Kitchen, 38 Jalan Padungan, Kuching
Getting Around Kuching
Much of Kuching's spotlight features can be reached on foot or by bus.
Bus
Saujana bus stop is near Kuching Waterfront and India Street, three bus companies have created a convenient station for travelers to get around the city, to short distance locations like Bako National Park or Semenggoh. Some buses are marked with the highlight destination so that you can recognize them. Some will make stops on Jalan Padugan street.
Getting from the airport into Kuching
Taxi
The easiest and most convenient way is to get a 20 minute taxi ride to Kuching Waterfront. The airport has a Taxi coupon counter in the main hall (right side of doors) . A coupon costs 26RM.
Uber or Grab
Download an Uber or Grab app and use the airport free WiFi to call a care. A ride to or from the airport costs between RM9-RM23
Bus
Sarawak Transport Company (STC) operates a number of buses which run from the new Kuching Sentral bus station ( 1 km from Kuching Airport). To get there, turn left as you exit the Kuching airport and walk to the main T intersection, turn left again and walk until you reach the bus station. Bus numbers 3A, 6, 8G and 9 gp into town.
Kuching Sentral
Kuching Sentral is the main bus station for long distance buses from Kuching to places like Miri, Sibu, Bintalu.  Take Bus #3 from Kuching Central to the Kuching Sentral Station. Rm 2.  See timetable charts here.
Where to Stay in Kuching

Most travelers opt to stay at a hotel by Kuching waterfront, where you can walk to Chinatown, stroll along the waterfront and catch the bus to onward adventures and destinations.
The Radioman Heritage Hostel, No. 1, Wayang Street, Kuching, Malaysia  $5/dorm.
In the heart of Kuching, across from the Kuching waterfront and Kuching's historical quarter (aka Chinatown/Carpenter Street), Radioman Heritage Hostel offers cozy and affordable accommodation, clean beds with your own reading lights and wall outlets. Location is convenient to the waterfront, Chinatown, bus station and mall. Staff is friendly and kind and it has its own tour shop. Biking tours can also be booked through their tour shop: Paradesa Borneo (or One Wayang Tours). Operating hours:  7:30 am – 7:00 pm. For check-In after 7p, you must notify them as you need the door Access Code to get in.
Singgahsana Lodge Hostel, No. 1 Temple Street, A boutique hostel with an air above the rest. Offers mixed and single sex dorms and private rooms.
Batik Boutique Hotel is a boutique hotel, which caters to the needs of today's business and leisure traveller. It's been collecting TripAdvisor travel awards to its name.
Gran Margherita, A four star hotel with a statue of Kuching cats outside.Rooms are modern, spacious and there's a pool
Safety Tips for Solo Travelers
Malaysia always feels like a clean, safe and well-maintained country and Kuching comes across as that also. As a traveler who appreciates a little grit, in Kuching, there are times the roads, buildings and culture, almost feels so maintained and well-heeled, it's borderline bland (I mean that almost in a Malaysian Stepford Wives kinda way).  You can't imagine many bad things happening here.  However, as a solo traveler, one should practice street smarts anywhere you go, as travel and danger are always unpredictable.
---
Travel Essentials to Shop for Kuching, Sarawak
Recommended Travel Essentials for Rio deJaneiro.  Click to Shop.
Enjoy this post? Pin it to Pinterest
---
Looking for travel insurance?
American travelers often pay a premium on travel insurance.  World Nomads offers economic solutions for travelers who seek security and peace of mind.  It covers 150 countries.