Have you ever seen an orangutan in the wild?
After hearing about the the plight that Borneon orangutans faced with palm oil companies, it triggered a heart-felt desire to know more. Many wildlife species face the plight of endangerment for exploitive reasons. On the other hand, many tourist attractions cage, hunt or manipulate wildlife in order to exploit them for commercial profit. And with the growth of tourism, it's happening more. GRRRR… This makes me upset more than you know.   As an animal lover and traveler, there had to be a middle ground of enjoying and learning about wildlife, while not endangering their well-being.
Borneo is known for its rainforests and wildlife. It's also a great Southeast Asian adventure budget destination for travelers like myself.  When I found I might be able to see Borneon orangutans swinging wild in a jungle at Semenggoh Wildlife Rehabilitation Centre, I'll be honest~ I made a trip out to Sarawak just in the hope of seeing orangutans in the wild!
Table of Contents: Visiting Borneon Orangutans in the Forests of Sarawak
Things to Know about Borneon Orangutans
Borneon orangutans are on the endangered species list. According to the Worldwildlife Organization, "Bornean orangutan populations have declined by more than 50% over the past 60 years, and the species' habitat has been reduced by at least 55% over the past 20 years."
These orangutans are only found in the Borneon rainforests of Southeast Asia and Sumatra, namely Malaysia  (Sarawak and Sabah), Indonesia (Kalimantan) and North Sumatra. But face endangerment due to several issues: deforestation due to palm oil plantations and  illegal pet trades (some locals like to keep the babies as pets!),and selling of parts (read more). The orangutans are characterized by their red shaggy fur and they're often found swinging and nesting in trees, while eating fruits such as mangoes, mangosteens, lychee, bark and leaves. 
There are 2,000-2,500 orangutans in Sarawak.
 A rehabilitation sanctuary for Orangutans
Located on the outskirts of Kuching, Semenggoh Wildlife Rehabilitiation Centre is a 750 hectare sanctuary established in 1975 committed to the rehabilitation of rescued and orphaned orangutans.  It is not a tourist attraction, or a park to go hiking in… Entry fee is inexpensive  and donations are welcome. 
Semenggoh houses 20 semi-wild orangutans. Some orangutans have been injured, orphaned or rescued from human captivity (locals have kept them as pets), have suffered abuse in captivity or are orphaned. It is the goal of the centre to re-orient the orangutans with their forest home so they can ultimately survive in the wild when they are released.
 "To rehabilitate confiscated wildlife that have been incapacitated or handicapped due to prolonged captivity by humans with the objective of releasing them to the forests eventually." 
The rehabilitation takes the orangutans through baby steps of forestry reintroduction, re-orienting them with basic survival, finding food, finding a home to ultimately, spending the night in the jungle.  Semenggoh rangers closely monitor the orangutans in the forest to make sure the rehabilitation process is going smoothly. Some orangutans make it back to the wild successfully and then there are others which don't transition or due to the facilities being unable to handle the influx, transferred to other facilities like Sepilok Orangutan Rehabilitation Centre (in Sabah; it's a larger rehab facility) or Matang.
Observing Borneon orangutans in the wild
The sanctuary is open and welcomes public to observe the orangutans during feeding times.There's not much to do at the sanctuary other than to walk to the feeding area.The park is the orangutan territory and it's forbidden to stray, as you could have a run-in with a wild orangutan and as they are undergoing rehabilitation, their reactions can be unpredictable if they've been rescued from human abuse. There is a warning to visitors cautioning if you cross paths with an orangutan on your way to the meeting grounds, to stop and wait for it to pass, in order to avoid provocation.  In some cases, you may have to wait them out.  
Anyways, it's a 20 minute walk from the entrance gates along a paved road to a small wooden building, housing photos and information introducing you to the orangutans and their history at the center. You can purchase things from their shop or donate.  If you need encouragement to donate, just look at the adorable photos they post of the orang tribes on their sanctuary.
The admission is inexpensive so I encourage donating to keep the centre's rehabilitation efforts running. (Please, what they do is really special!) 
From there, you'll walk down the hill to another wooden building and wait for a park ranger, who gives you safety instructions. There have been orangutan sightings at this building, and you should keep a distance as you'll never know how they will react. Some are just curious but alternately, some are coming from abusive treatment by humans.
Note: Please don't act like asshole paparazzi, who shoves to get a photo which will never grace a National Geographics Magazine. If I sound dick about it, it's because I've seen how ugly tourists can get for a simple trip photo (ie. monks taking alms in Luang Prabang).
General Rules are 
No touching, playing or teasing the orangutans.
Stay at least 6 meters away from them.
No smoking or littering in the sanctuary.
No food or drinks in the centre. The orangutans are on a strict healthy diet. People food is a big no-no for most animals.
Orangutan feeding times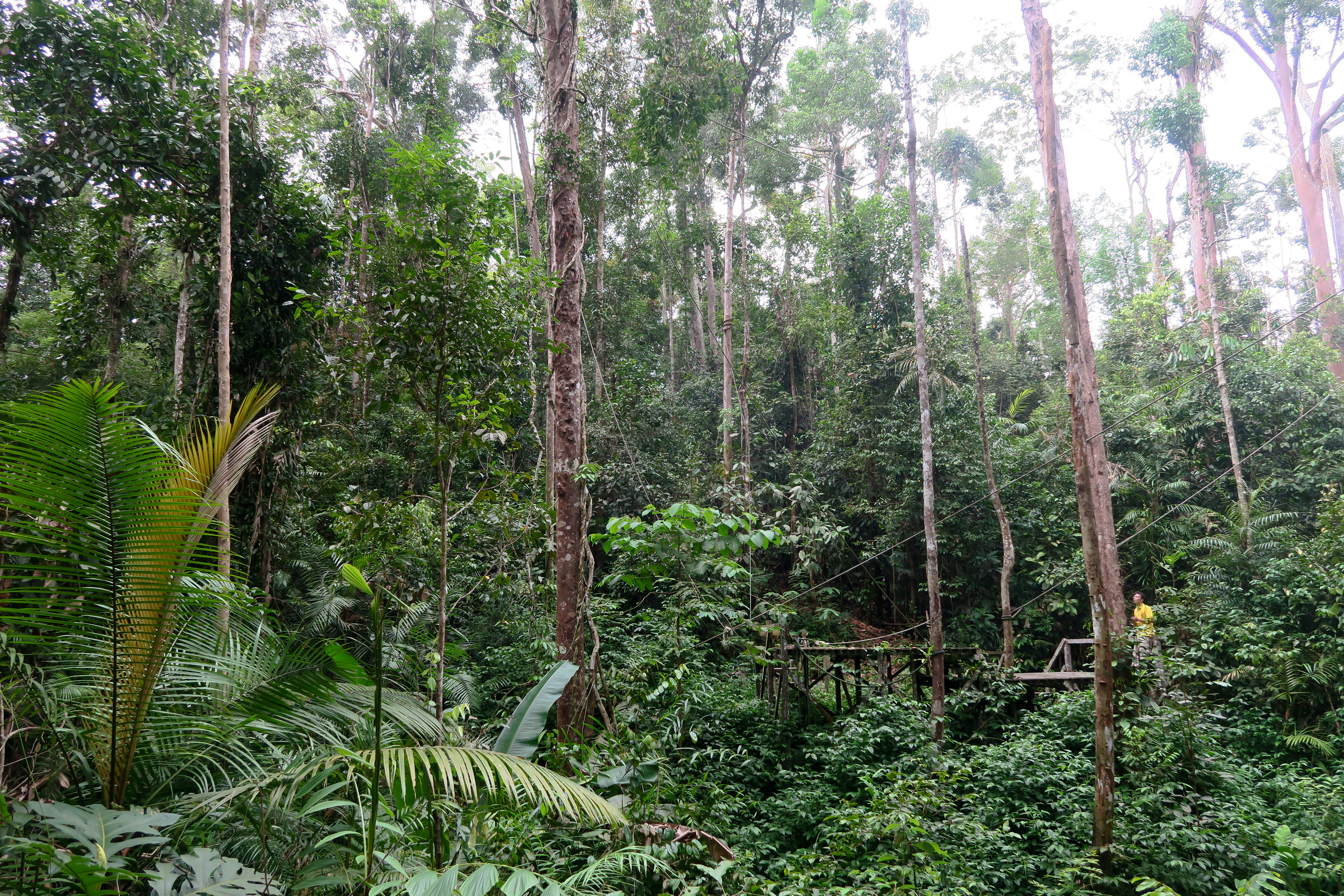 The rangers lead you through the forest to a raised wooden feeding area for the orangutans. The feeding area is a safe distance from the viewing area. Seeing orangutans is not guaranteed.  On my first trip, I did not see orangutans, as it was fruiting season. The orangutans were seeking their food in the wild.
Tip: If you want to get up close, I highly recommend investing in a long zoom lens, which will make 50 feet feel like 5 feet.
While I was happy the rehabilitation process for the orangutans was going well, I still felt incomplete so I went back a second time with fingers crossed.
On my second trip, the rangers monitoring the orangutans said there were sightings of orangutans feeding in a nearby part of the forest, reachable on foot. We were redirected to see orangutans actually in trees above us, feeding on fruits.
Okay, how adorable are these shaggy babies?  I'm in love!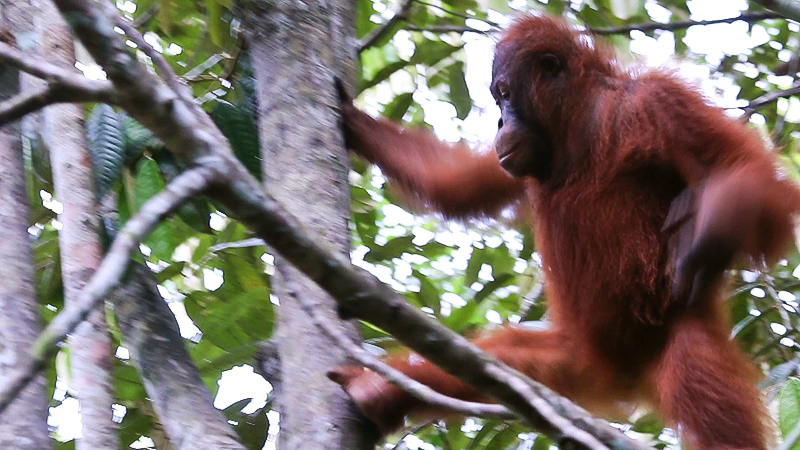 Semenggoh Wildlife Rehabilitation Centre information
Feeding times are at 9am and 3pm (about one hour).   If they do not make an appearance, this is actually a good thing, as it means the center has done a good job reintroducing them back to jungle life and they are able to source food in the wild.
Tip: Go for the 9am feeding. The 3:00pm feeding lasts one hour. Getting to the last return bus is tight.  During fruiting season, orangutans may not show for the scheduled feeds. Check in advance as to the season.
Admission: 20 Ringgit.  Click here for website information .
Conclusion
I walked away feeling warm fuzzies, educated and inspired that someone out there was doing good for our giant, shaggy fur babies!
Learn more about our endangered species at World Wildlife Fund for Nature and take a stand against palm oil industries.
Getting to Semenggoh Wildlife Centre in Kuching
Getting to Semenggoh from Kuching is simple. There's a bus that goes direct.  From Kuching main bus terminal you can take the 3A bus from Kuching  (or you can look for a bus that says it's going to Semenggoh). Last bus leaves at 5PM.  It's a 30 minute bus ride from Kuching (5 ringgit) and taxi (approximately 30 ringgit).
Love orangutans and want to visit in support of protecting our wildlife? Pin this article to Pinterest or share the article to spread the word about orangutan rehabilitation at Semenggoh Nature Reserve.
Related Posts
Wildlife and Trekking at Bako National Park
Sarawakian Cooking Class with Bumbu Cooking
Food in Kuching Sarawak
Travel Guide Sarawak
Experiencing a Borneon Wetlands tour & night Safari
Enjoy this post? Pin it to Pinterest
Looking for travel insurance?
American travelers often pay a premium on travel insurance.  World Nomads offers economic solutions for travelers who seek security and peace of mind.  It covers 150 countries.