Last Updated on June 28, 2019 by Christine Kaaloa
At the heart of Northern Laos rests Luang Prabang.
The moment I entered town, my  blood pressure dropped into laid, very laid back mode. Like a good massage, I could go deeper. Unlike the blunt urban vibe of Vientiane, Luang Prabang is somewhere you can stay a week or longer.
 As a UNESCO World Heritage site, the small city blends old European colonial architecture with a Lao urban structure and has a bit of international everything. From river beach to tourist bars, massage parlors and riverside restaurants, roadside baguette stands and Buddhist temples, the diverse jewel of a city can easily be explored on foot or bicycle.  It's international push towards tourism is a little disappointing if you're looking for the real Laos, but it's what makes it a convenient drop spot of weary backpackers and tourists.
So with all there is to see, what should you actually do?
9 Best things to do in Luang Prabang
1. The view from Mount Phou Si
I'm all in for travel cliches– watching sunsets  from mountain peaks are quickly becoming one of them! And I'm racking them up along Southeast Asia. As the highest hill point in Luang Prabang, Mount Phou Si beckons travelers with an alluring and romantic view of the city. It's a casual 8-10 minute stroll up to the top where you'll find a panoramic view of Luang Prabang city.
Note: The lady siting outside the entrance sells birds in a dried leaf cage. Locals take them to the top, make a wish and release them for love and good luck! Buddhist belief is that by creating good merit, this helps cleanse your sins in this lifetime. However, this also feeds a vicious cycle of locals, capturing birds in order to make a profit. Guess a family has got to eat somehow.
2.  Monks taking alms
Each day at 6 am, young monks in saffron-colored robes, file into the city from over 30 local Buddhist temples. Most of them are boys around the age of 16 and younger and they walk briskly down the main street of Th Sisavangvong, holding out alms bowls to receive food donations from locals.
These days, tourism has turned it into a sad circus attraction (hence, the sarcasm in my title). Rice baskets are sold on the street, tickets to take part in alms giving is sold at hotels and tourists replace locals at the alms procession.  Nevertheless, the monk procession still makes it a beautiful ritual to watch.
Tip: If you're taking photos of the monks, leave the paparazzi flashes at the door (the bright flashes are disrespectful to monks and locals honoring their spiritual practice). Also, learn how to take photos at a distance or with a zoom lens if you want those closeups! Shoving a camera in the monks' faces is un-cool (yes, I've seen tourists do this and with flash too).
To participate in the alms giving, read a little about the culture first so you understand the event. It's also wise to prepare your own food offerings; I've heard in the past, unscrupulous merchants have sold cheap/ bad food to tourists and monks fell ill.
Top 5 Things to Do in Luang Prabang: Watch the monk procession
 3. Luang Prabang beach
Luang Prabang has a beach? I almost fell over when I saw it. At the end of Luang Prabang's main street, the road curves along the river and the Mekong wraps around a small beach islet. Stroll across the bamboo bridge and find some shade under an umbrella, where you can relax and let the river wash your worries away.
Top 5 Things to Do in Luang Prabang: Visit the Beach
4. Dine along the Mekong River
If the beach scene is not your thing,  dine at one of the many riverside restaurants. The gorgeous simplicity of Mekong river life is peaceful. Boats cascade through the waters and Laotian villagers fish and play at the river's edge.

5.  Shop at the night market
After 5pm the end of the main street (Th Sisavangvong & Th Kitsarat ) unfolds into a seductive night market with souvenir jewelry, clothing and Hmong village tribe handicrafts. The night market occurs daily and is the best place to get your Laos souvenirs. Be prepared to haggle, because you're going to want everything you see!
Top 5 Things to Do in  Luang Prabang: visit the night market
6.  Phosi market
But where the night belongs to tourists, the day is owned by the locals. A stone's throw from Mount Phousi, the  Phosi market is Luang Prabang's largest market, with stalls selling fresh produce, fish, rice, street food and more. It is far more revealing of Laotian culture, as the back streets  buzz with locals shopping for their dinner tables. Watch them sift through produce, order their meat from the outdoor butcher and shop for foods which go from commonplace to culturally bizarre. Market operates from 7am to 5pm but the best action is in the morning.
7.  Park Ou Caves 
The Park Ou Caves is 45 minute  boat ride up the Mekong River from Luang Prabang. The karst cliffs and tiny river islets and beaches lining the Mekong make for a scenic journey as you head up to the caves, where 1,000's of buddha figurines have been placed in devotion by locals.  You'll have to hire a boat to get there.
Tip: There are many cheap day tours ($25 under) combining a visit to the Park Ou caves with Wat Si waterfalls.  My tour included transportation (boat and van) to both sites, a trip to a village where rice wine was made and a tribal village.  The tour is worthwhile and will save you on time and energy. They give you ample time to explore.
Top 5 Things to Do in Luang Prabang: Take a boat trip to see Park Ou caves
8. Visit the crystal blue waterfalls of Wat Si 
Can waterfalls cast a spell on you? The crystal aqua clarity of Wat Si's waterfalls will leave you in breathless wonder.  Located a bit outside the city, you will need to hire a taxi or take a tour to get there.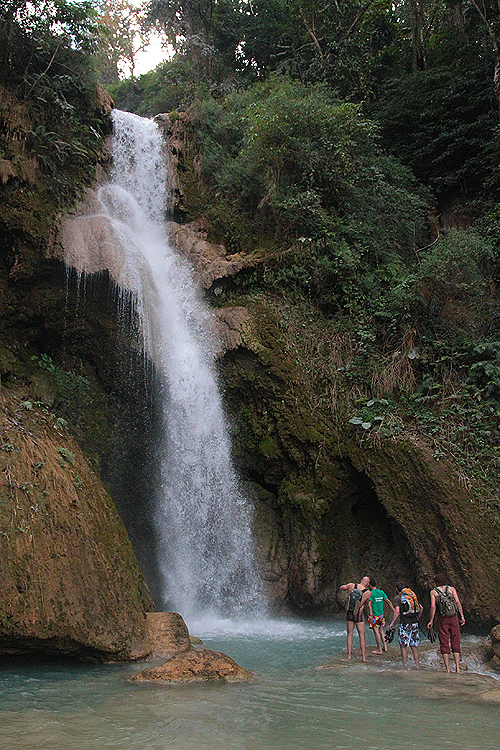 Top 5 Things to Do in Luang Prabang: See the aqua blue waters of Wat si falls
9.  Bicycle around town
Rent a bike and pedal your way around town.  The most active part of Luang Prabang is the touristy zone with old-style colonial architecture, international restaurants, massage parlors, tour agencies and souvenir shops. Outside that tourist mecca is the real Laos.  It's not as pretty or dressed up, but you'll find the real Laotian heart. Most Laotians in Luang Prabang commute into the city for work or for the market. The only Laotians you'll see are mostly workers in the tourist industry.  Time to get outside of that and explore!
Tip: The scary part is you'll need to leave your passport with the bike rental folks for insurance.
Getting Around Luang Prabang
Luang Prabang is a walkable town, although you can hire a tuk-tuk or rent a bike. Read my Laos Transportation Guide for more.
Where I Stayed in Luang Prabang
PHOUSI GUESTHOUSE 2, Khem Khong Road, Cost: 70,000 kip/night (approx $7-9 USD)
Not far from the National Museum, the night market and Phousi 1 Guesthouse is Phousi 2 Guesthouse
Pros: Central location in town next to river, balcony room has a view of the Mekong River and many outdoor river restaurants. In-house tour booking agency and riverside restaurant. Cons:shared bath is a bit dungeon-like and paid computers shut down at 11p
See my photos and a listing of places I stayed in Laos
CHANNUANE GUESTHOUSE, Ban Ho Siang, Luang Prabang
Cost: $30/night  USD (split with another traveler $15 USD/person)
The outside looks like a charming palace; the inside is more homey, like a colonial Laos Plantation home. There's an attempt to be elegant in a Laos way.  Pros: free wifi, personal outdoor patio or balcony, hot showers, bath/shower, free fruits. Central location. Cons: No Computer
What are your favorite things to do in Luang Prabang?
---
Related Posts
Getting to Nong Khiaw (from Luang Prabang)
Things to Do in 48 hours in Vientiane
What will your Kip buy in Laos budget accommodations?