Last Updated on August 9, 2017 by Christine Kaaloa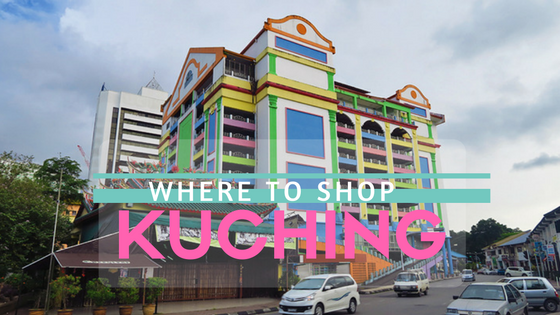 What does condoms and Mentos have to do with shopping in Kuching?
Continuing my 7 Eleven shopping series… If you haven't guessed it yet, on YouTube, I love my 7 Eleven stores as much as I love documenting some of the weird toilets I've experienced in my travels. Filled with culture shock, curiosity and travel resource , they let me know about a culture and its lifestyles.   I consider some of these stores, a point of sightseeing.
Kuching is the largest city of Sarawak (Borneo) and is modern and well-maintained, with surprisingly art nouveu/art deco architecture. While you may not choose this city for the flashiest or trendiest clothes and gadgets, it carries all you'll need in travel needs from travel adapters to toiletries, bug spray and sunscreen. Due to the sudden change in Bornean humidity, I needed to reevaluate and refresh my travel items in Kuching.
Shopping in Kuching for Basic Travel Needs
Inevitably, a traveler forgets something in their packing or discovers they need more resources along the way.  For a vegetarian like myself, they're convenient go-to spots for snacks and if I can't find a solid restaurant… a snackish dinner.
Watch my video below to see what I've found going through the aisles.

Shopping in Kuching: Where to Shop for Travel Needs?
.
7 Eleven in Kuching, Sarawak
 7-Elevens in Sarawak are not the greatest convenience shops in town.  Compared with Bangkok, Taipei or Japan (and their Daiso), they're disappointingly sparse and lack variety (7 Eleven, you failed me). The most a traveler might buy are soft drinks, chips, snacks and water.  There's your standard beverages, coffee, soft drinks, milk.  There's a large variety of western soft drinks.
KK Supermarket
KK Supermarket is perhaps the closest substitute to 7 Eleven. It resembles a convenience mart that is stocked with local fare in snacks, cooking ingredients, toiletries and household variety.  It doesn't have produce or meats but carries more snacks and drinks than 7 Eleven. The products are Malay so you'll find some quirks with branding. You'll also get more of a cultural look at the types of snacks which are most popular to the city.
I found an electrical mosquito repellent.  You plug it in to the outlet and it perfumes the air with this repellent solution which repels mosquitoes. It's an excellent tool to pick up if you plan to visit wet and humid areas, where mosquitoes are common.  The device also came with a "plug resizer" (see my video). That's the only thing I can think to call it. Many two-pronged plugs fail to fit two-pronged outlets. The prongs are always too small and so the connection is seldom snug. This plastic resizer I discovered, is known to Malay people and so they know to use it. You can find these in hardware stores or convenience shops like these.
Everrise 
Everrise is a main grocery store in Kuching.  It's a popular local spot for household ware and groceries.   I bought a headlamp (this came in super handy at Bako National Park)  for only 5 MYR. At this point, I also realized I needed to get more sunscreen. It seems that sunscreen in Southeast Asia is seldom cheap; mine cost roughly $8 and that was the cheapest one.
Prices are reasonable and you can do full grocery shopping there. The fruits, you'll find priced similarly with smaller mom-n-pop shops around town and they're of quality. Location:  Basement level of the Plaza Merdeka Shopping Mall.
Plaza Merdeka Shopping Mall
The Plaza Merdeka Shopping Mall is a giant mall with 3-4 floors of trendy stores from clothes boutiques to technology. It conveniently houses Everrise, Pizza Hut, Burger King and a food court.  This mall makes shopping in Kuching a one-stop breeze and you might just want to visit it for its air conditioning.
I did find a store here where I liked the daypack replacement  (my own backpack was breaking) .
Main Bazaar
Right across Kuching waterfront is a strip of buildings several blocks long, called the Main Bazaar.  I stayed in this area. Shops from convenience stores to tourist souvenir shops, tour agencies and small local cooking food shops line the covered sidewalk.  You can find the famous keki layer (or layer cake) walking along this strip as well as, ABC kantong near the cross-section of Wayang Street. I picked up a cheap plastic raincoat at one of the souvenir shops and there's a bank and ATM at the end of the strip.  Parallel to this street and behind it, is Chinatown. There's not a lot of shopping in Chinatown~ mostly cafes, bars and Chinese businesses, but it's worth a look for its architecture.
Kuching: The unofficial home of Mentos
I'm a fan of Mentos. It's one of my big travel secrets when I'm touring Southeast Asia. If I can't find familiar candy to give me my sugar fix.  Mentos do it for me.
But even I can't explain why there's such a staggering variety of Mentos in Kuching, more than the U.S. and Southeast Asia yet. They are in rolls, boxes, cylinder containers, packets…. chewing gum (some with filling), chews, kiddie sized and normal. It was mind-blowing to me.
What's up with the condoms?
I'm definitely noticing a pattern with condoms. They are at the front of every convenience store near the register and there's always a sizable variety and quantity. Then comes the chewing gum.
The placement of condoms at the cash register are certainly different from many places I've been; it's not common to have an entire display of condom choice in the front.  The only places I've known to carry such a large variety were sex shops. There's titles like Comfort, Love, Tingle,  Together, Close….  Pleasure.  Kuching must have a healthy sex life.
Where I stayed in Kuching
This is for a reference point. I stayed atRadioman Heritage Hostel, Kuching and it was central to all the places I'm mentioning. You can find nearby hotels here.
Related Posts:
Must Try Foods in Sarawak
Sarawakian Cooking and a Cooking Class
Best Things to Do in Sarawak
Where to shop in Kuching
The wildest Borneo Adventure under $30