Penned under our Expert Traveler series, this guest post is written by Delilah, a half-Singaporean New Zealander travel blogger of Our Travel Mix.  Delilah has visited Singapore countless times, experiencing it from a local lens. She will be your travel guide to Singapore.
Singapore has earned a reputation as an expensive city to travel to, but this doesn't necessarily have to be the case. If you're prepared, you can have an amazing trip to Singapore regardless of your budget.
That's why we have put together a list of the most important things to know before traveling Singapore.
15 Things to know about traveling Singapore
1. You can travel on a budget
If you're on a budget, don't rule out Singapore – it absolutely can be done affordably.  The food here is some of the best in the world and can be found for just $3-4 SGD. Mobile data is super cheap.  Try shopping at markets or some of the boutique, local shops rather than the massive, modern shopping malls scattered around Singapore.
Central Singapore is all explorable by foot. Use your legs and walk around the city. You'll be able to see Singapore's most popular sites such as Chinatown, Little India, Arab St, Clarke Quay, and Gardens by the Bay – all without spending a cent!
Drinks are expensive, so forego the cocktails and sip on a lime or sugarcane juice instead.  You will definitely prefer it when you realize how hot Singapore is.
Sentosa Island is free (yes, you can walk there – you don't need to take the gondola), Pulau Ubin is a cheap boat ride away and there are countless beautiful parks scattered all throughout Singapore.  The botanic gardens are a stunning and free way to while away an afternoon.
2. Venture out of the city
If you have only a day, then the city center is the best place to explore as there is so much within close proximity to each other.  It really was set up for tourists.
That said, you can't truly experience Singapore by just going where there are other tourists.  Jump on the MRT and explore one of the outer neighborhoods. Toa Payoh is one of the oldest suburbs with heaps of interesting places to see.  Ang Mo Kio Avenue has a shopping mall, two large parks (one with a dragon playground) and heaps of great places to eat.
IKEA is a good way to spend a few hours and get a meal, found far east in Tampines.  It's near a great beach as well as the airport – which is one of the most impressive places in Singapore.
3. Singapore's Changi Airport is the best airport in the world
Singapore is a major hub for flight transfers from all over the world.  With over 60 million visitors each year (and climbing), Changi Airport has transformed into a major tourist destination.  The airport itself has been voted the world's best for seven consecutive years! 
Changi Airport is home to the largest indoor waterfall in the world.  The Jewel has only recently opened in 2019 and houses a shopping complex and plenty of places to dine.  Shop and eat to your heart's content. In the main terminals, you'll find butterfly and cactus gardens, a swimming pool, nap rooms, an indoor 12-metre slide and movie theatres.
As you'd expect, with this myriad of amenities, Changi airport is massive . However, getting between each terminal is super easy.  Take the skytrain free of charge.
4. Eat everything at the Hawker Centres
It's easy to spend $25 SGD for a meal in Singapore, especially if you stick to the nicer-looking restaurants.  This, however, would be a huge mistake.
Like many Southeast Asian countries, Singapore had a significant food hygiene problem.  To combat this, the government created hawker centres all around the city. These government-owned 'food courts' might not be the prettiest places to hang out in and often don't have air-con, but don't let the facade fool you.
Firstly, all stalls are required to pass stringent food hygiene tests or they will be shut down – so food poisoning should never be a concern here.  Secondly, you will find some of the most authentic and delicious dishes in all of Singapore in these hawker centres. And finally, most meals won't set you back more than $5 SGD.
5. Singapore has Michelin Star rated hawkers
Believe it or not, Singapore has two Michelin Star hawker stalls.  The first, Liao Fan Hawker Chan in Chinatown, and also the Hill Street Tai Hwa Pork Noodle in Kallang. They're amongst the cheapest Michelin Star restaurants in the world, so they're worth a try, even if you're not a foodie.
My top recommendation, whether on a budget or not, is to eat all of your meals at these hawker centres.  Get up early and buy roti prata for breakfast, have wonton mi for lunch and laksa or char kuey teow for dinner.  And don't forget to try sambal stingray at least once. Give it all a shot.
6. Use Klook and book online (like GBTB)
A lot of the best activities in Singapore are free, but there are some that are very much worth the entrance fee.  One example of this is Gardens by the Bay in Singapore's Marina Bay. These two greenhouses tower of Marina Bay, filled with hundreds of thousands of plants.  The entrance fee is $28 SGD and requires queuing in a line to get in.
Websites, such as Klook and Get Your Guide, offer tickets to a lot of activities such as Universal Studios (day pass), Singapore Pass (of top pick attractions)  at a lower price – plus you can skip the queues and walk right in.  The same tickets to Gardens by the Bay via Klook cost less than 23 SGD (combo up and get the OCBC Skyline) – and every dollar adds up!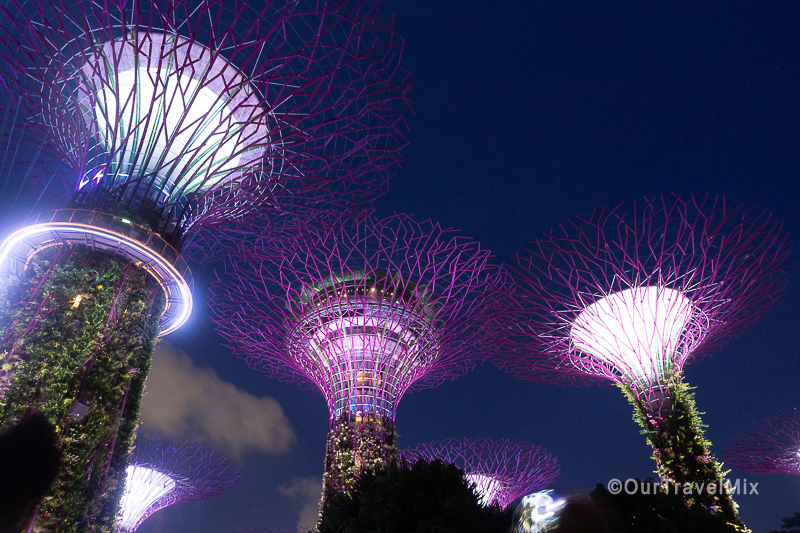 7. Travel to Sentosa on a weekday
Sentosa Island is a man-made island attached to the southern tip of Singapore.  Here you will find three of Singapore's few beaches, as well as a Universal Studios theme park, gondola, waterpark and a bunch of other cool things to do in Singapore.
Singapore doesn't have many beaches, and on the weekends it isn't just tourists flocking to Sentosa.  A portion of Singapore's 5 million people visit Sentosa to soak up the sun and take a dip in the ocean.
If your trip allows it, try to go on a weekday to avoid some of the local crowd.  If you get lucky, you might find the third beach along to be almost empty.
8. Singapore is not a cheap city
Although you'll find Singapore in Southeast Asia, surrounded by affordable countries like Indonesia and Malaysia, Singapore is not a cheap destination.  
For the past 50 years, Singapore has seen rapid development and economic growth.  A significant wealthy population has emerged from this growth. On average, Singapore's population earns almost 6x more than its neighbouring countries – putting it roughly on par with the United States.
On top of this, it's small physical area and popularity for tourists has caused accommodation prices to rise significantly.  To stay in a nice hotel in the centre of the city you will typically expect to pay between SGD $200-400 for a room.  Drink prices are high, around SGD $10-20, which makes going out an expensive activity.  It pays to set your expectations before visiting.  You can't expect to find a room for $8 a night like you can in other Southeast Asian countries.  You'll need to come with more cash and be prepared to spend a little. 
Despite this, it is possible to cut costs.  Remember to eat at Hawker Centres, use the MRT and consider staying in the more local areas, such as Toa Payoh which is one of Singapore's oldest suburbs.
9. The MRT is awesome
Few cities in the world have a more effective public transport system than Singapore.  Five MRT (mass rapid transit aka train) lines connect most of the city, with interlinking buses and light rail to connect the remaining residents of Singapore to the nearest MRT station. Check out the Singapore MRT map
Thanks to its small geographical size and dense population, these five lines see a daily 3.3 million riders making it a very fast, affordable and efficient way to get around Singapore.
Now, in order to use the MRT, buses and LRT, you will need to get your hands on either an EZ-Link Card or a Singapore Tourist Pass.  The former is best if you're traveling for more than three days, the latter is best if you're visiting for less than three days. It's quite straightforward.  Pick up a card at the airport, then tag on before boarding a train and tag off after departing.
You can get almost anywhere in Singapore this way, and for just $1-2 SGD per ride.  It's also often faster than taking a taxi or driving. 
10. The tourist sim is a great deal
Singapore has ultra-fast internet and it's generally quite affordable.  You'll find that in a lot of countries, the tourist sim is a bit of a rip-off.  Singapore is an exception.
When you get to the airport, make sure to grab a 7-day, 12-day or 15-day tourist sim card from Singtel – depending on your trip.  They cost $15 SGD, $30 SGD and $50 SGD respectively.  
For most people, the 7-day card for $15 SGD is perfect and gives you a ridiculous 100GB of data, unlimited Facebook and 500min of local calling.  This is perfect for hot-spotting to your laptop if you need to work. On top of this, you get 1GB of roaming in case you are planning a getaway to Australia, Indonesia, Malaysia or Thailand.
11. Singapore weather
You will quickly learn that Singapore's climate is hot, humid and wet – typical of other Southeast Asian countries. Thanks to this, the best time to visit Singapore is any time of the year – at least from a weather viewpoint.
Temperatures are consistently around 30 degrees all year round.  There's a bunch of overlapping rainy-seasons which means torrential rain storms happen spontaneously all throughout the year.  Humidity is always high, so expect to feel a bit uncomfortable when outside.
As a result of the tropical weather, you'll want to make sure to pack loose, breathable clothing.  Think singlets, t-shirts, summer dresses, and playsuits. Anything you would typically wear in summer back home.
A decent raincoat is usually a good idea as well, or pack a compact umbrella.  The rain tends to come on hard and fast and there's no good way to predict it.
See my packing tips for backpacking Southeast Asia
12. Chewing gum is illegal – sort of
In 1992, the Singapore government implemented a ban on chewing gum.  This ban carried with it a hefty fine and possible jail-time for importers and distributors. For travelers, this meant that it was best to avoid bringing gum into Singapore altogether.  This concern has largely remained, despite the ban being partially lifted in 2004 due to a fair trade agreement with the United States.
Today, it is not illegal to chew gum in Singapore.  You can even purchase gum from pharmacists, including sugar-free, nicotine and therapeutic gum.  I would recommend refraining from bringing in gums containing sugar or large quantities of any other gum, but you won't get arrested at the border for having a pack of sugar-free gum in your carry-on.
The result of the ban was a widespread decrease in chewing gum and litter all around Singapore.  Thanks to this law, visitors to Singapore can expect to find an impressively clean city, free from gum splotches on pavements and chewing gum under tables.
13. Is Singapore safe?
Yes – Singapore is a very safe city to visit.  Even though the country has a relatively low crime rate, it still pays to be careful.  Assuming you're safe can get you in a lot of trouble, even in Singapore.
Fortunately, you can walk around Singapore any time you like and be relatively safe.  It's rated 8th in the world on the Global Peace Index – for reference, the US was just 121st. Bear in mind that both petty and serious crime does still exist.  Don't leave valuables unattended – ever. There are 5.6 million people in Singapore and there's a good chance not all of them are honest. Read solo travel safety tips
Don't get drunk and disorderly – this is a crime and can lead to corporal punishment.  Similarly, keep your distance from people under the influence of drugs or alcohol.
Outrage of modesty, or molestation, has been rising in Singapore.  You may recognize signs and announcements to educate the general public.  As with anywhere, be conscious of your environment including on public transport.
14. Avoid drugs in Singapore
It goes without saying, don't attempt to smuggle or distribute drugs anywhere in the world.  But a lot of countries (including many states now in America) have legalized the use of some recreational or medical drugs, including marijuana.
Singapore is not one of these countries.  Drug use, including marijuana, is an extremely serious offense here.  Merely possessing a drug in Singapore can lead to up to 10 years in prison.  Possession of more than 500 grams of marijuana mandates the death penalty.
Singapore's an extremely safe place and it has one of the lowest prevalence of drug abuse in the entire world.  These harsh laws are in part responsible for this and it's unlikely you'll come across any without looking for it.  It just pays to remember the key things not to carry while traveling to Singapore.
15. Accommodation in Singapore will be your biggest cost
Cheap public transport and affordable hawker centres are great, but they won't be your only expense when visiting Singapore.  Your biggest cost will definitely be accommodation.
Rooms at luxury hotels like Marina Bay Sands Singapore start around $400 SGD.  Hostels and cheaper hotels can be found if you book well in advance. Consider staying outside of the city which will give you the opportunity to experience local life a bit more.
Unfortunately, despite a large amount of affordable housing and spare rooms in Singapore, AirBnB and short term rentals remain illegal.  The island is scattered with HDB flats (public apartment blocks) that could provide affordable accommodation options for travelers. Hopefully one day this will change and travelers will have the opportunity to live in a local HDB apartment.  This is one of the best ways to truly experience Singapore.
Where to Stay in Singapore
Orchard is the most popular place to stay in Singapore. It's central and there's no shortage of areas to shop and eat. Shopping centres filled with high-end brands line Orchard Road, so if you're a shop-a-holic, don't think twice about staying here. Where to stay in Orchard.
If nightlife, or even chilling out at a riverfront bar with a cocktail sounds like how you'd like to spend a holiday, Clarke Quay is the place to stay. It's close to the MRT and also walking distance to the Marina Bay area which is a popular tourist area.  Where to stay in Clarke Quay. 
For a bit of luxury, stay at the iconic Raffles Hotel and be sure to grab a Singapore Sling at the bar.
For a more authentic, local experience, stay in Tanjong Pagar or Chinatown. These parts of Singapore are the older parts of town so you'll get to appreciate the old buildings and architecture. Wander the streets to find market stalls, hawker centres and hipster cafes. 
Tanjong Pagar can be an expensive area to stay, including the excellent Carlton City Hotel found right in the centre of the suburb.  Chinatown has a few affordable hostels including Heritage Hostel and Eighteen by Three Cabins.
What would you recommend as things to know before traveling Singapore? Share your thoughts in the Comments below.
Best Travel Insurance for Singapore