Last Updated on July 4, 2019 by Christine Kaaloa
I'd like to dedicate my first guest post to all of you, who are budget planning that exotic trip to China and would love some insider tips on where to start. Agness Walewinder both, lives and teaches in China and will be your local budget travel insider, showing you what could be your next favorite destination.
Most of ordinary tourists and holiday makers have strictly planned itineraries when visiting China, which most likely include such big cities as Shanghai and Hong Kong. It is very reasonable, since the size and variety of this country makes it hard to comprehend in less than a month. What people often forget about are the off the beaten paths which are extremely beautiful and stunning, provide the authentic China experience and they are much cheaper to explore and definitely more fun. Moreover, by going to a place less travelled, or not travelled to at all, you will know for certain what is part of contemporary culture, architecture and customs, and what is not.  Here are our top 5 budget places to visit when in China:
Table of Contents: Top 5 Budget Places in China

#1 Guilin.
If you're coming to China by crossing the border in Shenzhen (coming from Hong Kong), then you will be asked on the street just outside at least once if you'd like to go to Guilin. It's a popular destination for both Chinese and foreign visitors. Nevertheless, don't expect crowds of foreigners, or that locals will speak English. There's a reason for people to come in such numbers – beautiful mountains that surround a river. It's so beautiful that Chinese money feature the sight (RMB 20 banknote). It's a place where you'll be able to trek among magnificent rice terraces or see cormorant fishing in the morning – a traditional way in this area. Take a raft, skim along the river and here Chinese people commenting how different mountains resemble people (mostly young girls for some reason). Guilin is a very affordable place although it's a typical touristic spot. We easily managed to survive a day in Guilin for less than $25 so you can do it as well!



#2 Zhangjiajie
For more off-the-path experience go to Zhangjiajie where you'll find find Avatar mountains. You'd think that Pandora is completely fictional until you see it for yourself. The rocks there rocket to the sky vertically and if there is mist at the bottom, and it often is there, you'll see the mountains floating in the air. The park is enormous and you can spend days exploring it. Apart from ability to camp, there are also hotels and hostels (only $6 a night), so you can stay within the park's borders for as long as you want. However, you can exit and re-enter only within 3 days of purchasing the ticket. There's also one of the longest cable cars in the world (Chinese claim it's THE longest), and one of the most dangerous snake roads. The sights are impressive to say the least.


#3 Lhasa
A place words cannot describe – Lhasa. It's a spiritual capital of Buddhism and it's hard not to notice how religious people Tibetans are. Without a doubt, it's a place that everyone should visit at least once in a lifetime. There is no comparison to how your perception of the world will change after feeling the atmosphere of Lhasa. The elevation of Lhasa is so high that the sky (and heaven) seems closer. Air is thinner and cleaner, sky bluer and colors more vivid. It's a paradise for photographers and adventurers alike. Although it's located in China (according to the political map of the world), it's more of a separate country with totally different culture than Chinese. Despite the peaceful Tibetan people, the military presence is heavy and repercussions visible.
Another Tibetan region in China: Qinghai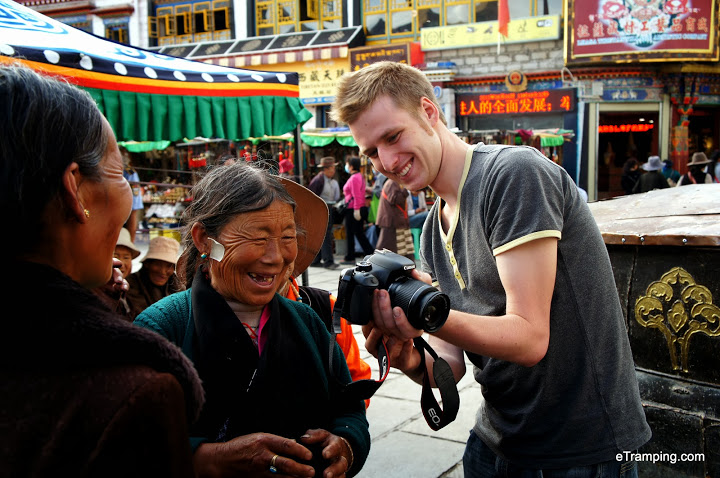 #4 Fenghuang
You have probably never heard of Fenghuang which is a real pity. It's one of the oldest Chinese towns where the time stops. It's truly mystical place where mountains, water and blue skies prevail, a place hidden from tourists and favored by the Mother Nature. A world that is dominated by the green colour. Fenghuang is located in Hunan province, nearby Zhangjiajie so you can easily make it there from Zhangjiajie by local bus. The town is definitely worth exploring for the sake of its ancient architecture and authentic Chinese look. The scenery is breath-taking, no matter whether it's night or daytime.
When strolling down the ancient streets of Fenghuang, you can spot plenty of wooden boats by the river, local houses and hotel windows reflected in the water, houses decorated by flashy lanterns and colorful lights so the whole place looks like a fairy tale. What people love the most about this town is that it has not evolved during the past few centuries. Rowboats are used as one of the main means of transportation here. Tourists are more than welcome to take one of them to explore the town. It is a fantastic experience.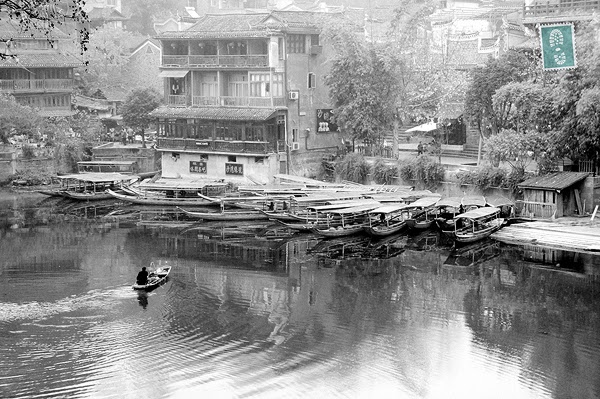 #5 Beijing
Rumor has it… there are one million bicycles in Beijing and believe me, it's so true. Thanks to local bikes, you can explore the capital city of China on the cheap. Why take the metro or taxi if you can rent a bike for $5 and cycle around? Beijing has a lot of free things to do and various spots to explore. You should definitely spend a day in Summer Palace and Pearl Market. Pearl Market is a great place to shop for gifts and souvenirs and get to know pearl culture whereas the Summer Palace is the largest former royal garden, and is extremely peaceful and charming. In order to save some money, you can grab some local street food such as baozi (famous Chinese dumplings) or a bowl of Beijing noodles. Avoid restaurants, open yourself to locals and don't take the hostel tours!
If you would like to read more about China, you can check out my "Add the Brick to the Great Wall:" Experience-based Advice for China from Expats" e-book which sums up my two-year experience of teaching, living and travelling in the Land of Dragons.