Getting to the Floating Market of Damnoen Saduak
I had never been to a floating market before.  It was my first solo trip to Thailand and the notion seeing river houses raised on stilts and farmers selling their produce and wares on wooden boats felt so exotic.
Four years later and I've seen a handful of stilted river houses, floating villages and floating markets not only within Thailand, but throughout Southeast Asia, such as Cambodia, Myanmar, Vietnam…  Nevertheless, Thailand is my favorite Southeast Asian country to come  home to and their floating markets are still colorful and occasionally, places I like to revisit.
As the most popular floating market of Thailand,  Damnoen Saduak has grown into a tourist's trap over the years.  But that doesn't mean you shouldn't see it.
There's a timeless appeal and each time I've gone, I've enjoyed witnessing it, seeing familiar faces, like the women in the photo above and below.  Three years ago, they were all in the same spot!
Located around 30-40 minutes from Bangkok in the Ratchaburi province, it's a colorful market filled with vendors cooking up and frying Thai dishes or selling produce as they paddle their boats on the river. You can buy cheap trinkets, have your meal served to you from a boat via a fishing pole and even have your picture taken with… a boa constrictor?
Cheap tourist souvenirs are sold anywhere from a wooden frog sound maker to clothes. Food wise, a lot of Thai fruits are sold on the boats, while parked boats serve deep fried snacks, dried seafood and noodle dishes. It's a wonderful Thai foodie experience. You can buy a snack as you ride your boat or on ground, pull up a plastic stool before a parked boat vendor and slurp your noodles as you watch the madness of the market.
Just a head's up, there's not as much variety as photographs may imply. While you'll take a boat through the klongs, the actual length of Damnoen Saduak floating market is quite  short …about a block long!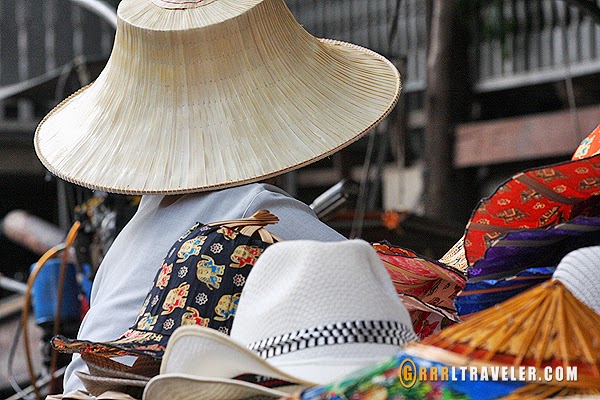 Contents for Getting to the Floating Market of Damnoen Saduak
Best time to get there
Ideally, you'd like to arrive as early as 7 am. Once the crowd rolls in at 9am, the boat traffic jam begins and it's not funny. My most recent trip, the jam was so horrendous, the boats couldn't even move. Luckily, I just watched the bottleneck from the bridge.
How much do boat fees cost?
Boats can range from a cheap row boat (around 200-300 baht) to a motorboat (600-800 baht, which at that rate, you'd might as well just take one of the many cheap budget day tours offered in Bangkok). You can definitely haggle prices lower. The boat rides are said to be around one hour and on your way to the market, you'll pass through the khlongs and see some stilted houses. But as I said, the market itself is only a block long. If you're looking more for a khlong tour, a better option is to take the three hour boat ride from  Taling Chan Floating Market.
But take a look around the market on foot first. You may decide those fees aren't worth it.  You can easily take photos from the bridge or on the walkway lining the market. Once 9am rolls around, it's a tourist mess.
3 Ways of Getting to Damnoen Saduak
Thailand is a wonderful country for budget travelers, so while getting to the floating market of Damnoen Saduak, may take some time, there's ways to get there without burning your wallet.  The most costly method will be to hire a taxi to get you there, but if you're short on time and prefer to avoid the hassle, it's convenient. Here's some ways to get to the market…
Hire a full or half-day budget tour
Thailand has budget tours and they will spoil you. My first trip to Damnoen Saduak, I signed up for a half day tour from my hostel for under $25. Not only was I picked up at my hostel in an air-conditioned van with an English-speaking guide; but I got a boat ride at the floating market, a visit to an elephant camp (Note: Most Thai elephant camps are not ethical in their treatment of elephants), snake camp, a wood carving shop and a free bottle of water!
Downside:  You'll likely get there at the worst hour of 9AM, when the whole market turns into a floating circus of boat traffic.
Taking Public Transportation
Thailand has a variety of transportation (I list 20 ways here) so don't stress it. Take a taxi (I am always cautious of taxis) to Bangkok's Southern Bus Terminal (it's outside the city center), where you'll catch bus #78. Another pickup point is on the street level of Siam Square (there's a tourism kiosk on the opposite side of the street).
Those wanting to book in advance, I recommend 12GoAsia (below). I've used them before and they're great for advance booking and scheduling. Although it is always ideal to buy your tickets in person. The bus starts running around 6 am and runs approximately every 30-40 minutes. The bus will drop you around 1km from the market in a non-descript area and you'll need to catch a taxi or  motorbike taxi who tried to charge me 100 baht, when it wasn't far.  When you get to the floating market, you'll need to negotiate the cost of your boat ride.
Downside: You'll need to get up early and haggle half of that journey.
Read Taking the Bus in Bangkok
Book your Thailand bus and train tickets in advance
12go.asia is a reputable booking service I've used, which lets you see timetables and make bookings in advance so you don't have to stress!  You will still need to pick up your tickets in person, however.
Ever been to the floating markets in Thailand?

Thailand Travel Series (Video Playlist)
---
Best Travel Insurance for Thailand?
American travelers often pay a premium on travel insurance.  World Nomads offers economic solutions for travelers who seek security and peace of mind.  It covers 150 countries.