Last Updated on June 23, 2020 by Christine Kaaloa
You went to the Crazy Train Market in Maeklong?
My guesthouse manager laughed, with a cackle. We Thai, know it as "crazy train market" or "Umbrella Pulldown Market", because when the train comes, the market people pull down their umbrellas.
Known as Talad Rom Hoop in Thai,  the Maeklong Railway Market seems to go under many guises, which sound well, "crazy". And to sum it up succintly, that's exactly what experiencing the market feels a bit like.
Table of Contents: A trip to Maeklong's Railway Market (or Umbrella Pulldown Market)
What is the history of the Maeklong Railway Market?
Started in 1905 in the fishing port of Samut Songkram (otherwise known as Maeklong), the market was a normal fish and produce market for locals, when officials decided to build train tracks right through it.  The railway was built to transport goods between the fishing ports of Ban Laem and  Samut Songkram. It didn't stop the locals from having their market, though.  When the train comes through, merchants quickly snap up their produce and meats, and collapse their tarp umbrellas and tent stakes. After the train has passes, umbrella awnings pop back up and wares get laid out again. Today, the train continues to run through the market and locals plow on without a hitch.
Walking down the tracks, you see stalls selling everything from fruits and vegetable to meats, fish,  barbequed frog on a stick, you name it. Butchers chop pieces of meat on wooden boards set a few feet from the rails, as produce merchants orchestrate their fresh veggies  in organized piles. A poster of the Thai king hangs in every stall; all this madness goes on under royal gaze.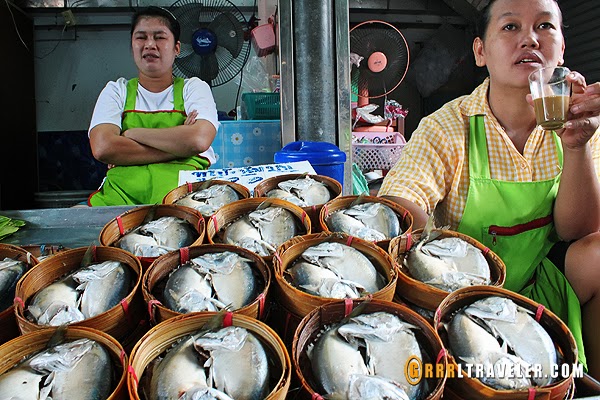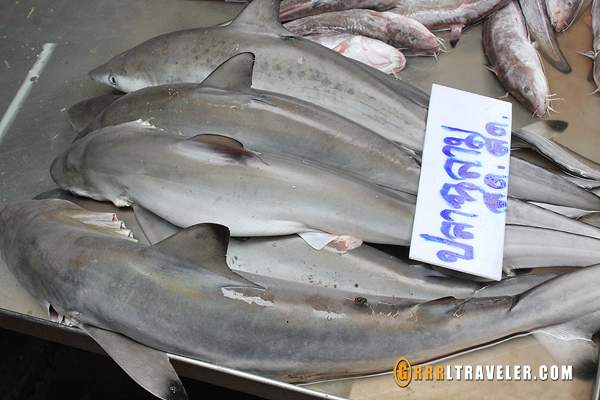 You can buy sharks and barbequed or fresh frogs. (photos above)
Our guide pointed out to us that merchants have their goods butt against the tracks and that you won't find many souvenirs here because it's strictly a local market.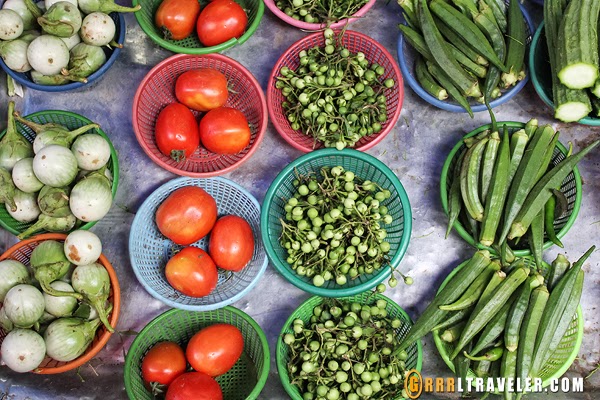 More photos of the market in photo gallery below
When does the train arrive into market?
The train runs 4 times daily.  Our guide also explained that it's actually a working commuter train, which transports locals from Ban Laem station (and the nearby ferry) to the town of Samut Songkram.  Foreigners can ride the train at a cost slightly higher than local cost.
There's a fishing port beyond the end of the tracks, so if you want, you can see where historically, the tracks run port to port.
Noted arrival times into Mae Klong are 8:30 am, 11:20 am, 2:30pm, 5:40pm. This is from the 2011 Ban Laem to Maeklong train schedule.
Tips for Photography:
When the train comes everything happens quickly. You'll want to check your watch and quickly stake out a place in advance, to photograph all the action or you'll miss it, just like I did. The ideal and obvious spot to be is near the end of the train tracks, where you can see the train peek through, as the umbrellas collapse.
However, keep in mind, other tourists will be vying for at spot with you. You'll see tourists stationed further up on the tracks trying to get a shot as the train comes through. It's a little annoying. It's ideal to go on a day with few tourists or to arrive early in the morning before tour vans arrive.
Tourists further up the tracks are poised for shooting the train. Notice the guy squatting in the middle-
a bit obstructive and annoying, especially considering the oncoming train, but hey, that's "tourists."
Getting  to Maeklong Railway Market
My visit to this crazy Maeklong Railway Market was part of a tour with Khiri Travel. It's a good day trip outside of Bangkok.
While I love being an independent solo traveler and forging my own journeys, I also love taking a good one to three day tour, to take the load off of planning everything. Not to mention, it maximizes my sightseeing time and I get introduced to sights I might never had known about or researched, like this really cool market!
If you're planning to do this trip independently, then it consists of two train rides, with a transfer to a ferry  in-between.
To simplify this, imagine the railway as one long railway, which is broken by a river, but then, picks up and continues when you get to the other side. That's what it is.  In between you'll have to catch a ferry, which should be near the stations. Apparently, this line is known as Thailand's Secret Railway. It's due to the fact, they're not listed on the Official Thai Railways website (they're not, I checked!). So you'll want to double-check times in person, when you arrive at the station.
Getting to Maeklong market from Bangkok via van bus
You can catch a van bus at BTS Victory in Bangkok. You'll have to ask around for where the Maeklong market bus is located as the street it's on won't be obvious. Fare is 70 baht and the bus goes direct.
Getting to the market in Samut Songkram from Bangkok (via train | ferry):
First train :  Wongwian Yai (Bangkok) to  Maha Chai  (Timetables *Check the accuracy with the station. Timetable is dated 2011)
Take the BTS to Wongwian Yai station. Finding the railway after getting off the BTS can be a little tricky, so you'll need to ask locals and mime your way.
Trains to Samut Sakhon depart every 1 hour (Operation time: 5:30a- 10:10pm; Timetable )
Ferry Transfer at  Tha Chin River
Second Train | Mahachai Line:  Ban Laem Station to Maeklong (aka Samut Songkram)  Timetable
Catching the train from Ban Laem Station to Mae Klong (Samut Songkram) Station, seems to be the easy part. It takes approximately 1 hour and is a commuter train. Here's some directions for getting to Ban Laem.  Mae Khlong station phone number is 03-471-1906.
Other Resources: Mark at Migrationology has it broken down to schedule you can follow and a video of the market.
If you didn't want the train ride but to shoot straight, apparently you can take a van bus from Victory Monument in Bangkok. You'd have to ask where the bus is located, but generally, van buses are off on the side streets behind the main center.
Nearby Attractions:
To maximize your sightseeing time, Damnoen Saduak  is located in Samut Sakhon and is closer in proximity to Samut Songkram than it is to Bangkok. Staying overnight in Samut Songkram would allow you to get to Damnoen Saduak much earlier and ideally, before 9AM when tourists arrive.
Would you like to take a trip to Mae Klong Railway Market?
Note: This trip was hosted by Khiri Travel as part of the Digital Innovation Conference. The trip was offered to us in exchange for a monetary donation we'd make to charity.  The opinions expressed are solely my own.
Get my BANGKOK Travel Secrets Eguide for information on Bangkok dentists, medical tourism and more!
Book your Thailand bus and train tickets in advance

Best Travel Insurance for Thailand
American travelers often pay a premium on travel insurance.  World Nomads offers economic solutions for travelers who seek security and peace of mind.  It covers 150 countries. Read reasons you NEED travel insurance.
Watch Thailand Travel Guide videos for Solo Travelers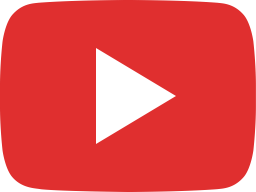 10 THINGS TO DO IN PHUKET | Phuket Travel Guide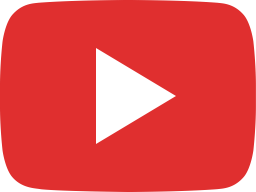 HOW TO USE BIDET SPRAYER TOILETS ( aka BUM GUNS IN THAILAND !!)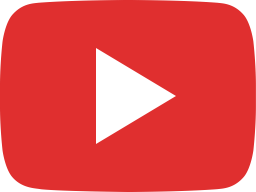 7 ELEVEN IN THAILAND | Shopping in Thailand