Last Updated on January 17, 2018 by Christine Kaaloa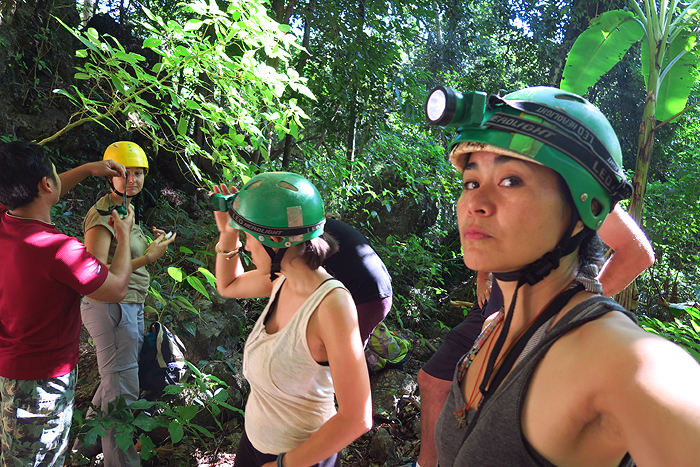 I was starting to feel too sedate in Chiang Mai.
My month-long trip to India had shifted my sense of adventure. Suddenly, I craved travel activity, which tested and challenged me. I wanted to experience something that pushed me beyond my comfort zone and outside of my standard sightseeing and travels. I wanted to experience something new and adventurous.
A day later and a couple of telephone calls to local expat friends for recommendations, I booked a bamboo hut at Cave Lodge in Bang Mapha, Soppong. My next big adventure took me into the North ‪Thailand‬ wilderness to explore the caves of Thailand and the activity of caving!
Above is a video peek inside my stay at Cave Lodge Thailand.

Cave Lodge: Exploring Caving in Thailand
Table of Contents: Exploring Caving at Cave Lodge Thailand
Caving and Trekking in Soppong | Pang mapha
I knew that Northern Thailand was a perfect location if you want to do a lot of outdoor activities such as trekking and home stays with ethnic village tribes. But it also possesses numerous caves. Some caves have rivers running through them, while others are vast cavernous sinkholes. There are even coffin caves or spirit caves which house coffins dating back as early is 300 AD and are said to be the burial houses of Mon tribes.
All the caves require a guide and headlamp and caving gear to lead you through them.
In the Soppong | Pang Mapha region there are over 200 caves identified by local explorers.  Aussie John Spies, the owner of Cave Lodge, is knowledgeable about many of them. Thus,  Cave Lodge was the perfect launch point for caving, rafting and trekking adventures.  If you don't believe me, just ask the National Geographics crew that was staying there, while filming! (Seriously)
Exploring Caving from Cave Lodge
Cave Lodge is one part jungle tree house and one part home stay.  The main lobby and lounge area is a community area, where travelers can meet, mingle or hang out. They have a cafe which serves food, so you have the option and convenience of dining in, should you not feel like walking into the village.
For just a little more baht I could have my own bungalow, hut over a bed in the Cave Lodge dorm.  Sounded great to me. The only drawback of my bungalow however, was that it came with a shared bath/toilet that was a short walk outside.
At night, it gets a little chilly and when everyone has gone to bed, the last thing you really want to do is to leave your warm snuggle, to walk to the bathroom … in the dark (Glad I always bring a flashlight!).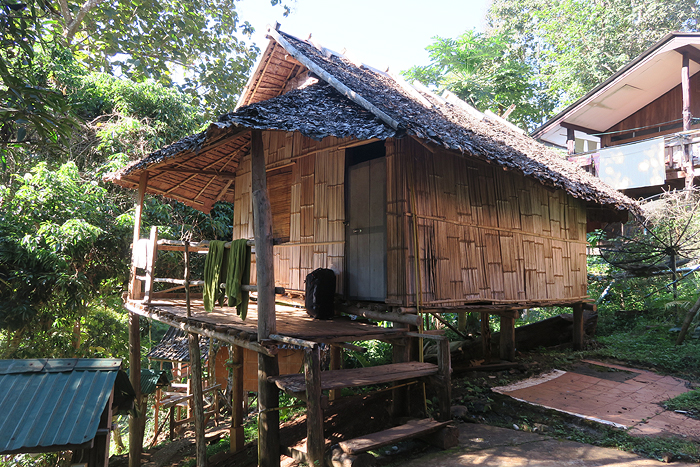 My bamboo bungalow bed was like a trekking home stay mattress, which you knew took the punch of many bodies.  I had enough electricity to charge all my devices each day and to use my laptop. The WiFi just barely reached my bungalow so I didn't have to use my mobile hotspot much. My bamboo accommodations were a little rough, but just the way you'd like it if you were looking for a unique adventure to write home about. It was a place to rest , detox and at night you could fall asleep to the sound of crickets and bullfrogs.
The main thing about Cave Lodge is that it offers caving and trekking tours options. They even have a kayaking tour! Prices were surprisingly more affordable than I thought they would be.
I stayed for five days, but it was so peaceful,  I could've easily have stayed longer.
Ban Tham Lod
Ban Tham Lod (Ban means "house" and tham means "cave") is a quaint Shan village just 9 kilometers from Soppong/Pang Mapha. It's a lovely rural area set in the backdrops of Northern Thai mountains and rivers. If you're tired of backpacker haunts and the touristy buzz of city life, then this is utter heaven. Aside from Chiang Mai treks I've done in the past or a river Kwai floatel stay, Ban Tham Lod was my call back to nature. The night sky produces the best star gazing and each night, you can fall asleep to the sounds of the river and crickets.
Ban Tham Lod is small, with one main road. There's one village shop, which sells basic toiletries. If you want more than the basics, you'd need to hire a taxi (70 baht one way) or bike into town to the 7-Eleven or town shops.
Food is basic in Ban Tham but you've got options.  PennCave Homestay has a small menu but interesting one.  The menu of the day changes according to what Penn has in her kitchen and garden. Trust her cooking and you won't be disappointed. Food is fresh, tasty, organic and feels healthy. She also the only restaurant that has homemade yogurt.  Cost ranges similarly to Cave Lodge.
If you're on a budget,  not to worry, there's a handful of village restaurants which may not look like much from the outside, but ask for their menu and you'll find good options for relatively cheap. 
Next: Read my Caving Adventure in Northern Thailand