Last Updated on June 7, 2023 by Christine Kaaloa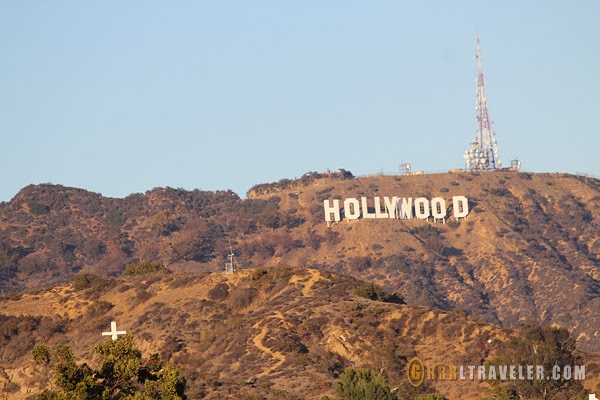 I lived in Los Angeles while going to college to study art.  Back then, it was an asphalt jungle, a place where people-watching was something everyone did. From Sunset Boulevard to Melrose Avenue, every Los Angelino seemed to be either an aspiring musician, actress, filmmaker or producer, waiting to be discovered. I was an aspiring artist living in the bizarre world of Hollywood, bedazzled by the sheen and gloss over this smog-filled city of star-filled dreams.
Read: Best Things to Do in Los Angeles
Today, nothing much has changed about the city. From San Diego to San Francisco and Los Angeles, each California city has their survival guides. Los Angeles is a large and busy urban jungle crawling with exciting, unique, complex and occasionally freaky inhabitants and interests.
23 Things to Know before you go to Los Angeles:
Travel Tips for Los Angeles
1.   Wear your sunglasses
It's not only that many people living there are trying to be stars, but the sun actually feels bright in Los Angeles. Unless you want to grow crows feet with all the squinting you'll do, throw some shades on and you'll be stylin' your eyes from the sun.
2.  Moisturize, moisturize, moisturize
If you never thought yourself to have crocodile skin, think again. L.A. is actually a city in a desert. The driest part of your body will be more pronounced here. Bring a bottle of moisturizer.
3.  Groupon it.
Want to do something, anything in Los Angeles? Groupon Los Angeles will find you a great discount from restaurants, bars, even tour attractions and activities.
Health and Safety in Los Angeles
4.  Have a medical emergency?
Los Angeles has a healthy amount of free or low-cost doctors and dentists for you. Check this website here.  Call first to either, make a reservation or to see if they take walk-ins. Expect to stand in line and wait though. You won't be the only one there.
5.  Smog alerts
That yellow-brown haze over the city is smog, a mixture of dust and pollution. It's such a daily occurrence that Los Angelenos have to wash their car once every one or two weeks, which is why you'lll see many car wash stops. On days when the smog is extremely bad,  avoid outdoor activities and exercise.
6.   Buy bottled water
Buy it bottled. You won't die or get Montezumas revenge from drinking the water like in other countries.  But there's a lot of trace minerals in the tap water and it's still not good to drink. Typically, locals opt for buying filtered  water, even for their homes. Don't worry- the nearest supermarket, CVS or 7-Eleven will help!
7.  Where to find a bathroom? 
Starbucks, McDonald's.   Travel Tip: Download the  Sit or Squat app. It's sponsored by Charmin, but just look for the Sit or Squat download. It's absolutely free.
8.  Runyon Canyon
How can you stay fit when you travel? Well, the cheapest all natural gym to go to with great people-watching and yoga is Runyon Canyon. It's a local hiking spot in the Hollywood Hills and offers a great view of Los Angeles city. Hike is moderate to high depending on the course you take.
Location: 3000 N Fuller Ave,  Parking: Runyon Canyon Road entrance. See website for hiking routes: www.runyoncanyon-losangeles.com
Eating & Shopping in Los Angeles
L.A. has foods for every diet, even weight-loss and picky ones.  If you go with restaurants or cafes, expect to pay on the average $6-10 for a moderate budget. I didn't say it was cheap. For budget-minded eaters, who are still striving to avoid fast food joints, you'll want to do some grocery shopping.
9.   Picky diets and dieters are welcome
Los Angeles is a haven for privileged eaters and folks with special diets. There's a superficial glare to this town and "trim and healthy" is where it's at. The Californian diet, from San Francisco to San Diego, is friendly to many diets and  Los Angeles is no exception:  Kosher, vegetarian, vegan, raw, wheat or gluten-free… however finicky you are as an eater, Los Angeles has your back, babe!
Read Food Tips for Vegetarians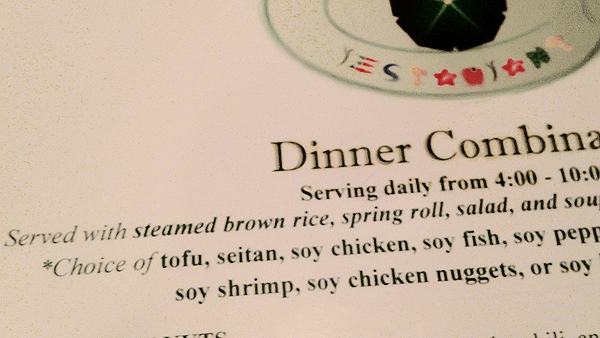 10.  Which grocery store to pick?
Where you go for your groceries, depends on what you're looking for. Whole Foods sells "gourmet", "healthy", "organic" …( and aka "pricey"). Ralphs and Vons are your average-priced average supermarkets stocked with the standard stuff and occasional sales.  But where can you get wheat cinnamon Pita chips for under $1.50 or Dr.Brommer's Peppermint soap for $2? Trader Joe's is where. It's the granola sister of Whole Foods, offering hippie prices.  You can't get inexpensive, organic and healthy like you can here, so check it out.
Budget Tip: The lowest food prices I've seen were at 99 cent stores, which stocks anything from energy drinks, bottled water, canned foods, soups, condiments, refrigerated items and produce for … 99 cents.
11.  Bring your own shopping bag
If you're at the checkout counter of a grocery store, you may hear your clerk ask if you'd like to buy a bag for your shopped goods. That's because plastic bags are no longer free. As of Jan 2014, the city of Los Angeles passed a law removing plastic bags from supermarkets and grocery stores. Bring your own re-useable bag or buy one for 10 cents.
12.   99 cent stores 
Between renting a car and /or hotel, your vacation bill is likely to add up! So here's where you can shave some of your expenses off… Los Angeles has a fair share of 99 cent only stores. Everything in it is literally 99 cents and you can find good stuff, anywhere from regular groceries to toiletries, stationary, you name it.  You'll be tempted to really splurge.
13.  Thrift Store shopping
In a city where everyone wants to be "seen",  L.A. folks put effort into their fashion sense, even if it's just t-shirt and jeans. The closet rule is, "Make an effort to look good,  but not like you're trying".
Thus, thrift stores, are favored places for clothes shopping. You'll find an eclectic mix of retro styles and worn looks to support your "effortless" fashion needs. Some popular trendy thrift shop stores are Wasteland, Crossroads. 
Tip: My favorite is Jet Rag at 825 N. La Brea .  Every Sunday they have a $1 sale
Getting Around in Los Angeles
There are ways to get around Los Angeles, from airport shuttles and car services, to renting a car and lastly, taking a bus or metro.
14.  In L.A. the car is king
Los Angeles is a sprawling mecca of roads and freeways and the only convenient way to get around is by car. From Hollywood, to Studio City, Santa Monica to Venice Beach , everything fans out. Thus, when in Los Angeles, the car is king. In fact, Los Angelenos are so used to driving everywhere, that its gotten to the point that many might prefer to hop in their car just to drive three or four blocks away.  Sounds crazy? That's the car craze in Los Angeles.
While it is possible to get a lot of sightseeing done via public transit system, the city vibe may make you impatient to the point, you'd rather splurge on a car.  The public transit requires a bit of patience to understand and the metro system is speedy, but won't go in some areas.
Tip: Rule of thumb in L.A., most drive on the offense (vs defense). This means, if you're waiting for someone to let you cut into their lane, you could be waiting for a while.
15.  Renting a car
There's many car rentals, which you can book online for as low as $20/day. Not bad.  But who to choose from? Before this trip, I thought picking a reputable car rental mattered. It wasn't until I got scammed by one of them "reputable car rentals" (starting with an E), that my impression changed.  If you rent a car, be thorough with your inspection. Occasionally, credit card companies cover car rental insurance, but your travel insurance definitely will. If not, consider buying the insurance they offer. For regular U.S. travelers, I go  World Nomads.
16  Best free app to find the cheapest gas prices
Gas Buddy is my new best app buddy for cities, where driving is a must. It's a real-time app that will help you find the nearest gas stations, while also listing their prices.
17. Avoid rush hour traffic
Avoid freeways during rush hour; although the traffic is continually moving, it's still bumper-to-bumper.
18.  Street cleaning days
If you're parking overnight in a residential area, beware of signs noting "street cleaning" days. This means that one side of the street is cleaned on one day, while the opposite side gets cleaned on a another and if you're parked on the wrong side,  you'll get a whopping $73 fine! I learned that one the hard way! Ouch.
19.  Los Angeles Public metro and bus system aren't so bad 
I'm considering a move here, so it was the public transit system I was highly curious about. After years of living in pedestrian cities like Manhattan or Daegu, I didn't like the idea of having to buy a car. So here's the lowdown– you can maneuver Los Angeles using the public transit (metro and city bus) and  it's the cheapest way to get around. I did this for a week! However, a) It's not the quickest way to get around and b) the Los Angeles transit mapping system is the least intuitive to figure out, when it comes to route planning. But it's doable and you'll be surprised- just plan ahead and factor in patience.
I've navigated subways from New York to Delhi and buses from South Korea to Thailand, to conclude that Metro.net (L.A.'s transit website and app) is the worst I've seen!   The app is wonky and the "real-time" updates are inaccurate. Furthermore, the main transit map contains both, city bus and metro lines, making it a mess to look at. I wouldn't waste my time trying to sort it unless you had time.
Tip:  For a *metro only map*  go to Union Station (or print the photo below); they don't pass them out at the station stops.  Also, for bus navigation,  I realize that not everyone has a smartphone but a Google Maps app to plot your routes is super-helpful and helped me find the bus stops I needed, after I left the metro station!
Fares:  $1.50/ride, $5 day/$20 weekly Unlimited Pass.  Read more on fares here. Many stations have self-service machines to buy tickets. There should be an information call box located somewhere before the turnstile should you need assistance.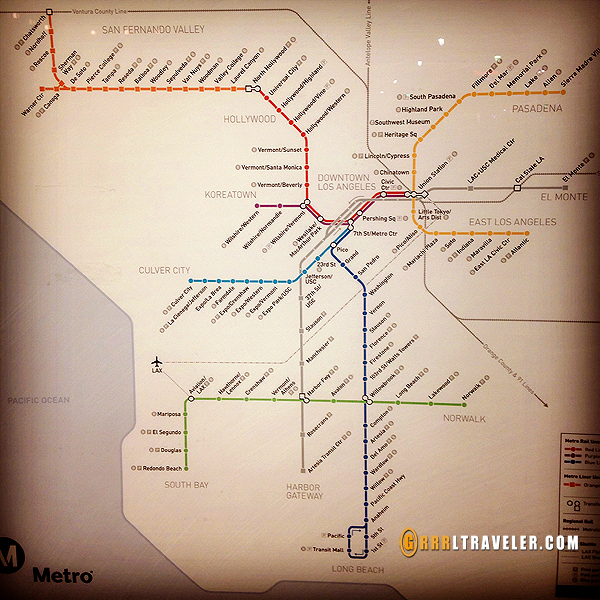 20.  Download Google Maps or GPS it
When I used to live in Los Angeles, I had a street map atlas the size of an encyclopedia to help me find my way around. Getting around in Los Angeles, it was necessary.  Fortunately, today we have GPS apps and devices to help us navigate the L.A. roads.
Tip: Use the GPS/Google Maps on your smartphone. If you have an unlocked phone, you can also buy a prepaid unlimited data SIM for anywhere from $35-$50/month.  Whether you're planning to rent a car or take the city bus, it's a handy feature to have.
21.   Beware of paid parking lots
If you drive a car in L.A., get used to paying for parking.  If you're going to a beach, the beach lot will be anywhere from $5-10/day. Metered street parking exists and many allow you to pay with credit card. Some malls offer a $1-2 fee with store validation.
Tip: Look for street parking- while some need a residential permit, free spots do abound.  Also, some metro locations have free parking garages.
22.  Need a cheap taxi?
Two new apps out on the market have many raving. Lyft and Uber are  ride share apps, which help you book last-minute rides. The drivers aren't actually taxi drivers, but honest people who are making side cash by transporting people the way a normal taxi would.  It's a cashless transaction.
The app has a map which locates where you are and then shows you what cars are available in your area. You book the ride from your app, pay for it online and the car comes to pick you up.  Promises to be cheaper than a taxi.
Where to Stay in Los Angeles
Hotels aren't cheap in Los Angeles. Even a ratty motel might cost you $75. What to do?
You'll pay a premium for any hotel (or motel for that matter) in the Hollywood area… a Best Western Hotel costs over $150/night! That said, there's three options:
1) Do your best Hollywood budget hotel search
2) Treat yourself like a star and stay at a top celebrity hotel near/on the Hollywood strip: Loews Hollywood Hotel,   W Hollywood, Mondrian (home of the famous Skybar; I stayed here years ago and it was total celebrity hipster!) or Sofitel Los Angeles at Beverly Hills (read my review).
3) Stay on the outskirts of Los Angeles away from the happeningness (avoid Hollywood, Santa Monica, Downtown LA, Westwood, West Hollywood).
4) Hook up on  AirBnB (use my code and get $40 off). Air BnB turns up the best deals for shared apartment stays. Many Los Angelenos rent out a place in their apartment and sometimes, they're in it (which occasionally makes for a local guide).  The standard going rate for a room to yourself is around $50/night in a shared apartment or house in Hollywood.  I stayed in one with two dogs and two cats and although the owner was nice and got us comp tickets to the Comedy Club- it was not my favorite stay.
Safety Tips for Solo travelers
Los Angeles is a large metropolis with various types of economic background, so you'll have to practice street smarts. It has little to do with being solo, but just being street wise and aware of your surroundings. Always be safe when driving, lock your doors, especially when driving through sketchy, unsafe neighborhoods or when stopped at a stop light. The city of Angels is also a very social city, with bars, nightclubs and restaurants buzzing with a social scene. Unlike New York, solo travelers might occasionally feel left out if they don't have a companion or group to enjoy the scene with. No worries, singles exist too, but you'll have to adjust your perspective to enjoying things that solo travelers can.
20 Best Things to Do in Los Angeles  (Video)
Read more
here
.
What things to know before you go to Los Angeles? What are your travel tips for Los Angeles?