Last Updated on May 11, 2019 by Christine Kaaloa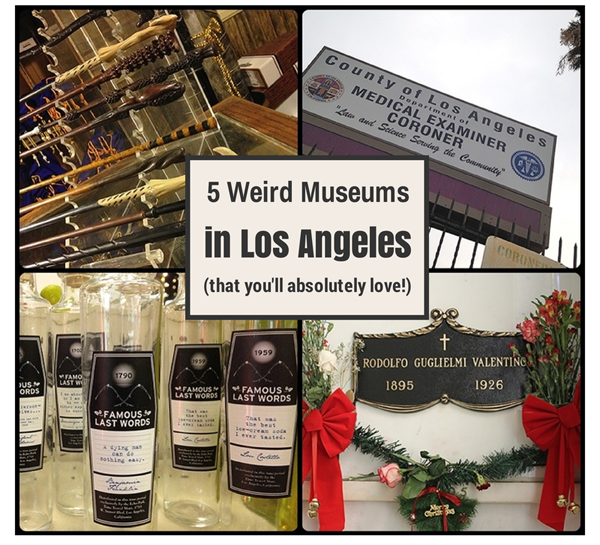 Los Angeles is a city that has a little bit of something for everyone.
Filled with a milieu of artistic expression, it can also display a bit of quirkiness.  It's like a huge garage sale, where you can wander and rummage and find some of the most eclectic and unusual jewels that others might consider throw-aways. Funky, weird, kitsch, unusual. If you want cookie-cutter, this is not your city.
"1. 

objects of historical, scientific, artistic, or cultural interest are stored and exhibited."
On my recent visit to Los Angeles, my goal was to visit museums I'd never seen.  But I wasn't looking for standard or stuffy museums. I wanted to experience something "different", light-hearted and fun in a "museum", so my definition of the word broadened a bit.
 5 weird museums in Los Angeles that you'll absolutely love!
( And four out of five of these museums are FREE ! )
1. Museum of Jurassic Technology
Okay, so I said I wanted to visit places I've never seen before and I keep visiting the Museum of Jurassic Technology over and over and over again, even though its exhibition never changes. That's how good it is!
But I'm not sure how to explain it. The museum takes you into another time, which lies somewhere between fiction and science. It houses an odd collection, from micro-miniature paintings on a strand of hair strung through a needle, to exhibitions about superstitious cures and remedies. There's an exhibition about an old opera star, strange stories of science that will have you questioning its authenticity and fun, interactive displays, which will have you pushing buttons, peeking into windows, sniffing and listening to stuff. You'll have to see it to understand it and once you do, you'll be glad you went there.
.
. Admission: $8.00, Hours: Thursday from 2:00 pm to 8:00 pm ; Friday, Saturday and Sunday from 12:00 noon to 6:00 pm,
Location: 9341 Venice Boulevard, Culver City, (310) 836-6131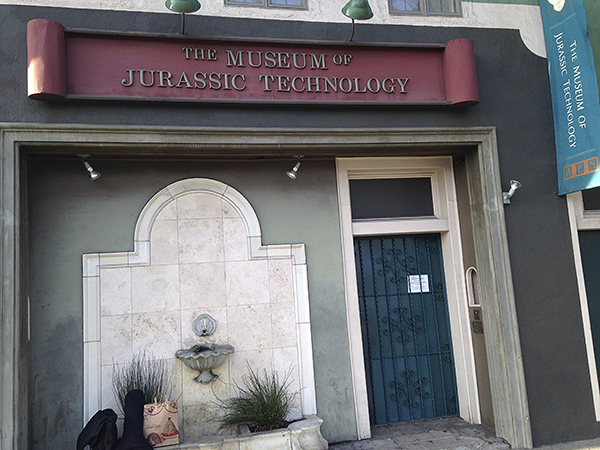 2. Skeletons in the Closet
What kind of brevity could you possibly find at the county coroner's office? Well, at the Los Angeles County Medical Examiner Coroner gift shop (aka Skeletons in the Closet), let's just say they have a sense of humor about their work!   Dead humor.
Care to buy a body tag toe ring? Or a beach towel with a chalk outline of a body or a garment body bag?  How about a cutting mat with a chalked outline of a body saying, " We have our jobs cut out for us"?
From garment caps, t-shirts, keychains and mousepads, saying "We're dying for your business", this is one room gift shop that is worth checking out!
Website: LA Coroner | Skeletons in the Closet, Hours: Monday – Friday 8:30 am – 4:00 pm
Location: 1104 N. Mission Rd., Los Angeles
Directions: Get off at Union Station Metro and take Bus #78/79/378 to the location.  Watch my video to see what the exterior looks like. Travel Time: 10 minutes. Bus comes every 15 minutes.
3. Time Travel Mart , Echo Park
The Time Travel Mart is a humorous curios shop about time travel. It sells an anything from prehistoric dinosaur eggs, to a bottle of Breath Ruiner and Mustache wax. How would you like a bottle of Famous Last Words or to wear a perfume fragrances called Caveman. I bought a can of "Correct Answers". Although the shop has a store full of products, which are high on concept and stirs your amusement, the store doesn't really take itself seriously as a store and the items are as serious as a "Medicine Doctor's" bag of empty cures. I found that store just brilliant and if you buy anything in it, it goes to a good cause.
The store is actually a facade for 826, a non-profit organization for youth. Students have the opportunity to get their books and writings published and sold through the store. They even have a hand in thinking up some of the store products. The organization has branches around the U.S. Interestingly, each location serves a different theme, such as Robot Supply & Repair (Michigan), Bigfoot Research Center (Boston), Superhero Supply Store (New York). It has me wishing I were a kid again!
Visitors are welcome to treat it like a museum of sorts.
Location: Time Travel Mart , 1714 Sunset Blvd (Echo Park) and 12515 Venice Blvd (Mar Vista).
4. Whimsic Alley
I'm a Harry Potter fan. Are you a Harry Potter fan too?  If so, this store is not to be missed. I stumbled on it by accident, while waiting for a friend and you can't imagine my excitement.
Outside, the shop looks like a regular costume shop, but step inside and you can live your inner Harry Potter fantasy! Whimsic Alley is a wizard-themed store and event space and it's dedicated to Harry Potter memorabilia. The interior facade is reminiscent of the movie's set of Diagon Alley.
Want a wand? Take your pick.  How about a Book of Spells and Enchantments? They have everything from books, collectable dolls and play things, jars selling potions and wizard and Hogwart costumes.Want to step into Hogwarts? Just take a walk through the hallway where portraits on the walls move and it will take you to Hogwarts Dining Hall. Pretty freakin' cool.
Website: Whimsic Alley   Location: 5464 Wilshire Blvd, Los Angeles, CA 90036 Ph:  (310) 453-2370
5.   Hollywood Forever Cemetery
Every tourist wants to catch a glimpse of a star when they're in Hollywood. How are you about visiting dead ones?  Visiting Hollywood, I've always wanted to do one of those tours, where you get to visit star homes. But okay, I'm on a travel budget. So I've found something better…
Hollywood Forever Cemetery is the haunting grounds for departed celebrities; in fact, it's one of Los Angeles' largest celebrity coffins! It stretches from actors to producers, directors, musicians, writers and more. Hollywood icons, such as Tyrone Power, Cecille B Demile, Joey Ramone, Valentino, Mickey Rooney, Douglas Fairbanks Sr, even the dog that played Toto in The Wizard of Oz.. all make this cemetery one of the hottest pieces of Hollywood real estates. Stars are just dying to get in!
The cemetery is open to the public and tourists. But keep in mind, the cemetery is a working cemetery, which holds services. Tip: Buy a map from the gift shop, located near the entrance gate.  I still spent over 3 hours searching the ground for famous names. Another alternative: Take a walking tour (or non-chalantly crash one) to hear about the lives behind the tombstones.
Website: Hollywood Forever Cemetery, Hours: 8:30 am – 5:00 pm, Location: 6000 Santa Monica Blvd, Los Angeles, CA 90038
 Watch the Video
4 Weird Museums in Los Angeles | Los Angeles Travel Guide
.
Been to any weird museums in Los Angeles that you would recommend? Leave it below.
Recommended Travel Guides
Must Try Foods of San Diego
New York City Travel Guide
Things to Know Before you Visit San Francisco