Last Updated on October 15, 2022 by Christine Kaaloa
Over 4 million tourists visit Waikiki each year, making it Hawaii's famous tourism hub. The Waikiki beaches, which stretch from Queens Beach to Duke Kahanamoku Beach and the Ilikai Hotel, are easily accessible and well-liked by visitors who stay in Waikiki and move around on foot.
But which are the best beaches in Waikiki for you to unwind? Here's a breakdown:
6 Best Beaches in Waikiki for First-timers
1. Royal Hawaiian Beach
Be in the center of the action! The Moana Surfrider and Royal Hawaiian are two of the main Waikiki hotels folks like to gravitate towards due to their history and prime locations on Waikiki Beach. You may see outrigger canoe regattas occasionally, ride sunset catamarans (also known as "the drink cruise," and listen to live music being streamed from Duke's Restaurant). It's a great beach to stroll along at night because it's softly illuminated, making you feel secure.
2. Kaimana Beach / Sans Souci
Kaimana Beach is unquestionably one of the nicest Waikiki beaches, perfect for watching sunsets and doing yoga. This small stretch of beach in front the Kaimana Beach Hotel is a local haunt where you'll find families BBQing on the weekend and agroacrobats enjoying workouts in the park. You won't get high surf here. Instead, the waters are calm and flat, which makes it a popular spot for swimmers who want to do laps. Located: Across Kapiolani Park and next to the Waikiki Olympic Swim Stadium and Waikiki Aquarium.
Tip: If you treasure tranquility and a cozy demeanor in a beach, book a stay at the Kaimana Beach Hotel. The hotel is a cheerful throwback to 70-80s beachy design.
Save money on your trip and get the Go Oahu: All Inclusive Pass –  1-7 day discount book with 34 attractions
3. Duke Kahanamoku Beach
Duke Kahanamoku Beach is another of Waikiki's lovely beaches, lined by towering coconut trees right off Kalakaua Avenue. This beach is the star of Waikiki for its beauty but also, its spot as being the home of the Waikiki Beach Boys, where Duke Kahanamoku surfed. This beach sports shallow sandy bottoms and gentle waves, making it ideal for beginner surfers, and swim instruction. Just want to lounge? Bounce the waves on a large blowup unicorn floatie!
Located next to the Waikiki Police Station and the surfboard storage area, where locals and travelers rent a spot to store their surfboard year round, you'll spot the famous Duke Kahanamoku statue mascot welcoming travelers to Waikiki Beach with open arms.
Book a surfing lesson on the beach from one of the Waikiki Beach Boys or book a surfing lesson in advance, take a beginner's scuba session to explore the nearby reefs or just lay out and get a Coppertone tan. During winter, the beach invites surf contests.
Tip: Take a romantic Sunset Catamaran Cruise and see Waikiki from the ocean.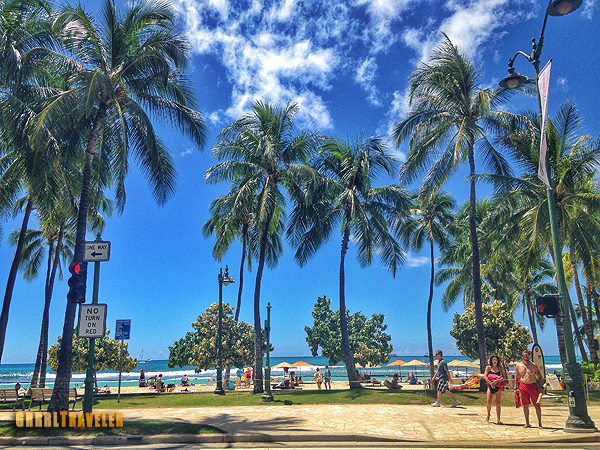 4. Queens Beach
Okay, Queen's Beach is not the prettiest beach, but it hosts activities like beach volleyball nets, surfboard rents and during summers, you can watch movies on "Sunset on the Beach." Location:  Across from the Honolulu Zoo toward the end of Waikiki.
5. Kuhio Beach
The picturesque and family-friendly Kuhio Beach is well-liked and crowded. The stone wall that surrounds the beach keeps the seas calm, making it ideal for families with children.
6. Fort DeRussy Beach Park
 Between the Hale Koa hotel and the Army Museum you'll see an outstretched park opening to a large beach. This area in general can house military travelers. Occasionally, there are nets set up for beach volleyball events.
Hilton Hawaiian Village
Take surf lessons in Waikiki
Quick Hawaii Beach Tips
Sands can be a little gritty and the ocean bed might have tiny coral pebbles, but there have been many honu (turtle) sightings here.
Always heed cautionary beach signs: high tides, jellyfish, deep undertow, man-o-war warnings. Beware!
Do not swim if you do not see a lifeguard. Travelers are not familiar with the ocean conditions in Hawaii, so it's best to err on the side of caution.
List of Dog Friendly beaches in Hawaii.
Hawaii Beach Essentials
• Reef Safe Sunscreen
• Havaianas Flip flops
• Water or Reef booties are ideal if you're going snorkeling in areas where there is a lot of gritty sand and coral. Note: Please do not stand on our coral reefs. Not only will they hurt, but you will destroy a vibrant ecosystem and home for marine life.
• Floaties are optional and can be bought at a nearby ABC Store or local beach shop.\.
• Waterproof Mobile phone holder
Read Packing List for Summer Vacations
What would you recommend as the Best Beaches on Oahu?
Travel Resources for your Hawaii trip
Go Oahu: All Inclusive Pass –  1-7 day discount book with 34 attractions
Discount Car Deals in Hawaii
Booking.com – Hotel bookings. No cancellation fees
Safety Wing – affordable travel insurance with COVID coverage
NordVPN – Online security and the ability to watch Netflix. Use "grrrltraveler" for 70% off 3-year plan + 1 month free
Klook – Book tours in Hawaii and Asia
Get your Guide – book tours in Hawaii
Where to Stay in Hawaii
Ko'olina
Ihilani Four Seasons Resorts Luxury resort in west Oahu, Kapolei. Large resort, favorite Hawaii film location
Disney Aulani Resort. Family-friendly Disney resort in Kapolei. Activities from tubing fun, snorkeling, movie night, cultural entertainment.
Waikiki
Beach Waikiki Boutique Hostel, Budget. Great location near beach, shared kitchen, family rooms available. Great place for solo travelers to make friends.
Moana Surfrider, Landmark hotel with beach front view. A feeling of old Hawaii. Afternoon tea on the terrace. Houses a small museum. My favorite hotel.
Kahuku / North Shore
Turtle Bay Resort – Beautiful beaches, ocean bungalows, escape to the North Shore in this resort getaway. Popular Hawaii film location.