Last Updated on April 12, 2023 by Christine Kaaloa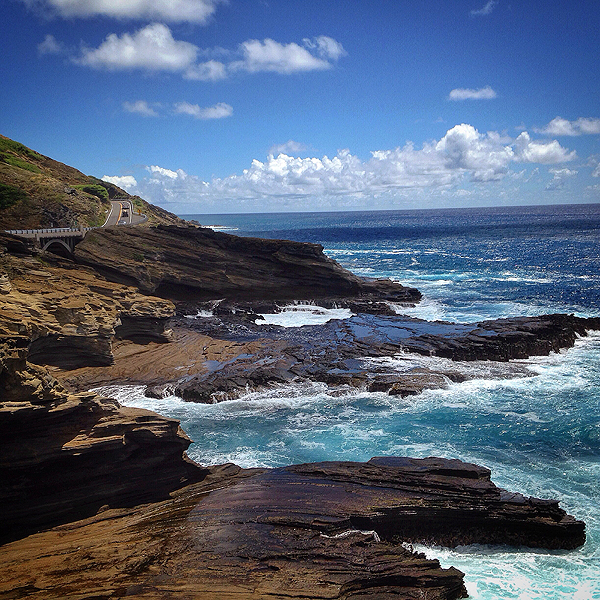 One of the best Oahu scenic drives of the island is the Southeast Oahu coastal route. Here's reasons to visit Southeast Oahu
Reasons to Visit Southeast Oahu
Driving the Southeast Oahu coastside is one of the most stunning drives you'll find on Oahu. It's a winding drive hugging against the gentle Koko crater mountains as cascading seaside lava cliffs reveal deep turquoise ocean waters. The beaches and land formations here are dramatic with contrasts. The winds can be strong. Waves on this side of the island can be choppy and occasionally dangerous, especially against the jagged lava rock surfaces.
1. Hanauma Bay
Hanauma Bay Nature Reserve is a famous Hawaii landmark snorkeling spot.  It is a protected marine life preservation bay, housing a reef and marine life galore. There is a nine minute video  that visitors are required to watch, educating you on how to respect the bay, marine and protect the coral from ruin (you might see yours truly; I'm in their PSA!) .  While there are other spots for snorkeling, Hanauma Bay is the only spot that has life guards for safety.
Hanauma Bay is the king of snorkel spots hands down for its prolific marine life and safety. Shallow or deep, spotting marine life (and lots of it) is guaranteed.  Parking: Come early. The parking lot is large but can get filled and you may need to park on the side of the road. Dog-friendly: No.
Hiking: You can hike Hanauma Bay along the upper crater. It is a 1.5 mile hike with no shade. Avoid peak hours of 11am-2pm and take water. It has some lovely coastal and cliff-side views.
Tip: Don't forget to bring your reef-friendly sunscreen! Hawaii has banned harmful sunscreen. See my reef-friendly sunscreen tip guide.
🤙🏾Make your way around the entire island and stop at all the top viewpoints from Hanauma Bay, Halona Blowhole, Haleiwa and more with the Circle Island Experience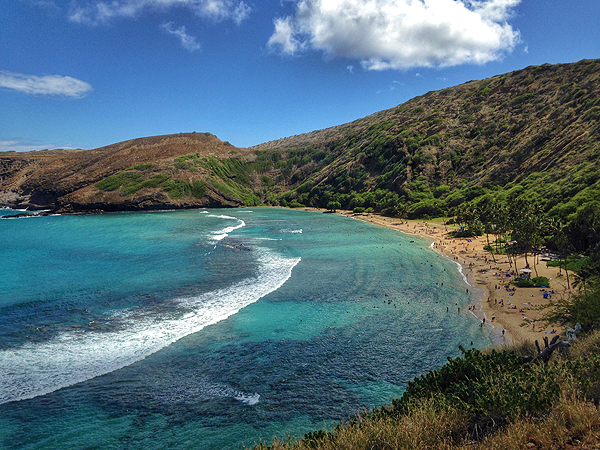 Check out our Reef Safe Sunscreen guide to see which sunscreen is banned in Hawaii.
2. Lanai Lookout
Lanai Lookout: Enjoy the beautiful, crashing waves and try to catch a glimpse of the Hawaiian island of Lanai from this spot on a clear day. There's plenty of parking, which makes this an easy lookout stop.
3. Halona Blowhole
Halona Blowhole is a lookout stop worth stopping at. During high tide, the ocean spray shoots up through the blowhole geyser from the lower caves. It is quite dangerous, so avoid standing over it. You can walk down to the base but its slippery and be careful of high tide. It's a stunning lava cliff lookout.
🤙🏾Save money on your trip and get the Go Oahu: All Inclusive Pass –  1-7 day discount book with 34 attractions
4. Halona Cove (From Here to Eternity Beach or Cockroach Beach)
Just after the blowhole, you'll pass a secret beach cove, Halona Cove. I call it From Here to Eternity Beach named after the Hollywood film that made it known.  It's a picturesque and small cove tucked between lava formations. It is visible from the road. Since then it has also appeared in Pirates of the Caribbean and 50 First Dates.
Caution: The waves further from the beach can get rough.
5. Wawamalu Beach next to Sandy Beach
Sandy Beach is at the base of the first coastal descent. It is not a particularly beautiful beach and it often has choppy and dangerous breaks, making it popular for bodyboarding, but not swimming. The parking lot is small, while Sandy Beach Park is long. Keep driving down Sandy Beach Park to the second parking lot.
Here you'll find the hidden gem of Wawamalu Beach Park, a small but stunning tide pool beach. Lava rock formations are smooth, jagged and uneven. Be careful where you step.  The beach has small pools I've seen parents let their toddlers splash in.  I recommend reef shoes if you plan to spend time there. The tides here can be choppy and rough making a dramatic contrast between frothy sea spray and dark lava rock.
🤙🏾 Tip: Experience a Hawaiian Luau at Sea Life Park with Dinner & Show
6. Makapu'u Point Lighthouse Trail & Tidepools
Makapu'u Point Lighthouse Trail is an easy uphill paved hike to a lighthouse with an epic view. It is a 1.5-mile roundtrip hike with old military pillboxes, and gorgeous views staring out to Hawaii Kai and the windward side. There are no restrooms on the trail. Walking along this 2.4-mile path you can spot whales during whale watching season or visit the giant Makapu'u tide pools below. The Makapu'u tide pools are halfway to the lighthouse but a 2.19-mile hike.  There is no worn path to the tide pools, but you can see it from the trail. Be careful descending the rugged cliff-side and check the tides before descending, as there have been deaths during high tides. Take water and sunscreen, because it is hot and there is no shade. These tide pools are not for children
The Makapu'u Point Lighthouse sits on the top of a windy 600-foot sea cliff overlooking Makapu'u Beach, down to Waimanalo Beach and the Windward Coast.
This is a dog-friendly trail. Avoid walking Fido during scorching peak hours of noon – 2 pm as the asphalt is hot. I recommend early morning and a late afternoon near sunset for dog-walking. Make sure you bring lots of water for your pooch to keep from overheating. The ground is hot and dogs feel it more than the tradewinds you are feeling at a higher level.
Parking: There is a small parking lot before the trail. Often there is roadside parking if the lot is full.
7. Alan Davis Beach
Alan Davis Beach is more of a local beach tucked below the Makapu'u Lighthouse Trail.  It's not a particularly lovely beach but it is a secluded cove surrounded by lava rock formations. It is nice for getting away to less touristy spots. The beach sand is on the gritty side and is not a place for swimming and splashing. Folks like to do light snorkeling here as the waters are gentle. It's a great dog-friendly beach.
Pele's Chair is a rock is a giant rock situated five minutes overlooking the beach. It's a lovely spot for to catch the sunset.  Walking to the beach feels a little adventurous- from the Makapu'u Point Lighthouse parking lot, you'll see a small worn dirt pathway weave its way through the wild brush landscape. The beach is an 8-minute short hike from the parking lot.  You can find parking at the Makapu'u Lighthouse parking lot or park on the side of the highway.
🤙🏾 Tip: Don't forget your reef-safe sunscreen. Hawaii has banned sunscreen with harmful chemicals to our coral waters. Read my reef-friendly sunscreen guide.
8. Waimanalo Beach
Waimanalo Beach is 3 mile stretch of a beach with white sands perfect for a long stroll. It is where the Southeast Oahu coastal drive ends and residential country living begins. It's one of the most beautiful beaches on Oahu, a local beach park set against the picturesque Ko'olau mountain range.  It is a family-friendly, picturesque beach with deep sandy beaches and lovely Tradewind.
The spacious beach park protecting it is popular with local families, who love to camp. It can be confusing who is camping and who is living–off-the-land as the homeless rate grows and blends with country living.
Waimanalo is protected Hawaiian Homestead land and is the most Hawaiian Hawaii can get. Be respectful of the laid-back local culture as you pass through.
Where to stay on Oahu
Hilton Hawaiian Village. Luxury. Large resort with spacious luxury rooms and gorgeous high-rise views, a private lagoon and free Friday fireworks. The man-made lagoon is an easy and safe experience for children and is next to the beach.
Disney Aulani Hotel. Family. Ko'Olina Resort Area on the East Oahu. It's a bit of a drive from Honolulu, but the area has lovely and tranquil family-friendly beaches. The resort hotel has a plethora of activities from wet slides and tubing to snorkeling and more.
Beach Waikiki Boutique Hostel. Budget. Great location, walk to Waikiki Surf beach. Dorm rooms are as low as $35/night. You cannot beat that deal for a central spot in Waikiki.