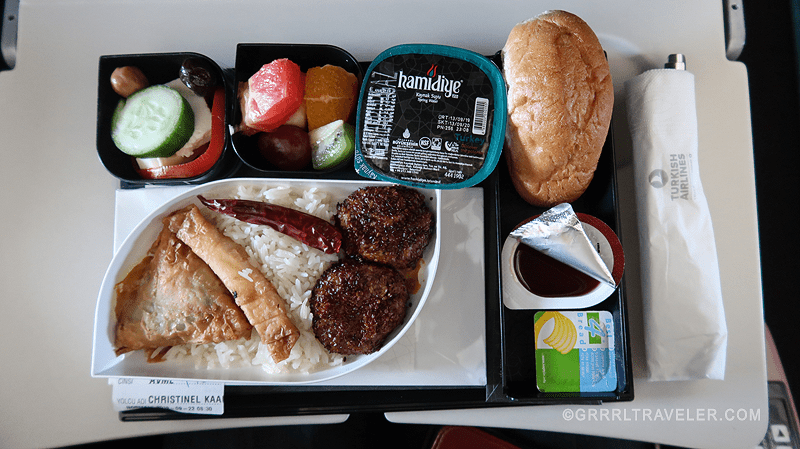 This post may contain affiliate links. I never leave home without this travel insurance. Need trip insurance options? Check out this trip insurance finder tool.
UPDATE –> Safety guidelines for Turkish Airlines
I've had flying with Turkish Airlines on my bucket list for years.
As part of the Star Alliance team, I heard from other travelers that Turkish Airlines has first-rate Turkish hospitality and service. Additionally, I heard they offer complimentary hospitality for qualifying layover guests who fly with them. The hospitality can range from a free day tour of Istanbul to a stay at their transit hotel.
When I knew I'd been accepted to attend a Social Travel Summit blogger conference in Ravenna and my conference expenses would be sponsored by the Emilia Romagna Tourism board, I researched flights and was thrilled to see an itinerary flying Turkish Airlines Economy Class. Granted, it was the most inconvenient schedule but I really wanted to share a Turkish Airlines economy class review! Now I'm not sure that was a good idea.
Turkish Airlines long haul flight from San Francisco to Italy
The flight itinerary I chose was not for the weak of heart.  I would be traveling for 40 in-transit hours total. Flying Turkish Air from San Francisco to Bologna, Italy would cost 13 hours flight hours and 15 layover hours in Istanbul at the New Istanbul Airport. Technically, I qualified for Turkish Airlines layover hospitality~ either. a free day tour of Istanbul or a Turkish Air free Istanbul hotel.
I am used to long-haul travel days with potentially long layovers. From trains, multiple transport or flights, I factor them all into my content as its own journey. I was positive I'd make this itinerary work!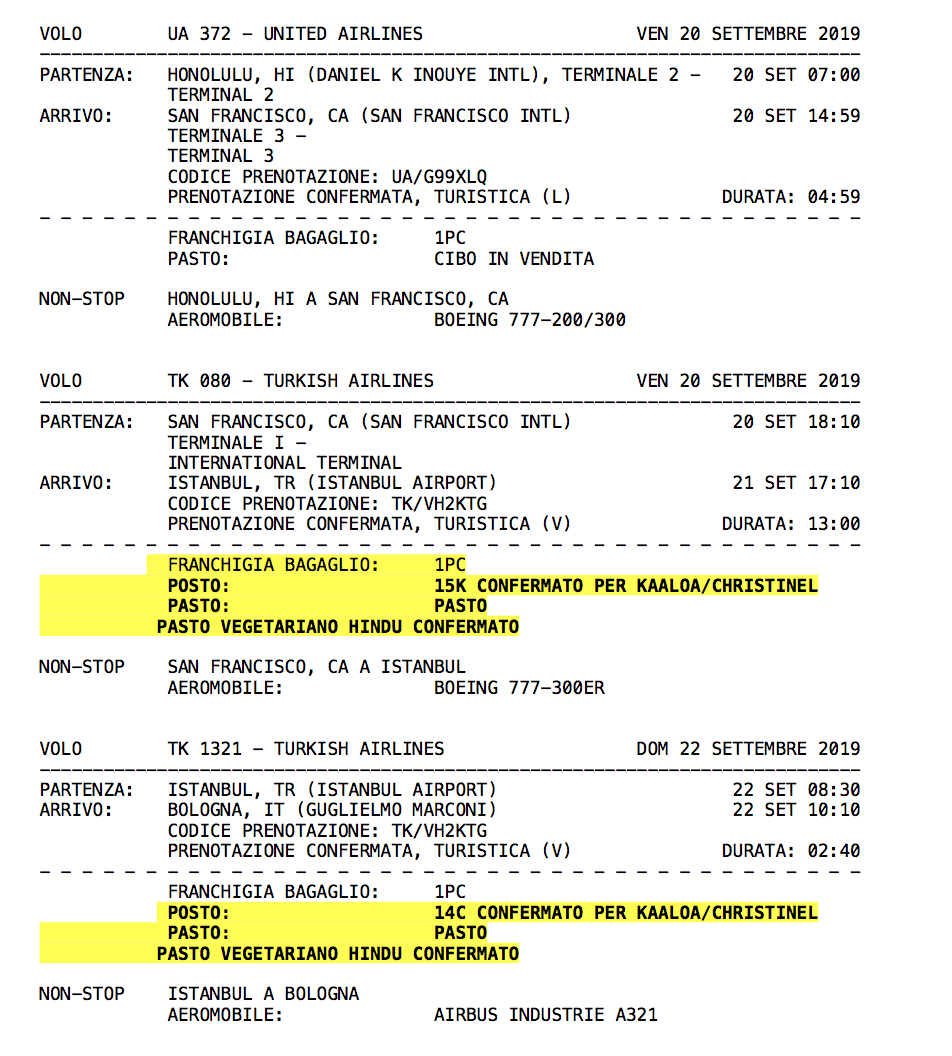 Turkish Airlines Economy Class Review
Every airlines has their pros and cons. Long-haul flights are never ideal conditions to do airline reviews. Most travelers do not appreciate long flights and find them uncomfortable but you'll easily discover the highs and lows of the airlines' service. Some flights are smooth and while others are… hmmm…
Things I liked about flying Turkish Airlines Economy Class
Turkish Air Meals are tasty
During Turkish Airlines mealtime, you get a written menu of your options. I think it must be a Star Alliance condition because i've noticed other Star Alliance airlines give you meal menus, as well.
I pre-ordered a vegetarian/Hindu meal across the board and the meals were interesting. My first meals from San Francisco to Istanbul felt a little more like Hindu vegetarian meal, Indian rice with a whisper of Turkish (and I mean whisper– Turkish salad seasoning). It felt substantial, surprisingly hearty and filling. On my second flight from Istanbul to Bologna, my Turkish Airlines vegetarian meal was more along the lines of Turkish foods.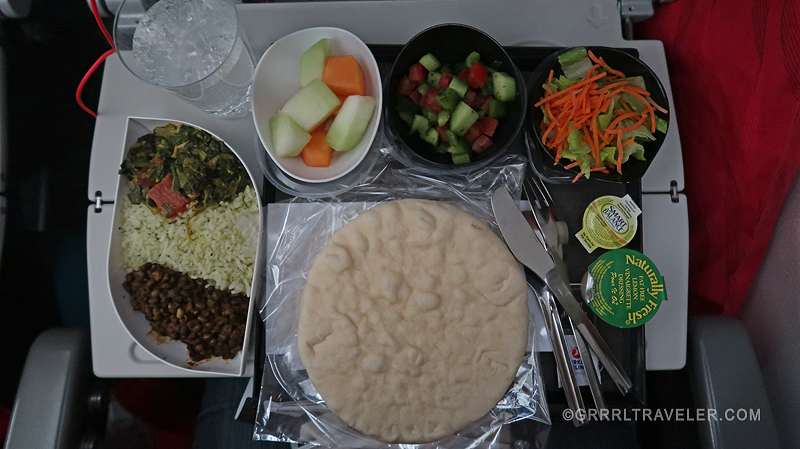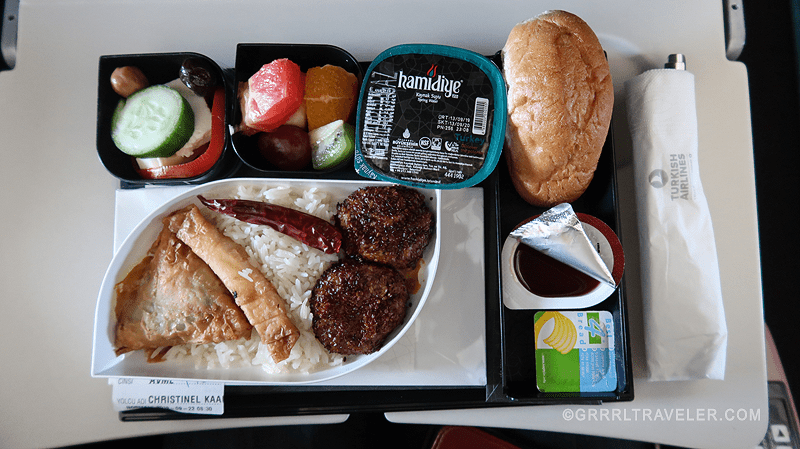 Alcohol is complementary
Alcohol was also complimentary. I was a little stunned although remember flights like Korean Airlines doing the same. If I loved alcohol and were cheap, this would be a huge reward of flying Turkish Air.
In-Flight hospitality toiletries bag
Turkish Air economy class gives you an in-flight essentials bag. While much of the contents felt standard to what you might get on a premier flight (i.e. eye mask, ear plugs, slippers), you also get additional essential items such as socks, toothbrush/toothpaste, vegan lip balm and a pretty nice quality cosmetic bag pouch.  This is the best and most useful in-flight hospitality bag I have ever gotten.
Everything was looking up from the start~ Bravo Turkish Airlines economy class!
Full Entertainment system
Turkish Air in-flight entertainment system is endowed with a USB port for charging things like your smartphone. The entertainment console has international to Hollywood movies and semi-latest releases, so you won't feel like you're missing out if you've not made it to the theater in the past six months.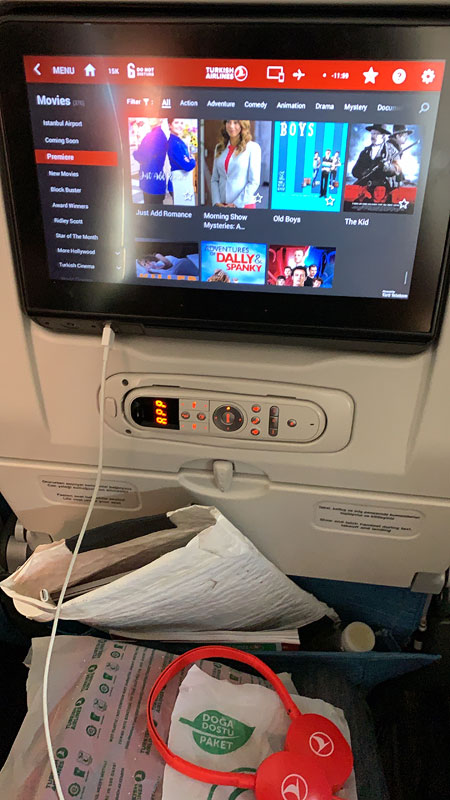 Complimentary luggage for international flights
Luggage Requirements for Economy Class on International flights, you are allowed two pieces of luggage weighing 23 kg/ 50 lbs. That is a lot. Business-class has similar allowances, but a larger weight restriction.
Carry-on luggage requirements, you are allowed one piece, 8kg at 55x40x23 cm, plus a personal item such as a handbag, camera, or umbrella (without a pointed edge).
Does Turkish Air have Free WiFi?
Hmmm… okay, yes and no. Turkish Airlines Economy class claims to offer 10 MB of free WiFi. Before you get excited, you must either be an existing Miles & Smiles Classic member (Turkish Airlines mileage program) or sign up to be a member while on board.  10 MB  is not much– you might be able to download or shoot off an email or log in to your Facebook account. Otherwise, the cost of WiFi is $9.99 per hour or $14.99 for a 24-hour package.  I tried to sign up for the free 10MB on-board but the drop-down settings did not offer this WiFi option to U.S. residents, so I could not access the WiFi but they still took my email and issued me a Turkish Airlines Miles & Smiles membership. Sneaky buggers.
Layover hospitality and Turkish Airlines free transit hotel
The cool thing is you can get a Turkish Airlines free transit hotel (up to a 2 day stay) or a day tour of Istanbul for qualifying layovers. As I had a 15 hour layover in Istanbul, I was able to qualify for a free hotel in Istanbul.
Things I disliked about flying Turkish Airlines Economy Class
Avoid Boeing 777-300er on long haul flights
Boeing 777-300 ER … I didn't know about that type of aircraft until now. Burn that name in your memory as the aircraft to avoid.  Boeing 777-300s are double-engine, wider-bodied planes, which can fit 314 to 396 passengers. For Economy Class passengers, the ER version means there are 365 seats, with a majority of it squeezed into Economy.  These planes are flying sardine cans. These seats will not offer economy class comfort unless you upgrade.
Upon my return, I got upgraded to an exit row aisle, due to the fact there was mistake about "my husband and baby" . (I am a solo traveler but the check-in desk held me in interrogation for a while, as they quite sternly tried to figure out the whereabouts of my missing family) . Needless to say, the exit row aisle seat was a huge difference in comfort.
Otherwise, these seats are horrendous. Why?…
Three Seater Rows (and having a middle or window seat)
My flight was sold out, so all seats were full. I had a window seat and was unable to switch.  What I didn't count on with flying Turkish Airlines Economy Class in a Boeing 777-300er plane is that the seats are split into three-seater rows  (3-3-3).   For wing-side passengers, three-seaters rows are like being stuck in the middle of a four-seater row.  If you are not in an aisle you are landlocked. If you are in a window seat, you are blocked in. On a full flight, your best bet is to reserve a seat in the middle row, where only one seat is sandwiched by two aisle seats. If you are claustrophobic or have bad knees or back, do not take this flight.
Cramped seat space
Brutal. Hellish. Never again. China Eastern Airlines just shifted up on the ladder.
If you know a majority of passengers do not like long-haul flights, should airlines go the extra mile to reduce the discomfort? I think so. For premier airlines, these seats are like a cattle factory, with no personal space or freedom. Seats are cramped 18″ wide, which minifies if you have a neighboring passenger who wants to use the armrest. A pitch of 31-32 is meaningly when the passenger in front of you reclines during meals and your table tray practically shoves into your stomach (and I do not have an overhanging belly to shove into). To create space for me to eat, I had to recline my seat. When you watch my video, this is why the food review portion of that flight was skipped.
I have bad back and knee issues
Although the seat ergonomics are not bad, my knees and sciatica grew intensely irritated sitting in a cramped seat with little leg room. At one point, I abruptly stood up because my body was freaking out inside itself. I spent close to two hours standing by the bathroom stretching out my legs and standing, just to avoid going back to my seat.
Overall passenger discomfort
There was a periodic stream of Economy Class passengers taking unusually long leg stretching breaks by the bathroom. It looked like a smoking lounge.
Passengers become less considerate
As the seat spacing treats its passengers like animals,  passengers were reduced to acting like them, instinctually fighting for comfort and forgoing neighborly considerations. I had a window seat and am 5'8″. I do not know who had it worst- me or the girl sandwiched between me and the older English lady, who did not like getting out of her chair to let us out to go to the bathroom. I was forced to climb over two people to get out. Luckily I have long legs… like who are these types of people?!
But there's more, so keep reading…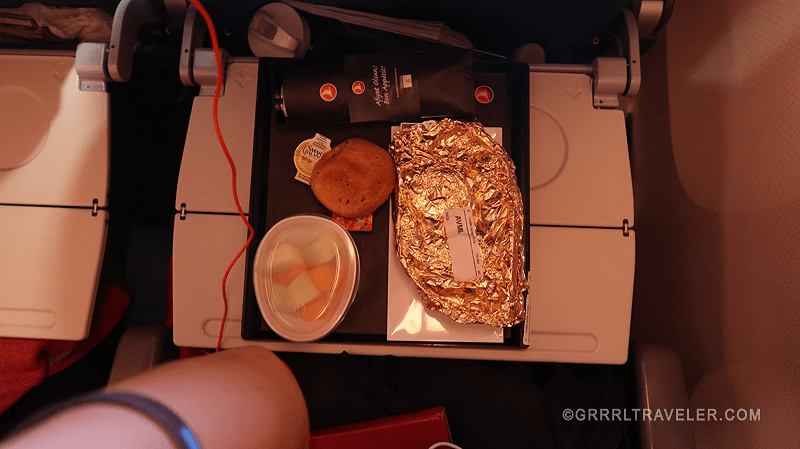 Turkish Air Flight Attendants
I really wanted to love Turkish Air hospitality. After all, I've known Turkish culture to be abundantly hospitable (even Turkish buses make you feel VIP). But hospitality service seemed lacking on my flight.
Flight attendants are kind but extremely slow-moving at removing meal trays. They don't remove trays until after the post-meal coffee and tea. Meanwhile, your tray pins you to your deplorably cramped seat.  There's more:
• Some passengers did not wait for flight attendants to alleviate them of the tray. At the flight attendant's galley, I saw a passenger-created pile of metal meal trays slopped up in a mess. There was no effort on passengers' parts to even be neat or polite about it.
• Other than the designated meal and coffee time, I do not recall seeing a single flight attendant go around with water.  If you need hydration, you have to go the galley and self-serve. At one point, the flight attendant galley was so unattended that a couple of passengers started pillaging entire water bottles.
Turkish Air's Mileage Reward Program
I can't say if the rewards program for Turkish Air are better than any other carrier.  I  signed up for Miles & Smiles strictly for the bonus 10MB of internet time on my flight (which I did not gain access to) . But then in using my new membership, I naively placed some of my miles on it and then forgot my password. Big mistake.
If you forget your password, you are locked out until you can phone customer service in… Turkey.
Conclusion
All in all, my flight left a lot to be desired and that Boeing 777-300 is an aircraft I will be avoiding in the future.  Flying Economy Class Turkish Air on any flight over six hours is only worthwhile if you have an exit row or upgraded seat.  It has been a month since I've taken this flight and every joint in my body still remembers it.
Watch my Economy Class Turkish Air Review & New Istanbul Airport Video
Turkish Airlines long haul + free transit hotel Turkish Airlines + New Istanbul Airport
Other Airlines Reviews
Korean Airlines: The best premier airlines?
Getting a Turkish Airlines free transit hotel
China Eastern Airlines: The best budget carrier of Asia?
Best Travel Insurance for Turkey
American travelers often pay a premium on travel insurance.  World Nomads offers economic solutions for travelers who seek security and peace of mind.  It covers 150 countries.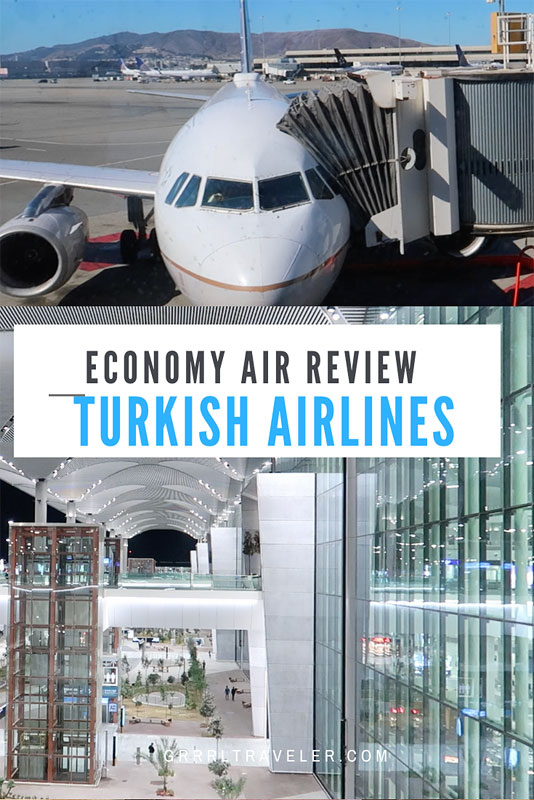 Watch Turkey Travel Videos