Sirkeci Mansion Istanbul
When I walked up the impressive greystone building, I wasn't sure if it was my hotel.  Contemporary, yet a bit of old world mansion charm. Regal, stately, …calm.
I… was harried, uncertain, tired from the overnight bus ride and the adventure of almost gettinglost from the shuttle bus station to Istanbul central. I was wearing an eye cold and a look that probably said, "I feel trampled upon".  All I wanted to do was to drop my bag and collapse on my bed.
Travel can do that to you.
My hotel, the Sirkeci Mansion Istanbul.  Thank god it was a block from the tram!
Why go boutique over big hotel?
I entered the doors and was immediately greeted by the warm, suave smile of Araaz, the hotel concierge, who had bright eyes and long, dark eyelashes. I looked around for the reception desk (you know, the high hotel reception desks that separate guests from employees?). Araaz showed me to a low-seated concierge-like desk, more intimate, boutique and ironically, more intimidating to me.  It meant I'd have to be …personable.
Alright, lets backpedal.  While I'm all smiles and rubber band friendliness at guesthouses and hostels, whenever I get to a hotel, I automatically snap into an impersonal don't-speak-to-me mode.  It's a bad hotel habit, collected from corporate hotel stays, where everyone treats you with a robotic friendliness.
I was now in Turkey. The Turks are known for their hospitality.
A  modern flashpacker hotel with of Turkish hospitality
You can tell a lot about a hotel by what little touches it leaves for you.  For instance, in America, a single chocolate on your pillow might be a light reminder to tip your maid at the end of your stay.  Any notes left by management are usually to welcome you with brand protocol and then to tell you about events you can attend for admission and anything left out in your room to eat or drink, generally equates a room charge if you open or remove it.
Sirkeci Mansion Istanbul had none of those. It was generous and complementary with everything it offered and it treated you sincerely.
18 Shades of a Perfect at Sirkeci Mansion
Filming my experiences take some planning and ultimately I can't capture it all.  That's where my blog posts come in.  Here's 15 Shades of Perfect at Sirkeci Mansion (plus 4 more)!
1. Early check-in
I arrived around 8am and they let me check in!  Perhaps it was low season or whatever, but in my lifetime, I can count the number of times I've received a free and early check-in … and often, it was for guesthouses and hostels.  I was tired. I just wanted to drop my bags and collapse.  They let me. Unfortunately, I decided I wanted to shoot my room first and that took about an hour.
2. Experience the Design
If I'm staying in a hotel in another country then ideally, I want the hotel to feel like that country and culture.  My room exuded stylish warmth, coziness and a Turkish elegance. I adored oak panel finishes and hardwood flooring!   My room was almost too comfortable; it took sincere effort for me to leave it.
3 /4. A bowl of Turkish delight sat next to a letter from the manager
…with a request to call his personal mobile phone if I had questions or needed anything.  If I did, he would personally get it.
…  Seriously.  I was tempted to give the number a call, but chickened out.  Later I heard he gets calls from guests testing to see the same thing.
5. Standard options for international travelers
In the U.S., it's easy to take a hotel coffee pot and tea for granted.  But not when I'm abroad. Whether I want to cook instant oatmeal in my room or make myself a pot of tea while I'm working in my room, the instant coffee pot is a godsend.
6. Fragrant
My hotel room had a wonderfully light fragrance that came  between my room and the bathroom. It felt like it had a touch of lavendar which felt calming and inviting but also cleansing. I wish they had it as a perfume.
7. Convenience
If you forget any toiletries, Sirkeci Mansion stocks them and has them for complimentary use. (Watch my video)
8. Latest Technology in comfort.
I've never been to a hotel which cared about my rest enough to teach me "pillow vocabulary", with big words like Viscoelastic or Nano Tech. That's borderline eccentric, but enough to make you feel special and your rest, very divine.
9. Free WiFi
WiFi is free. In many 4-5 start hotels, WiFi is something you pay for.  Enough said.
10. Complimentary Morning Breakfasts
Breakfast was a huge buffet of Turkish samplings
11. A free cooking class
Traveling as a vegetarian has taught me that I need to know food better if I want to understand a country. So when I saw Sirkeci offered a cooking class, I jumped at it.
Let me preface by saying, I'm not a cook.  I'm good at boiling and steaming things. That's it.  Ask me to flip food in a skillet (which we learned) and I hope you've got a mop handy. Nevertheless, I enjoyed the culinary lesson and its peek inside Sirkeci's Turkish kitchen.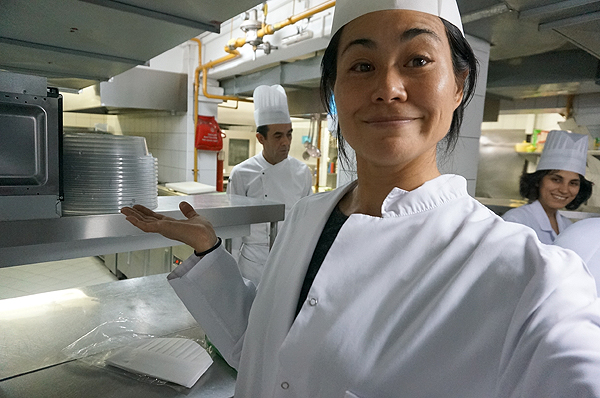 Learning about Turkish cooking in the Sirkeci kitchens.
12.  Mezze and Social Hour
Every afternoon, Sirkeci Mansion has a mezze social hour, where you could nom-nom on vegetarian Turkish appetizers, while mingling with guests in the lounge area.   I know i've said that hotels are often difficult places for solo travelers to meet people, but this hotel was an exception.
Outside of mezzes, the Turks aren't known for vegetarian diets.  These mezzes were the closest I came to meals.
By the second night I was starting to get a little suspicious. Was there anything I'd eventually have to pay for or were all these things
13. DIY Turkish Hammam
Of all I was experiencing at Sirkeci Mansion, the hammam was probably the least exciting for me. But they a small sauna, swimming pool and hammam.  The facilities are co-ed, so you'll definitely want to wear a swimming suit and hold onto your towel.  So you can't take a full bath and you'll definitely need to take your own soap if you want to try. When I went, there were two couples there so it wasn't uncomfortable as the heads always turn to new and strange arrivals.
14. Turkish hospitality
Are you okay? Do you need some cold medicine?  Indeed, my cough was getting worse. My cold was showing in my facial appearance.
One of the hotel managers ( Okay, yes, that's his name) brought out a bag of meds and cold relief.  I was handed a couple of Strepcil tablets to help soothe my raw throat.  In the U.S., you'd find a finger pointing you at the direction of the hotel convenience store or towards the direction of CVS .
15. Farewell Gift
Just when you think it can't get any better, because it's already too perfect, Sirkeci Mansion left me a gift on my last night.  Seriously. My jaw is still hanging open.
16. Location
Sirkeci Mansion is located in Old Sultahamanet, which is home to the Blue Mosque, Haga Sofia, Basilica Cistern, etc.. The Spice Bazaar and Galata Bridge are a 15 minute walk away.  The metro stops is a block away and the metro to the airport is a 10 minute walk.
17.  Hipster hotel
Then my eye caught upon a Time Out Istanbul magazine! As an ex-New Yorker, having a Time Out magazine in the room is like giving a secret handshake to an urban hipster.  Only those, who really want to be in the know, scour this magazine for ways to fill their itinerary.
18. A guide to Istanbul
After unpacking and getting refreshed for my day, I met with Okay (yes, that's his name) in the lounge area for a bit of orientation to how I can use Sirkeci Mansion services.  No sales pitch. Instead, he kindly told me about the free services they offer guests, like a historical city tour and a cooking class! Yes, free!
Then he spread open a city map, and in an uncanny travel blogger-like fashion, proceeded to tell me about the ins and outs of Istanbul city, special local haunts and best ways to tackle it all on my own! I can't tell you how this won me over immediately.
As a solo traveler, I often feel the tug-o-war between staying at guesthouses vs. hostels vs. a hotel. I like guesthouses and hostels due to the social connections I easily forge, but also, the wealth of down-to-earth D.I.Y. local information I get.  Definite thumbs up!
19.  You won't want to leave.
There were times I didn't want to leave my hotel. There are pros and cons to that. The pro is when your hotel room and stay feel like a warm incubus of nestled goodness.  It balances you through a  cold or bad weather (which is what I was experiencing at the time) and perhaps it helps cushion a rugged journey.  The con to a perfect hotel that it competes with your sightseeing time, because you'd rather stay in it.  It took strong discipline to tear myself away from my room!
Overview
There are many reasons why a hotel are a worthwhile splurge. Sometimes, perfect is defined by a couple of good experiences, like a restful stay, a great location or nice facilities. As travelers, we don't expect much more than that and if you stay at a lot of hotels, you'll begin to feel how they all assume rather average standard… even if they're luxury. Sirkeci Mansion in Istanbul surpasses all expectation, with an ongoing list of elegant and impressive conveniences. It could be easily be categorized as all things: trendy, boutique, flashpacker and luxury, because it attempts to make travel do-able, convenient and enjoyable for you, while also making you feel pampered.   As an Istanbulian hotel, Sirkeci Mansion is perfect for moderate budget, hipster and luxury travelers alike.
Sirkeci Mansion  | Book on Agoda
Hoca Paşa Mh., Taya Hatun Cd No:5,
34120 Istanbul, Turkey
Turkey for Solo Travelers (video playlist)
 What things make a hotel stay perfect and a worthwhile splurge for you?
Note:  I received two complimentary nights at Sirkeci Mansion. As always, keeping it real ~ my opinions are always my own.