Last Updated on July 25, 2019 by Christine Kaaloa
Cappadocia is known for it's cave hotels so when it came to accommodations, I knew I wanted to experience one.
They say a photo can speak a thousand words. That given, the photos I've taken from my stay at Kelebek alone, will easily speak an essay.
Cave hotels in Cappadocia
Cappadocia is a UNESCO region in Turkey and it's known for it's rock formations and cave hotels.   Why cave hotels?…
Cappadocia was inhabited as early as 1800 to 1200 B.C. during the Hitite era, when Christians resided in this area to escape Roman prosecution.
While thousands of years of weather and erosion helped shape the rock formations and landscape that we know of Cappadocia (a famous signature of the region), all the rocks are essentially man-made.   Fathom that! The rocks are made of soft, porous and easy to carve material, so it wasn't hard for  Christian families, priest and nuns to create Flintstone-like caves in the rocks to escape and hide from the Romans.
There are monastery caves, underground and cavernous caves. Even caves made for pigeons.   This is why caves are the second famous signature of this region.
Today, while many Turkish families live in more modern abodes, the caves exist for tourism.
Kelebek Cave Hotel in the heart of Goreme
Around 8am, my overnight Turkish bus from Istanbul arrived into the cosy town of Goreme. A driver from my hotel picked me up and drove me to my hotel, a mere five minutes away. Perched along a hillside, with an stretching view of Goreme, was my first view of "Cappadocia".  Softly carved hills and mountain regions, with pointed rocks. In the midst of the town and its hotels, were more pointed tops.  Fairy chimneys are what they're called and some of them were cave hotels. When I stepped outside my shuttle van, my second welcoming view of Cappadocia was Kelebek Cave Hotel.
Yunal, one of the hotel family members I met Kelebek said: " It used to be my grandmother's house. Now guests stay here so it is special for me.  Kelebek is in Göreme town. Göreme is in Cappadocia.  Cappadocia is a region. It covers a few cities inside and a many small villages.  We are located in the most beautiful spot of Göreme.  Many places are within walking distance.  You don't need a car for places like Rose Valley, Red Valley and the Open Air Museum."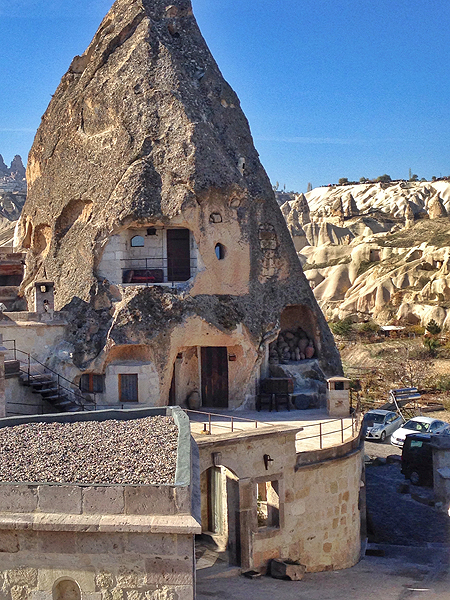 The Turkish delights of a Turkish breakfast
As a family hotel passed down over the years, I appreciated that Kelebek Cave Hotel had a heart and history. The staff there was welcoming with Turkish hospitality. I immediately felt at home.
But how good would it be in feeding my stomach? I checked in early,  so I was offered breakfast in exchange for a room being cleaned.  Breakfaaaaast!
My first day in Istanbul was all about orientation, sightseeing and finding a bus operator to get me to Cappadocia. I survived on pomegranate juice, simit (breaded pretzel) and tea, so by the time I got to Kelebek, I was starved.
At Kelebek, my vegetarian stomach was welcomed by an assortment of Turkish dishes. This was a sultan's feast of all the bites and nibbles that you might occasionally find on a Turkish plate~ from homemade jams and dried Turkish fruits to cheeses, breads, mini simit and specific dessert items, such as halva and Turkish delight.  Being a guest, this was one of its complementary privileges.
So far, my first impressions of from Kelebek and of Goreme were remarkably abundant.  My eyes had a feast and my stomach did too.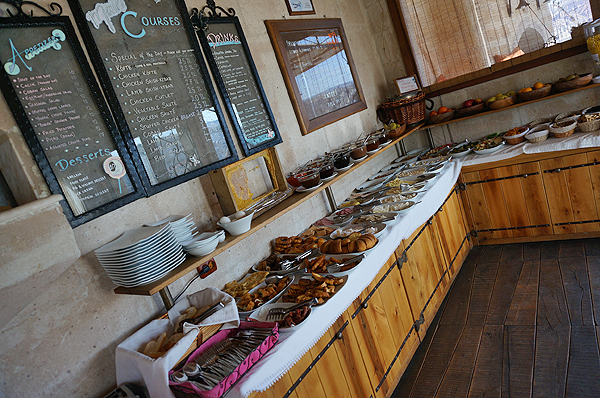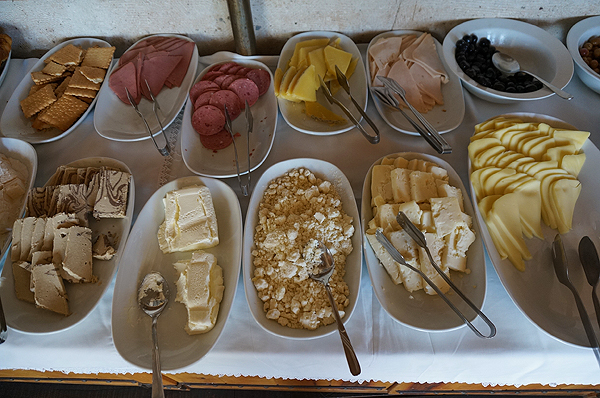 Views of Goreme
Kelebek means "butterfly" in Turkish and between  a stunningly-crafted breakfast and superior view over Goreme, I was starting to feel fluttery. Looking out from the breakfast terrace, I felt reminded of my first morning in Fez (Morocco), overlooking the city from the rooftop of my riad, with a content breakfast belly. It was something in the air of Goreme that smelled familiar, earthy with a little bit of ashen.  The view was fabulous! You could see all the way across town to the valleys beyond.  Kelebek has to have one of the best views of Goreme.
Thanks to the upstairs WiFi, I immediately iPhoned home to video chat my arrival and backdrop to my family.  This photo below is part of the landscape family saw behind me.
A luxury cave room for a solo traveler
Kelebek Cave Hotel Cappadocia has 47 rooms. Many of them are cave, some of them are stone and some of them are an arch room.  Caves are popular here because it's different.. .It's different feeling to live  in a cave. It reminds people of old times.
There are two main room types at Kelebek hotel- a cave room and a partial cave room.  Although I was dying to stay in a cave room, I got a part stone-part cave room. But a day later, when I caught the onslaught of a cold (I have strong dust allergies and Cappadocia's landscape and rocks are partially volcanic ash), I was glad my bedroom was stone.  Everything happens for a good reason.
My room
My room was perfect for me. The living and bedroom were stone but my bathroom was cave. My room was almost too grand for me and you know what? … I liked it.  I know I'm a solo traveler, but I like large rooms!  I'm used to work, occasionally booking me in rooms of gargantuan size. I love the feeling of freedom to do and move as I please, as well as the luxury of space. Being solo, should feel like an asset vs. a discount. I like feeling compensated for my single status and for me, large rooms are it. I had a living area space with a working fireplace and on cold nights (which there were) my bathroom floor heated to warm the room.
I had seen other cave rooms in the hotel, range from simple and affordable to luxurious.  Kelebek has affordable cave options. They're still on my recommended bucket list.
One aspect you'll either love or not like about the hotel is that there's no internet in the rooms. I needed to go outside into the garden (which was lovely, but I went during a cold spell)  or upstairs to the cafe to get online.  Being a travel blogger, I'm online a lot for social media, conducting blog business or to manage my website (believe me, I can get pretty obsessive ).But  I ultimately appreciated spending time enjoying my room and sightseeing, rather than turning it into a work room.
On a reverse note, they have WiFi in their breakfast/dining area and there, you can get complimentary tea all night and mingle with other travelers.  Not a bad trade.
Another cool thing was the traditional Turkish bath they had in my bathroom. It's a granite sink with two pour bowls .. I'll let you watch my video review.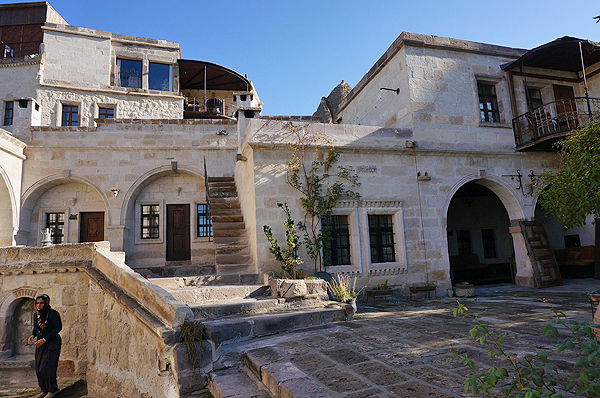 A Turkish organic breakfast adventure
Instead of spending time at the hotel's Turkish spa, I took the hotel's complementary organic farm tour (yup, they have one and it operates seasonally!).  Cappadocia has a rich farming community and you'll see farm tractors take the place of cars on the streets.
As Yunal also explained: Cappadocia we were actually all farmers.  We grow here potatoes. We have many vineyards.  Apricots, mulberries, walnuts, …we used to all grow those things and that's how our life was.  …So one of the tours of this hotel, we serve lunch in one of this farm. Organic farm.  It's my grandfather's farm.
A farm tractor was parked outside and guests were allowed to hop in.  The tractor then slowly wound it's way through the back streets and into the hills of Goreme.
Kelebek's owner was our host and he led us to his farm, located at the base of the valley.  We arrived to a lovely breakfast table set with all organic vegetables, fruits and foods of the farm.  Some of these farmed foods make it to the Kelebek hotel breakfasts also, so the food of the hotel is mostly all organic!
When your hotel is your haven
I'm actually very allergic to dust, in general. What I didn't realize beforehand is that Cappadocia's overall terrain, rocks and caves are largely made of soft, porous volcanic ash.  Goreme and Cappadocia in general, can take some acclimating to and several travelers I crossed paths with during my time in Goreme, seemed to have 'newborn colds'.
As a traveler, I almost always pack my own cold medicine  (along with other rescue items like motion sickness, aspirin, etc…). This was the one time I forgot. Luckily, Kelebek had medicines for last-minute rescuing.  The head receptionist Mert, whipped out the hotel pharmacy in a bag!  It was a bag full of medicines for common traveler ailments.  It's the first time I've seen a hotel do that for their guests, but I suppose it's part of Turkish hospitality. As a distressed traveler, I wasn't complaining.
When I got an eye cold right before my bus departure (…it's all about timing with me …) and Mert was out of medicinal cures, I panicked. With clock ticking, a vision flashed before me… quickly hobbling across town to the pharmacy with my bags in tow and narrowly sliding through the doors of my bus, sweaty… heart-pounding.  In nose-blowing state, I was not thrilled with that vision, but I know it well…
Again, Mert had a solution. He had one of the hotel staff drive me to the pharmacy and translate my problem to the pharmacist .  Goreme is a fairly small town, so everything is conceivably within walking distance.  But still, it's nice when you feel supported by your hotel.
I was grateful to have stayed at Kelebek Cave Hotel.
Go inside Kelebek Cave Hotel in Cappadocia (Video)
Hotel Information
Kelebek Cave Hotel Cappadocia  (book here)
Aydinh Mahallesi Yavuz Sokak No:1
Goreme, Nevsehir, Turkiye
Kelebek is a 10 minute walk from the Goreme bus terminal, which is located in the center of the town of Goreme. There are many bus companies to choose from and there are schedules running to all parts of Turkey. Notify the hotel of your arrival time and they'll pick you up.
Note: I received a four day complimentary stay at Kelebek Hotel, but opinions are always my own.  There are affiliate links in this post. I recieve a small percentage for every booking and this helps me maintain GRRRL TRAVELER blogs and videos.
Turkey for Solo Travelers (video playlist)