Last Updated on June 7, 2023 by Christine Kaaloa
Things to know about Layovers and Connecting Flights
As a traveler with a budget, i've gotten to be a fan of layovers and connecting flights.  Often I see them as an opportunity to check out a new airport layout or even get an extra trip for free.
But they can be tricky suckers…
Things to Know about Connecting Flights
When your International terminal goes domestic
Travelers assume their connecting flight will be in the same airport terminal… or at least same airport.  Nuh-uh.
International airports are for international flights. Domestic airports are for inter country flights. Sound simple? If I'm flying internationally (from U.S.) and arriving in Delhi (India), but my final destination is Kolkata (India), then when I arrive into Delhi, I must transfer to their domestic airport terminal to continue my flight connection. Delhi's domestic airport is a good 20-30 minutes away.
Domestic airports and budget airlines terminals are tricky. Did you know Bangkok's Don Muang Airport located around 20-30 minutes from Suvarnabhumi Airport is a domestic airport, which servicesSoutheast Asian routes like Myanmar, Borneo- Malaysia, Bali-Indonesia, etc..?  It's actually the home of smaller airlines carriers such as Skoot and Air Asia.  I'm not sure if it's a budget airlines thing or a Thailand-recognizing-Southeast-Asia-as-a-domestic-travel kinda thing, but this unexpected distinction can throw a traveler.
Interconnecting airport transportation
In many cases, you either walk or take an airport express monorail from terminal to terminal. For further terminals or cross over airports, you'll take an airport shuttle bus or hail a taxi.
Domestic terminals
If you're coming internationally into a country but you transferring to carrier that will fly you domestically with in that country, you will need to go to the domestic terminal or airport. Many domestic terminals are located in a different terminal. Sometimes it is a 5-15 minute skytrain or shuttle bus ride away. But in the worst case scenario,  they're located further apart and you need to take an airport shuttle bus or taxi. Chicago and Delhi airports can hit this latter one; thus, if I am booking tickets online, I have to be careful about timing my layover.
Read Tips for Choosing your Airport Layovers
Airlines carrier changes
Always check your itinerary details for potential airlines carrier changes.  If your airlines carrier has a little note under it saying "Operated by (another airlines)",  this means you are not only flying with one carrier but its partner is taking over one of the connecting routes.
If you have a secondary airlines managing your connecting route, it may mean anything from checking out of baggage claim (and re-checking into another airlines), going through immigration again, a transfer to a different airline terminal. Hold onto this idea because…
Some airlines may force you to exit baggage and check in again.
When I fly with China Eastern Airlines (read my review), it makes a lot of connecting flights in Shanghai, which is infamous for forcing travelers to exit baggage and do the entire check-in process again (yes, including immigration!). It doesn't matter if you're on the same carrier airlines. I often need to retrieve my luggage in baggage and take it upstairs to to do the checkin process all over again.
Checking airport terminals/gates before landing
You can see an airport or gate map in the back of in-flight magazines. Another resource is download the mobile app: Gate Guru (iPhone | Android).
Research your airport resources
Sleepinginairports.net is a site around airports and all the facilities travelers have in them. They have a breakdown list of airports across the globe, with information about each from lounges, to airport Wi-Fi, Internet access, sleeping accommodations, etc..
Read Tips for Surviving Airport Layovers
Book at least 3 hours for your connection
Unless you know your route is all domestic or all international, and you know your connection terminals are in the same airport, always book at least 3 hours for your connecting flight.
International flights are tricky – if you're connecting to a different airport or a terminal located further away,  factor in baggage claim, an entire check-in procedure, security and immigration (for international travel). 50 minutes for that type of connecting flight won't cut it.
What to do with a 3 hour layover
I feel like a standard time for a layover and connecting flights is 3 hours.  3 hours is relatively short, allowing you just enough time to get to your next terminal and check out the airport shopping or food courts.  Your main focus will be:
Airport WiFi and Internet
Being a travel blogger, this is most important. I want to know if I get free wifi, if I have to pay for it or if it's just plain not available. Note: To protect my information when using public wifi, I often use a VPN.
Airport Mobile charging stations
Being a tech heavy culture, many travelers are often either traveling with a mobile phone or laptop. A charging stations are more available in airports -especially international airports. These stations often carry regular plug outlets and USB ports.
Duty free shopping & restaurants
Grab a quick coffee and bagel at Starbucks or spritz yourself with designer perfume at Duty Free. Airport terminals aren't known to have great shopping options, but there are still some which will surprise you.  My faves: Incheon, Kuala Lumpur, Osaka
What to do with a  5 Hour Layover
Good news– You might be able to squeeze in an hour or two of sightseeing ! Keep in mind: you still need to allow for check-in time, airport security and  immigration (for international connections).
Transportation | Airport Metro
Is there an airport metro into the city? Transportation options from an airport can help or hurt your plans for sightseeing. If you're in an international airport and looking at a roughly 45 minute (or less) metro ride into the city (i.e. Incheon, Bangkok, Shanghai, Beijing, Frankfurt, Hong Kong, New York, etc..), you can get some good sightseeing in a snap! If you've only got a shuttle bus or public bus, factor in more time in transit and less for sightseeing.
City Sightseeing
Itinerary of things to do is the last thing I really research in my layovers. At the last minute, itinerary information is something I can get from Tourist Information desks at airports or through hotel concierges, locals or even a guidebook.  Some airports offer layover tours, often for folks with 5 hour layovers and longer.
Airport Lounges & Spas
Some folks don't care about sightseeing, but just want to unwind after a long flight or layover. Maybe even freshen up with a shower or massage. Loungebuddy is an app that grants you access to airport lounges for just $25.  Note: Always check the airport facilities thoroughly. Some offer more than just lounges, but culturally unique services. Incheon has a basic jjimjilbang (24 hour Korean bathhouse spa/sleeping area) on its basement floor for around 20,000 won ($18 USD).
Layover tours
I've seen a handful of layover tours offering city sightseeing tours from 3 hours to a full 8 hour day. Check the airport website or go to the tourist information desk to learn about your possibilities. I do not know how if they handle luggage.
Luggage storage and lockers
I want to know if I can store my luggage there because if I can then that means I can hop around the city, baggage free. Generally hours are good to know. I like to know if I can leave my luggage overnight, if I have an overnight layover. If I do have an overnight layover, then that means I can sleep in the airport. If you don't have an overnight luggage late luggage facility but that means I'm carrying my luggage with me or I'm getting a hotel.
What to do with a 10 hour layover
I love 10 hours or longer layovers because I know I've gotten a free sightseeing layover (add another city to my itinerary). A lot can be done in 10 hours. At 10 hours, the layover is long enough to have options-  city sightseeing, taking a day or half day layover tour, finding a cool restaurant or going shopping. Many of these flight windows arrive at night. Should you sleep in the airport or plunker down and get a hotel?
Airport hours
Airport hours are important to note. You can't automatically assume all airports are open 24 hours. Some domestic airports are proof of that. That's happened to me and for Fukuoka airport, and why I ended up blogging about staying in manga cafés.
Sleeping in Airports
I have slept in airports on several occasions. But these days, airports are improving. Some offer better open lounge facilities, rentable sleeping facilities and of course, there's lounges.
Sleeping in Airport Hotels
Some folks just opt for an airport hotel nearby, but in special instances, some airports have actual airport hotels (aka hotels inside the airport). I had a layover in Vancouver airport and stayed at a hotel above domestic checkin counters. My room view was the tarmac!
If I have a long overnight layover and I have time for sightseeing, I'll book an accommodation near a metro stop in the area I'm sightseeing.
At sleepinginairports.net, travelers leave reviews about their favorite (and least favorite) places to sleep in a certain airport. Sometimes, they're as specific as the terminal.
What are things to know about layovers and connecting flights? Share your comment below!
Recommended Products for a Layover . Click to Shop 

Xtreme Solar Bank

Sholdit Scarf
Related Posts:
Tips on how to survive a last-minute trip!   (Part 4: Layovers and Connecting Flights)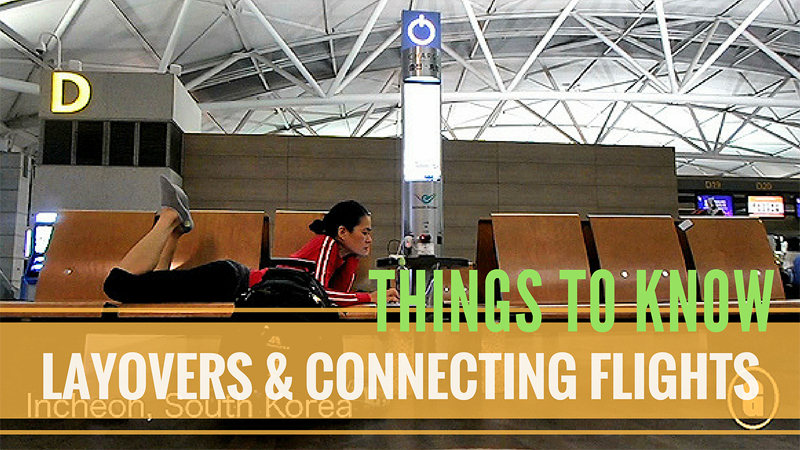 Note: This post contains affiliate links to partners we have used on our own trip. We receive a commission off any sales at no extra cost to you.
Looking for travel insurance?
American travelers often pay a premium on travel insurance.  World Nomads offers economic solutions for travelers who seek security and peace of mind.  It covers 150 countries.