Last Updated on December 20, 2010 by Christine Kaaloa
Sometimes, searching for a job teaching English in Korea can feel like ordering a mail order bride. You've got a description and a list of hopeful expectations; yet you can't see what you've got until the day arrives. How will you know what you asked for will be what you wanted? Honestly, sometimes even when you've crossed over to seeing your prize, things can still seem a bit veiled; but at least you've tackled the biggest hurdle… making it happen!
Recently friends and readers have asked me about my experiences in the ESL classroom and how they can teach English abroad too. I've decided to make it a three part series. This is general Q&A I've gotten.
How to find a job teaching English in Korea?
I found the EPIK program through a recruiting agency and because I wanted a guide through the process.  A recruiting agency's  job is to get you into the front door of your country and to your program. Thus, it's important to go with a reputable agency and one you feel can give you the support you need. Also, recruiting agencies usually get a finder's fee from the employer, so you needn't worry about them snatching a commission off your salary or charging you for their services.
My agency, Teach Away, not only walked me through the application process, but even orchestrated a chat conference and online orientation to answer questions before our leave. Furthermore, they sent a representative to greet us when we arrived in Korea. But alas, even your recruiter won't know the specifics of your placement or the actual working conditions of your school and apartment.
• Footprints Recruiting (impressive website content), Reach to Teach are just some of the more popular recruiting agencies that fellow EPIKers have come through.
• Teach Abroad has a comprehensive site that lists agencies for the country you're interested in (sister company to Transitions Abroad).
Do you have an option of which countries you'd like to teach in?
Of course. Western agencies can list a handful of countries for you to choose from. You can choose to apply for any country. Each country will have it's own standard requirements and contract salary and benefits.
However, depending on the program, you may not always have control over your placement and whether you'll get a city or rural location.
If you have your heart set on a specific location, it's best  to speak to your recruiter, voice your concern and be open-minded.
Do you need to have majored in Education at your university  to apply?
No, though a college degree in Education or additional credentials, such as TEFL certification is ideal and will boost your salary. Master's degrees (in any field) are also a help. But basically, as long as you have a college diploma and you did fairly well in school, you're good to go.
Do you need to speak the language of the country you teach in?
While speaking the country's language will improve your quality of life in the country, it's not mandatory, especially in Korea. You're being brought over to teach English through immersion. Mostly employers in Korea don't want you to speak Korean for the simple fact, students may not feel as driven to learn.
How long is your contract?
Generally, the contract and work visa is a year. Some programs and schools offer renewal or extensions if want to keep you on.
Was the EPIK program a very competitive or difficult process (like the JET program in Japan)?
No, when I applied it wasn't competitive.  My entire process took about three months. Although these days it's changing, as more people look to teaching abroad as a way to grow an income and follow their dreams for travel.
Korea does not ask for TEFL certification, as some countries do.  But it is becoming more stringent in it's requirements for authentic documents and a clean criminal background.
My process with EPIK (a government program)  took five steps:
1 )   Submit my application of interest to my recruiting agency
2)   Interview with recruiter
3)   Submit my application packet (i.e. application, medical survey, college transcripts, apostille degrees and apostille state background check)
4)   Interview with EPIK
5)   Receiving my work contract and filing for my work visa
For applications for private school/hagwon or university jobs, the process might just start at #3.  You'll need to bring your original diplomas with you to Korea for additional verification.
Update as of 2011:  Korea now requires an apostille FBI criminal background check in the place of a state criminal background check.  The Korean government is cracking-down on the legitimacy of applicants and their said degrees and criminal statuses.
For more about How to apostille documents & get your FBI background check, click here.
"Do You Really Want to Teach in Korea "  Series:
•  What is my class schedule & how do I work with co-teachers?
•  My Schedule: A Day in a Life of an ESL Teacher
•  How and Why did I choose to teach in Korea?
•  What's English Summer camp?
•  How to Apostille Documents (Teaching English in Korea)

• Do you really want to teach English in Korea? (Q & A)
• Do you really want to teach English in Korea? (Public vs Private schools)
• Surviving a university job interview in Korea
For more, click here: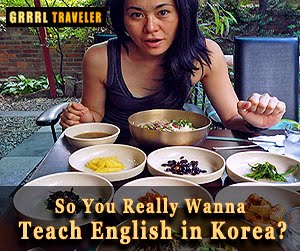 GRRRL TRAVELER © 2008
Non-commercial use only. Further permissions: contact www.grrrltraveler.com.