Last Updated on June 7, 2023 by Christine Kaaloa
Before I applied for my teach abroad program, I never encountered the word "Apostille".
If you've never dealt with government documents like name changes, birth or divorce records and affidavits, then obtaining an apostille can initially appear… overwhelming.
I have good news.
It's not.
Preparing your documents for teaching in Korea

There are two main documents required of teaching applicants :
1)    A copy of your FBI Criminal Background History Record and
2)    A copy of your MFA college diploma.
**Both, need to be certified or notarized (STEP #1)  before obtaining an "apostille" (Step 2).
Why apostille criminal background records and a copy of an original college diploma?
It's a recent concern for Asian countries, who have recently discovered sexual predators and criminals employed as English teachers in their schools. This has enforced a crack down on the system and ESL teaching applicants are now asked to prove and authenticate their legitimacy.
What's the difference between notarization vs. certification?
Notarization and certification requires "authenticating" official documents,  government-issued records and the copies we make of them.
The line between notarizing and certifying can feel blurry. I've been through the process twice now and I'm still not  sure how to differentiate. I went with certification.
For notarization:  go to a notary public such as your bank (my bank does this for free), lawyer or county clerk.
For certification of government-issued documents:   the Office of the Secretary of State or local county clerk should do.
In my case, I'm authenticating xeroxed "copies" of my original diplomas and thus, the original documents need to be verified as originals that haven't been tampered with or altered.
When you're there, the clerk at the window will ask you to write and sign a simple statement on your (diploma) xeroxed copy, declaring it as "a true copy" of the original diploma issued to you. The clerk will then verify your statement, the original diploma (* this is required for proof) and attach a written and stamped confirmation on your copied diploma. Then its off to apostilling. Costs: generally $1-3 depending on your state.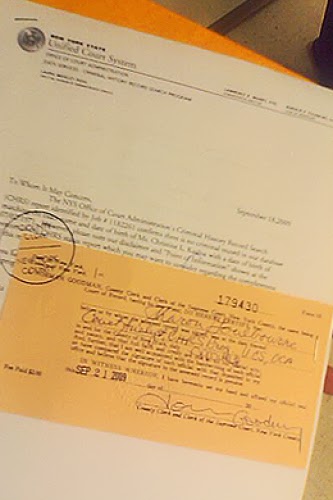 STEP 2:  What's an Apostille?
Your document copies (i.e. the xeroxes of my diplomas) must be made official by the government.
The apostille is a certificate paper with a government state seal (pictured at bottom of post) authenticating that your document is a copy of an original that hasn't been tampered with. It's obtained after you've gotten your document notarized or certified. 

Here is a list of locations where you can obtain an apostille in your state.
Obtaining an apostille for your documents:
A copy of your diploma
The copy of your diploma would be the last degree you achieved. Make a xerox of your diploma (color or B&W).
Step 1:   Notarization OR Certification
Notarized or certified-  it's your choice! Either way, it will get authenticated.    Cost: $3
Step 2:   Apostille
After certification, take your document to your state department or county clerk for its certificate and seal.  You can find the department you need by Google something like "Apostilling documents in (Name of your state)".   Costs: vary by state $1-10
Required a/o 2011:  Apostille FBI Criminal Background Check
As of Fall 2010, the Korean government changed its policies for Native English Teachers. All U.S. citizens are all required to get an *apostilled* FBI criminal background check, directly from FBI Headquarters. If you are already living and working in Korea, you're exempt from having to do a FBI criminal background check until the completion of your second year in Korea.
.
How to Get an  FBI Criminal Background Check
This can either be a pain or a smooth flow. Mostly, it takes time and a few steps.
The wait on your FBI criminal background check (aka Identity History Summary) can take anywhere from 1-3 months, so it's best to get started early.  However, the apostille document is only valid 6 months after the apostille date and it will need to be valid upon your entry into the country. If you don't have anyone to send your FBI CBC to, it's best to hold off a bit until you do.
1.    Download and fill out the FBI application form (aka Identity History Summary Request).
Detailed instructions on How to Submit an Identity History Summary Request
2.   You can get your fingerprints at any authorized company or the police station. If you are already in Korea, you can go to your local police station to get them done on a fingerprint card issued by the police station or download the FBI fingerprint card, print it and take it with you.
3.    Attach your application with your fingerprint card along with $18 in money order, cashier's check or via credit card information (no personal or business checks are accepted) and check the Identity History Summary Request checklist to see if you've included everything. To see the government website, go to: here
4.    Make sure to also include a separate note stating:
"Please provide an FBI seal and signature from a Division Officer for the purpose of obtaining a Federal Apostille."
This FBI seal and signature is *required* in order to get an apostille, which is the next step. It must be requested specifically and can just be written on a piece of paper and included in the application.
5.       Mail to:
FBI CJIS Division – Record Request
1000 Custer Hollow Road
Clarksburg, WV 26306.
To follow up about the status of your application, call FBI office in West Virginia 304-625-5590.
Any further FBI questions, click here.
6.    Get your FBI background check back in the mail and Step #2 is to get it an apostille.  If it is taking long, you may call them to request an expected date.
More information on how to do this from Korea are here and here.
How to Get an Apostille for a FBI Criminal Background Check:
Update : 
On September 30, 2013, the FBI published the following information onhttp://www.fbi.gov: "Note: Due to upcoming changes in processing, effective october 12, 2013, the FBI will no longer be accepting return self-addressed stamped envelopes with Departmental Order requests. Envelopes received postmarked after this date will be destroyed. Thank you for your patience as we try to streamline our processes to improve our service to you."
As the automation has not yet taken place, the FBI has been utilizing the return self-addressed stamped envelopes received as a courtesy to our customers. However, once implemented, the automation will force the destruction of all envelopes received. This automation is expected to reduce processing time to better serve you, our customers, as well as save monetary and manpower resources.
This notice serves as a reminder that self-addressed stamped envelopes will not be accepted and will be destroyed.
1. Download the Request for Authentications form (DS- 4194 Form) here.
2. Fees:
The fee is $8.00 per document. A personal/company check or money order are acceptable and must be made payable to :    U.S. Department of State.
Visa, MasterCard, Discover, and American Express are accepted for walk-in service only.
If you would like to opt for a rush service for Authentication, you can pay about $45 to have this process expedited.
3.  Mail in documents.
Include your form (cover letter), check for $8.00, your processed FBI criminal background report and a SASE.
Use a self-addressed stamped envelope for faster return of your documents. Documents received without a return envelope and postage will be returned through the State Department regular mail, which can result in a 2-3 week delay.  You can use Fed/Ex, UPS, and express mail services for faster receipt/return of your documents. However, you must enclose a prepaid air bill and envelope.
Mailing Address:
Office of Authentications
  U.S. Department of State
  CA/PPT/S/TO/AUT
  1st Floor
  1150 Passport Services PL
  Dulles, VA 20189-1150
To inquire about the status of your documents, please call : 
Phone:  202-485-8000
For walk-in service, go to:
Physical Address:
Office of Authentications
U.S. Department of State
600 19th Street, NW
Washington, DC 20006
To schedule an appointment or speak with an Authentications Specialist:
Phone:  202-485-8000
  9:00 a.m. – 12:00 p.m. and 
  1:00 p.m. – 3:00 p.m. EST
  Monday through Friday
Appointment Services:
  10:00 a.m. – 1:00 p.m. and
  2:00 p.m. to 2:30 p.m.
  Monday through Friday
  Note:  All Federal Holidays are excluded.
Series: "Do You Really Want to Teach in Korea " 
•  What is my class schedule and how many classes do I teach a week?
•  How do I work with co-teachers?
•  Do I enjoy teaching English to Koreans?
•  How and Why did I choose to teach in Korea?
•  What's English Summer camp?  What's an English Musical Summer Camp?
•  Do you really want to teach English in Korea? (Part I: Q & A)
•  Do you really want to teach English in Korea? (Part II: Public vs Private schools)
•  5 Things MTV taught me about teaching ESL (Part 111: How I used my old career tools in the classroom)
•  From MTV Producer to English Teacher in Korea (Part IV: My story)
•  GRRRL TRAVELER's Travel Challenge #2: Becoming an Expat
Video Playlist Series: How to Teach English in Korea