Last Updated on November 29, 2019 by Christine Kaaloa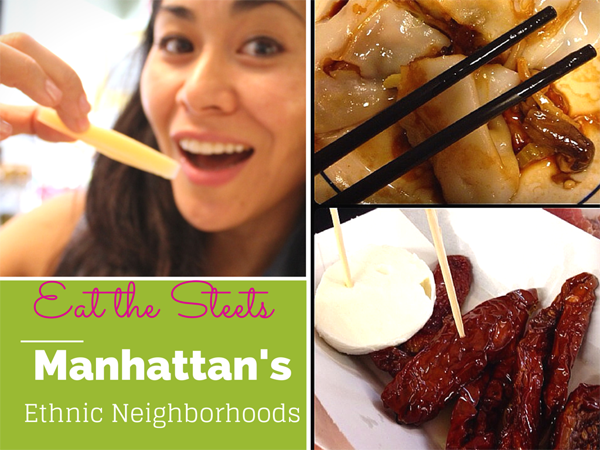 I'm actually not a big foodie, but New York is one of those cities that cracks my foodie code!
Being that the Big Apple is an international city there is something for every diet, and as a global melting pot adopted by immigrant cultures, it has neighborhoods dedicated to a rich variety of ethnic foods.  Some of the best food varieties come from fusion dining, but the ones that have withstand time are the Manhattan neighborhoods most locals know about.
Food Tours in NYC and the Vegetarian diet
I know Manhattan foodies take their food passions and knowledge pretty seriously. Cosmopolitan, educated and taste-bud worldly are very hip things to be in this city. So I wanted to take a food tour here.
Now, Manhattan is a city that is re-known for having menus that cater to many dietary restrictions. So imagine my shock when I researched food tours and discovered some refusing to accommodate vegetarians, because they believed in " authenticity". Really? You can't find something to substitute for vegetarians?
What I liked about Ahoy NY Tours & Tasting is that they gladly offered food tour options for vegetarians… They also offered healthy sampling of foods to fill you up.  Their flexibility instantly gained my confidence that good food (and an authentic experience), does not have to come with authentic snobbery.  My guide Liz, was a foodie, with an incredible knowledge, not only of food, but the history of the neighborhoods and streets we'd be eating our way through.
Little Italy
Walking through Little Italy, you'll hear soft Italian music streaming amidst the chatter of people and plates, dining at the outdoor seating fronting Italian restaurants. You'll want to cry, "Mama Mia!" In the side streets, you'll find cafe's, Italian pasta restaurants,  pizzeria joints and Italian delis.  The neighborhood is like one giant bite mark, with Italian food written all over it.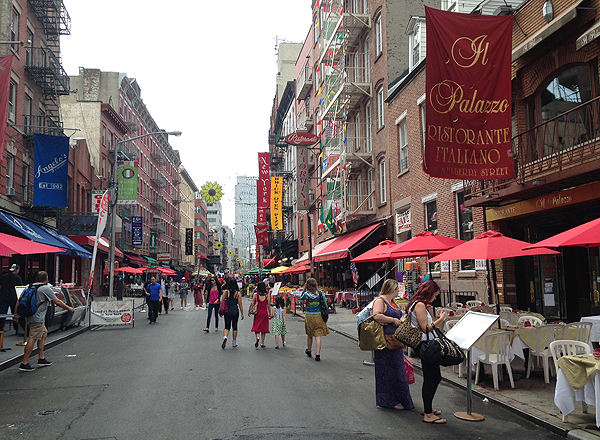 Cannolis 
When I moved to Manhattan, friends took me to Little Italy. Not for Italian pasta, but for cannolis and coffee. A cannoli is a traditional Sicilian pastry dessert, rolled into a tube and filled with sweet ricotta cheese. Little Italy has a good assortment of them and when the street closes down for the annual San Genaro Festival each September, expect those cannolis to spill out of the cafes and onto the streets.
Ferrara Cafe on Grand Street is known for their cannolis.  The chocolate chips inside, add an extra flavor to the creamy and soft ricotta cheese.  Thumbs up to these yummers!
Homemade mozzarella 
Alleva Dairy was my tour's pick for the freshest homemade mozzarella and prosciutto in Little Italy.
Obviously, I don't eat prosciutto (aka ham) so Liz, our foodie guide, substituted it with sun-dried tomatoes!
Ordinarily, how do I put this~ I hate sun-dried tomatoes. I always pick them out of my salads, because I find them too tangy, tart and uh ..dry.  But aided with olive oil and paired with a creamy mozzarella,  the sun-dried tomatoes were absolute Mmmm!  Smooth to the finish. I could not get enough! Being the only vegetarian, I got a portion fitting for four to five people.  For the first time, I wasn't starving!
Imported Italian cheeses and olives 
Di Palo's Fine Foods is a charming Italian deli that looks like a movie set that should be in a Woody Allen film. In fact I'm almost positive a few films were shot there. Di Palo's is on the foodie map for importing its products from Italy- sausages, cheeses, pastas, you name it.  We sampled the difference between Piave, a cow's milk cheese and a Moliterno, a sheep's milk cheese.  To give it a little punch, Liz had us try it with green olives.
I love cheese, so the judgement is still out on which I liked best.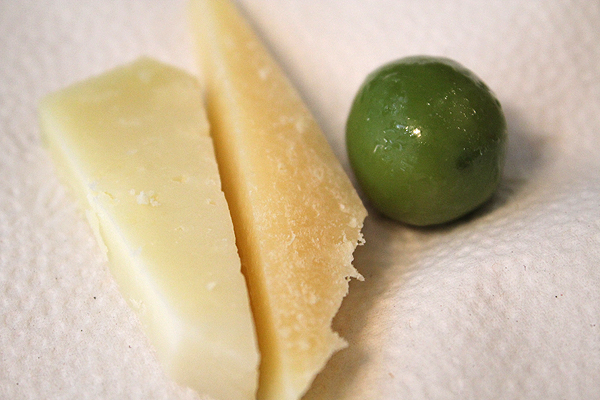 "Grandma's Pie" 
 I've tried Chicago and New York styled pizza, but the "Grandma's Pie" pizza of Little Italy … not a fan. But that's me. All tastebuds weren't created equal. It was a thin layer of sauce and cheese with a pesto drizzle on a hard, dry crust, much like aged toast.  It was the first time I'd heard of this and it was difficult to bite into. If you try it, try not to chip a tooth!
New York is however, known for having some of the best pizza in the world.. I'd say it sorta competes with Italy.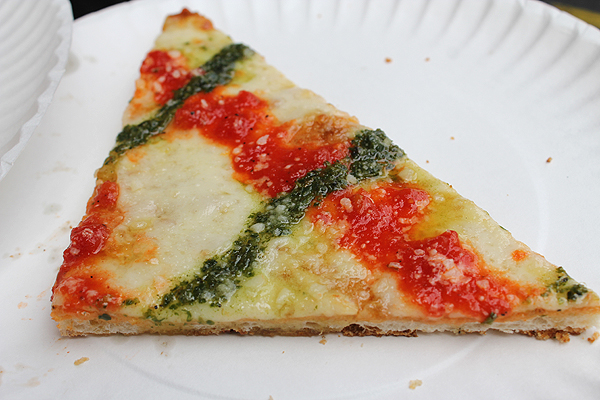 Chinatown
Chinatown a neighborhood I frequented a lot when I lived in New York. It's noisy, smelly and crowded, but it sells cheap produce, Asian food products (Hello, I'm part Asian) and houses some of my favorite hole-in-the-wall restaurants. As far as Chinatowns go, New York has got one of the best Chinatowns in the world. Eating your way through Chinatown, you'll find food that is served quick, inexpensive (where else can you get a meal for $5-$6?), no-nonsense and simple.  Established as one of the hardest-working immigrant neighborhoods in New York history, it continues to feed Chinese immigrant tastebuds that live there, in addition to New York foodies and tourists.
Tip: If you're a fan of boba tea drinks, they Chinatown is your heaven!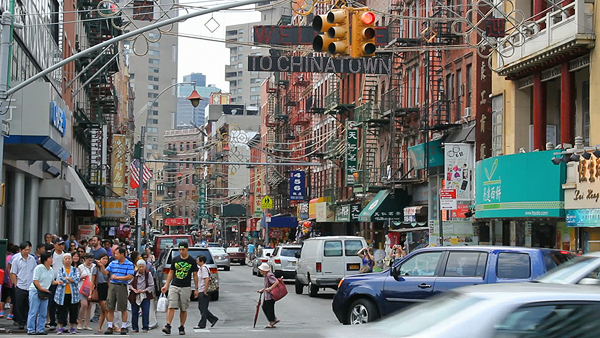 Dim sum 
Outside Nom Wah Tea Parlor, a crowd gathered to let us know that this restaurant was on the "New York foodie map". The place is known for its dim sum.  Dim sum is a breakfast appetizer. In older days, servers used to wheel around assorted dim sum on wheeled carts.  Today, Nom Wah has pictures on their menu to help you with your ordering.
Dim Sum has a lot of meat dishes:  pork bow, shrimp dumplings, egg rolls, etc…  Immediately, the hands on our table darted forward before I could even take a picture. Vultures!
Rice rolls however, are a delectable vegetarian dish! It's a soft rice noodle layer stuffed with cabbage, mushrooms and carrots and draped with a light soy sauce.
(This was all for me. Nomitty-nom-nom!  It got me some dirty glares from the  carnivores at the end of the table, who expected me to hand it over for devouring. Show some restraint, please!  Let a veggie girl have her moment.)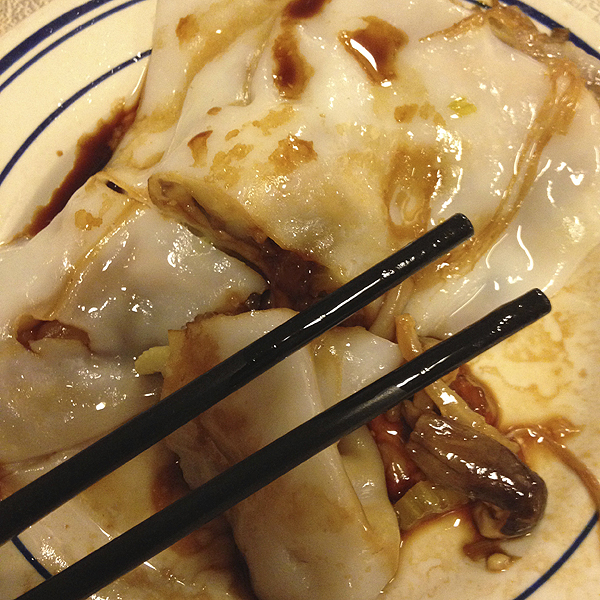 Chinese Dumplings
Chinatown dumplings are what I call "unenlightened dumplings", because they're simple, working class and inexpensive. They're made to keep a population from starving.  In Manhattan, many simple-tasting ethnic foods get a delectable makeovers at hip fusion restaurants; so you'll easily find better-tasting dumplings at joints, like Ruby Foo or Zen Palate. Having that foodie range between authenticity and fusion is what makes New York a foodie capital.
Chinatown houses a few good Chinese dumpling shops, where can buy a pack of  5-10 well-steamed dumplings for cheap.   They'll serve you well if you're sightseeing and getting into one of those hangry moments.
Conclusion:Why should you take a food tour when you can easily visit all the best spots on the map yourself?
Actually, there are many reasons.What makes a food tour invaluable is that you get to sample a variety of foods without having to splurge on an entire meal or food package. Also, it gains you confidence that what you're experiencing has been curated and probably has a high success rate of likeability. After some successes, you're ready to get out there on your own. If it doesn't work for you, then no loss- you didn't buy an entire dish of it to throw away. It's also like enrolling in a mini school in eating, gaining you local insight into the history, the way the food is made, and the finer points of what goes into the food that you may not know to appreciate.  group mingling and laughing are all an additional benefits to tours which you can't get on your own.
Other foodie neighborhoods in Manhattan
The following neighborhoods weren't on my tour, so I wanted to include them. Manhattan itself has ethnic food enclaves and if you're in the mood for Indian, Spanish or Korean foods, you're in luck! (Note:  The food and authenticity can get better if you travel over the bridge to their larger communities)
Curry Row for Indian Food
Curry Row in the East Village (E 6th Street and 1st Avenue) has a small enclave of Indian restaurants and grocery stores. If you're craving your channa masala, palak paneers and samosas served with a mint yogurt dip, head out there for  an entire meal for cheap. Each hole-in-the-wall restaurant can start to feel a little similar, with cheesy strings of chili pepper lights and occasionally a sitar performer.  The restaurants offer an inexpensive buffet-styled lunch or a full set meal. Great value if you crave Indian food.
Tip: I recommend stepping outside of Manhattan and bearing the 30 minute train ride to Jackson Heights, Queens, where you'll find the real Little India. The Indian and Nepalese communities (and I ) flock here for a less commercial experience. You'll find clothing stores, sweet shops, mobile phone stores, a huge Indian grocery store, Bollywood DVDs and delectable Indian restaurants.
Spanish Harlem for Spanish and Mexican food
If you're into Mexican food, taco joints and Spanish mom-n-pop shops,  then head out to "El Barrio" or Spanish Harlem. Located Upper East side Manhattan (between East 110th and East 116th Street), and includes remnants of an area called Italian Harlem (home of the historical Italian-American mafia). Spanish Harlem has got the largest community base of Latinos (predominantly Puerto Rican as well as, Mexicans, Salvadorans, Dominicans) in Manhattan.
Tip: I haven't yet traveled to eat here yet, so I'll direct you to the Gothamists food guide to Spanish Harlem.
Koreatown for Korean Food
Koreatown wasn't on my foodie tour stop, but it's been on my food map in recent years. It's not been rooted into NYC culture as long as the others, but the popularity of it is growing. Its located in Midtown Manhattan (near Herald Square and 32nd st). It stands only a block long and sprang forth due to the Korean businesses that started there. Today, being central to Penn Station, Macys and central shopping areas, it thrives. It houses over 100 Korean businesses,  noraebangs (aka karaoke joints), a Korean grocery store, and of course, Korean restaurants. Hungry for Kalbi, soondubu jigae and vegetarian kimbap?
Tip: Looking for Korean BB cream (read about it here)? Faceshop and Nature Republic are now there. For dessert, head over to Paris Baguette for patbingsu. Then burn off those watery calories by heading over to the Empire State Building right around the corner!
Note: My tour with Ahoy New York Food Tours was complimentary. All opinions expressed in this review are obviously and will always be my own. 
Food Tour Information:
Ahoy NY Tours & Tasting
Website:  www.ahoynewyorkfoodtours.com  (See website for dates and times)
Tour duration: 3 Hours
Have you ever been on a food tour ? Where would you like to experience a food tour? What are some Manhattan neighborhoods you'd recommend to eat in?