FLASHPACKING CONVERTIBLE BACKPACK | EAGLE CREEK DOUBLEBACK22 REVIEW
.
When my convertible carry on luggage got damaged by airlines baggage handlers, I was in snit. When I find an aspect of  travel gear working for me… I marry it until one of us croaks.  Now I was being forced to find a new marriage partner!
The Eagle Creek DoubleBack 22
 might just be my perfect mate, fitting my flashpacker style and needs.
The Eagle Creek DoubleBack 22 is convertible travel backpack rolling carry on with an attachable day pack (try saying that ten times quickly). It's the best backpack for travel, whether you're a flashpacker,  business jet setter or budget backpackers.
Disclosure: I researched, requested and received this bag from Eagle Creek for this review, but all opinions are my own.
Convertible Carry-On Luggage is the Best Travel Backpack for Female Solo Travelers
Firstly, convertible travel backpacks are a new breed of luggage. Typically, they offer 3-in-1 main options: backpack, hand luggage and rolling suitcase.
Ever since I bought my first convertible carry-on in Thailand in 2010, I have been a fan of convertible carry-ons over backpacks. Being a $25 USD Thai brand, it broke in a couple of years (I bought this bag twice!) and I had to find a replacement. Despite being the Swiss Army knife of luggage, convertible carry on travel backpacks are actually quite hard to find. You might have to Google convertible travel backpack or juggle keywords like carry-on, rolling hand luggage, etc.., only to find there's not many travel backpack options which do more than one or two jobs. So when I found the Eagle Creek Doubleback22, I had to try it and reached out to Eagle Creek to review this product. I was not disappointed
If you are a female solo traveler, there are common travel challenges to traveling alone — finding your perfect travel backpack takes thought. Your choice can either be a help or hinderance to the type of travel you are doing. Due to fails and struggles of past trips, I knew what challenges I wanted my luggage to be able to endure, withstand and support, as a companion to my travels.
Ever been wedged into a crowded Indian bus or traveled during peak metro hours in Tokyo?  Has your flight ever gotten in late into Chicago's O'Hare Airport and you find yourself running to a terminal at the opposite end of the airport?… Ever had a trip where you've gone from backpacking hostels to a luxury hotel ? …  Are you fine with paying $25-75  in baggage fees ? Does the thought of the airlines losing your luggage  amidst tricky airport transfers and layovers? …You get the drift.
Being a female solo adventurer, who films my trips alone for YouTube, my travels can get rugged, I'm juggling my camera gear while moving and I can spend a lot of time on my feet. I might be hopping public transportation or getting lost while searching for my hotels. A backpacker's backpack can give my back, neck and shoulder pains, while large rolling luggage presents challenges for me in fitting into tight places or even climbing metro stairs. And above all, I despise feeling like my own sherpa.
 I need a convertible carry-on to be malleable to my needs !
Reasons this is the Best Travel Backpack for Female Solo Travelers
When my Eagle Creek Doubleback 22 carry-on convertible backpack arrived in the mail from Eagle Creek for this review, I had a good feeling about it. The fabric and manufacturing felt solid and strong.
But I was not sure how it would fare on my three month long traipse through Southeast Asia, India & and Asia (see my ultimate packing list for this trip); this trip would be high points of luxury and there'd inevitably be low points of squeezing into crowded spaces and cramped quarters.   Flash forward into my third month of use, where I found it continuing to survive the abuse of travel~ crowded buses, thrown on the top of Laos van bus roofs, fitting in lockers, etc… This bag has many stories to tell and I'm convinced it is the best travel backpack for female solo travelers.
1. Multiple Carrying Options
There are times I roll this bag; and times, I take the burden to hauling my luggage on my back and running with it. This bag has options and I'm a big fan of options.
Rolling Suitcase + Hand Luggage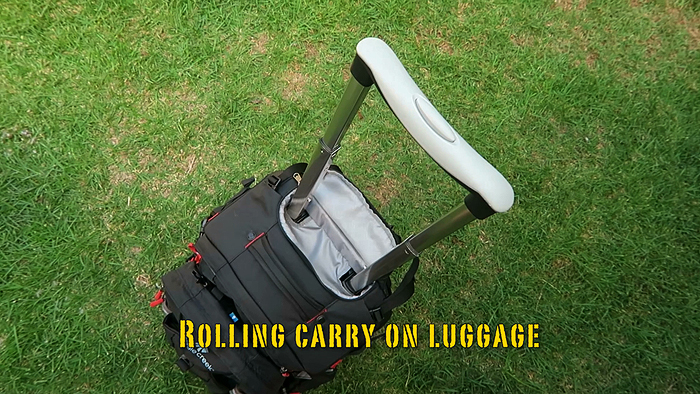 Eagle Creek Doubleback 22 Convertible Rolling Backpack 2: convertible rolling bag
Hand luggage with two handles for easy and quick grip
Eagle Creek Doubleback 22 : Hand carry luggage
Attachable Backpack Straps + Daypack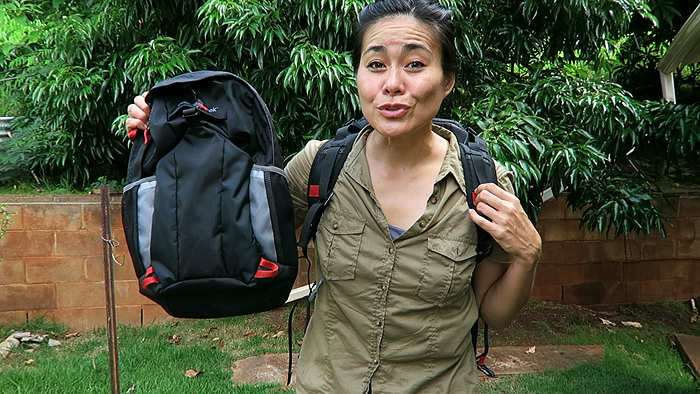 Possible wants for the future of this luggage: Perhaps the only thing I would want to add to this entire bag is an adjustable carry on strap in the case you want to sling it over your shoulder like a duffle bag, should  you ever need to make a dash for your plane.
2. Durability
The Eagle Creek Double Back 22 has a sturdy design and a durable fabric.  It's built to survive a variety of weather and spaces, from a cramped storage under a train seat to the top of a jeep van on a rainy day.
There's solid grab handles on the top and side and wheel housing that can withstand knocks and bumps. Wheels are lightweight but firmly protected by a hard plastic bumper, should the bag get knocked around by baggage handlers.
The pull-out rolling handle slides in and out easily and is built inside the body of the pack, so it's never exposed. There's back padding to cushion it from the outside world, so that it can take knocks without getting a dent.
It also touts  Bi-Tech reinforcement on areas exposed to high abrasion. The fabric and weaving is resilient as if made with a tough armor, which is weatherproof and dust resilient.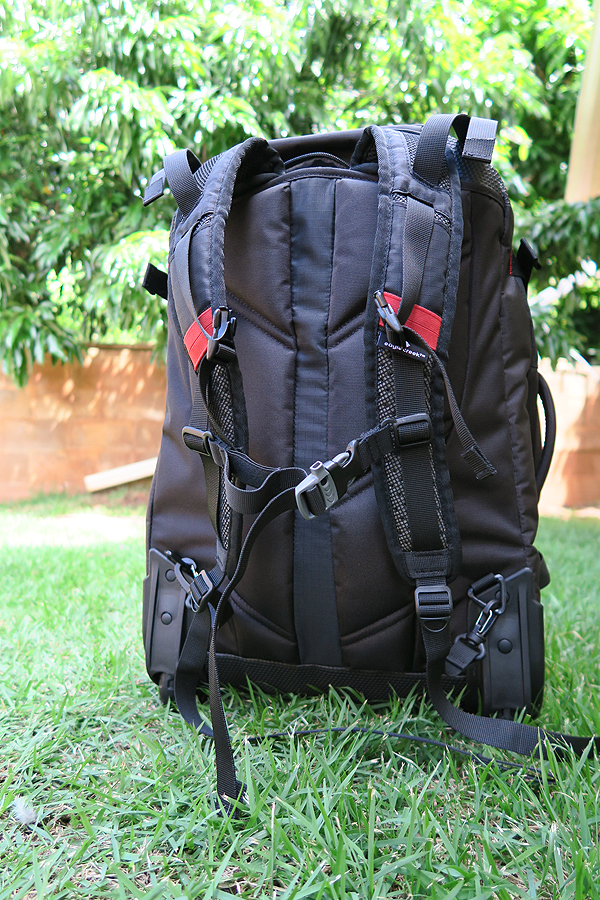 3. Navigation: Easy, Stress-Free, Transformable
 I am a fan of simple and no fuss packing solutions. I want things accessible when I want it and quick! I don't want to fidget with zippers or unnecessary straps, because I am often rushing and filming myself in the process.  So I like that the detachable straps on this bag are easy to put on and remove.
Navigating the bag is easy. Just watch my video ! Zipper straps are large and visible.  I love them.
My only complaint about this is that there's not enough outside pockets to store things in.
4. Universally Cool Style
 Backpacker backpacks pretty much shout ~ "Hey, I'm fresh travel meat!" or "I'm a hobo on a budget!" The Double Back 22 is stylish, without drawing a lot of attention itself, which makes it perfect for both, rugged backpacking, business travel and solo travelers. I like the slick and cool appearance. I have the option to transform it from a bag that is slapped between the legs a motorbike taxi to thrown under my legs on a dusty rickshaws to… being enough-classy to walk into luxury or boutique hotels with an aspect of saunter.  This bag is the perfect choice for flashpackers!
The bag is high quality. You'll feel it when you use it.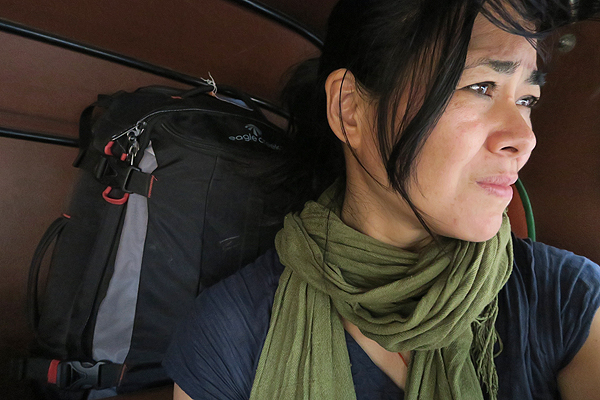 5. The main bag is expandable, yet fits in the tightest spots
Big backpacker backpacks can limit your navigation ease, which is why while I loved my Northface 65 backpack  but I will never consider going back.
The Doubleback 22's main bag is expandable to hold a 39L capacity. Yet, it fits an air carriers specifications for hand luggage (carry-on). I love that as hand luggage, I do not need to check it into baggage and it helps me avoid overpacking. It fits snugly into most environments from crowded Indian buses, overhead plane compartments, the front of a Thai motorbike (that's where motorbike taxis pack them!) and under train berths.
While I would prefer more outside pockets for quick access, there are areas that can hold items secretly.  Watch the video at 06:25, where I take you inside the pack!
6. Attachable day pack
Some travelers see an attachable day pack as a perk. Most travelers like to carry a daypack for sightseeing, so Eagle Creek built a day pack into their design. Eagle Creek adds on a simple day pack, with an inside pocket that is capable of storing a camel back
or 11″ Macbook Air laptop
.  There are two mesh side pockets to hold bottled water and an outside pocket for quick grab items.
The daypack is good for light use, but for my purposes of carrying my camera gear, I'm taking a different day pack!
The one problem I don't care for about this is that while Eagle Creek tried to keep this an efficient and minimal design, it did not included two sets of backpack straps. Both main pack and day pack have to share one set of straps, which means you cannot use both packs at the same time.
Final Conclusion
2020 Update: After four years, Eagle Creek Doubleback 22 is still my main luggage and I stand by this review and even moreso. One of the airlines I took stripped the rubber from one of my wheels, but that wheel is heavy duty stuff and hangs in there. Otherwise, each time I take a trip, I practically thank the gods of bags for this one. I'm not sure why Eagle Creek makes it hard to find this exact excellent model (it has limited if not discontinued this model, so it can be hard to find online). A recommended substitute is the Eagle Creek Load Warrior.
Overall, Eagle Creek Doubleback 22 convertible travel backpack does a fantastic job on a convertible pack, taking care to ensure the bag functions efficiently versus wasting space and resources.   You can tell they've thought about various travel uses and travel types in great length and didn't skimp on quality to make this a solid, multipurpose bag you can feel confident traveling with!
As a female solo traveler,  I never enjoyed carrying heavy loads on long distances nor do I like looking like a budget backpacker stuck in my twenties.  I appreciate that the Doubleback 22 is rugged enough to take a beating and yet still emerge looking semi-classy and jet setting. I like that it's lightweight, fluid and offers multiple transporting options.  Above all, it ensures I can confidently fit into small spaces, crowded buses and having the rolling option is a godsend!
So far it's been perfect for my longer term travels. I'd recommend it for anyone as the best backpack for travel! What do you think?
Doubleback 22 Specs
Main bag:  14 x 22 x 9 in , 39 L capacity
Daypack:  11 x 18.5 x 6 in,   17 L capacity
Light weight:  6 lbs 4oz (2.83 kg)
Get it on Amazon here
 or here
.
What is your recommendation as the best travel backpack for female solo travelers?