Last Updated on July 13, 2023 by Christine Kaaloa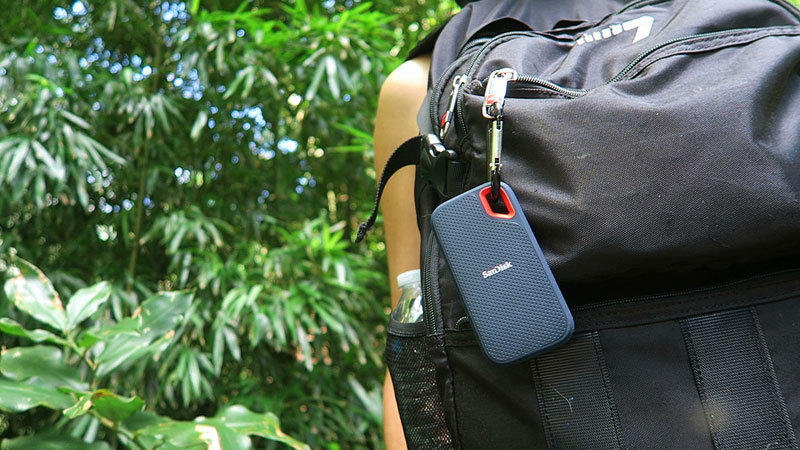 Disclosure: SanDisk sent me a Extreme Portable SSD 2TB to review and there are affiliate links in this post.  But as usual, all opinions are my own, I try my best to do a good research and testing with honesty.
 Never leave home without travel insurance. Click for the best travel insurance for gear protection and best insurance for COVID. Want camera gear advice for your film trip? Book a vlogging gear advice session with me.
.
I juggle a fairly massive amount of filming, photography and social media on a regular basis when I travel. Most audiences see the final product of my work– a video,  photograph or Instagram Story. They don't see the labor involved in getting the stories  I do, the care and importance of my gear, how I have to work fast and hard for good storytelling.
So when SanDisk approached me to share my creative process with you and do a SanDiskExtreme Portable SSD review, I gladly took up the challenge.
Working as a solo travel content creator and YouTuber, I need speed and rugged durability
I take my camera and electronic gear seriously. It's a real bummer to have anything from a camera, lens, laptop or portable drive to go on the fritz in the field, stop working or worse, to get stolen.  I prefer my electronics to be rugged, compact, reliable and to match the type of traveling I do as a solo female content creator taking public transportation.  Every piece of equipment has a purpose and all that metal can add up on my body. I'm continually looking for smaller, lighter, quicker means to make my work easier.
Portable drives are probably the least sexy thing that folks notice of content creators. But they are crucial to my video work. I'm shooting an ungodly amount of video footage and this requires safe storage during my travels.To lose footage is to lose hundreds to thousands of dollars in expense, time, labor.  So for me, it is not a matter of taking a couple of memory cards but packing several cards and at least two portable SSDs (solid state drives) for backup storage.
The SanDisk Extreme Portable SSD is a game changer– let me tell you why…
 SanDisk Portable Extreme SSD Review
With the SanDisk Portable Extreme SSD, SanDisk made an SSD to match the extremes of adventurous, traveling content creators like myself.  They know we need to produce regular and massive amounts of content to feed an audience. So they made a drive designed to sustain the rugged rigors of this type of adventure .
Things to love about the SanDisk Portable Extreme SSD
Why is this drive the best portable drive for travel videographers and solo adventurers like me? I took it into the field and allowed travel accidents to happen the way they normally do.
SSD vs HDD
The SanDisk Portable Extreme is an SSD vs HDD. I won't try to pretend like I know everything about SSDs (Solid State Drive). This is new technology for me. In layman's terms, the HDD is the most commonly used by consumers who need large amounts of memory storage but want it cheap.  I have several external HDDs in the past as they were my primary memory storage solution. I've had two HDD's go down on me (luckily I backed them up enough) and one continually go corrupt. This is because  HDDs have delicate moving parts inside it; it has a mechanical hand that reads and writes (you can ocassionally hear it when you're transferring data over or working off of it). HDD's are more fragile and bulky due to the mechanical instruments it has to protect and they can fail due to wear and tear, weather, handling,.. a bunch of factors.  SSDs on the other hand, are microchips which work similar to flash drive storage. Internally, they are compact, faster, are less prone to wear and tear, and they do not utilize delicate read/write instruments. (Read more here)
Extreme Speed
This wallet-sized baby is badass fast. With high‐speed transfers with up to 550MB/s read speeds, it moves heavy files likes hi-resolution photos and videos fast. This makes it perfect for saving and editing hi-res photos and videos.
I accidentally tested this when I first got it. Excited to set it up for my travels, I began transferring heaps of video folders over and discovered rather late that I forgot to connect my MacBook Pro to its power charger. My charging ports were all occupied and my MacBook Pro was in the red with 8% battery left and a 11 minutes left to transfer. The drives read/write were exceptional and I finished my transfer before my laptop discharged fully.
Extreme Adventure
The Extreme Portable SSD isIP55-rated in Dust and Water Resistance.This means it's built to withstand water to the point can be submerged in water up to five minutes. I was too chicken to test it that long, but if you watched my GRRR tests on my IG Story Hightlights (here),  I dipped it in a stream. I don't usually take my laptop near any body of water, so water resistance is nice to have, but it's something I know I won't use.
Extreme Ruggedness
From accidental drops, to mishandled luggage at the airport to accidentally knocking my gear bag around during my travels… these fears ordinarily force me to encase my drives in a protective soft and hard case.  The SanDisk Extreme Portable SSD has a shock‐resistant solid state core for greater durability and is certified to stand up to 2-meter drops! I've dropped it a couple of times already, but only from a 3-foot height. It's body has a rubberized coating and rounded edges. I have never felt so safe about a portable SSD's durability, as I do with this SSD.
Note: The one thing I really do love about it in comparison to HDD drives is that if it falls from my makeshift work platform (aka my lap while working in an airplane or car), it's not heavy enough to disconnect from my computer. I've had drives disconnect during a fall and this causes wear and tear on a drive.
Dustproof
Dust is something I've never thought of affecting a drive. I did a fun potato loading test during a trek in Kathmandu Valley. It was rather extreme to put it in a bag of potatoes and have farmers pile freshly picked potatoes over it, but Kathmandu itself has many dusty roads under construction. Dirt dust is common to Nepal.  The possibility of my electronics being hit with dust in countries like Nepal and India is very real.
Extremely Compact & Lightweight Design
The size is 3.79 x 1.95 x 0.35 inches. Weight: .64 ounces.
The Extreme Portable SSD is pocket-sized, is nearly the size of a credit card and is light. My iPhone 7 and travel wallet are heavier than this drive!  I store it in my old memory card soft case, just because it's so small, I'm worried about losing it in the dark regions of my backpack.
Extreme Portability
I can take the SanDisk Extreme Portable SSD anywhere. I love that I can stick it on a key ring like a would a USB thumb drive or clip it to my backpack. The portability of it means I can set up my makeshift video editing office anywhere, from my lap, when I'm riding in a car or even sitting on the toilet.  (I know TMI,… but as a content creator, I have a dogged schedule and I need to find time where I can- this SSD will guarantee I can edit video on the toilet!).
With my other portable drives, I can't do the toilet bit and even a makeshift work station on a train takes a little positioning.
SanDisk extreme portable ssd keychain.jpg
Works with Windows and Mac
Many storage drives are made for Windows firstly and Mac secondly. As a Mac user, I've occasionally had to install software to read/write to my drive (don't ask!). With the Extreme Portable SSD, I didn't need any software- I just plugged in and we were good to go!
USB Type C + A Compatible
Designed to work with both Windows and Mac, the SanDisk Extreme Portable SSD has a USB 3.1 Type-C connection port. It also includes a USB Type-C to Type-C cable and a Type-C to Type-A adapter, meaning it will work with the PCs and Apple laptops of yesterday, today and tomorrow.
The connection is sturdy.
I've read a lot of past reviews wehre people complained about the connector breaking off and stuff. I've experienced loose connections in the past with older portable drives. A loose contact means you'll be accidentally dis-mounting a drive with the slightest bump. The abrupt disconnection eventually causes wear to the drive and potential corruption over time.
The connection is so sturdy and the SSD is so light, that if the SSD drops or slips off my lap, it dangles from the cable unburdened. The tug on the cable is not enough to pull the cable out. Overall, my contents feel remarkably safe on this drive.
Reasons Not to Love the SanDisk Extreme Portable SSD
To be honest it was hard to find fault with this drive.
Price
If you're looking for a cheap all-purpose HDD, the price point of the SanDisk Extreme Portable SSD can feel expensive (a 1TB drive costs around $270-$300 on Amazon; my 2TB drive cost even more).  But remember, this is SSD technology, not HDD. So if you're a travel videographer or photographer, looking for a rugged and speedy drive that can take hard knocks and keep your work safe, then the price will feel comparable to those in the SSD category.
If you're looking for a cheap and average portable drive that does a decent job, you can cross your fingers and get it at Costco or Best Buy, while always wondering if it will one day die on you for no reason (which is why I always pack two HDDs to backup my footage). This SSD is for the creators that feel performance and certainty are crucial to their work.
USB Type C is not a universal standard yet
I love that the drive comes with a sleek USB Cable Type C (to fit my newest Macbook Pro) as well as, a USB A adapter for my old MacBook Air.  But the true test came when I took my old Macbook Air  (USB type A) on a trip to Nepal and forgot the SanDisk USB A to C adapter at home! A USB C cable is not universal enough to be found in airports or in Nepal. Luckily, I realized I packed my GoPro's USB A to C charging cable and it was exactly what I needed ! I was saved.
Who is the SanDisk Extreme Portable SSD ideal for?
A content creator, videographer, photographer or hobbyist, whose trip memories and its storage mean a lot to them.
If you take a portable hard drive to back up your photos on the road
If you want to reduce time offloading your footage at night when you could be sleeping
A rugged adventurers who travel in extreme weather and climates.
If you're accident prone with your equipment
If you just plain want to travel light.
Where to Buy it
You can buy the SanDisk Extreme Portable SSD on Amazon (here), Best Buy or B&H Photo
Watch my Journey with SanDisk Extreme Portable SSD
What did you think of this SanDisk Extreme Portable SSD review? Would you agree this drive is the best portable drive for travel videographers ?
Travel Essentials to Shop- Memory & Storage
Recommended Travel Essentials for Rio deJaneiro.  Click to Shop.
---
Download my free equipment gear guide
---
If you enjoyed this review, Pin it to your Pinterest board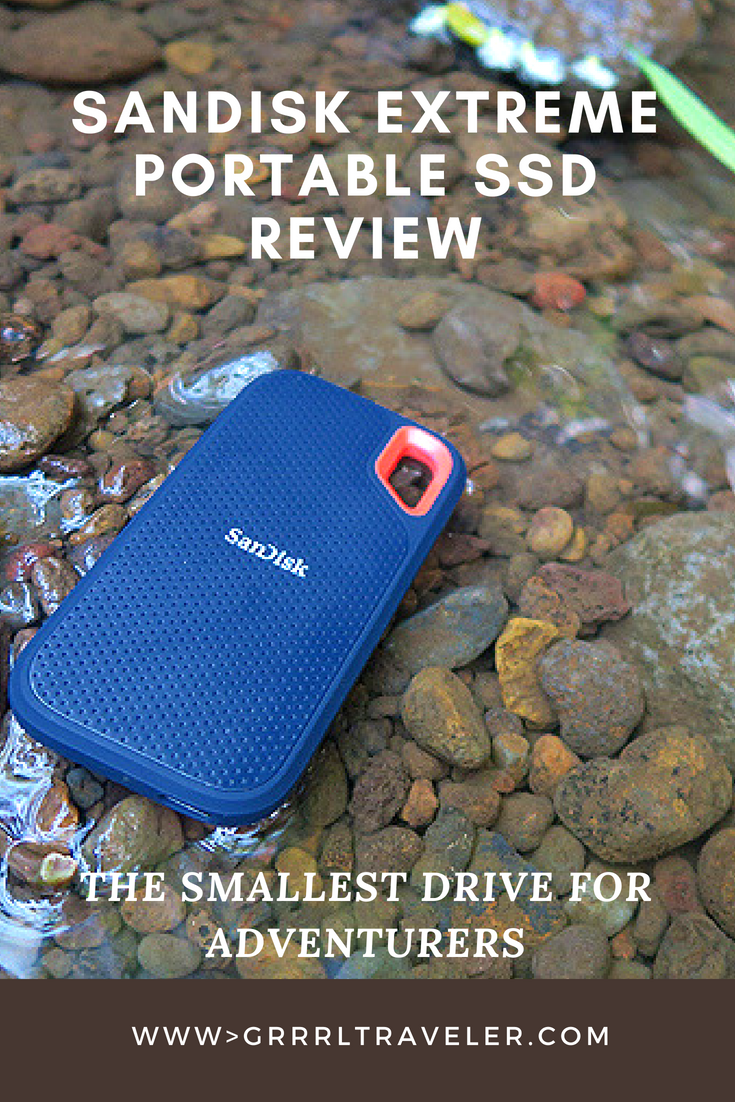 Related GRRR Reviews
SteriPEN Freedom Review
Why you need a female urinary device
Why you need to use a VPN
21 Ways to Outsmart Pickpockets and Thieves