Last Updated on April 21, 2019 by Christine Kaaloa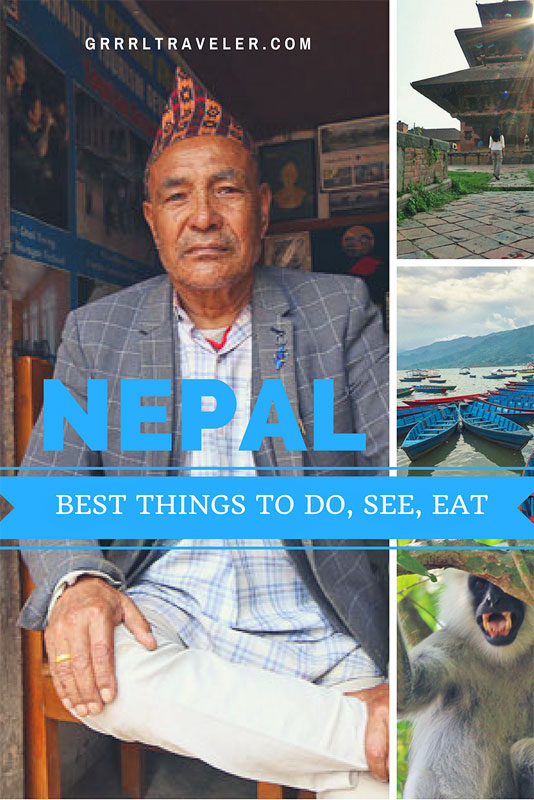 When the 2015 earthquake hit Nepal, the media documented the earthquake's aftermath of ruin and devastation. It was said it's main UNESCO sites were destroyed.
But that was only one small part of a story which colored a strengthening nation.
How did the 2015 Earthquake affect Nepal?
If you visit Nepal, you can see some of the aftermath of the 2015 earthquake. There's occasionally ugly wooden support beams supporting buildings and houses. In some places you'll see reconstruction efforts on temples or even gated off remnants of a structure. But has it hindered a tourist's sightseeing? No.  After an hour of sightseeing temples and monuments in Kathmandu, Patan or Bhaktapur , I was templed out.  As lovely as temples are, how many temples can you really see ? It's like temple hopping at Angkor Wat, Bagan or Ayutthaya.  Nepal is abundantly templed and not even locals visit all of them.
Nepal's top ten UNESCO World Heritage sites (and its damage):
For the record, Nepal has three Durbar Squares and the one in Kathmandu and Patan has suffered partial damage.  The Durbar Squares were once considered noble courts or palace squares and are the heart of the three ancient Kingdom cities (below) which house them:
Kathmandu Durbar Square– Parts of the city's oldest palace, Hanuman Dhoka and its 183 year old Dharahara Tower, which loomed almost nine stories as a watchtower and heart of Durbar Square.
Kathmandu – Boudhanath Stupa – No major damage
Kathmandu – Pashupatinath Stupa – No major damage
Kathmandu – Swayambunath Stupa – No major damage
Patan Durbar Square–  Patan Durbar is a 17th century royal palace complex.  Parts of the temple are undergoing construction. The main temple Krishna Mandir is untouched ( but only open to Hindus).
Changunarayan – Unknown
Lumbini – No damage
Chitwan National Park – No damage
Sagarmatha National Park  – No damage
---
17 Ultimate Best Things to Do in Nepal after the 2015 Earthquake
According to the media, Nepal tourism was reduced to its UNESCO sites as its main attractions. Forgotten were the other aspects of tourism:  culture, food, natural landscapes, outdoors, etc..  In many ways, Nepal is an ideal adventure destination and this is largely why I love it.
This is my ultimate Nepal travel guide and a resourceful list of things to do and the parts of Nepal that are under reconstruction.
Read Things to Know before you go to Nepal
.
Best Things Do in and around Kathmandu
There's three historical cities – Kathmandu (Thamel is the heart), Bhaktapur and Patan. Each city has their own vibe and specialties.  Kathmandu Valley is a country-like valley resting on the outskirt of the city; offers the first peek of the lush and beautiful landscape Nepal offers.  Panauti and Nagarkot are overnight getaways if you want to experience villages towns which are closer to the natural landscape.  All of these can be reached by public bus or taxi/hired driver.
1. Bhaktapur
Bhaktapur is an old Newari Kingdom, known for wood craftsmanship and its preservation of old Newari traditions and lifestyles. From wood temples to buildings, it's got a rustic and heritage feeling that you might find in older and rustic villages like Dhulikhel.  This was one of my favorite cities to film and explore.  Popular attractions: Dattreya Square, Nyaptole Temple, Durbar Square, 52 Window Palace, etc.    For foodies:   Juhu Dhau, or King Curd, a large yogurt. It's a must try food in Bhaktapur.
2. Patan
Of the three Old Kingdom cities, Patan houses the most temples and the largest Durbar Square. Neighboring Thamel, its known for its metallurgic and traditional arts city. A visit to the Golden Temple took my breath away with its variety of golden statues and metallurgic artwork.  The main parts of Patan's Durbar Square are under reconstruction, so the square isn't very pretty to film (see my video). But there's still a lot to do…
Impressive attractions: Golden Temple, Molchok and the Royal Baths.  Patan Museum is the best museum I've come across in all of Asia – it houses beautiful art with descriptions that teach travelers about its iconography and symbolism. Want to experience singing bowl therapy? Check out Lotus Crafts for their collection of singing bowls. They offer demonstrations and vibrational healings using the singing bowls. It's $30 for an hour's session and you can get your chakras aligned or just use it to cure ailments. Some of the bowls are specially crafted on auspicious nights of a full moon. It's said to be made with the moonlight!  (visit them on Facebook).
3. Thamel & Kathmandu
Thamel is the most popular and well known city by travelers. A convenient location in the heart of Kathmandu, its lively streets are lined with restaurants, cafes and lots of shopping, shopping, shopping!   Popular attractions: Kumari Ghar ( Kumari residence; she's said to give blessings from her window twice a day), Asan local market, Bhairav Temple, Freak Street .  About five minutes in the upper outskirts of Thamel, you'll Swayambunath Stupa hovering over the city and offering the best city view. Read Best things to do in Kathmandu
Kathmandu accommodations I stayed at :
Hotel Tibet  (review) . •  Tibet International  (review) •  Kantipur Temple House (review) • Hotel Vajra (review ).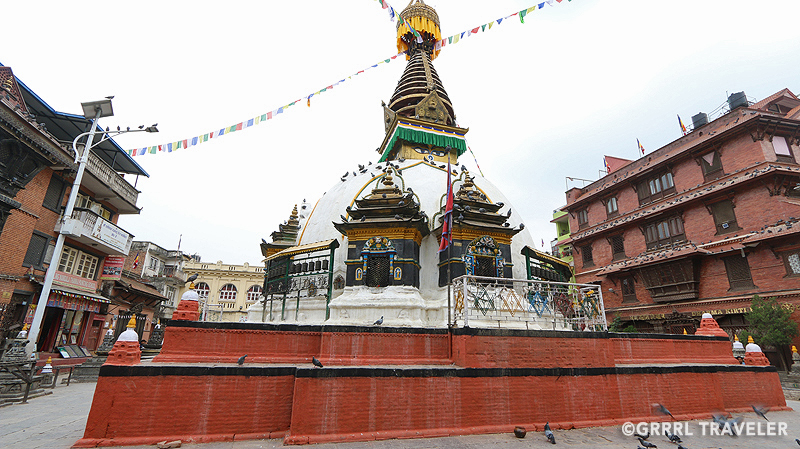 4. Boudha
A fifteen minute drive from Thamel towards the edge of Kathmandu (and in the direction of the airport), you'll hit the Boudha district, where you'll find Bodhanath Stupa and a Tibetan community of over 50 gompas (aka monasteries) , restaurant cafes and more . While there's much bustle outside, you'll find the Bodhanath Stupa complex oddly peaceful and it's probably due to thousands of Om Mane Padme Oms whispered in a stream of consciousness all at once. Boudha is one of my favorite places and one of the most spiritual of Kathmandu. For foodies:  you'll love Phulbari street, where you can sample laphing, thukpa, thenduk, momos and more.
5. A Helicopter tour of Everest
A popular activity, for travelers short on time or who want to catch drop dead view of Everest, is to take a jet plane tour with a carrier such as Yeti Airlines. Cost ranges around $200 for one hour and you get to see the cockpit. Best time for viewing is September and May. I wasn't able to take the tour but Keith Jenkins of the travel blog,  Velvet Escape was! Read his review/photos for more details.
Video by Keith Jenkins, Velvet Escape
6. Kathmandu Valley
If you're still scratching you head wondering what happened to the lush beauty of Kathmandu, you'll find that in Kathmandu Valley. It's certainly one of my handful spots to go for a nature retreat.
Ring Road in Kathmandu goes in a complete circle leading from Kathmandu to the countryside of Kathmandu Valley. Take a pilgrimage out to Dakshinkali Temple via local bus or explore smaller cities such as Kritipur. Ten years ago, I stayed at Chobhar village . While the resort lodge that connected travelers with Chobhar village, no longer exists, the surrounding area is peaceful, lush and beckons to be explored.
Getting There: Hire a driver for the day (roughly $40/day – 8 hours) or ask your hotel concierge about the local bus.
7. Best short treks around Kathmandu
I only had two days for a trekking adventure from Kathmandu, so I opted to explore the Kathmandu Valley Rim.  Here's the top three I was told were the most visually beautiful:
Bhaktapur -Changhu Narayan- Nagarkot (my very first trek in Nepal and in my life! Rustic charm of Bhaktapur's wooden temples, scenic with hill villages along the way)
Panauti – Dhulikhel – Namobuddha  Monastery. (Scenic mixed with farming villages along the way. Dhulikhel feels similar to Bhaktapur but is in the hills.)
Sundarijal – Chisapani – Nagarkot Hike
8. Panauti
Pantauti is a quaint rustic town in the foothills just two hours from Kathmandu. Surrounded by farm lands of rice, wheat and potatoes, the valley surrounding it is green. Its Old town is bustling with heritage buildings, temples, old-fashioned streets and a busy urban section, which occasionally sees motorbike, foot and tractor traffic. This is where I experienced a wonderful homestay experience with Panauti Community Homestay.  I was lucky to be staying with Anee-ta and her mom, who owned a house on the outskirts of the town amidst the potato and wheat farming community (that's where I got that beautiful photo view below!). The chill vibe felt like a trekking homestay experience, where my lullaby to sleep were crickets and a dog barking far off in the distance.  The town is two hours by bus from Bhaktapur and is a refreshing getaway.
Read my city guide post for more details about Panauti.
9. Nagarkot
Approximately three hours from Kathmandu, Nagarkot is a hillside village that feels world away from Kathmandu. Nagarkot is known for its trekking routes and its hillside village community. It was one of my favorite spots on my first two-day trekking tour to wake up and see the sunrise.  Nagarkot doesn't have a lot to explore in a city, as it's known for its nature and small village community. The village has some cafes and snack shops.  It's a lovely place to unplug.
Nagarkot has some hotel lodges with exceptional views of the Himalayan Mountains.  A popular lodge for most short trekking trips is  Hotel Viewpoint Nagarkot; it's got a phenomenal view of the hills (when it's not hazy) and at 4am or 5am you can step out of your room and view the sunrise. I've stayed here too over ten years ago, so I can't comment on how it is now.  Community Homestay also offer a homestay in Nagarkot.
Best Places to Visit in Nepal beyond Kathmandu
Nepal isn't only Kathmandu. There are many, many cities, towns and villages stretching through the country. I'm listing the top three most traveled destinations in Nepal.
10. Pokhara
Pokhara is considered Nepal's loveliest city with Phewa Lake and it's lush surrounding hills. Just the drive alone can be scenic.  You can chill and go shopping, visit the Mountaineering Institute, ride a lake boat or hike to the Peace Pagoda. This city is also a hub to famous trekking routes like Annapurna (ABC) or Poon Hill. You'll find many travel agents ready to help you with your itinerary.
Read my 48 Hours in Pokhara Travel Guide
11. Chitwan National Park
Ever wanted to see a one-horned rhinosaurus up close?  Established in 1973, Chitwan National Park is over 360 miles of preserved park lands filled with wildlife from the one-horned rhinos, various bird species and Bengal tigers. In other words, it's a great place for solo to family travelers looking for an adventure in wildlife spotting.  There are eco lodges to luxury resorts (this is where I stayed) and homestays.
Read my Chitwan National Park Guide  and how to get there from Kathmandu.
.
12. Lumbini
Known as the birthplace of Buddha, Lumbini is a famous UNESCO world heritage site and a popular pilgrimage spot of Buddhism. Lumbini is a park with many temples and monasteries. The most sacred site is the Maya Devi temple, where Buddha was born. The drive from Kathmandu is well over six hours, so it's advised to see other places nearby it, like Chitwan National Park.
Popular Activities in Nepal
13.  Souvenir and Apparel Shopping
Shopping is an easy and fast hobby for travelers to Nepal. Prices are inexpensive and craftsmen/seamstresses are really good. Be wary of trekking apparel shops as most of the name brands are knock-offs; the quality or stitching may not be like the branded design (i.e. NorthFace) but they are decently well-made.  Thangka artwork, singing bowls, masala teas, pashmina scarves… many big cities offer lines of souvenir and trekking apparel stores for basic needs and to bring souvenirs home for the family.
14. Cultural and Heritage Tours
If you're staying in and around Kathmandu, popular day tours to take are to Kathmandu, Kathmandu Valley, Bhaktapur and Patan.   The culture and history of Nepal, it's architecture, art and cities are all fascinating and eye-opening of a culture nestled between India, Tibet, Bhutan and the Himalayas. A mountain loving country, it is rich with unique Newar , Buddhist/Hindu, sherpa cultures with fascinating practices and has both a urban and rural country lifestyles.
15. Trekking
Nepal is known for its mountain climbing and trekking and that is because Nepal holds eight of the world highest mountain peaks about 8,000 meters, with Mount Everest being the world's highest. But other contenders are Annapurna, Mustang and Lanthang.   Many treks for travelers launch from either Kathmandu or Pokhara; those cities can be prime spots to shop trekking routes and rates. The average time needed for a good trek runs around 7-10 days. But you can ask for appended versions if you're short on time.
Not everyone has time for a week long trekking vacation and there are shorter treks under a week.  Kathmandu Valley has a handful of lovely treks to explore the countryside, village farming; and breathtaking scenery. Best of all, you don't have to stray far from Kathmandu to enjoy them. My very first trek was from Bhaktapur -Changhu Narayan-Nagarkot and recently, I took another two day customized trek of Balthali-Dhulikhel-Namobuddha .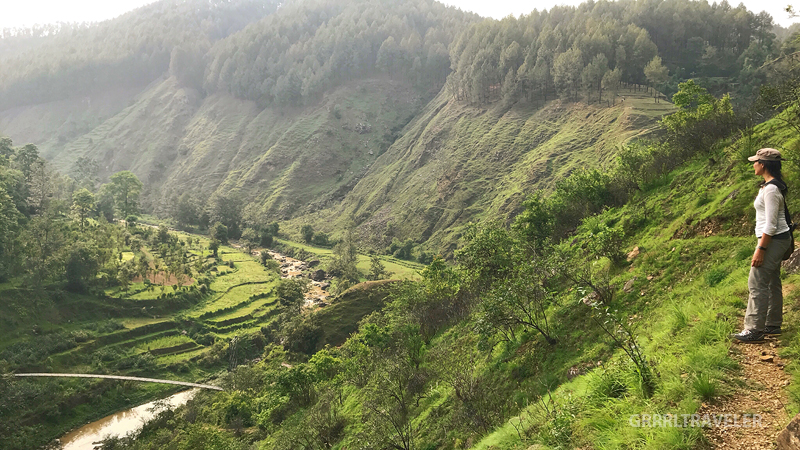 16. Wildlife Safaris
Not many folks know but you don't have to go to Africa to experience a wildlife safari. As mentioned on #10, Chitwan National Park is over 360 square miles of wilderness park settled in the Terai Lowlands. Through a foot or jeep safari tour, you can spot the one-horned rhino, monkeys, deer, maybe even a tiger.
Note: There are elephant tours, but this blog does not support animal tourism exploiting captive animals, where tourists are unknowingly responsible for the subjectivity of animals to cruel and harmful conditions. 
17. White Water River Rafting
White Water River Rafting is a popular sport in Nepal. Who knew? There are at least five top rivers if you want a good challenge.  Trishuli River, Bhote Kosi, Sun Kosi, Tamur. The Trisuli River is the best if you are short on time, as you can do a river rafting trip for as short as three hours. Keep in mind, the drive from Kathmandu is about five hours (Trisuli is north of Chitwan National Park) I took a three hour white water rafting tour with Adrift Adventures. Between occasionally rough and bumpy currents there are moments of calm where you drift through a scenic view of the valley. Caution: you will be prone to a gaping mouth.  The ride to the location was bumpy and made me a little sick but the rafting was worthwhile. Apparently bouncy waves are far better than swerving bus drivers.
18. Homestays
Nepal has been embracing homestays as a way for village communities to be sustainable, empower women and encourage cultural sharing with foreign travelers.For travelers, it's a way to gain a good home cooked meal, learn some Nepali cooking skills, stay with a Nepali family and learn about their lifestyle. This is a wonderful way to feel connected with the Nepali culture and community.
Recommended: Community Homestay (read my Panauti Homestay experience)  is a regulated program supporting sustainability for small communities.
19. Nepali Food Tours & Culinary Experiences
Yes, there is a raging foodie culture in Nepal (check out the Nepali food blog, The Gundruk and Instagram for Nepal food inspiration). I discovered Boudha has a thriving foodie street, which has retrained my tastebuds- they will never be the same! Also, there's an endless various types of momos, which puts a new spin on the term 'dumpling' (keep an eye out for my videos!)
Street food is said to be a little sketchy in Nepal, so it's always best to start out with a food tour with a reputable agency like Backstreet Academy.  I took two street food tours through them ( tour one, tour two), which many viewers on YouTube loved and wanted to try for themselves.
Nepal Travel Resources
Wanderlust Himalaya Adventures (my 2 day trekking trip and city tour; they do custom packages)
Backstreet Academy  (culturally sustainable tours, food tours, cooking class- you can special request my guide, Kanti when booking but you will only get her if she is available )
Panauti Community Homestay (the homestay I experienced in Panauti)
Communityhomestay.com (local homestay program in various locations throughout Nepal)
HoneyGuide apps (app to help plan your DIY trekking trips )
Adrift Adventures (white water river rafting tours I used)
Watch my Video about Nepal Now:
I met up with my friend of ten years, Nabaraj (tour operator of Wanderlust Himalaya Adventures) . This is what he had to say about the state of Nepal tourism~
Note: I was a delegate guest of Himalayan Travel Mart, sponsored by Nepal Tourism Board and PATA Nepal, but all opinions are my own as usual.
What are your best things to do in Nepal? What would add to this Ultimate Nepal Travel Guide?
If you enjoyed this post, Pin to Pinterest!