Last Updated on August 3, 2012 by Christine Kaaloa
 When I stepped foot onto Angkor Wat Archeological Park and stared at the crumbles of time, I thought one thing~
This is it?
Nevermind, that it was once the magnificent capital of the Khmer Empire from the 9th-15th centuries. Or that it's a world-reknown UNESCO site. I had heard one too many raves from enthusiastic friends and travelers that it was the must-see of Cambodia.
—  'Take the three day pass because you'll want to see everything!'
—  'Do the hot air balloon ride over the park! It's so amazing. You'll never forget it.'
—  'Angkor Wat is the only reason I went to Cambodia. It's the best sight of all of Southeast Asia!'
—  'You haaaaave to see it; I'm so glad I did!' 
Although I hadn't seen photos of its architecture or read about it before my visit, I was certain it would fulfill my monumental notions about its grandeur.
But what stood in front of me now, was rough around the edges, highly eroded, decomposing … ancient sand fortresses slammed and beaten by the waves of time.
.
Why I hate " tourist hype"
Hype can ruin a good thing.
It builds expectations to exaggerated climax and like landmines, they lie in silent wait for you, so that when you discover them, you exclaim–
That's it?!
That was it.
A big, fat bullet of disappointed had killed it. Hypothetically, the "only reason to visit Cambodia" had just been slayed.
So I took the one-day pass instead, feeling some pessimism as to how Macchu Picchu would someday fare for me.
.
Falling into the trap of making travel comparisons
If you travel a lot, you inevitably develop a subtle cockiness, over time.  You've seen other splendors and this gives you a frame of reference  to make comparisons. It's a nasty habit. A habit that I am often challenged to break.
In Asia, I've had my fill of archeological and religious opulence: golden temples and palaces, towering and magestic Buddhas, stunning buddhist wats, painted with gold, glinting brightly in the sun like King Solomon's treasure. I expected to be bowled over.
But I wasn't.
It's no exaggeration that archeological park is enormous (stretching over 400km), but 'archeological' and 'ruins' are the keywords to note.
Hype had stretched my expectations above and beyond that.
Meanwhile, comparisons had knocked them over like bowling pins.
But…
Reshaping my perspective and experience
I knew I was being unfair.
Angkor Wat is glorious and magnificent in its own right and surely there's more beauty to Cambodia than just Angkor Wat.
It took me a while to understand what the park was really about, but once I did, I quickly reset my expectations and switched fairytale romances so I could enjoy my day. I discovered it was actually pretty cool.
Sorry Angkor Wat.
Bayon: One of my favorite temples. It has face reliefs.
Bayon
Monster trees
One of my favorite film locations. Anyone wanna say Tomb Raider?
Sleeping Buddha stone statue
Angkor Wat actually means "City Temple" and its name is an accurate description of its unparalleled draw. Instead of King Solomon's treasure, you might think of the park as more like a Lost City.  Much restoration is being done, but as the 'city' of temples, which withstood centuries, it's slow decay is apparent in fading impressions and wall reliefs. Still, it shares imprints of an early civilization.
It takes 3 days to tour because like a city, the architectural ruins and artwork tell a story the civilization. Not to mention,  the temples are very distanced from each other; you'll be best off hiring a tuk-tuk to take you around.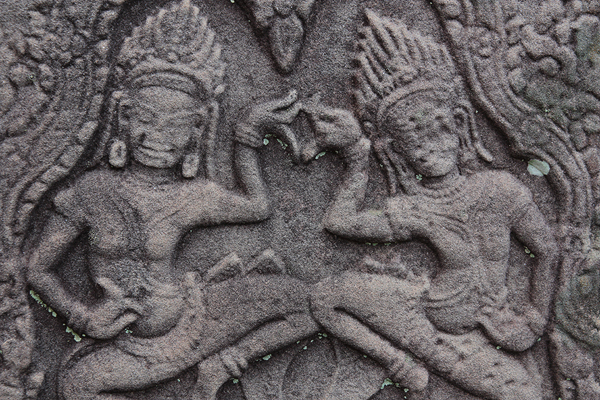 .
Ways to escape the hype of famous sites
1) Read about the site first
Research the site beforehand. You'll have a better perspective of what to expect and how to appreciate it.
2)  If it's listed in the guidebook, expect a crowd.
These days, you'll be hard-pressed to find a famous landmark that isn't over-saturated with tourists. Even sunrises and sunsets spots are littered with tourist paparazzi. If you're looking for a more intimate experience, you may be disappointed (these days, those are primarily found when you go local or off-the-map).   Best advice: Arrive early for a good spot- or- go around lunchtime, when most crowds leave for lunch and to escape the heat.
3) Keep an open mind
Keep an open mind.   Each country is individual in its culture, art and history. Comparisons and expectations keep you from fully experiencing or understanding a place fully from its own perspective.
4) Don't let the touts get to you
You're there to sightsee, they're there to make a living. Touts can spoil your experience with their persistence in selling you things.  They'll annoy you to the point you want to hate the culture. Don't. Touts test your patience, but try to understand. In developing countries,  money doesn't come easily and is needed for basic survival moreso, than luxury. A famous site is the only place which will draw tourists, so your tout has probably traveled some ways to you and to do a honest day's work.
5) Just because others like it doesn't mean you will
So your friends and guidebook have sampled the site and given it their thumbs up. That doesn't mean it will appeal to you. We all have distinct tastes. Ask a die-hard sports fan if he/she wants to visit an art museum like the Louvre and they might find it boring, where you might find it exciting. Just as each site is individual and unique; so are we.

 What do you think? Can hype kill a famous landmark for you?