Last Updated on June 19, 2021 by Christine Kaaloa
Disclosure: I received this product for a review.  There are affiliate links in this post. As always, all opinions are my own. 
.
Earlier I tested the MyCharge Hub Mini and loved its surprises, so I was curious to test drive the  MyCharge Adventure Ultra. But i'll be honest~ at first I didn't think I would do much with it because I generally travel light and I knew this would be a heavy duty external charger.
But it did recall situations where I've been away from power sources for a couple of days and was worried about my blog work. This MyCharge Adventure Ultra is a heavy duty charger for travelers who will be off-the-grid for a while, due to camping, trekking expeditions or road trips, where you might be away from a power source for a couple of days.
MyCharge Adventure Ultra Review
In a time when technology is so fast that it's never fast enough,  myChargeAdventure Ultra touts itself as being the quickest charger in the field. Kinda like the fastest gun in the West.  I've been using this myChargeAdventure Ultra for the past couple of months and here's my review of the myChargeAdventure Ultra.
This myCharge Adventure Ultra charger utilizes safe-cell, ensuring your safety while charging your phone." Best Buy
Reasons to Love the MyCharge Adventure Ultra
Rugged build and heavy duty
The Adventure Ultra has a sturdy, heavy duty and rugged body. It's got a rubberized finish and is splash-proof and dirt-proof. This ideal for road trips, adventure expeditions or camping vacations, where might be away from a power source for a couple of days. For solo travelers, this is a bit on the weighted and bulky side.
Hyperspeed recharge
The myCharge Adventure Ultra it is easy to charge it only takes two hours to fully charge.
Acts like a wall socket
The charger has a 110V AC / 45W total output power. Supposedly it's enough to run a fan, recharge a drone battery or laptops requiring less than 45 watts, which is something I've never seen portable chargers do.
Safe Cell: Smart Charging
I like that the myCharge Adventure Ultra powers off, as soon as that device hit 100%. This is brilliant because you can leave it alone without fear that it will finish charging your device and then drain the battery. Often this happens when I throw my iPhone on an external charger overnight. By morning the charger has depleted itself.  This charger is smart enough to protect over-draining its battery and your device's battery.
Charge the MyCharge Adventure Ultra and your device at the same time
They call this technology "Pass Through Charging". It means you can charge the both, the MyCharge Adventure Ultra powerbank and a connected device simultaneously. So I can charge my Adventure Ultra and iPhone at the same time.  This is the first I've heard of this type of external charger technology so this is a game changer in my eyes.
Power up to two devices at once
You can power up to two devices simultaneously.
Compatible with most chargeable devices, including laptops!
The MyCharge Adventure Ultra has an 110V/45W AC power plug port, a USB-C port and two USB-A ports! It is compatible with charging most USB devices, such as cell phones, tablets and MP3 … you can even plug in socket items like laptops. Although it is not compatible with charging a MacBook Pro or an 11.6 inch Macbook Air (I've read several reviews to know and verified it on my own), there have been many claims that this charger powers some PC laptops.
Intelligent Visual Battery Level Display
The Intelligent display lets you keep track of what is charging (on each port) . I appreciate this aspect of the charger as it lets me see which port has the most charge and I can simple plug in and press the button of the port I want to charge on.
Cons of the 
MyCharge Adventure Ultra Portable Charger  
Battery Capacity
The battery holds a capacity of 13,400 mAh capacity. But seriously, this doesn't seem like much in comparison to its bulky size.  \
Bulky compared to other charger with its capacity
The downside is that given the large and bulky size, I would expect there to be larger capacity.I've had lipstick-sized chargers hold 5,000 mAh and my 10,000 mAh battery is the size/weight of my iPhone. This is an elephant in comparison.  I have to keep reminding myself that the trade-off is the fact it's got a 45W plug outlet, intelligent tracking and can charge several devices at once.  You paying for its intelligence and multi-tasking abilities and  I've never had a charger which acts like a wall socket.
Conclusion
MyCharge Adventure Ultra Portable Charger  is a heavy duty charger for the adventure and outdoors traveler who wants to power their devices and cameras, but is either camping or off-the-grid for a couple of days. If you're someone who worries about your battery discharging over time, you don't have to worry about the MyCharge Adventure Ultra, because it holds its full charge for months.    If you can deal with the size and bulk of its body, this is a good partner for your next off-the-grid adventure.
Where to buy it
The MyCharge Adventure Ultra can be bought at Amazon for approximately $129 USD or at your nearest BestBuy store.
Recommended External Chargers
Recommended External Chargers. Click to Shop.
MyChargeAdventure Ultra Specifications
Smart-sense: ensures device compatibility
Power-stay: Battery power lasts for up to a year
Powers most USB-enabled devices
Built-in AC power port (recharging the power bank)
Dual USB-A ports
USB-C port
Pass through charging: allows for charging of the battery and connected devices at the same time
Product Dimensions: 1.2 in x 5.8 in x 4.1 in
Product Weight: 1.05 lbs
Total Output:  AC 110V 45W
Output by Port

USB-C Port: 3.0A
USB-A Port #1: 2.4A
USB-A Port #2: 2.4A
Total Shared: 3.4A
AC Port: 45W

Comes with an AC charger cable
What did you think of this MyCharge Adventure Ultra review?  
If you enjoyed this review, Pin it to your Pinterest board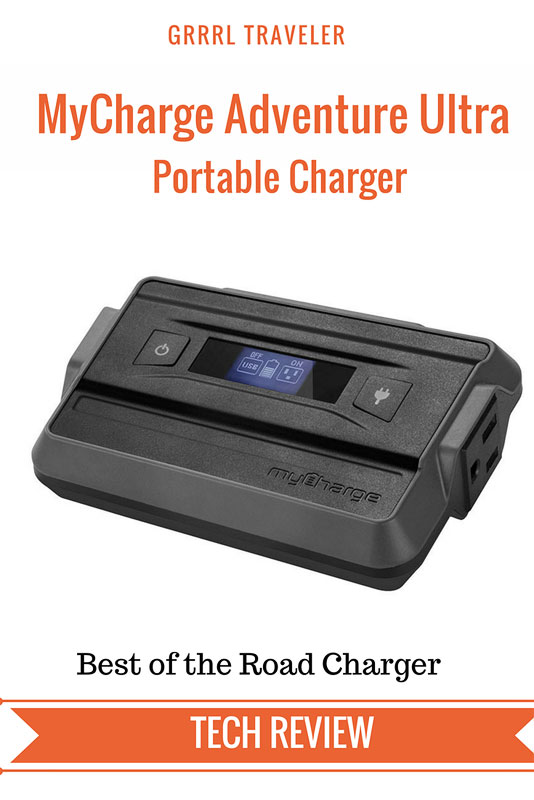 Related GRRR Reviews
SteriPEN Freedom Review
Why you need a female urinary device
Why you need to use a VPN
21 Ways to Outsmart Pickpockets and Thieves