Last Updated on January 17, 2018 by Christine Kaaloa

Watch Clever Travel Companion review, so you know what I'm giving away!
I'm super excited. You know why? This is where I finally get to offer you readers and viewers more than just eye-service.
I'm having my first GRRRLTRAVELER giveaway! Woopta!
( Okay, okay well, technically it's my second. Before moving to Korea, I held a contest giveaway for a $300 pair of vegan shoes by New York designer, Elizabeth Olsen. I was too lazy to ship it home from New York, so I gave it away…)
But before I get to the contest, let me tell you what I'm giving away so you'll know why you want it!


What is the Clever Travel Companion?
Earlier this year, I reviewed theClever Travel Companion tank top. This tank top quickly made itself an integral part of my work, exercise and travel lifestyle and is something I still enjoy using, so I was eager to test drive more of the Clever Travel Companion clothing lineup.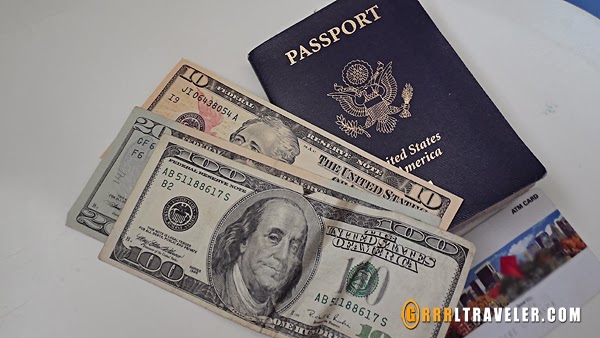 The Clever Travel Companion clothing line offers one more solution to storing your valuables and/or keeping them on you in a way that makes it hard for pickpockets to steal. The clothes are designed to act like moveable safes, because you're storing your valuables on a highly-protected areas on your body, such as your underwear or a pocket in the middle of your body.


Protecting my valuables and avoiding pickpockets
Firstly, as travelers we're always looking for ways to protect our valuables (i.e. our passport, credit card and money) from pickpockets and thieves, who hope to ruin our vacations. Where do you store it? Some travelers like to use hotel safes ;  others use money belts or stash their money in different parts of their luggage. I employ a few of these methods and a money belt is one of them. I use it more as an organizer purse hidden in the secret lining of my backpack.  But one solution is never enough.
Secondly, if you're a solo traveler like me (and this is my foremost concern these days), you might be looking for a way to organize and access your important belongs, without having to dig into the black hole of your bags. You don't know how many organizer purses and pouches I've bought in the effort to try to streamline my way of accessing things, like spending cash, grabbing for written directions, maps, pocket camera, cellphone or my iPodTouch. I'm a walking media factory and with all that diving in and out of my backpack or purse pocket for things, something is bound to get lost in the shuffle.
Review: The t-shirt (aka the "Fanny pack tee")
While the Clever Travel Companion t-shirts and tank tops won't win any style awards, with a zipper pocket visibly placed in the middle of the shirts, it makes up for it by offering a more functional and powerful purpose … simple and quick access. It's like having a built-in fanny pack (which is probably why I love using it for crew work also)!
Like the tank top (still my favorite, as I can dress it up or down), the t-shirt reduces my need to dig through my backpack or purse pockets for things like itineraries, bus tickets or maps and directions; and yes, it greatly reduces the odds of being pick-pocketed when shopping in crowded markets.
Tip: Remember to have your pocket zipped up and to sling your bag or hand over it for extra protection.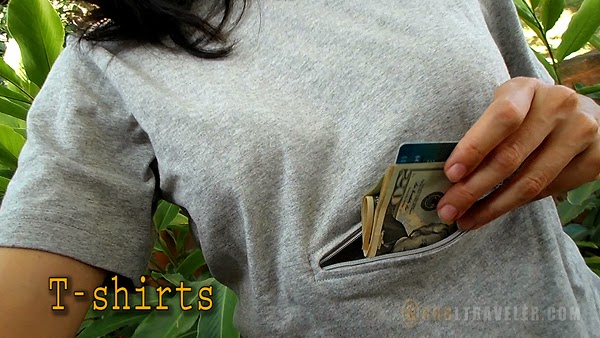 Review: Clever Travel Companion Underwear
Okay, I've heard of people stashing money in their shoe, but I've never heard of them putting it in their underwear before! So I really wanted to test drive the underwear.
It's a cute 'little boy shorts' design, which I love. There's underwear for men too (even thermal underwear!) and there's no way thieves will be able to get into your valuables unless they're going for your family jewels. The fabric is stretchable, snug, slimming and super-duper comfy. They actually make great house shorts on a practical level. Of course, that's not all you'll use them for.
Underwear for guys and gals!
But okay, the underwear, comes a few mind tweaks also…
•    It's almost twice the thickness of my normal underwear, so wearing it under my pants feels "different". It's not bad; it just takes me time to realize I'm wearing underwear (and not shorts).
•    Let's face it, the underwear is as secure as Fort Knox! There's no way a thief will get into them, because I can't even fit my whole hand into a pocket. So unless you've got small hands, you'll wish the zippered pockets were just a teensie bit larger, so it's easier to grab or pull things out. Not a deal breaker if security is your main concern.
•    You'll wonder why the pockets can't be on the back, if you're holding a passport
Storing your passport in underwear feels awkward for obvious reasons; it's stiff and you don't want the passport to bend. Not to mention, I just got 48 extra pages added to my passport! The only way it works for me is if I wear my underwear backwards; it feels more instinctual for me to do so anyways (and I don't really notice the difference).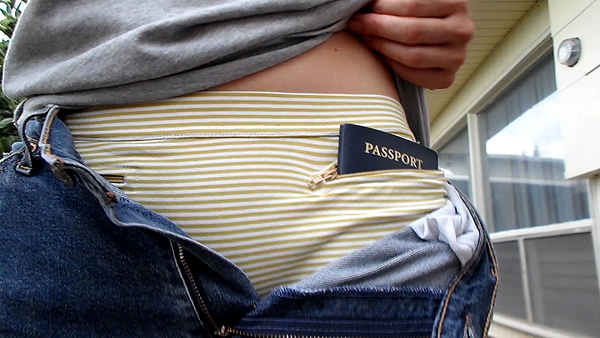 •    Is it shorts or underwear?
The more I use them, the more I prefer them as shorts, that can be used alternately as underwear.  I have the grey underwear and it's thick and dark enough to allow me to sweat in them, without having to worry about it being see-through (with  lighter-colored shorts, I'd need to wear underwear under them).
Personally, I see it lightening my luggage load, as I occasionally like to take in a yoga class or sleep in shorts… and hey, I can use it as underwear too. In either case, I prefer dual functioning clothes, as a way to keep my luggage minimal but functional.
Overall, I still think they the Clever Travel Companion underwear pretty cool, clever and it works as another option for storage safety. The underwear will definitely trick out any pickpocket and keep you credit cards and money safe.
Interested in this? Read 21 Ways to Outsmart Pickpockets & thieves
+++++ OFFICIAL RULES +++++
This giveaway is closed.
Congratulations to the winner, Chanel Brown!
ELIGIBILITY:
Open to everyone. There's clothes for both, men and women. Also, the Clever Travel Companion has agreed to mail your your prize anywhere in the world you reside.
ENTRY DATES/TIMES:
The contest giveaway runs from October 23rd, 2013  to  November 6, 2013 at 11:00pm Pacific Standard Time Hawaii is practically the last time zone on earth) .
PRIZE:
The winner will have their pick of any one of the Clever Travel Companion items that you see in my video or on this post. Color, size and style is your choice.
HOW TO ENTER:
In order to enter for a chance to win any one of the wonderful travel safe clothing options at the Clever Travel Companion, enter below and you'll be asked to do the following:
1. Share or Like this Post and/or Follow me on — Facebook, Twitter, YouTube, Pinterest or Google+.  While it's not necessary to do this to enter, I would love you doubly, triply and quadruply if you did!
2. The winner of the giveaway will be chosen at random.
Note: The winner will be contacted via email. If there is no response or claim within a week, the prize will go to the next winning candidate.
Punchtab
<
P.S. This entry form may have difficulty showing on certain browsers.
Special thanks to the Clever Travel Companion for letting me test drive their clothing and for sponsoring this giveaway! All opinions expressed in this review are solely my own.