Last Updated on December 7, 2019 by Christine Kaaloa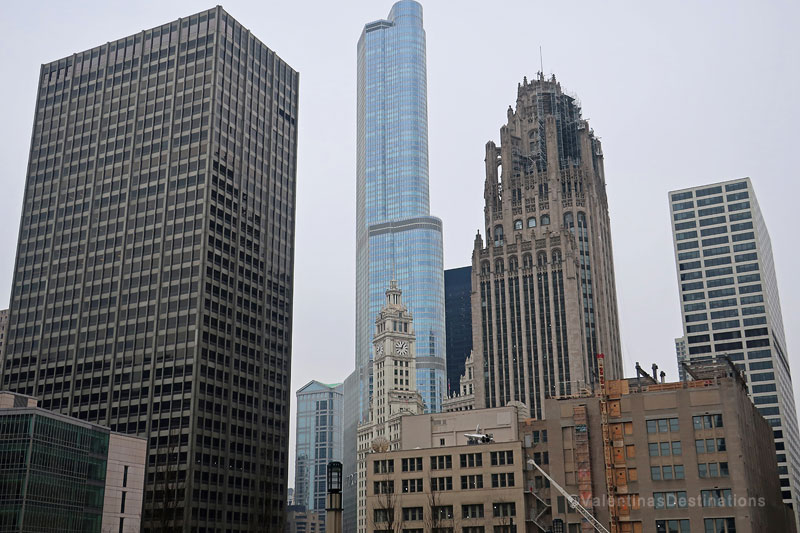 Under our expert traveler series, this guest post is written by travel blogger, Valentina of Valentina's Destinations. Valentina has lived in Chicago for the last 7 years, exploring Chicago's attractions, restaurants and events. She is your guide, showing you the best things to do in Chicago.
Chicago is the heart of America's Midwest. In 2018, it was the second most visited city in the United States (after New York). Millions visit Chicago every year because of its world class museums, vivacious culture, unique architecture and exciting events. Whatever time of year you decide to visit Chicago, you can rest assured knowing that you'll have a good time!  Okay, let's check out this Chicago Travel Guide:
Best Things to do in Chicago
Chicago is most famous for the Art Institute, Magnificent Mile and Sears Tower (now Willis Tower). Also, the city has a huge immigrant population making it very much a melting pot for art, music, food & expression.  Chicago is a great place to have unique experiences, so lets take a look at Chicago's top attractions…
Visit the Museum Campus
A Chicago trip is not complete without seeing the Museum Campus. Chicago's Museum Campus is where you'll find the famous Shedd Aquarium, the Field Museum and the Adler Planetarium. These museums are situated within an enormous park just south of Chicago's Loop neighborhood.
The Shedd Aquarium is one of Chicago's most popular tourist attractions. It's one of the largest aquariums in the world and displays more than 1,500 species of marine life. Right next to it, the Field Museum offers vast collections of natural history exhibitions. The Field Museum is most famous known for it's display of a dinosaur named Sue. Sue is the largest and most complete Tyrannosaurus rex specimen ever discovered. Every Chicagoland area kid gets taken to see Sue on a class field trip at one point or another. She's a Chicago icon!
A short walk from these two museums, you'll find the Adler Planetarium. The Adler is famous for being America's very first planetarium!
Tip: If you plan on visiting many of Chicago's museums, it may be worthwhile to purchase the CityPASS. Chicago's CityPASS gives you access to 4 of Chicago's top museums and an observation deck for $108. Paying for each separately would cost more.
Hangout at Millennium Park
Millennium Park is Chicago's most popular tourist attraction. It's located right in the Loop (or city center). It is Chicago's cultural hub, and the setting for many of Chicago's free public events. Besides being a beautiful landscaped park & venue, it is most famous for its two weird installations —Crown Fountain and "the Bean." The official name for the Bean is Cloudgate. Taking a selfie at the Bean should be on every Chicago bucket list!
Insider tip: the best place to take photos is at the east side of the BP Pedestrian Bridge. This is the bridge that joins Millennium and Maggie Daley Parks.
Just a short walk away from Millennium Park is the Art Institute of Chicago. The Art Institute deserved a special mention. It's one of the oldest and biggest art museums in the US. The Art Institute's permanent collections include works by Picasso and Grant's Wood's American Gothic. Hours: Daily 10:30–5:00 and Thursdays until 8:00.  Admission: $25 General /$19 Students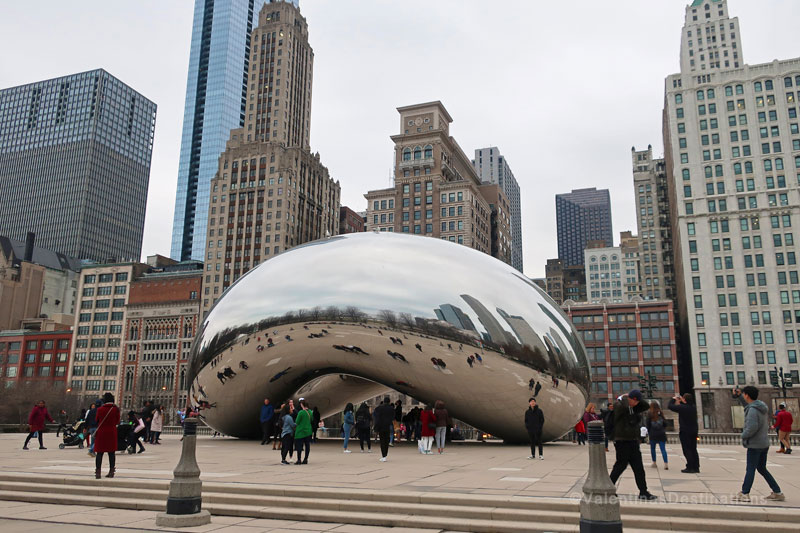 Best View of the Chicago Skyline
While you're doing Chicago's Museum Campus Loop neighborhood,  the walk to the Adler Planetarium is spectacular– you can see the whole Chicago skyline stretched out before you. It's a fantastic photo op location.
Divvy Bike Along the Lake
Divvy bikes are an excellent option for sightseeing in Chicago. I don't recommend biking on the roads (it is dangerous especially if you don't have a helmet and are not experienced… American cities are unfortunately not set up to accommodate a strong biking culture). However, it's perfectly safe and fun to ride the Divvy bikes along the lake shore. The Lakefront trail is only for walkers, bikers and other non-vehicular traffic.
With over 500 stations in the city, you can grab a Divvy bike practically anywhere! Pricing is reasonable at only $6 for an hour ride and $15 for a day pass.
Option 1:You could start near Oak Street beach and bike north to Fullerton Avenue (Lincoln Park neighborhood). Visit Lincoln Park Zoo and the Lily Pond. This route would give you beautiful views of the northern skyline. Option 2: Bike south from Oak Street beach to Navy Pier. Continue to the Museum Campus. View the city from up close, and then appreciate the skyline from the south.
Check out the Lincoln Park Zoo
Lincoln Park is a beautiful public green space just north of the Loop. It's famous for its free zoo, the Lincoln Park Zoo. Although, there's a lot more to Lincoln Park than the zoo! It's a great space to bike, stroll & get back into nature. There's a beautiful Lily Pool and a nature sanctuary.
One cool sculpture in Lincoln Park is the People's Gas Education Pavilion. This spot is commonly used by locals as the backdrop to wedding or engagement photos. Also, you can find beautiful Chicago skyline views at the Bridge over South Pond.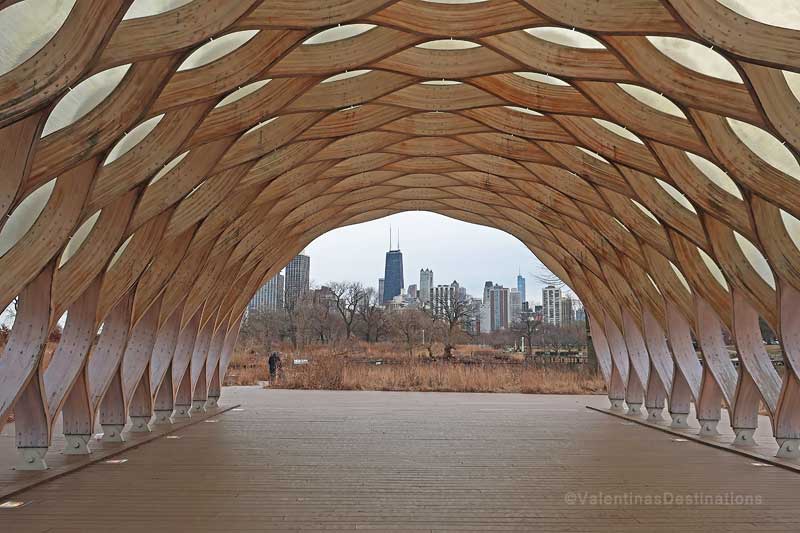 View Chicago from Above
There's no better way to experience Chicago than from up above. For this, you can either visit a touristy observation deck or a local rooftop bar.
Top Spots for the Best View of Chicago
Some popular local rooftop bars and clubs include ROOF on theWit Hotel, Apogee Lounge & IO at the Godfrey Hotel. You may have to pay cover to visit these places in the evening on weekends. Although, it never hurts to be a girl!
See A Show
Every weekend in Chicago brings new and unique opportunities for music and entertainment. Whether you're into theater, comedy, music or festivals… Chicago's got something you.
For comedy lovers… check out Laugh Factory or Second City. Second City is a famous comedy club known for being the starting point for actors such as Amy Poehler, Tina Fey and Stephen Colbert. Their "main stage" performances are always impressive.
For theater enthusiasts… Check out the CIBC Theater, the Chicago Theater or the Cadillac Palace Theater.
For music lovers… Trendy, hip and EDM style performers play at the Aragon Ballroom, the Concord Music Hall and the House of Blues. Top Pop artists visit Solider Field, the United Center & the Allstate Arena.
Shop on Michigan Avenue
The Magnificent Mile of north Michigan Avenue stretches from the Hancock Building in Gold Coast all the way to the Chicago River. It's a beautiful commercial avenue where you can find street performers, art installations and endless shopping. The three big malls along this street are 900 N Michigan Shops, Water Tower Place & The Shops at North Bridge.
Cruise Along the River
There's a few ways that you can enjoy Chicago's riverfront. One popular way to gain access to the river is the Chicago Riverwalk. It is accessible from most of the downtown bridges, including: Bataan-Corregidor Memorial, DuSable & Irv Kupcinet. The staircases down to the Riverwalk are on the southern end of each bridge.
Another popular way to enjoy the Chicago River is to take an Architecture Cruise. This fun activity is popular among tourists and locals alike. It's an excellent way to learn more about Chicago's history, architecture and landscape. If you don't like organized tours, a great way to explore the river alone would be to kayak. There are a few riverfront kayak rental agencies to choose from. This option provides independence, some exercise & a unique perspective on the Chicago's skyscrapers.
Ride the Ferris Wheel at Navy Pier
While Navy Pier is a popular destination for many reasons, the top attraction here is the Ferris Wheel. Navy Pier's Centennial Wheel gives a cool, front and center, view of the Chicago skyline.  The wheel has an incredible history, as it was first built when Chicago hosted the World's Columbian Exposition in 1893. This original wheel was eventually destroyed, and 100 years later, a new Chicago Ferris Wheel was born.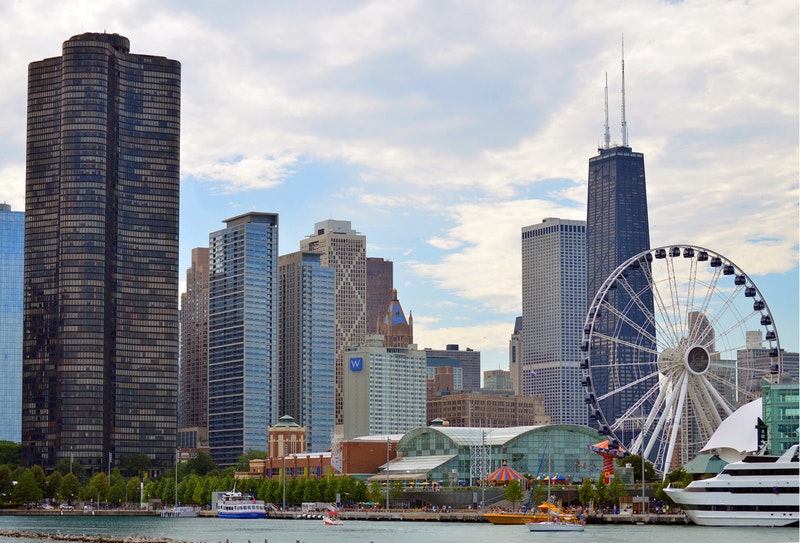 Eating "Chicago Style" Food
Chicago lays claim to a few specific foods. That includes deep dish pizza, the Chicago-style hot dog & the Italian Beef sandwich.
Restaurant Recommendations:
The best place to eat deep dish pizza is Lou Malnati's Pizza or Pizzeria Uno. Although, I highly recommend a unique type of deep dish pizza served at Chicago Oven Grinders. The Chicago Oven Grinders pizza is distinct because the depth results from a monstrous layer of cheese.
You can get great Italian Beef at Al's Beef, Portillos or the Billy Goat Tavern.
Visit Devil Dogs for a traditional "Chicago Dog."
Chicago Tips for Foodies:
Avoid traveling during rush hour. Traveling in Chicago, whether by cab or public transit, can be a nightmare between 3 and 6 PM on weekdays. Try to avoid it! Expect many delays and trains packed like sardines.
Make restaurant reservations far in advance. Chicago has a particularly enthusiastic dining culture with many Michelin rated restaurants. Tables at popular restaurants need to be booked weeks in advance! Don't expect to be able to walk in and get a table at anything 'hot right now.'
Don't give money to homeless people. If anything, give them food. Take them to a store and buy them food… don't give them your money. Homeless people in Chicago go to great lengths to get your attention (from using children and pets, to displaying wounds or yelling). They'll use your money for cigarettes and alcohol, so don't bother.
Take a Chicago Food Tour
Being a foodie city with quite a history, Chicago has a variety of food tours for foodies to chow out on.  Wanna taste Chi town's favorite neighborhoods? You can find explore Chinatown, Wicker Park and River North through your stomach. Or you can bike, bite and get your craft brew on all in one afternoon, biking through historic neighborhoods while tasting their iconic dishes.
Where to Stay in Chicago
Chicago is a huge busting city with many great neighborhoods to stay in.
If you are looking for a local vibe... stay in Lincoln Park. Lincoln Park is a charming, and somewhat posh, neighborhood. It's most known for it's free zoo & enormous Lincoln Park, as well as DePaul University. It's one of the safest neighborhoods in Chicago home to college students and families with golden retrievers. It's just north of downtown and only a 20 minute walk from Chicago's Magnificent Mile.
Tip: The best place to stay in Lincoln Park is the Hotel Lincoln – an ultra cute boutique hotel located right on the park. I especially recommend this hotel because it has a hip rooftop bar called the J Parker. From the J Parker, you'll be able to see beautiful skyline views of the city.
If you are looking to be close to shopping, nightlife and restaurants… stay in River North or Gold Coast. In Gold Coast, you'll be steps away from the Magnificent Mile shops and a fantastic restaurant scene. River North is known for nightlife and bars and great restaurants. These two neighborhoods are near one another just north of the Chicago River.
Tip:  The Waldorf Asoria is the top luxury pick in Gold Coast. Two great affordable luxury options in this area are Moxy Chicago Downtown and the Godfrey Hotel Chicago.
If you want to be central to tourist attractions… stay in the Loop. The Loop is Chicago's busy and super touristy area. Although, I warn that this part of town is "dead" at night. Stores close early, and there's not as many restaurants or bars. However, there are a lot of homeless people hanging around and sketchy characters. I would not walk around in this area at night (especially not alone). It's fine to stay, and be close to daytime activities, but uber or get a cab from your hotel!
Tip:  My favorite hotel in the Loop is the Chicago Athletic Association. This hotel has a lively bar & a very popular rooftop with views of Millennium Park (Cindy's).
Solo Travel Safety Tips for Chicago
Many people ask, How Safe is Chicago? You may have heard scary stories on the news about death and violence, or have heard people refer to the city as Chiraq… I assure you, Chicago is no more dangerous than San Francisco or New York. While there is a staggering amount of violence, almost all of violence is concentrated within a few "shady" neighborhoods… neighborhoods that you'll never even go near as a tourist!
While you shouldn't fear violent crime in any of the places I discuss here, it is important to exercise standard precautions to avoid pick pockets and mugging situations. Don't have your hoodie up, don't have earbuds in your ears & don't be on your phone while using public transportation (criminals can grab your phone and quickly exit the train just before the doors are about to close). Also, be aware of your surroundings and walk confidently. Stay out of the Loop neighborhood at night. Lincoln Park, Gold Coast and River North are relatively safe at night.
Read our Safety Tips for Solo Travelers