Last Updated on May 30, 2019 by Christine Kaaloa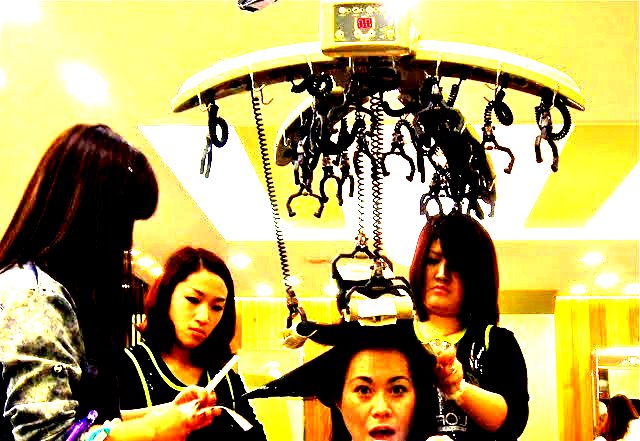 Koreans will go through hair-raising feats for beauty!  I'm no different. I'm getting my hair done in Korea and I'm getting magic volume hair.
When my dad visited Korea last spring, he was seriously distraught. In the crowd of Koreans, young and old, he found he was the only "white-haired" senior in the population. How can that be? Does Korea do away with all their old people or do they hide them away? Korea, to him, was beginning to feel like a scary Twilight Zone episode.
He wanted to know- should he be concerned about his safety or his life? I clued him in on the Korean secret… Hair dyeing.
Korean Beauty and the Way
A high maintenance looks-oriented society, you'll find men, women, teens and toddlers all stylishly made up, pressed and manicured…  not a hair out-of-place. A sloppy looking Korean is more an exception than the rule.
What's the secret to beautiful Korean hair?
For me, my only curiosity around Korean beauty was about how long Koreans spend on their hair.
I'm a no-nonsense type of person. I may own a brush, but I seldom use it. Yet I've notice Korean hair here is either worn  supe rstraight-as-a-pin or with curls perfectly-pitched to bounce. Above all, it looked so natural! Did Koreans spend hours in front of the mirror with a straightening or curling iron, between school exams?
No. The answer?  Magic.
What is the Magic Straight or Magic Volume?
The hair style is perm called Magic Straight (ultra-straightened hair) or Magic Volume (hair with a bit of a wave) and it's complicated three-hour process (read more about it here) at a beauty shop, which will save you days, hours and weeks of laboring in vain for salon-styled hair. In many senses, it's pretty wash and wear.  Best of all, your coif will look as if it came straight out of the fashion pages!
My hair before a Korean perm
I'd been to enough salons in the U.S. to know, I could never get a "magazine look" and if I did, I'd lose it after the first wash. I have thick Asian-Hawaiian hair and lots of it. It can take a couple of hours to air dry my hair and it's neither tame-able nor easy-going. My hair is thick, coarse and never holds a curl, unless I've had it in a ponytailed bun for a while. My hair strands generally have a tiny wiry frizz to it, so it never settles down. I like to call it my 'Hula girl hair"; often you'll see Polynesian dancers with long wiry frizz like mine.  My do is just styled, sheared and tiered so you don't notice how much I really have.
So I seldom leave my hair all down and if I do, there's usually a lot of product, oils, cremes and a lot of straightening iron action. Then I have my good days, when it all looks semi decent if you're looking at me from a distance.
But closeup, the wiry kinks are there, hidden beneath and between hairs… an Asian afro dying to sprong out.
Getting my hair done in a western salon
'The usual scenario' for me is… I walk into a salon with an photo from a some fashion magazine of a  'natural wind-blown' look I want  and the stylist tells me how it's impossible for my Asian hair to get it.  I'd have to use hot irons, gel, blow dryer, curlers, etc…
Maintenance.  Apparently, having "natural-looking hair like Jennifer Aniston" takes work…  a lot of it.
I don't like maintenance, so instead, I opt for just a cut and style where they lop a shitload of hair off my mop! But the wiry hair is still there.
Getting magic volume hair in Korea
Living in Daegu, I went to Serano hair salon in Banwoldang, asked for Ji Won (a stylist recommended by San Diego to Daegu's Malou (her experience here). Cracking open a magazine, I pointed at the hair style I liked and sat back in the salon chair.
I assumed I'd get the usual answer. It didn't matter to me. I already spent an entire year experiencing culture shock, which rendered me feeling powerless in controlling any outcomes.
Korea had taught me how to not have expectations.

Ji Won wielded her scissors and my hair literally, went flying! Even Edward Scissorshands might suffer fierce competition;. Ji-Won was a professional Kali with scissors! In less than ten minutes, my cut was finished.  I was then conditioned, heated, washed and flat-ironed out to set and dry. Ji Won orchestrated my hair through the various complex phases …
But it didn't stop there. They rolled out the curling octopus (for lack of a better term), a contraption I'd never in my life seen, but which kept my curlers hanging in suspension.  I had three stylists rolling me at once. But it didn't stop there…
Rather than torture you with the long and complex process (read about it here), I'll say I was more pleased with the result than I had ever been in my entire life!  I never knew that a nicely styled coif could make you feel beautiful.
I was told it takes about 72 hours for the perm to set, so no jjimjilbangs or getting my hair wet.
Does the Magic Volume pass the wash and wear test?
Yes and so far, it's sustained over ten washes!
With a little blow drying and a couple of "twirly" things that I do with my finger to spiral my hair a bit, this is what I get. Totally worth it.
Effortless. Relaxed. No-nonsense… Magic.
The wiry bits are tamed, relaxed and my hair can all settle on each other without bumping and grinding in wily ways. I like that I'm product-free, no straight iron.
How much did it cost?

Okay, it was expensive.  I shelled out 140,000 Won or $126 USD, though it's said to run around $180 to $360 in the U.S.  But it lasts anywhere from 4-6 months (although mine lasted update: about a year. I got a touchup before leaving and going on my seven month backpacking trip;  it's even lasted fabulously through India, Thailand, Cambodia… etc..).
Overall, I feel I got great bang for my won! Furthermore, the style has already paid itself off in ten washes and it just keeps going.  If I had to do it all over again, I would.

If there's one thing that impresses me about Korea,…
it's damnit, they know hair!

Information:

Serrano Hair
Banwoldang, Daegu, South Korea
11AM -8PM (not sure what the weekend times are)
Ph: 053-423-0045
Located in Banwoldang, off of the Jungnano station stop. Facing the main stage in front of McDonaldsand Debec Department store, turn left and go down that street for 3 or 4 blocks. You'll see GS 25 on your right side, turn left down the street with outdoor vendor stalls. Serrano is on the left. No appointment necessary, although you may want to call to find out when Ji Won is working.