Last Updated on June 20, 2021 by Christine Kaaloa
Test driving the Diamond V Face Slimming Mask review
.
Knowing the important alphabets can be integral in understanding beauty terms in Korea.  In fact, for some reason, many physical profiles reduced to an alphabet code.
There's "S-lines, V-lines, B-lines, M-lines, X-lines, D-lines, O-lines, etc…".
Alphabets to Korean body types of beauty
An S-Line body generally refers to someone with a curvy and sexy figure; meanwhile, an S-line face is someone with a  facial profile that has a bit of a pointed nose (a backwards S).  An X-line body refers to a person with long arms and legs but a tiny waist.  (More on the alphabets here)
To address the inspiration behind today's video, there are V-line faces (pronounced: "vwe line"). These are hugely popular in Korea.  A V-line is a pointed chin and a beveled and angled jawline that looks like a V and you'll find them ubiquitous among Hallyu celebrities, where it seems each year, someone's V-line gets narrow and narrower until their beauty is down-right alien (*cough* Hyun Bin).
You'll notice them in promo ads, where a V is made to let the viewer unconsciously know that the product will aid their V-line.
And then there's plastic surgery ads, which you'll find plastered on subway walls.  If you've ever bought a beauty magazine, you'll find the entire back section (at least 10-20 pages) dedicated as the yellow pages for plastic surgeons.
Both, men and women are afflicted by it and techniques to acquire it go from invasive and rather dangerous plastic surgery (i.e. Jaw recontouring and shaving… big ouchie!) procedure to botox injections to shrink over-developed jaw muscles (I've tried this– it lasted a year and then my jaw came back), face slimming bands and facial massage rollers!
.
My Review of Diamond V Face Slimming Masks for V-line face
Recently, I did a Mask House Diamond V Face Slimming Mask review.  Watch my video above to see how I used it and the effects of its use.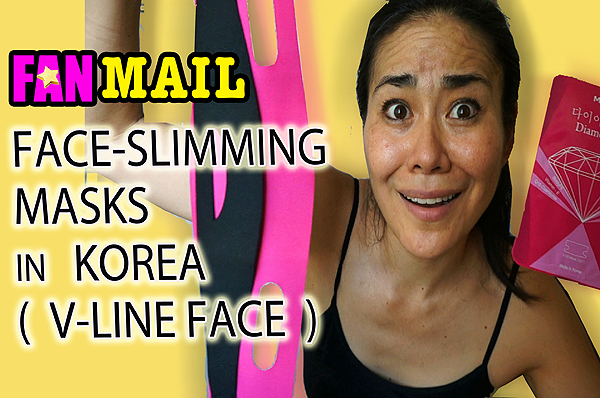 How long do you wear it?
Instructions say 3-45 minutes. But the heat lasts much longer, so I kept it on longer. Can't hurt right?
Does the heat burn?
The heat gets intensely warm but never scalding hot. It doesn't burn. However, you will feel mildly weirded by it at first, until you feel thrilled to feel the effects of its working.
How long do the results last? I haven't determined this yet. But the instructions say you should use this every other day for maximum benefits.
Are the results instantaneous? Sure looks and feels that way. But remember, it's also moisturzing and for fine lines. Not only slimming.  Obviously, due to the appearance of the band, I wouldn't go outside and do yard work… well no, I take that back.  I did exactly that and my neighbors were outside too. I'm shameless when I'm focused on a goal.
How to Buy this mask:
다이아 마스크 Diamond V Face Slimming Masks (chin strap not included in this box)
Alternate product, equally good:
2N chin strap and collagen firming masks
Solimo lifting and firming chin strap and mask
My take on Korean beauty techniques and philosophy
"Look at those Koreans, who get plastic surgery all the time… Why aren't they content with their inner beauty?"
It's easy and obvious to judge others when we don't walk in their shoes. I'm sick of it.
While I'm tempted to form bold personal opinions, I can't say it's my place to judge a country or their mindset, when I wasn't born into it or subject to their social pressures.  Being an expat in Korea means I've had loopholes to be different, but in a homogenized culture such as Korea, Koreans don't have that luxury to step away to be the black sheep.
Beauty is marketability- commercial or personal. It always has been.  We don't "fall in love with inner beauty at first sight".  That's something you fall in love with after you get to know someone for a while.  And what employer places inner beauty high on their list of skill requirements?  You get my point.  While inner beauty is a golden asset-  I wholeheartedly agree-  it's only valued after the fact and it's something we usually add as a consolation if we find a person's 'outer beauty' … lacking .  Yes, all women should learn to love themselves…  but self-love in a world of mirrors, which sell you against your human flaws, is not an easy task.. and not for women.
America has its own pressures to conform and if plastic surgery were as cheap as it is in Korea, I can't say the American population wouldn't take a shining to it also. Working in the arts and entertainment industry, I can honestly admit that been on a diet all my life.  Both, consciously and unconsciously. I used to be a dancer and athlete, so I care about performance and the way I fit in my body.  I am also judged by superficial standards consciously, in auditions and unconsciously, when I'm working as crew behind the camera.  I am a ethnically minority woman of Asian stereotype, working occasionally in a man's position in an industry I love, but which puts its prize on youth, slender figures and Caucasian ethnicities.  As a travel blogger,… heck, it doesn't matter what I look like, but it's not generating an income that's supporting me, either.
Western beauty ideals are slightly (but not wholly) different from Korea, often built around youth, quick weight loss, liposuction and bust implants or reduction.  If you go to Latin America, you might find clothing models in stores generally carry a larger more voluptuous shape, impregnated with their societal molds for beauty.  Every country has a different ideal of beauty and we're all affected by media and advertising.  Our society and its beauty ideals are not things which are easily divorced.
Are Koreans going overboard with this?  Yes and no. Probably as much as Los Angelenos diet to stay thin and look good.  This face slimmer in a box is only made in Korea, but it's popular across Asia, along with facial massage rollers, moisturizers with facial whitening.  In Thailand, I even found deodorant with claims to whiten.  So maybe face slimming is more of an Asian beauty concern.
If you're a woman, how many times have you ever dieted, signed up for a gym membership, starved yourself on diet fads or went into panic when your clothes no longer fit? No woman has ever been 100% or even 90% happy with her body or face. If you find one, I'd be the first to call bullshit on it.  Is there really a difference between Korean torture techniques and ours?
What do you think about my Diamond V Face Slimming Mask review? Have you tried it?