Last Updated on August 25, 2017 by Christine Kaaloa
Before I came to Korea, I scoured various online expat and info sources for advice about "What to Bring if You're Moving to Korea".
Frankly, these lists only helped mildly.  When I arrived I was both, over and under-prepared. The things you think Korea wouldn't have, they do.  And if they do have it, it either, takes a bit of a search to find or you pay a tad more for it than you normally would in the U.S. 
As a vegetarian undergoing food culture shock, discovering Costco was my god-send. Costco was a neutral nose zone for me with enough "American Costco" products and familiarity to make me feel a little Home-Safe-Home.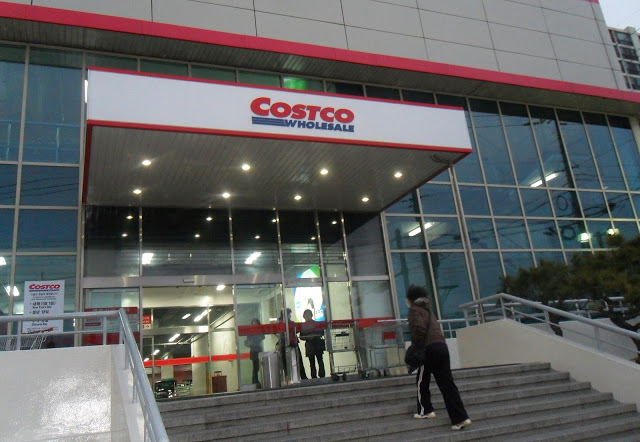 Korea has a handful of Costco locations in cities such as Busan, Daegu , Daejeon, Ilsan, Sangbong, Yangjae ,Yangpyung.
Costco- Daegu wasn't difficult for me to find.  It was a 5 minute taxi ride from Keungogae Station stop.
Finding Costco in Korea
Most of Costco's floor plan is similar to what you'd find in the U.S. in frozen food sections, fresh vegetables, seafood and meat area,  bakery and a clothing/books/technology  and home products floor.
I won't lie- "blown-away" was not how I'd describe the Korean Costco.  American products are limited and the warehouse is shared with Korean products, as well. However, experiencing anything American, when you're still acclimating to your new country is far better than experiencing the constant wave of "Everything Foreign".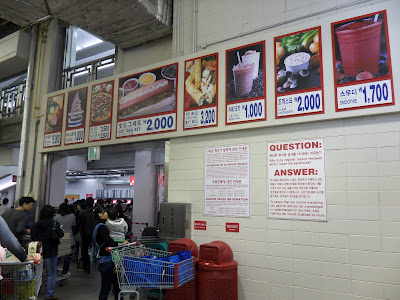 As of now, being a 5'8″tall, it occurs to me that the only thing that I may not find in Korea, are large-sized female clothing.
Everything else seems semi-available, with the one exception being that things  you would normally expect to be cheap aren't.  For example- if I had known that those small red digital alarm clocks that you can get at Kmart for nearly $5 runs approximately $15 -25 USD here, I'd have bought one in the U.S. and packed it.
Now, to debunk some of the myths I've read about on forums:
Myth #1: Korea doesn't have  tampons or deodorant
• Tampons
If you're rural, remote or in a small town, I can't promise you easy accessibility on these, but if you're in the big city, tampons aren't so difficult to find and can run similar to prices in the U.S.  You won't have a large variety of tampon brands to choose from, but they exist and you only need one to do the trick! Stores like E-Mart (the Korean K-mart), Costco & I suspect, HomePlus, have them and I can find them in my neighborhood grocery stores as well as, corner convenience stores like GS25 Mart.
• Deodorant
Haven't really seen many in stores, but I also haven't been looking. I hear Koreans don't sweat, so I brought anti-perspirant with me as well as, one of those "just wet" sea salt deodorant sticks, which will definitely last me a year. Deodorant does exist here though and I'm pretty sure I saw some in Costco, though you will probably pay anywhere from $5-8 for it.
Myth #2: Imported items will cost an arm and a leg
While imported items definitely won't cost "an arm & a leg", they probably will at the least, cost you a finger! In other words, you will take a step back and pause for reflection, before adding it into your cart. U.S. products such as peanut butter, pasta sauce, oatmeal and cereal and frozen fruits are priced a little higher than normal, but the saving grace is that in Costco everything is by bulk.
I love smoothies, but many Korean grocery stores don't carry frozen fruits and if they do, it's usually in a small bag with a high price.
Costco carries my favorite 6lb frozen fruit bag, but the selection is as much as the U.S. Also, they have my Fiber One bars and Healthy Granola bars, cereal, raisins, dried cranberries, nuts, pasta sauce, pre-packaged salads and mixed greens, etc..  Balsamic vinaigrette dressing will cost you roughly $15 USD for one bottle, though the good news is that Koreans have their own cheaper version. They even have the good 'ole American diet junk food, Veggie Straws!

Peanut butter for roughly $13. But this is a super-sized tub.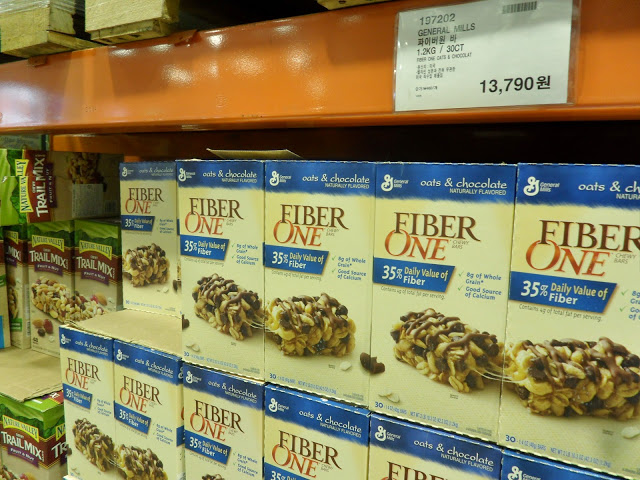 Myth #3: Bring your vitamins.
I don't know where I got this tip, but to the person who wrote it, I'd like say "Whuh?!"
I packed lots of Vitamin C because I read advice to bring them (as if Korea didn't have any…). Costco has everything from Listerine mouthwash to multivitamins, vitamin C, and Joint and Noni Juice.
True, I never see American branded multi-vitamins in E-mart and if I do they're expensive. But they sell Korean multi-vitamins and vitamins at local pharmacies… and Costco. If you're an Emergen-C fan like me,  you may want to bring them … or try Korea's own brand, which is just as good. They have Vitamin C in capsules, chewable tablets for kids and in packets you can take on the go and simply pour into your mouth for quick pick-me-up.
Myth #4: Makeup, hair and skin care products.
Personal choice. For a country that doesn't blink at the word plastic surgery, I was pretty confident Korea would be well-stocked on beauty and skin care.  In fact, they're skin care and makeup products are beginning to gain global recognition.
However…
1) For those with tan or dark-colored skin,  bring your own foundation makeup. Korean makeup has whitening products in it, because the prized goal is a fair-skinned look. Porcelain to be more precise.
I wanted to try their BB cream makeup. My talk with the Korean saleswoman about matching foundation to my skin type, got me words like "radiant".  Next day, as I was preparing my makeup for work, I looked in the mirror & realized-  my face could be used as a photographer's bounce board to reflect light! I was so radiant, if you turned off the lights, I'd glow in the dark!
2) I like reading ingredients and instructions on skin care products. But most products are written in Korean. If you want to know what's in your Korean products, take a Korean person with you to translate.
Myth #5: Bring your own appliances- hair irons, steamers, etc..
Again, I don't know why someone wrote this as a forum tip. Koreans like to style their hair and iron their clothes just as Americans do… if not more.  In fact, Korean culture tends towards pretty stiff habits of dressing well and looking good (such that mirrors in every subway and in eateries can feel pretty common, next to plastic surgery ads and metro-sexual men). I'd leave my appliances at home and buy them in Korea. It'll save you bag space. Not to mention, if you buy a product here, you won't need to buy transformers and plug converters for it.
My first night in Korea, I totally blew my transformer on my U.S. brought steam iron
When I first arrived at orientation, many seemed skeptical of using hair curlers, dryers and laptops.  Laptops (120-240V) are generally okay without transformers, but you should check the label on your laptop plug or battery for safety. My Mac laptop sometimes vibrates though, so out of superstition, I never leave it on while I'm away.
Myth #6: You can use your Costco membership card from the U.S.
Yes. Your U.S. Costco membership works here and I was glad to use it. Is a Korean Costco membership worth the $35 annual membership fee if you don't have a Costco membership?  Some would say No. The U.S. brands are limited and pretty select- you may or may not find your comfort products here, but you might want to check it out first and decide later.
Myth #7: You can use your Costco credit card at Costco.
I can NOT use my Costco charge card to pay for my purchases.  Korea takes mostly Korean charge cards and secondly, Visa, if you're lucky.
---
What Should you Bring to Korea?
Outside of brand names, there's a lot of things you'll probably find in Korea for a comfortable lifestyle. You'll even find things you never  thought of needing.  However, here's a few  items I recommend bringing:
Enough cold medicine to last your first cold
Korea has pharamacies with good medicine but a backup measure is always good.
Clothes and shoes if you're a large person. 
Most Korean sizes run small, even for men. While there are outlets or shops, which cater to large sizes, you'll need to go to Seoul for them and they'll be imports (aka expensive). While I'm fairly average for a 5'8″ woman, I'm also close to the max limit in sizing for shoes and pants. I could find clothes in normal Korean shops as Koreans either seem to like the fitted or baggy look. For my small-medium blouse frame, there were times the more fitted items were snug. I also wear size 9 shoes; I didn't find many shoes my size.
Multivitamins
Getting them in Korea can be expensive. I'd bring a couple of bottles with you.  Vitamin C can be inexpensive and I like that they occasionally sell them in flavored powder packets you can eat straight.
Favorite foods or snacks.
Korea has some imports but obviously it can't cover everything you're craving. Chocolate and sugary candies aren't so sweet in Korea.  If you have favorite instant soups or power bars, bring them. These are good snacks as you're acclimating to Korean food..
Note:  There are Apple and Apple reseller stores in Korea.
In case you were wondering, Apple has grown into the Korean market. While it's not ubiquitous, you will find Apple stores in major cities.  However, you'll only be able to order them online if you have a Korean credit card.
What are some things you'd recommend bringing to Korea?
Costco Daegu
1817 Sankyock-dong Buk-Gu,
Daegu, Korea
click here for site map