Last Updated on June 28, 2019 by Christine Kaaloa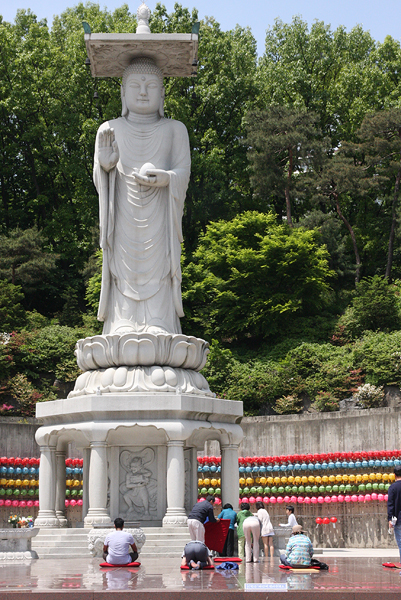 Celebrate Buddha's Day at Bongeunsa Temple in Seoul
For the month of March, Buddha's Birthday was celebrated all across Asia in countries such as Nepal, India, Japan, Korea, Sri Lanka, Thailand and Vietnam, etc…
For some countries this is a month-long celebration; for others it's less.
When is Buddha's Day in Korea?
In Korea, the auspicious day of Buddha's birthday lands on May 27.  Preparations at Buddhist temples may begin several weeks in advance, with the stringing up of paper lantern decorations and displays. Major temples around Korea like in Daegu, Haeinsa and Busan (to name a few), are celebrating this festival.
Bongeunsa Temple in Seoul
I wanted to celebrate Buddha's Day in Korea but I also wanted to be in Seoul for the weekend, so I visited Bongeunsa Temple in Seoul. Bongeunsa Temple is in Samseong-dong, Gangnam.  It's a historical temple which dates back to 792 in the Shilla period. Today, they are a temple which also participates in Korea's templestay program, where you can live the life of a monk for a few hours to a few days. There's a giant standing Buddha there which is very impressive.
A video clip of a monk chanting at Bongeunsa Temple in Seoul.
What's up with Korean Buddhism and it's scary-looking temple gate guardians.
But an interesting note about Buddhist temples in Korea are the intimidating figures welcoming visitors at the gate's entrance. I won't pretend to understand Korean Buddhism– when I first visited the temples here, I hadn't a clue about why the temple's entrance guardians always seemed to carry grimacing faces. It certainly doesn't inspire compassion nor is it very welcoming… but these formidable deities were purposely crafted with Mongolian features and war-like gazes to frighten practitioners into observing their practice as sober, austere… not casual or light-hearted.
Where should you spend Buddha's Day weekend?
Making a pilgrimage out to a Buddhist temple is ideal to bask in the enlightening glow of colorfully lit lanterns and special events performances.  If you didn't want to celebrate Buddha's Day at Bongeunsa Temple in Seoul, then Korea has several temple stays throughout the country, which will cost you anywhere from $25- $50/night depending if you'd like to pay that much to meditate.
Have you been to a Buddha's day celebration or a Korean temple? Would you celebrate Buddha's Day at Bongeunsa Temple in Seoul?