Last Updated on June 23, 2019 by Christine Kaaloa
Note: This post includes affiliate links.

As travelers, we know there's many things to do in Vietnam. Then there's the bucket list Vietnam attractions you just don't want to miss! This post is a roundup dedicated to the attractions that should make your bucket list when traveling Vietnam.
Top 6 Things you Must Do in Vietnam
1. A trek and homestay in Sapa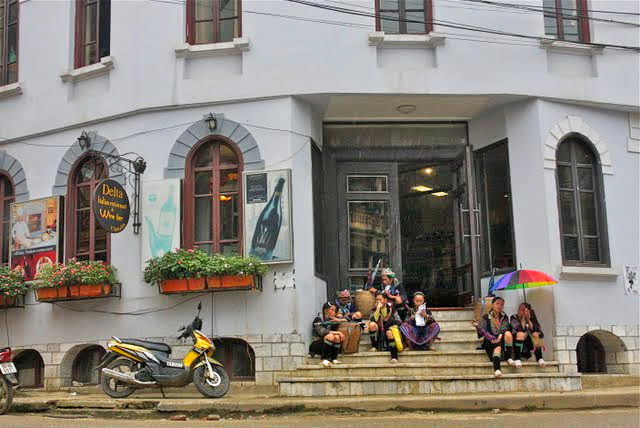 If you're traveling Northern Vietnam, Sapa Valley is a prime trekking highlight. With pristine mountains,  panoramic and lush valleys, streams and hill tribe ethnicities roaming the hills in traditional garb, you'll feel worlds away. While you could easily spend time just relaxing in Sapa town with a $6 massage, culture shock shopping at Sapa Market, while seeing hilltribe minorities abuzz in their traditional clothing. Sapa also has trekking options from light trekking of Cat Cat Village to  Sapa trekking and homestay tours where you fall asleep to nature sounds, while hiking and learning about the basics of hill tribe living. You'll  feel your life begin all over again.
Read My Sapa Travel Guide for Tips and Sightseeing ideas
Check out these tour options I've curated:
Enjoy Muong Hoa Valley and stay with a Giay minority family, go for nature walks and forest treks in Hoang Lien National Park. Best seller for its price and diversity of activities
Sapa Town to visit the Silver Waterfall, Love Waterfall and Tram Ton Pass. Explore the area before leaving for the traditional village of Ban Khoan. The trek, about 4 hours and 15 kilometers (9.3 miles), takes you along mountain trails and through remote tribal villages.
Ideal for the traveler who is not into trekking but still wants to explore the wealth and hill tribe influence of Sapa.
Best for cultural and active travelers. From Hanoi, this tour takes you to La Cai where you will trek along the Muong Hoa Stream and see H'mong, Dzao and Tay ethnic people. Stay at Tavan village with Dzay people in a basic home and trek through rice paddies, bamboo forest to Giang Ta Chai village. Return to Hanoi. 9km hike
A bit of rugged for urban travelers.  Pickup/drop off Hanoi. Visit Sapa town and stay overnight where you can explore food and sights on your own. Treks: Cat Cat Village and Y Linh Ho. 9km hike overall.
Perfect for adventure travelers looking to extend their trek of this epic, active and panoramic region.
You can't find more rural grit than at the floating markets of the Mekong Delta. Similar but nowhere near same to the foodie floating markets of Bangkok's Damnoen Saduak, the Delta is known as the Mother Mekong, where life on the river is all about rice and commerce. The Mekong activity is very congested with boat vendors loaded with produce to sell and trade with locals. You'll find boats loaded down with produce and uniquely advertising their specialty products by sticking actual produce on a raised stick. It is a sight to see!
.

3. A water puppet show
Thang Long Water Puppet Theatre in Hanoi dates back to the 11th century. But water puppet shows date back a thousand years, when villagers with flooded rice paddy fields would entertain whilst standing  waist-deep in water with the puppets on sticks. Often the stories are about fishing, farming and love.
4. Get a suit or dress made in Hoi An
It's no secret that Hoi An bears the best and speediest tailors in all of Vietnam and Southeast Asia. You can take the latest haute couture design to them and have them custom tailor it for you for less than you'd ever buy it in a store.
5.  Motorcycle tours of the countryside
The Vietnamese are masters on the motorcycle and there's some nice motorbike routes to take through the countryside.
Check out these tour options I've curated:
A popular motorbike tour by the Easy Riders going from Dalat City to Silk Village. Ride out to see pagodas, Lat minority village, Elephant Waterfall and many entertaining stops along the way.
Two day biking tour of Central Highlands in Vietnam, exploring beautiful hill and coastal areas.
6. Halong Bay
The giant karst rock mountains exploding from the sea looked like an image out of several famous Hollywood movies and undoubtedly, many films get their inspiration from Halong Bay. Was the 3-4 hour bus ride there (read my experience here) worth it? Resounding YES! Any boat cruise will have a few additional attractions to make it worthwhile from exploring a famous cave to visiting a fishing farm, passing through floating villages, etc.. This is one Vietnam attraction you won't want to miss. Just remember to bring your sunscreen!
Check out these tour options I've curated:
Heavenly Palace cave, a fishing farm, floating village, and the famous James Bond cave… this popular day tour boat cruise has a well balanced mix of main Halong attractions to keep you entertained.
A boutique boat cruise around emerald waters of Halong Bay. Hike to top of Ti Top Island for panoramic views. Includes cooking demonstration and squid fishing.