Last Updated on May 31, 2020 by Christine Kaaloa
When the holiday season rolls around, we all want to shop for ourselves, friends, family… and ourselves. Just kidding. Well not really.  But if you're stuck in a nit trying to think of what to get your travel bestie (or what to drop hints for them to get you… ) this Holiday Gift Guide for Travelers list will is sure to  give you some great ideas.
 Gift Guide for Adventure Travelers
GoPro Hero 4 or Sony Action Cam
GoPro is the running standard for cameras if you're talking about action and water sports. The fact I didn't have one, only makes me kick myself for losing a lot of cool shots on my recent trekking/caving adventure! But the GoPro Hero 4 Black
  can feel a bit pricy . If you're into something cheaper and you don't mind the lack of 4K or an external battery charger, then check out the GoPro Hero 4 Silver
. The GoPro Hero 4 Silver comes with a LCD back, but both are waterproof.
A less expensive alternative is the Sony's Action Cam
.It shoots 4K and sports WiFi and GPS.
Dji Phantom 3 Drone
Drones are  very much "in" with some travelers these days. The Dji Phantom 3 Drone Pro
 has the ability to hover like an eagle and record epic landscapes and rivers puts a new spin on the term "home travel video". It shoot in 4K too.  Although a bit on the pricy side, I had to list this for  the avid videographer and photo enthusiast.  The downside is that certain countries do ban drone usage and some areas are restricted. You'll need to read up on the drone laws of the country you enter, beforehand.
Quikpod Selfie Extreme Selfie Stick
Selfie sticks are the new travel rage and you'll find a lot of tourists that carry them.. So why don't you have one yet?  If you're a lighthearted tourist who is fine with using your mobile camera for selfless, then the Quikpod Selfie Extreme Stick
 is your stick. It certainly is mine! If you're looking for a little more in capturing your moments, using a range of cameras or even under different climate and terrain, then the  Quikpod Selfie Extreme Stick  is your lucky star! It's for the photographer and action camera person, who needs something a little more rugged. It's heavy duty, expands up to 4 feet high and mounts a GoPro, mobile camera, pocket camera and DSLR. You can use it in extreme weather and underwater! You can even use it as a monopod!
SteriPEN Freedom & Lifestraw
Going to a country without clean drinking water? The [easyazon_link identifier="B009B7EQBW" locale="US" tag="gt0d8-20″]SteriPEN Freedom[/easyazon_link] and [easyazon_link identifier="B006QF3TW4″ locale="US" tag="gt0d8-20″]Lifestraw[/easyazon_link] are two water purifier devices you want to take with you.   The SteriPEN is my first favorite, due to it's easy. Swish it around in a glass of water with it's UV light and you're good to go. Flip it around and it turns into a flashlight! If you get the SteriPEN Freedom Solar Bundle (see my review), then it comes with a solar external charger too!
The Lifestraw is new favorite I've recently tried. Just insert straw into river or stream and suck.  Both claim to eradicate 99.9% bacteria in unclean water.
Read My 5 Travel Must-Haves for India
NyteBright Head lamp
Going trekking or caving? Are there frequent power cuts and blackouts where you're going? Perhaps, you just plain need a headlamp to walk in a small village at night or to go running?   A NyteBright headlamp is easy to use, is hands free and casts a good beam to light your path for running, hiking, caving and anything else you might need it for. The best headlamp, I find, especially for caving, is one where the light isn't protruding, but is protected from bumps and hits.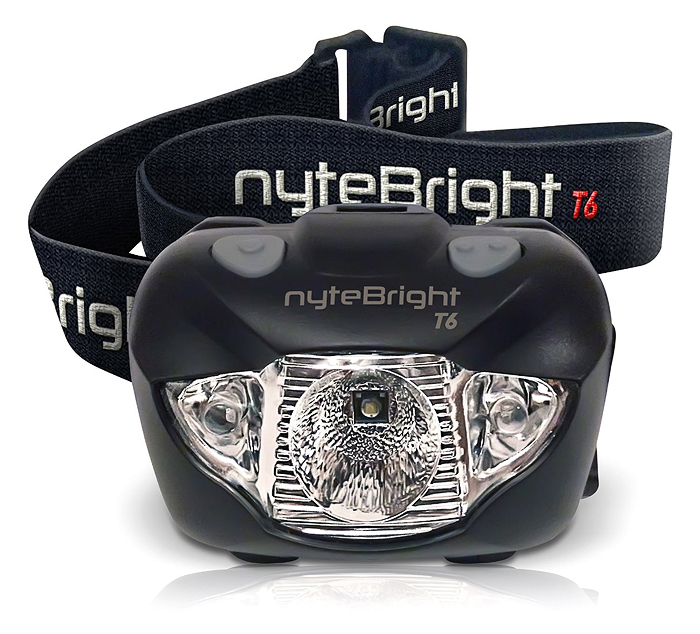 .
Gift Guide for Business Travelers
Seagate 2TB External hard drive
Do you like taking a lot of photos but only carry one or two memory cards? I'm assuming that's a yes for most of travelers. [easyazon_link identifier="B00FRHTSK4″ locale="US" tag="gt0d8-20″]Seagate Slim Backup Plus 2TB External Hard Drives[/easyazon_link] (I have the 2TB version) is a perfect photo backup solution.  I've seen travelers going through their photos, hand picking photos to delete in order to make space on their memory card. That's the long work around.  Most of us need more cards and storage space! The Seagate 2TB External Hard Drive is a lightweight and Seagate is a trustworthy brand in external drives. Make certain you get the specified drive for your computer- Windows or Mac.
Tip: Buy it at Costco and it comes with an external rubber bumper jacket, which stores its USB cord and 200 GB of Cloud Storage space!  This is one of my travel tech resources!
11.6″ MacBook Airbook
These days, I never travel without my travel laptop, my [easyazon_link identifier="B00UGE8RXC" locale="US" tag="gt0d8-20″]11.6″ MacBook Air[/easyazon_link]…ever!  As a traveler and blogger, I like to stay connected and I like the ability to surf the web and offload my photos onto my own laptop so my information is secure.  I also don't want to wait in long hostel queues for my time on a computer!  The 11″ Mac Airbook is perfect for the traveler– thin, lightweight and fully functional to do heavy work on the road.  Want something even more lightweight and simple?  Check out the [easyazon_link identifier="B016PRO6CE" locale="US" tag="gt0d8-20″]Apple iPad Mini 4[/easyazon_link]. You can always just buy an attachable keyboard if you're a heavy emailer?
Unlocked iPhone 6
While i'm not crazy about my [easyazon_link identifier="B00NZ8POJG" locale="US" tag="gt0d8-20″]Unlocked iPhone 5C[/easyazon_link]'s camera (my mother's iPhone 6 camera is better…), I do love my iPhone and even moreso, the fact that when it's unlocked, I can use other SIM cards! Yes, there's a reason you'll pay a little more and for a frequent traveler, it's worthwhile. For years I used an iPodTouch 4 for all my travel needs. Only problem is that I always had to find a free WiFi signal, which is not ideal when you're a travel blogger who needs to be on social media or a traveler, who wants to have handy tools like Google Maps!  Since I've converted to an iPhone, I'll never go back.
If you buy a SIM with a data plan, you can turn your phone into a hotspot for your laptop and other devices! If you get a solid 3G/4G SIM/Data Plan, then hotspot works better than a hostel and hotel's wifi.  Whether it's version 5 or 6, the iPhone is the bomb!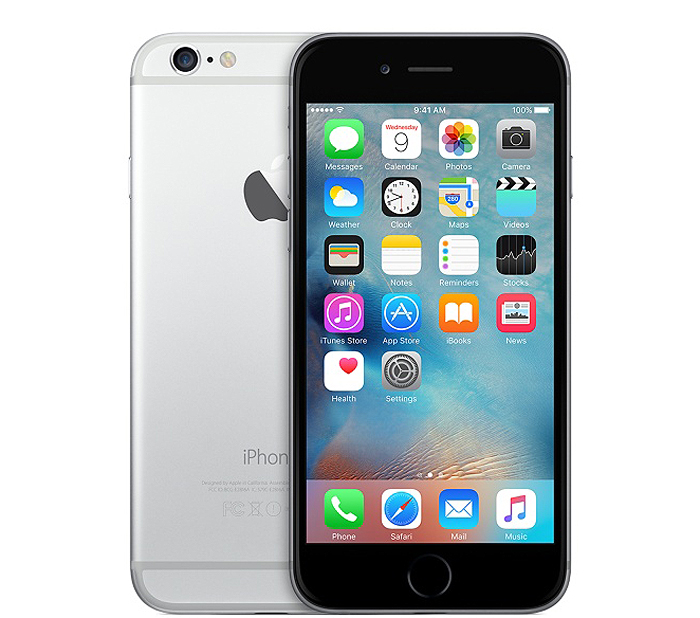 Huawei 5776 Wifi Mobile Hotspot
Don't have the chunk change for an Unlocked iPhone? A smaller portable travel investment is a [easyazon_link identifier="B00B5SZHFE" locale="US" tag="gt0d8-20″]Huawei 5776 WiFi Hotspot[/easyazon_link]. Similar to an phone, you insert the country SIM you're in and voila!  This version offers 4G LTE in Europe, Asia, Middle East, Africa & 3G globally.  It takes a micoSIM card.
So while you're at it, you might want to pick up a [easyazon_link identifier="B00G26XWDI" locale="US" tag="gt0d8-20″]MediaDevil Simdevil 3-in-1 Adapter kit[/easyazon_link] as a backup to ensure you always have the right size (or you might just save the original casings your SIM came with!).
 .
Gift Guide for Solo Travelers
Amazon Gift Cards
These days, because buying gifts for individuals can be hit or miss, I actually give gift cards where it's fitting. I prefer getting them too. An Amazon Gift Card is a perfect gift or stocking stuffer, as Amazon is pretty much the one-stop shop I buy most of my travel gear, with the exception of clothes!  For the holiday season, if you purchase a $25 or $50 Amazon Gift Card, Amazon will throw in anything from a cute Christmas card or a holiday tin!
Lumsing Power Bank (LUM 008-01) External Charger
From pocket cameras, to mobile phones and iPads.. the  Lumsing Power Bank (LUM 008-01) external charger help extend the lifetime of your tech driven world, by giving your tech gear its power juice, when it's run out. They come in all shapes in sizes and in solar powered or electrical powered. There's a few good ones, like the elegant Lumsing Power Bank, which charges from a 10,400mAh battery and weighs 8.5 ounces. Read more about external chargers.
SanDisk Extreme Plus 64GB micro SD
Photo memory cards aren't the sexiest gifts to give a loved one, but it's certainly a practical one! You can never have enough memory cards! Not when you travel. Unless you have the patience to go through your photos at the end of each day and painstakingly delete the bad ones so you can free up space on your memory card (been there, done that, over that!), you'll want backup cards! I recommend the [easyazon_link identifier="B010NE3N3S" locale="US" tag="gt0d8-20″]SanDisk Extreme Plus 64GB micro SD[/easyazon_link]. 
Tip: If you're looking to shoot in 4K video, you'll want to get is a SanDisk Extreme Plus 64GB. You can use some Lexar and Samsung cards, but it's the high read and write speeds you'll want.
Banjees Wrist Wallets
You've seen me using [easyazon_link identifier="B00HQ0BHKO" locale="US" tag="gt0d8-20″]Banjees Wrist Wallets[/easyazon_link] in a good chunk of my on-location YouTube videos. That's because my Banjees Wrist Wallets make a great travel wallet, which allows me to outsmart pickpockets! No one ever expects me to carry a wallet on my wrist. Discrete and fashion ready, it's especially handy in markets where I need to be cash ready.  I can even store cash in it when I go swimming!  Read/watch how I use it.
Clever Travel Companion Clothing
From shirts, tank tops to underwear, …the Clever Travel Companion has found a way to make your wallets pickpocket proof.  I've already done a couple of reviews on the Clever Travel Companion and still stand by this clothing brand. From tank tops to underwear, the Clever Travel Companion clothing has a smart and secret zippered pocket to keep your money on you and in a difficult place for thieves to get to.  It's a smart choice for those who want to wear their money on them, but not in a money belt or a revealing way!
SALE| From now until Jan 31st, 2015, you can get $5 USD OFF on all your orders at Clever Travel Companion​. Use the discount code: UFWRRAIB2F54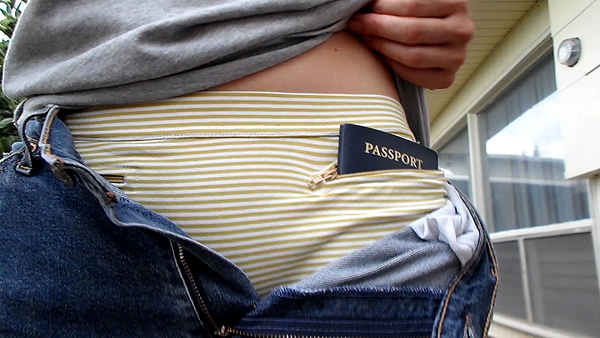 .
eBags Slim Packing Cubes – 3pc Set
I never used to be a fan of packing cubes… until recently when a friend, let me borrow her [easyazon_link identifier="B0014DY7V0″ locale="US" tag="gt0d8-20″]eBags Slim Packing Cubes[/easyazon_link] on my trip to India. Within the first week I was converted. While I still love [easyazon_link identifier="B00SDRDYFK" locale="US" tag="gt0d8-20″]Space Saver Bags[/easyazon_link], packing cubes certainly help separate my clothes as if I were organizing them by separate drawer space. I can organize and access my clothes by cubes, rather than squishing them all together.  The extra weight and material is minimal so you won't feel the difference.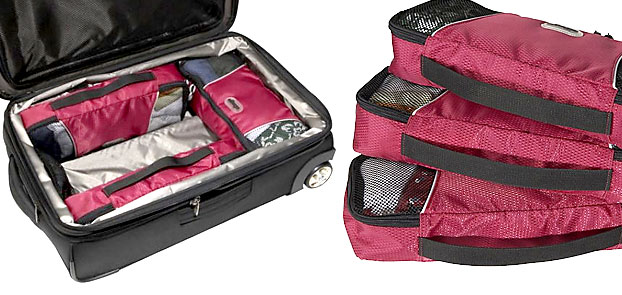 Eagle Creek Doubleback 22
Forget the days of the backpacker's backpack, we're in the modern era of convenience, style and carry-on portability. Today it's all about carry-on rolling backpack convertibles. The Eagle Creek Doubleback 22 is certainly a flashpacker's new love. It comes with an attachable day pack and you'll have many reasons to love it.  Eagle Creek was thoughtful about the design and build– sleek and stylish, durable and war-ready, there is a purpose for each pocket and placing.   Eagle Creek Doubleback 22 can be used for both,  the business and vacation traveler. Check out my video review (coming soon)!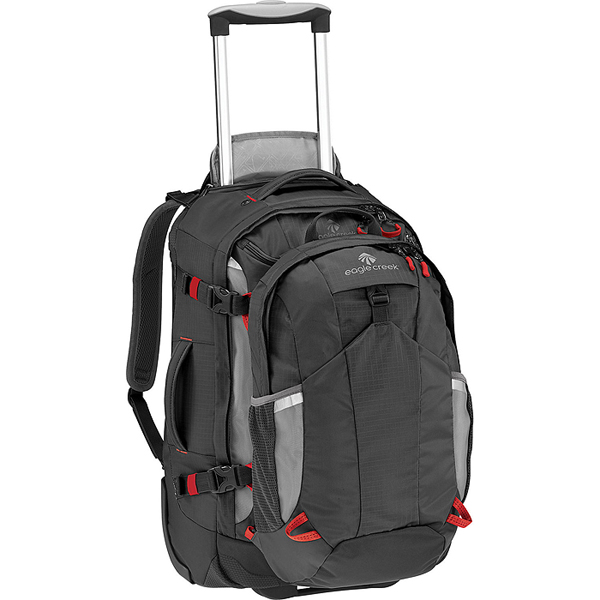 .
Gift Guide for Female Travelers
Anigan Leak Proof Period Panties
Who loves period time when they travel? Having your period on the road just feels sucky. Packing for it is no fun either. That's where [easyazon_link identifier="B00UXKE828″ locale="US" tag="gt0d8-20″]Anigan Leak Proof Menstrual Panties[/easyazon_link] come in.  These take away the need for pads and tampons and worries about stained underwear. Yup, that's what the Anigan Leak Proof Menstrual Panties claims, along with the thousands who have tried it and even I'm eager to get my hands on one of these myself!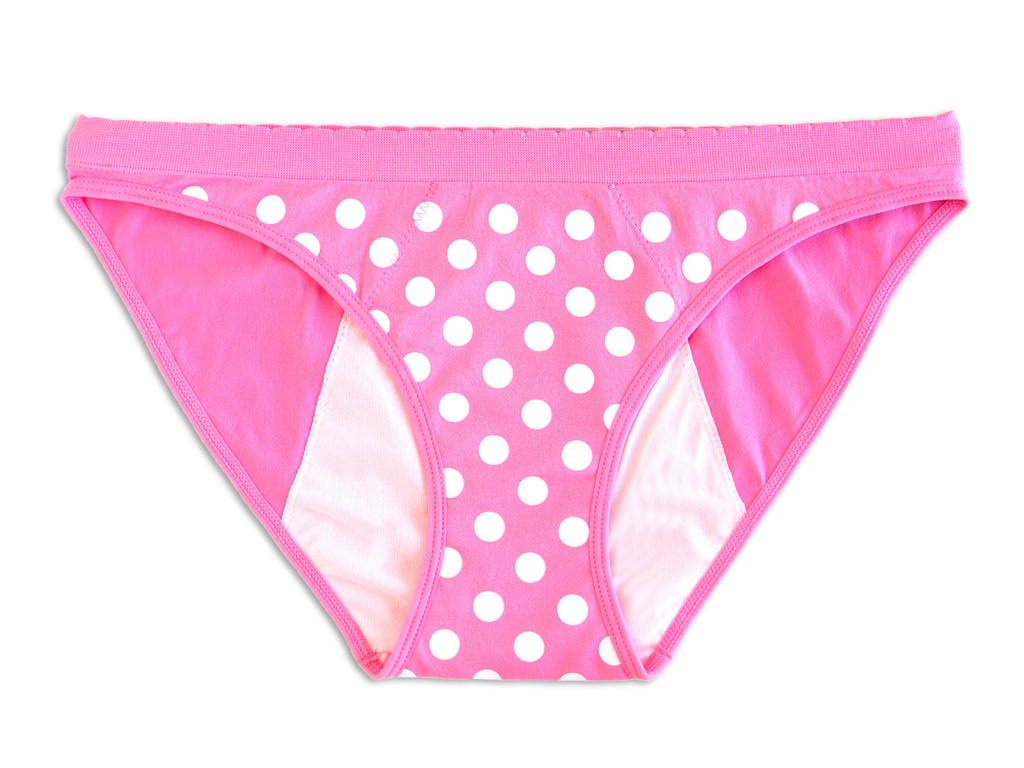 Diva cup
Okay, maybe this might be an awkward thing to give as a stocking stuffer or grab bag. But you can always Secret Santa your travel bestie with a [easyazon_link identifier="B000FAG6X0″ locale="US" tag="gt0d8-20″]Diva Cup 1 [/easyazon_link]and the looks (they have a pre-childbirth and post childbirth version) alone might freak her out, she might secretly use it.   That's because we all want to get rid of having to pack our sanitary pads and tampons when we travel. Insert the Diva Cup and empty it when it gets full. Done.
Now if we could only get rid of periods that easily.
If you liked this post, check my past 'Holiday Gift Guide for Travelers' lists for more ideas!
What's on your Best Travel Gifts for the Holidays gift giving radar? What would make your Holiday Gift Guide for Travelers this year?
Note: This post contains affiliate links, but at no extra cost to you. Any purchase made through this post will go to site maintenance and I would only recommend products I use and believe in.