Last Updated on August 11, 2017 by Christine Kaaloa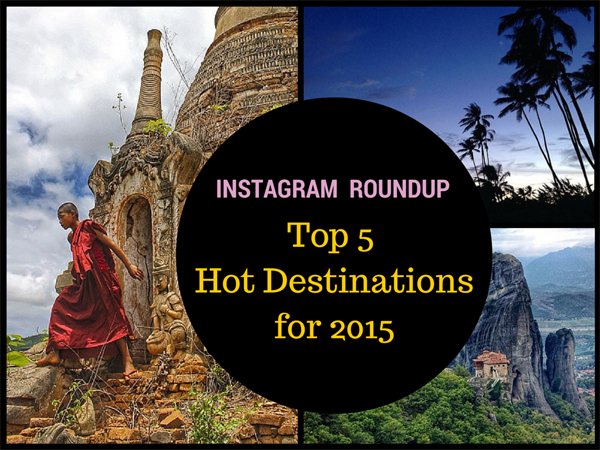 Do you love Instagram? So do I.  Are you following my Instagram account?
Recently, Instagram has become my playground. It's short-form storytelling, where I can jot thoughtful scribbles and highlight doodles into my traveler's notebook.  Of course, it's all about food, travel and life.  But for me, blogging and YouTube, even Facebook can complicate my mind with words and the need to be "smart". Photographs are like my personal escape hatch from "smart words"; Instagram is like my silent diary.
Between traveling and  attending TBEX Athens (watch my video) and World Travel Market London, my schedule these past two months were crazy. I was instagramming each day because it was the only thing I had time for and it became a way to unwind.
I'm a bit belated in this posting October's roundup, but it's all good.  This roundup was eye-opening for me.
Monthly Instagram Roundup's new guidelines
Seeing as my Instagram account started growing and more folks interact with my photos, I've switched my monthly roundups to my top 5 audience picks.
That means instead of curating my own photos, I let my audience likes curate them for me.  If you're on Instagram, hit like on the photos which inspire you the most.  At the end of the month, I'll share your Top 5 Picks of that month and theme it accordingly.
So here we go!
Top 5 Hot Instagram Destinations for 2015
Last month's roundup of most viewer likes,'flies from Southeast Asia, North America to Eastern Europe and hits not only exotic, but remarkable and jaw-dropping destinations.
1.  Shwe inn Tain, Inle Lake, Myanmar
"I am dreaming of a land faraway with barefoot monks, pristine land and temple ruins. It takes a boat to get to the village but the pagoda ruins, stand as thin conical spheres, like earthen witch hats. "
Inle Lake is an often photographed spot in Myanmar, mostly for its fishermen.  But a stop at Pa-Oh village in Shwe Inn Tain is worth the attention.  The small village has over 1,000 conical pagoda ruins to see and it's quite an experience.
Read: Things to Know Before you Go to Myanmar
2.  Meteora, Greece.
"I N C R E D I B L E  is not a big enough word to capture the , darkness, spiritual OM  and presence of #Meteora. This spiritual fairytale is real.  #visitMeteora"
Meteora is one of Greece's best kept secrets. In fact, until this year, I didn't even know it existed!  The valley of skyrocketing karst mountains have been home to monasteries and hermits for past ages.  Today, it's a UNESCO site and it's the stronghold of the monasteries that keeps the sanctuary preserved and the rest of the world from rushing in.
3.  Athens, Greece.
"Pinch me! This has to be a dream, because my college Fine Arts book just sprang to life.  Whoa, Athens!  You're baddass . "
Historically, Athens has always been a historical UNESCO spot with Acropolis Hill . Unfortunately, due to political issues or bad press, tourism in Athens has been on the decline. Today, the city feels like its in transformation, making it an exciting time to visit.
It's got grit, graffiti, the tug o'war of old and new neighborhoods, tons of lively outdoor cafe dining and a bold surge to its rising artist community.
4. Santorini, Greece.
"Hello  ! Check out the view from my shared apartment in Oia. Can't believe I'm finally here. Dreams do come true if you make them happen."
Santorini is known as a "honeymooners destination" and that coin can often dissuades solo travelers -like myself- from placing it list of destinations to visit before "falling in love".
True, Santorini is romantic.  But with cliff-side caldera views, blue-topped church domes and drop dead gorgeous sunsets it's easy to have a solo romance of your own with the island. Just don't forget your camera!
5.  Hawaii, Oahu U.S.A.
"An end of the day reflection."
Of all the exotic countries I've experienced and U.S. states I've lived in, Hawaii still feels like a country of its own.
In Hawaii, gentle tradewinds blow,  while plumeria and sea salt perfume the air to make you vibe the island's Aloha. "Welcome to our home", nature seems to say softy, "Yes, you've arrived."  The Ko'olau mountain range still bowls me over with its soft and majestic beauty and the people sing the beauty of laid back smiles and authentic care.
If you haven't bucketlisted Hawaii, what are you waiting for ?
 Follow me on Instagram at http://instagram.com/grrrltraveler. Vote for  the photos you'd like to see in next month's Top 5 Instagram Roundup!
 What's your favorite instagrams here? What does it inspire for you and does it make you feel like traveling?