Last Updated on January 11, 2018 by Christine Kaaloa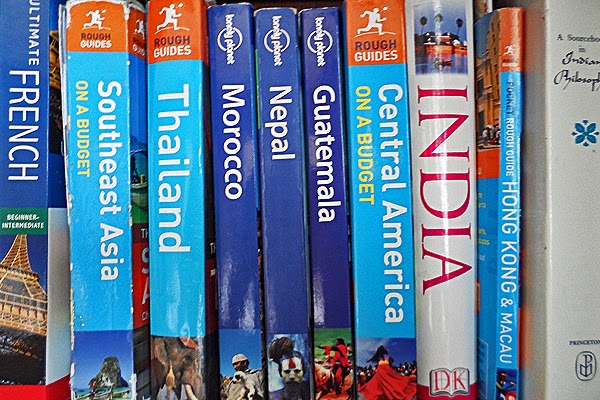 *Note: this post has been updated and modified from it's original content, for more clarity, which I feel was not there. Apologies.
Guidebooks have always been my fail safe travel bibles.
While I may not use them all the time, carrying one is like a safety blanket for me. If it's not my go-to for last-minute itinerary scrambles, then it's my emergency backup plan for a quick guesthouse recommendation.  Thus, I always take one on my travels.
But in the past two years, due to the internet and social media, my reliance on guidebooks has weakened.
Maybe my confidence as a traveler has gotten stronger and my training wheels are slowly coming off…
Last year, much of my itinerary information for Hong Kong and Japan, came from Facebook friends. Meanwhile, direct visits to the local official tourism offices and hostel and guesthouse front desk staff replaced black-n-white city maps for ones with color, while feeding me bus routes and 'getting there' directions. My metro maps and food guides were download iPod apps. My guidebook pretty much stayed in my bag. In my  travels this year and most importantly, my last-minute trip to Myanmar,…
I didn't open one guidebook.
Table of Contents: Will Travel Bloggers and Social Media kill guidebooks?
Will Travel Bloggers and Social Media change the way we travel?
For me, it's already changing.
While I still love the tangibility (and the feel of paper) that traditional guidebooks offer, my methods of  trip planning are no longer as dependent upon guidebooks as they once were.
Today, social media and the internet make information more accessible and immediate than ever before. The power is in people, like you and me. Social ads work like this…
•  A Facebook friend posts the latest trip photos of them, lounging in a bar shack with friends in the Philipines sharing $2 margaritas or taking  pictures of fish and underwater wreckage they saw, while diving in a crystal blue sea. …That inspires your next vacation (or one of them).
•  A traveler had a horrible stay at a hotel and does a writeup on a review on Tripadvisor (one of my favorite go-to travel sites). You were just about to book that very hotel and then you read the review. Now you're having second thoughts and this causes you to look for alternatives.
Public opinion and our social networks are the new adware guides. Today, we want immediate recommendations, word-of-mouth information passed on by friends and ordinary people like ourselves.  We want to experience the fun we see friends having or activities, which appeal to our individual tastes and not the masses.
Several years ago, when I used to shoot television, companies would fly me out at the last-minute and put me up in a hotels for days to weeks. I never had guidebooks or printed maps to get around or tell me about a place. All I had was a rental car GPS, internet access and a smartphone, with internet capability. For some reason, I felt okay. Maybe it was having a safety net of a business office back home or the fact I had a rental car to drive around and explore things in the comfort of my own bubble.
But taking trips abroad and to developing countries, I didn't trust myself as a traveler in a foreign country. I couldn't see inside these countries or the hotels I was booking and I couldn't afford  five-star comfort. Instead, I was reliant on public transportation and it didn't come with a GPS , smartphone connection or updated online schedule listings. I needed my guidebook.
Flash forward to now. Most smartphones have wifi and travel apps, many countries have available wifi and internet. Social media networks such as Facebook and Twitter, keep me connected to news around the world. Also online, I can get up-to-date information, maybe even access to working bus and train schedules. More current information is available to me. It's made me feel more secure. In a way, social media, internet technology and travel bloggers have killed my  requirement of a guidebook.
Luckily, these days I feel like I have more resources to pool from.
Today, due to the nature of last-minute trips I've taken and because of cheap ticket searches, a flexible freelance schedule and the fact I'm still rebirthing my career from a gap year, my  "trip planning " (*cough cough*) has downsized considerably. It consists a search engine  culling cheapest airfare, Tripadvisor hotel reviews, collecting information on-the-fly through social media and travel blogs and making do with physical resources available (in the form of tourist information booths and hostel front desk attendants), once I get there. I don't have time to read an entire guidebook and the last time I carried it, I barely referred to it because I met people and locals who could give me direct information.
How to plan a trip, when you don't have the time
• Put a shout out to trusted social networks- Facebook and Twitter- for advice, recommendations, itinerary ideas.
• Followup with Tripadvisor and travel forums to see reviews.
• Download iPhone/iPad/Android travel apps on the city   (i.e. I love metro map apps or anything on navigation).
• Head to  Google searches. My Google search actually calls up travel articles, written by other travel bloggers.
Let me note, when I do my searches I'm very scrutinizing about what I read and "invest" my time in. I need and want solid information– cut-the-bullshit –fast. Google, I find, tends to rank the most information-packed and somewhat instructional articles first, versus "Here's me and my boyfriend on our vacation…" types of posts.
What's so fantastic about "travel bloggers"  if they're not experts or professionals?
I beg to differ on that.
Sure, you've got your homespun travel blog, which is like a diary entry. But you've also got more bloggers out there wanting to make it a career. With the latter, they're refining their techniques.
But back to social media and society's need for more personal recommendations… With travel bloggers, I feel like they're in the trenches of travel with me. They've experienced unique places, some bloggers, their travel is similar in style to mine and many are excellent at sharing the "How to" information they've collected. Although guidebooks like Lonely Planet and Rough Guides hire writers that are travelers also, we don't see their personalities or the struggles they face as travelers, and that can be a frame of reference, which makes travel bloggers more attractive.
Travel bloggers are like an online travel reality show personalities. If they post the occasional photo of  "my horror hotel" or "avoid this" to accompany a description,  I feel an immediate  kinship. It gives me extra peace of mind, if the blogger posts an informative location photo, which gives me visual reference to a place I'm going to or how to get there (informative pictures vs cultural ones is what I wish guidebooks had more of). But even if I've come to their website for the very first time, strictly for the information, I get that feeling that they're very human, accessible and someone I can relate to… like a Facebook friend or a fellow traveler on Tripadvisor… someone like me. Sometimes, the blog, video and photo information they share can offer similar tips and more insight for me than a guidebook.
Some favorites, which come to mind as being called up in my Google searches for my most recent trip were Mark of Migrationology, a YouTuber and travel blogger, who authors badass information-packed e-book guides on food and travel, YouTuber Steve of QiRanger Adventures who's your video inspiration into  South Korea's landmark sights and Robert's Leave Your Daily Hell, who's informative travel guides and articles are a great resource, as well .  These three travel bloggers helped to kill my need for a guidebook on my last trip. They were my guidebooks.
Overall, there's a wealth of travel bloggers, who are refining their way of crafting information. They're traveling or are locals at your next destination.
While it might be a stretch to say travel bloggers will completely replace guidebooks, they are the new travel guides of today. They're all wanting to show you how you can live a fuller and more rewarding travel experience, to do it your way and within your budget.
.
Here's your chance to weigh in… what do you think?  Will travel bloggers and social media change the way we travel?  Can you ever see giving up your guidebook? Thoughts and experiences?