Last Updated on April 28, 2009 by Christine Kaaloa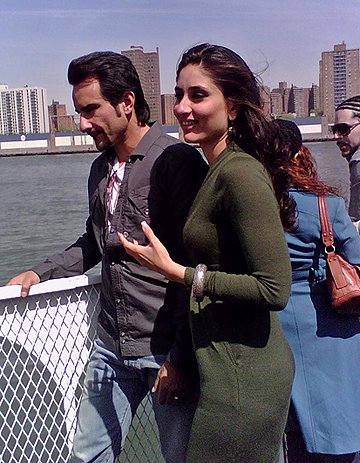 Bollywood Stars: Saif Ali Khan & Karina Kapoor
My Bollywood addiction started about 3 years ago.
For me, nothing rivals the beauty and grandeur of Bollywood films– upbeat song and dance numbers, colorfully ornate costumes, flirtatious eyes, sweeping romantic aerial shots, exotic locations, gorgeous heroes/heroines and TONS of romance- tragedy-bale (aka "dance")! bale! bale!   I wish I could live in these films!
For me, it's not about possessing grand dreams, just nearly impossible ones-  I wanted to be an extra in a Bollywood film at least once, before I die… (being a backup bollywood dancer is the secondary wish).
Unless you're willing to pay a $1000 plane fare to Mumbai and stand under the "Gateway of India" (one of the known pickup spots for tourists to go to if they want to experience the adventure of being an extra in a Bollywood film),  your chances of finding Bollywood are pretty slim. So, being chosen to be in a Bollywood film without having to leave my New York City residence felt pretty extraordinary.
Boarding the Marco Polo
Behind-the-scenes: In New York City on the set of Kurbaan with Saif Ali Khan and Kareena Kapoor.
Kal Ho Naa Ho, was the first Bollywood film I saw and it was  shot in New York and co-starring Saif, Shahrukh Khan and Preity Zinta.
Twenty of us extras, boarded a small cruise boat called the Marco Polo, with 20 Indian  crew members and a handful of U.S. crew. The scene we were shooting was an insert for one of those wafty romantic music video sequences and the shot was 'a winter cruise' scene as it sailed around the Statue of Liberty.  This is one of the first days of warm weather (90 degrees!) in New York. However, with a gentle breeze dancing off the Hudson river, a winter coat is ironically, still pretty comfortable wear.
Bollywood choreographer, Vhaibhavi Merchant, was there to help direction. As a dancer, I'm one of her fans. I was excited to have met and spoken to her. She gave me a camera and binoculars and placed as one half of "a tourist couple" and next to Saif & Kareena for half the day.
Bollywood Star Saif Ali Khan looking out at the Statue of Liberty on Liberty Island
Bollywood stars are practically "gods" in India.
"Excuse me, Miss…"  Saif motions to me, asking to  borrow the prop binoculars I'm holding.  I give them to him. He looks through them and plays with them, then gives it back to me.
We all go back to our spots to prepare for the scene.
Action!  The director calls.
Much to my surprise,  Saif turns to me again and says, "Excuse me, Miss…" , motioning to borrow my binoculars.
I give them to him.
Sigh.
Saif  Ali Khan and Karina Kapoor are the stars of this film and we're talking the top of the Bollywood God food chain!
And I just gave my toy binoculars to a Bollywood God.
Even better, he spoke to me.
Always wanted to know what the voice of a god sounds like. Today, it sounded like Saif Ali Khan.
Sharing the same waiting room with them on a small boat is pretty darned cool, just as is listening to gods having random conversations on topics such as "deja vu". When not shooting, we are free to chillax and catch some sun on the deck. Being a mere five feet from Saif and watching him bask in the sun, was as normal as watching a live photo shoot (he poses in real life, like one of his print ads!).  But Saif is one of my favorite stars- he's good at light-hearted comedy and heavy drama.
Aaah, a free boat cruise around the Statue of Liberty, Indian food and Bollywood gods, such is the life of a Bollywood extra.
Working with an Indian film crew
Delightfully warm and easy to chat with, the India crew act like "Japanese working tourists".
Between takes, when the director yells "CUT",  every Indian crew member got out a digital camera, rushed to the deck, took pictures and posed with each other against the landscape.  This happened often throughout the day. Yet, who can blame them…it was the view of the NYC city line, the N.Y. Statue of Liberty and a golden opportunity.
Whether working as crew or talent,  travel perks always come with the job. It makes the job exciting for everyone involved.  Being in the entertainment industry gains one a free pass into  many places that even the public is not allowed…. places like the United Nations, GQ Weekly's Man of the Year event, the NYC Mercedes Benz Fashion Week shows or the Food Network kitchens.
Today was my opportunity to see the Statue of Liberty up close. In the eight years of living here, I'd not once gotten close to it.
Lunch for the crew and cast arrived.  It was Indian food.  Naan, rice, fruits, channa masala, sag paneer, etc… Yum!
Bollywood's signature shots
There's nothing small about a Bollywood film when you watch it. Exotic locations, hard to shoot places like the top of a mountain peak, out in the ocean on a small boat…
With this, almost always follows 180 degree aerial pans or shots sweeping in up close to the actors?  How do they do this?
Answer: Low flying helicopter mounted with a huge fish-eye looking camera lens. Huge.
How much does a Bollywood extra make?
Well, In New York, a non-union background extra will make $75/day on a feature film or television show.
It's not great pay by U.S. standards, but considering that film extras in India make around $11 or nothing,  I obviously made out.
A boat cruise on the Hudson River circling Liberty Island, a great crew, an Indian lunch, a chat with my favorite Bollywood choreographer and the "gods" …
I didn't get to live in a Bollywood film but I did get my wish to be in one!
How to be an tv and film extra in New York City?
So you want to be a film extra in New York City… Sign up with a talent agency which handles background actors. (i.e. Background Inc, Grant Wilfley Casting, etc…). Here's a list of 12 extras agencies in New York City. You can also check Craigslist New York under video or subscriptions sites like Actors Access.  Background work seldom entails a resume, just a a photo of yourself or headshot.