As a small town in the Emilia Romagna region, Ravenna is known for its UNESCO world heritage Byzantine mosaics, hidden in basilicas, baptisteries and mausoleums.  As a lesser known But visiting Ravenna, you'll find so much more is more than a town about UNESCO attractions.With a warm town like Ravenna, you won't find a lot of glitzy chain hotels with car ports and doormen. Instead you'll find a lot of unique possibilities friendly and warm bed & breakfast accommodations. I visited Ravenna for four days ~ this is my 3 night Casa Masoli Ravenna review.
This post contains some affiliate links to services I use. My Italy trip and some of its visits were sponsored by the Emilia Romagna Tourism Board and Republic of San Marino in attendance of the #STSRavenna Social Travel Summit conference discussing the travel blogger industry and responsible tourism. As always, all opinions in this review are my own.
Casa Masoli Ravenna
Casa Masoli Ravenna is a three story bed and breakfast hotel, operating from a 17th century restored mansion house of the once-wealthy Rasponi-Bonanzi family. As Ravenna hotels go,  it is easy to miss from the outside, as the hotel is only attended by a simple name plate sign and a buzzer to call in. But step inside and it was a unique other-worldly charm I did not expect. I am often used to hotels with a bit of an anonymous feeling. Here, you are not anonymous, albeit, your privacy is kept protected under an old mansion key and a heavy bolted entrance door.
Ravenna Hotels: History of Casa Masoli B&B
The Bonanzi family was an influential and wealthy Italian family in Ravenna, which disappeared abruptly and without a trace. No one knows exactly what happened to them and there is gossip that somewhere along the line, they might have been murdered. But Casa Masoli Ravenna is one of their legacy mansions. The new owners  hired a famous artist Ruffini to help maintain its charm and medieval history. Today, part Gothic, part Italian Baroque, everything in this 17th century mansion takes you back to another era of Italy and Ravenna, from a ceiling fresco in the vaulted chamber of the welcome office to paintings on the walls, tapestries and furniture decorating alcove rooms.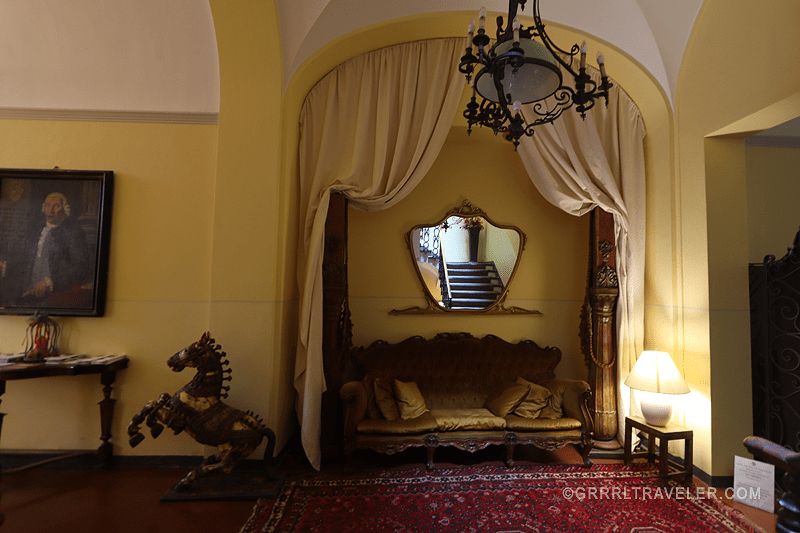 Ravenna Hotel Service
Upon my arrival, standing outside the door, it was Fabio, the care taker of the house, who buzzed me in. The reception room is like a small house library with a wonderful ceiling fresco and a Baroque sensibility. It makes you wonder if all Italian houses are as rich in artistry as this.
Fabio is the bubbly and welcoming face of the house, making you feel at ease in the mansion home, familiarizing you with the history of the town and the best spots to visit or eat at. You can get carried away talking to him as he shed insight into the regional faces of Italy from the decadent world of the mafia down south to Emilia Romagna's history of being built on marshland.
Fabio's wife is the other caretaker bidding you a friendly morning. She helms the breakfast buffet in the dining room.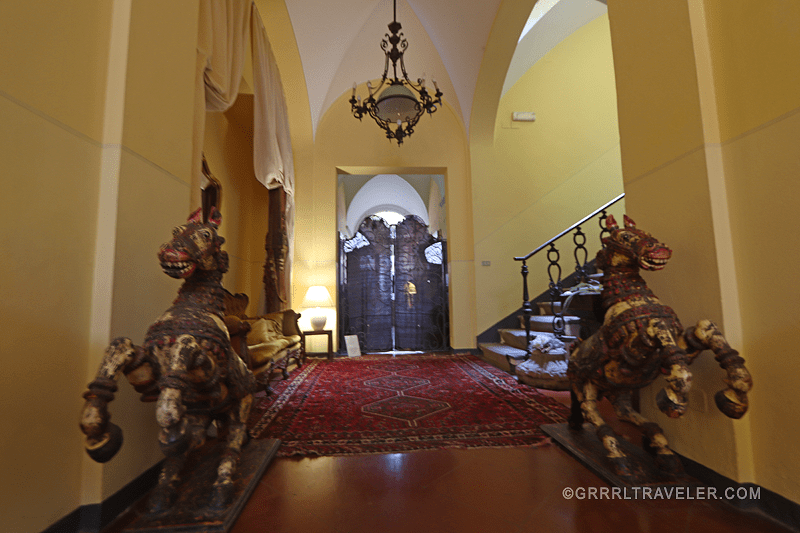 Opulent Room with a Balcony: Teodorico e Amalasunta suite
Space appears to be a defining aspect of these rooms. If you look at the website, it shows you how many guests might fit in it. Each room has their own name, personality and design.
Stepping in my room, the Teodorico e Amalasunta suite I immediately felt like I was in a family home and this was one of their bedrooms. Each room is their own suite with bathroom and spacious room. Mine had an Italian Baroque style which was both, romantic and a bit gothic (I only say that because of the cherubs above my bed plate, which reminded me of a Gothic movie).
Another blogger I met attending the conference stayed in the Galla Placidia Costanzo room, a spacious suite fitting five guests at most, it feels at once, like a princess suite or reading room room. Located on the first floor, I loved the room's warm burnt sienna colors, spaciousness. I envied her lighting- it was excellent.
The evenings can get a little quiet; with the exception of loud neighbors above me on my last night in Ravenna. As a mansion, the floors and hallways are lit gently. Despite the fact, the mansion is safe from outside entry, if you're like me who watches a lot of scary movies with ghosts and whose imagination freaks itself out, you'll find yourself rushing to open your bedroom door with the old fashioned key. This is perhaps the only thing I felt uncomfortable with about staying at a B&B (any B&B for that matter)… big hotels have big impersonal hallway lights which let you see every corner from a distance. Mansions and houses have personal nooks and crannies for imaginary ghosts to jump out.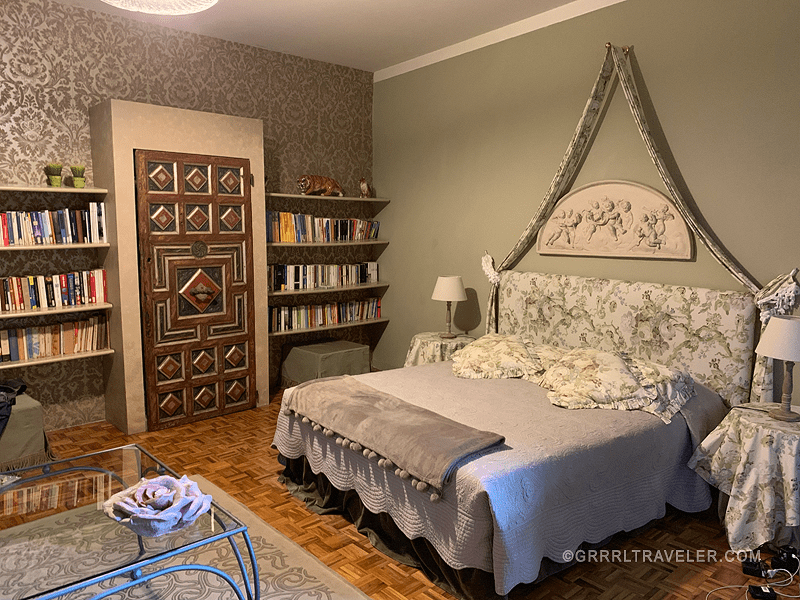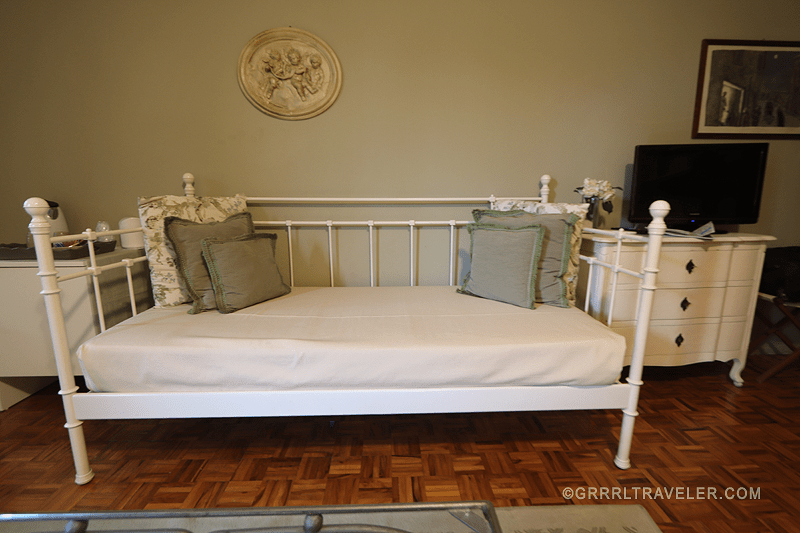 Modern Italian Bathroom Facilities
I had a spacious western style bathroom and it was one of my favorite places of the house! It's a weird videographer's fetish of mine but I like rooms with bright white daylight light.  For bathrooms it's especially helpful with high visibility, especially when you're applying makeup or plucking eyebrows. But when i'm filming or photographing a room, they present the room in a real and unfiltered light. The reason I mention this is because the majority of hotels i've ever stayed in do not have this light and a lot of my shots are reduced to a yellowish tinge.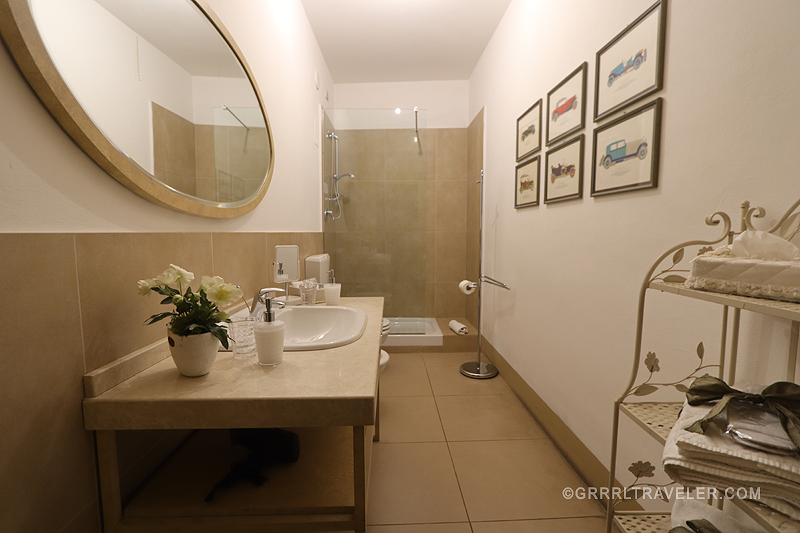 Although bathrooms in Italy can vary, one thing you're sure to find in every Italian bathroom is a bidet. Italian bidets are recognizable as a miniature toilet bowl off to the side of the toilet and it is used for washing up your nether regions after you do your business. Straddling the bidet does not seem easy. For women, you straddle it like riding a horse, which means you have to take off your entire pants to do it.  It has a nozzle spout like a standard wash basin, with the exception you can direct the stream where you want. It takes a while to get use to—too much pressure can be quite shocking; too little would not reach you. It is said Italians absolutely love it (and many have confirmed that fact).
Personally, I've experienced several hotel bidets after Casa Masoli.  I never got the hang of it.
Casa Masoli Ravenna Breakfast
As a bed and breakfast in a house, the main facility is the breakfast room. The hotel does not have a restaurant, inspiring you to get out and explore the charms of Ravenna. But the hotel offers a wonderful breakfast to start your day on the right foot.
Did you know Italians have a sweet tooth? It was evident in the breakfast and I loved it.
The buffet is loaded with Emilia Romagna signatures: cheeses, thinly cut meats like prosciutto and salami, cereals, yogurt, jams, fruits and sweet baked treats. You can see in the photo below what I loved most!
Hotel Tip: A must of breakfast is to try the house cappuccino. Italians only drink cappuccino in the morning and if you're going to have it only once during the day, Casa Masoli makes that cup an unforgettable one. I consider it my first real cappuccino.  I was late to my conference on the second day and I blame in on Casa Masoli's cappuccino!
It's nice waking up to an Italian buffet breakfast.
Ideal Location in Ravenna
As far as Ravenna hotels go, the town has a lot of streets closed to vehicles. Thankfully, Taxis are allowed to drive and do drop-offs at the hotel. Tucked away on a side street and located in the heart of Ravenna, Casa Masoli is just five minutes to the Basilica San Vitale, Gallo Placidia and Piazza del Popolo. It was an ideal location for exploring the city and getting to the bus stop for my conference. One landmark is a tower which is tilts like the leaning tower of Pisa.
Out of Ravenna hotels, Casa Masoli B&B was selected by the STS Conference and Emilia Romagna tourism board to house me in lieu of the STS Ravenna conference, which is focused at sustainable and responsible tourism.  The program knew I was a female solo traveler and would be arriving early. The other blogger staying here was a female solo traveler as well.
There is a small café across the way if you wanted to dip in for an espresso or to just hang out and work on your laptop.
Conclusion
There are not a lot of glitzy chain hotels in the heart of the city. Instead, you'll find there the unique value of B&B hotels to help you appreciate Ravenna lifestyle. Overall, my stay in Ravenna couldn't have had a better partner than Casa Masoli. Convenience, location, quality, ease and experiencing a historical Italian mansion.. you get it all here.
I have no doubt Casa Masoli is one of the best hotels in Ravenna.
Watch my Ravenna Travel Guide video
See inside my hotel room at Casa Masoli and popular attractions in the area.
Ravenna Hotel Information
Best deals and prices at  Booking.com
Ratings: 9.8 rating on Booking.com
Location: Girolamo Rossi
Disclosure: My stay at Casa Masoli was sponsored by the Emilia Romagna Tourism Board and the #STSRavenna Social Travel Summit conference. As always, all thoughts expressed in this article are my own.
Enjoy this hotel review? Pin to Pinterest and share it