Last Updated on January 5, 2015 by Christine Kaaloa
I've been spending more time on Instagram for relaxation. Are you following my Instagram account?
So if you're on Instagram, vote on which of my Instagram photos inspire you the most.
At the end of the month, I'll share your Top 5 Picks and title it accordingly.  So here we go!
Instagram Roundup:  Top 5 Things to Do ( Cappadocia to Santorini)
November's roundups (whoa, yeah, I'm late in posting this- blame it on the holidays!) of most viewer likes takes us to two places- Cappadocia, Turkey and Santorini, Greece.  Both are exotic locations of different natures.
1. Photographing Cappadocia
Home on the range in Cappadocia .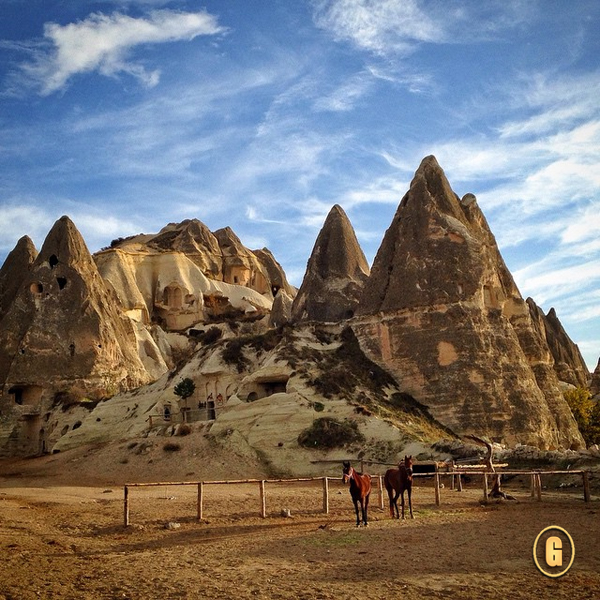 2. Hot Air Ballooning in Cappadocia
"Looking out at the beauty of 99 hot air balloons filling the sky in .  That is the first highlight. The second is when you realize you're the 100th balloon! In flight with @voyagerballoons"
3.  Trekking in Goreme
"After a 10 hour overnight bus trip I arrived in Goreme, Cappadocia. I'll be honest- between two travel conferences, last minute plans/ changes and budget crunching, I'm a little pooped. But I'm still very stoked to be here in this crazy location of odd and unique rock formations.  And tomorrow (actually a few hours) I'll be  taking my first balloon ride with @voyagerballoons ! "
4. Discovering Fira, Santorini (Greek islands)
"Be still my heart. Fira, . Doesn't this look insane? "
5.  Sipping wine at Santo Wines, Pirgos, Santorini (Greek Islands)
"The sunset and amazing view forced a stop  but the taste of the wine held me there. @Santo_wines"
 Follow me on Instagram at http://instagram.com/grrrltraveler. Vote for  the photos you'd like to see in next month's Top 5 Instagram Roundup!
 What's your favorite instagrams here? What does it inspire for you and does it make you feel like doing any of these things?