Last Updated on June 16, 2011 by Christine Kaaloa
Packing Tip: How to Pack a Guidebook bit by bit
Digital times has reduced the power of paper; yet, my eyes don't enjoy the constant absorption of LED light from computer screens and handhelds. E-books? PDF guides? No. I want paper when I travel… I want my guidebook!
But how to I travel light with it?  Some guidebooks are absolutely behemoth and as a backpacker, I often resent being a sherpa.
My backpack doesn't need to feel 5 kilos (the weight of my India book) heavier when I'm referring to it only 1/6th of the time I'm traveling. Albeit, that 1/6th is usually an emergency… So here's a giant packing tip for you that won't add too much weight.
Packing Tip: How to Pack a Guidebook bit by bit
Here's two of my biggest travel guidebook secrets–
1) Dice it down
I don't take the whole book… I tear out and make chapters of it!
Basically, if I have an idea of the places I want to visit, I section those off and discard all the excess pages that I don't need. After I'm done with a particular place, I toss the chapter out. I remember to take extra paper clips with me to hold my chapters together. These self-made chapters are also perfect for sliding into a day pack or purse!
Lonely Planet Southeast Asia: On a Shoestring
It's a fattie, isn't it?.. Until you chop it down to the actual countries you're going to.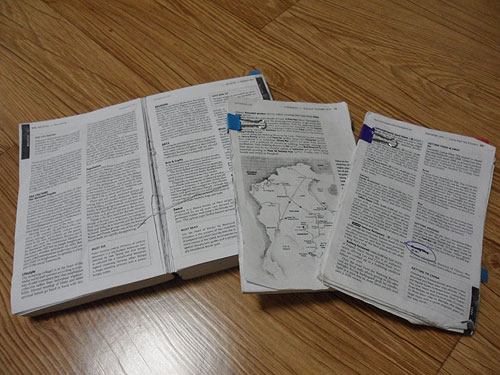 Those two clipped pamphlets were all I took for my recent 2.5 week trip to Thailand and Laos!
.
If you think that's insane– wait until you see how I massacred my Lonely Planet India
guidebook.

Another fattie of a book!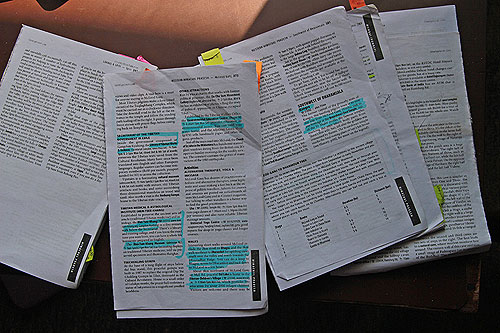 I was traveling India for three months:
1) I cut out the destinations I know I wouldn't go to.
2) After visiting a city, I pluck out the pages and chuck the chapters I'm done with!
It was still weight in my bag, but I was able to unload it piece by piece!
2) Buying and reselling used and pirated guidebooks
Guidebooks aren't difficult to find when traveling, especially if you're staying in backpacker areas. Lonely Planet, Rough Guides,… book dealers and used book stores selling travel guides seem to be available where ever there are tourists.
Also, Asia is a crafty when it comes to selling recycled and 'knock-off' books. I  love them for that reason. It makes it economical for everyone.
In Nepal, I bought newly-minted Lonely Planet book offered at half the cost of the U.S. price. I got it in a new/used bookstore, which bought back guidebooks. It came in a plastic wrap, but upon closer notice, I found it was a newly-minted Xeroxed version!  The information was the same as its original, so I didn't mind and I ended up keeping it as a coffee table souvenir of Nepal– my first Lonely Planet knock-off! But ordinarily, knock-off books are perfect to destroy as I mentioned earlier.
Other times, I love going to used book sellers and buying a book with highlights and dog-earred pages at a third of the cost of the original. Why? Someone else's highlighted markings, show me that they've already done the research work for me!
How do I lighten my load? At the end of the trip, if my book is still in tact, I sell it back to the used bookshop dealer!
Do you use guidebooks when you travel?  How do you travel light? What are packing tips you've devised to create a lighter load for travel? Would you pack a guidebook bit by bit?