Last Updated on October 26, 2017 by Christine Kaaloa
Robosquare Museum Fukuoka
When I think of robots, I think of movies like Blade Runner, Terminator and 2001: Space Odyssey, where robots turn frighteningly evil and eventually, take over the world. Mostly, the notion of "robots" is that of space men and film fiction.
Robosquare Museum Fukuoka is an interesting look into robotic technology in Japan.
Table of Contents: Robosquare Museum Fukuoka: Insane Robotic Technology in Japan
Fukuoka is a leader in robotic technology

Like many cities in Japan, Fukuoka is a clean, orderly and quiet city. But it's also a leading city for robotic technology and development. Yup, under that placid and mellow exterior, there's a heart where R2-D2 dreams are made.
Although you won't see humanoid robots or mechanized wheelies wandering the streets of Fukuoka, there's probably more robotic systems and electronic circuitry integrated into the community, than you suspect.
A trip to Robosquare Museum Fukuoka
Built in 2002,  Robosquare Museum Fukuoka is a cozy robot technology museum. The center offers robot performances, robotic technology workshop classes and it houses over 200 intelligent systems, from robots to interact and have conversations with, responsive robots, rescue robots and everyday machines you may not think belong to the robot clan….Best of all, touring the museum is free.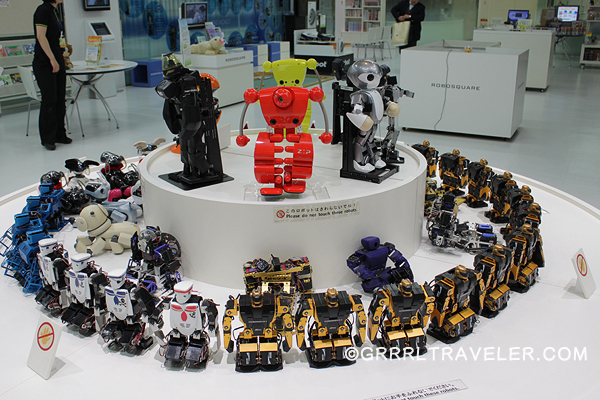 The Robot Collection
What sets this museum apart from traditional museums, is that you're not merely looking at robots, with your nose pressed against a glass case. Instead, you get to "play with the art" in order to understand how they were developed for human use, interaction and consumption.
Here's some of what was on hand…
Conversational robots
The first robot I played with was a Hello Kitty robot, which held some 20,000 conversations in Japanese, while expressing emotions with its hands, eyes and head (see video below). My Japanese isn't extensive, but it was enough to get Hello Kitty engaged and once she is, boy, she loves to talk!
The Ifbot was another conversationalist robot, which had similar features, but expressed emotions by lighting up.
Responsive Robots
You can entertain yourself with light-sensitive robotic balls that propel when you shine a flashlight on them. Or you can test your speed and fork lift operating skills against the clock, with a robot that you must control to pick up a ball and drop it in a hole.
Mental Therapy Robots
Despite what people think, robots don't always generate cold responses. Some can be used for social therapy with humans.
Paro is a robotic seal that responds to being pet and stroked.  It coos and purrs, when it's stroked on its body and winces and squirms, when it's touched on places it doesn't like, such as it's eyelashes and nose. It's actually quite adorable and cuddly.
This seal was taken to a retirement home as a therapy pet, to draw lonely seniors out of their depression, by giving them something to talk to, care about and interact with; thus, improving their emotional well-being.
Humanoid AIBO dogs
Invented by Sony in 1999, AIBO (Artificial Intelligence RoBOt) dogs could do many things a normal dog could do, but more. A robotic pet, it had a built-in camera to take photos and memory chip that stored words. It could learn to respond to the name you give it, respond with emotion and develop it's own personality .
In 2006 Sony discontinued their line of dogs, but Robosquare houses a collection.
 Performance 'puppet' robots
Robosquare has two resident robot performers or mechanically-programmed dolls, which are animated to act out entire scenes like a puppet show. The movements are a little choppy, but overall, still pretty good. One of them is a two-foot high geisha, performing nihonbuyo  (or Japanese traditional dance) with a fan. The other is a samurai robot.
 Everyday robots
Much robotic technology goes unnoticed in society, despite the fact, some have important roles, from wake-up alarms and house cleaning robots, to survey takers and  search and destroy robots used post 9-11 to search through the rubble.
Did you know that even Segway stations are considered robotic technology?
Information:
Robosquare Museum, Fukuoka
Address: 2nd floor of TNC building
Directions: Momochi area, 15 mins walk from Nishijin Subway.
Website: http://robosquare.city.fukuoka.ig.jp
Hours: 9.30 am to 6.00 pm (closed 2nd Wednesday of month, except Jan, July, Aug and Dec).
Show times:  Monday-Friday:  11am, 2pm and 4pm,  Saturday and Sunday:  11am, 1pm, 3pm, and 4:30pm.
Admission: Free
48 Hours : Japan on $30/day