Last Updated on June 28, 2019 by Christine Kaaloa
I'm always looking for a different way to see a place, especially if I've seen it a lot.
Having lived in Manhattan and worked in the entertainment industry, there were obviously places I'd not seen and things I'd not done. But landmark icons can sometimes,  fall flat if I don't have a personal reason to see them outside of a sightseeing bucket list.
Enjoying movie-making magic through a film location tour
Statue of Liberty?  I sailed around it on a chartered cruise boat, while working as a background actress on a Bollywood film with 50 Indian film crew!
The United Nations building? Heaps more exciting when you're in the General Assembly Hall on the film set of The Interpreter, awaiting for fake gun shots signals, so you can scream and dodge shattering glass (it's actually rubber)  from overhead.
The justice buildings of downtown Manhattan are both, impressive but dreadful, when you're shivering through cold and rainy mornings, working on the set of Law & Order and it's SVU's!
Working as a background actress on movie and television sets, was like sightseeing the "landmarks of a New York City" from the inside out. In many ways, it was my unofficial film location tour and it added glamor to my life as a freelance videographer , struggling to pay rent.
Having Sex in the City on a film tour
When OnLocation Tours asked me to review their film tours, I was excited.
Being a fan of the Sex and the City TV show, I knew I had to take the Sex & the City Hotspots Tour.  Afterall, I was living my own singles version of the Manhattanite existence at the time, and between themes on good sex, bad sex and awkward sex… how could I not be the least bit curious?  It was more entertaining than a Friday night date!
In lieu of the quintessential "girlfriend celebration", I invited my good friend and native New Yorker, Anna.  Of course, we were both, fans of the show. We'd also both, worked on the show as extras at some point too.
Central Park West
Standing in Grand Army Plaza next to the famous Plaza Hotel,  we waited for our tour to start. The hotel and nearby park fountain were  used in a number of Sex & the City scenes and New York City films and television shows. The meeting point was the first film location; the tour was already underway!
A line of 50 women had amassed.   Well-designed and manicured, these ladies were bubbling with anticipation over television girl-bonding moments. I knew the tour had to be popular with fans, but I didn't expect this… many women!
Like the characters of the show, they were dressed to live up to being sexy in New York City.
Across the street was Central Park and FAO Schwartz, two film locations to dozen of Manhattan-based films and/or television shows of their own and Bergdoff Goodman was just around the corner.
The buses lurched on, leaving our first location.
Table of Contents: Wanna take a Sex and the City Film Location Tour?
The reality of film location tours
We flew down 5th Avenue in Midtown,  passing a handful of film locations. Tiffany's and a tidal wave of famous 5th Avenue brands flashed past us before you could raise a camera.  Our sassy and fun red-headed guide, got on the mic and began talking, rounding the excitement up, as snippets of the show played on two small TV monitors up at the front of the bus. Watching bits of the show helped jog your memory if you didn't see an episode or forgot. It also helped get you jazzed about what you were going to see.
The bus slowed at the New York Public Library, the location where Carrie got jilted at the altar by Mr.Big. Our guide entertained us with an amusing story of when she worked an extra  in the scene and how a real bouquet of roses was used to hit Christopher Noth. Ouch.
It started me thinking that film location tours can be hard to pull off.   Most of the time, fans want to see a location because it's a peek into their favorite show. Behind-the-scenes stories helps a lot; otherwise, a location is just a location and a show can be just one of several shot in iconic New York City.
Charlotte and "the rabbit"
Our first official stop was Charlotte and the Rabbit? How could you not?
We made our first official stop at the Pleasure Chest. It benchmarked the episode about "Charlotte and the Rabbit." The Pleasure Chest is an adult toy store with many.. uh, "rabbits" and sex toys that will make you laugh, wince, giggle, roll your eyes or puzzle you. If you want a souvenir, you'd have to buy it and you get a 10% shopping discount from the tour.
I walked away empty-handed. Or maybe I'm just not telling.
Next up:  Buddakan is actually a high-end restaurant in the West Village, near the Meatpacking district. It feels like more of a shrine than a restaurant; an homage to classic goth chic. It's exactly the type of glam you expect of Manhattan.
We got to do a photo op in front of the bar, where Carrie gets her first "single girl kiss" from Mr. Big.  Finally, my camera got to come out to immortalize some moments.  Everyone lined up, one by one to take their pose.
The Meatpacking District 
The Meatpacking district is a trendy, upscale area for nightclubbing New Yorkers. We flashed past the cobblestone streets, while location names were thrown out quicker than I knew where to turn. You need to be quick.
Whoosh, whoosh, whoosh… Los Dados, the Mexican restaurant where Carrie got stood up,  Stella McCartney store … the Soho House …okay, I can't remember if that was on the tour or I personally added it. It's the infamous hotel, where Samantha and the girls get thrown out from the pool. I know it because I used to book lunch dates there for an Executive Director at a non-profit arts organization.
But this was all a blur. I was glad I already knew the area and some of the locations.
Soho District
Varoom went the bus, through the crowded streets of Soho, flashing past posh boutiques stores. Sexy, stylish, shopping and posh are the only keywords you need to know of Soho.  A place you need to take in on foot, at least for a few minutes to feel its vibe.  One Soho street to bookmark is Prince Street, the location of Charlotte's art gallery (it's actually the Louis K. Meisel Gallery). Also, the famous cobblestoned streets are Soho's signature, making them a targeted film location spot . As we drove past the street, they were actually filming a commercial!
Read Top 40 Things to Do in New York City
By now, I was starting to feel a bit like I was on a city bus tour. I'm the type of traveler that enjoys  guided walks and interactive photo opportunities.  The inability to do this was  driving me nutsy. I  looked over at Anna, whose smile turned to a droop.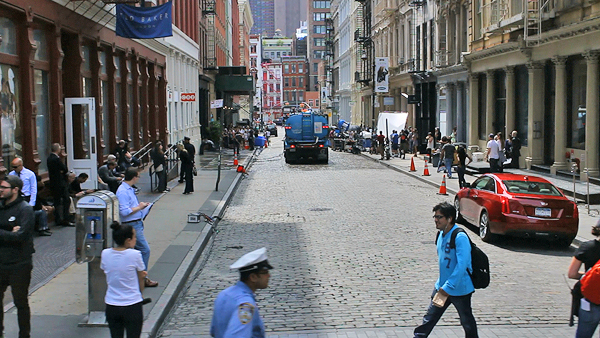 West Village
On Bleeker Street was Magnolia Bakery, the next film location and a super popular cupcake shop. When it opened, you'd find lines wrapped around the block and the cupcakes are good!
I couldn't understand why we stopped in the West Village. Aside from cosy brunch cafes and upscale boutiques, it's a fairly quiet residential neighborhood.  We were given 15 minutes to explore the neighborhood on our own, while our guide went to pick up cupcakes from another nearby bakery. Anna and I decided to wander aimlessly to kill time.
Tell me, I did not just miss Carrie Bradshaw's apartment!
I wondered why we never made it to Carrie Bradshaw's apartment stoop  (66 Perry Street (between Bleecker and West 4th) as the website mentioned. If you've never watched the show (gasp, how  could you not?) it's pretty much "the mothership". When I got home, I discovered it was around the corner of Magnolia Bakery! Did I not hear our guide tell us this?
This part of the tour actually annoyed me. The location is a big deal ; you'd expect to be guided to it on foot.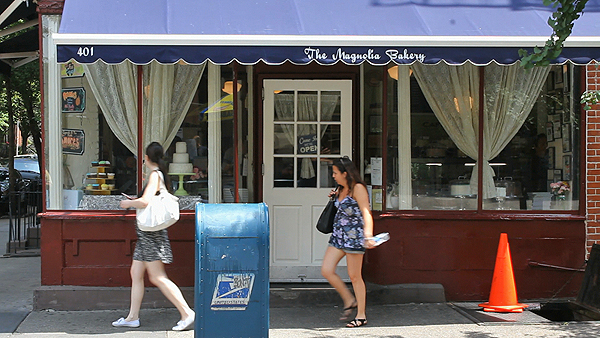 Cocktail hour at Scout
Last stop was ONeal's , a speakeasy and the location of "Scout", the watering hole owned by Steve and Aidan. The bus pulled over and we were shuffled inside to buy whatever cocktail, made you feel like you were living out your sassy 'Sex and the City' fantasy.  Girlfriends groups toasted in an afternoon drink.
Meanwhile, the few non-drinkers  (and cheap travelers, like myself) waited outside, sitting on the steps or standing awkwardly on the corner.  Anna went to a deli across the street to buy coffee.
Taking a Movie Location Tour
Film location tours can be hard to pull off.  I know this because I was a tour guide for a TV location tour; and worse, for obsessed convention-going fans, who knew more locations and details than me! Also, working in the entertainment industry,  Anna and I, are not your average film fans tourists.
But we had a delightful guide, who rallied the Sex & the City charm, so you felt like sashaying through the streets.  Overall,  I think the Sex & the City Hotspots Tour is perfect, light-hearted fun for TV fans, girl-bonding events and bachelorette parties… and first time visitors to New York.
For ex-New Yorkers and background actresses, maybe a Sopranos film location tour is more up your alley!
Information:
OnLocation Tours
Cost: $47 + $2 ticket fee
Duration: Approximately 3.5 hours
Note: I was a guest of On Location Tours, but my opinions are always my own.