Last Updated on August 11, 2017 by Christine Kaaloa
Phnom Penh is now one of my favored cities, but I still couldn't tell you exactly why…
There's many things to do in Phnom Penh.  The city is bustling with activity which waxes and wanes. Drive into Phnom Penh's city center and you'll find the scene is bustling, occupied by a wealth of apartment buildings, shops, restaurants and zipping motorbikes.  The heart of the center stands like a French Colonial Chinatown, whose pageantry days are slowly closing in. Buildings are faded with age- but not crumbling- and if you look up, you'll find an engaging view of apartment balconies accentuated by a clutter of telephone wires, which ensure capable connections.
While Phnom Penh's style isn't as advanced as a first world country, it's surprisingly well-kept, politely cared for and orderly. A youthful agility occasionally springs up through the streets and a slowly budding modernity and nouveau riche chic flows out to its riverside.
You  can see Phnom Penh on foot
Although it's much cheaper, easier and quicker to hire a motodop for ($1-$2/ride), it can be worthwhile to stroll the city on foot.  Phnom Penh has a hidden style, interesting neighborhoods and disarming life stashed away in its streets. You'll find yourself stumbling upon some surprising gems when you take to the pavement.
Top Things to Do in Phnom Penh on foot
1. Independence Monument (& BKK1 aka 'Foreigner' area)
Where Sihanouk Blvd meets Norodo Blvd, you'll find Independence Monument, a 1962 landmark honoring Cambodia's Independence. Designed by Cambodian architect Vann Molyvann, it's a picturesque monument encased by a fountain. It sits beautifully at the end of a long grassy promenade and  its worth a snap or two in passing or upon a romantic stroll.
Had I not gotten there on foot however, I would never have discovered the gem of a neighborhood southeast of the monument,  known as BKK1 or the  'foreigner' (international) district. It styles restaurants, cafes, boutique shops, hotels, embassies and expat apartments. (map here) I had to rest my tired tootsies and kicked back in a trendy lounge cafe for a bit of AC and homemade cookies. Sipping on my iced coffee, while listening to lounge music and observing the stylish decor, I felt like I was in Paris, Seoul and New York City. Hard to believe it was really Phnom Penh!
Location:  Independence Monument: Sihanouk Blvd meets Norodo Blvd
BKK1 or the 'foreigner' district: Streets to stroll are 278 & 282  (running south and parallel to Sihanouk Blvd)
2.  Royal Palace and Silver Pagoda  (& Street 240)
From the outside, you can't miss it. It's pretty impressive. The Royal Palace (and Silver Pagoda) is a stunning complex of Buddhist temples and buildings, which made up the grand palace of the ex-King of Cambodia. Dress Code: No exposed legs (shorts or short skirts) or bare shoulders. If you are unable to provide appropriate clothing, you can rent a sarong at the entrance
Street 240 (map here) (behind the Royal Palace) is said to provide the best *boutique shopping* from art, Cambodian silk, souvenirs, furniture and fashion.
Location: Entrance on Sothearos Blvd,  Hours: Daily 7:30AM-11AM & 2:30PM-5PM, Admission: $3.00, +$2.00 camera or +$5.00 video camera.


3.  National Museum ( & 'Art Street' )

The National Museum of Cambodia neighbors the Royal Palace and stores over 5,000 historical artifacts from the Angkorian era.
I didn't go into the museum because artifacts aren't always my thing; instead, I found myself exploring Phnom Penh's hip creative edge on 'Art Street' (aka  Street 178 ), where I could take local designer dress shops and cool contemporary art galleries showcasing the funky works of local artists. Hungry from sightseeing, I ducked into one of the trendy restaurants on this street to treat myself to french music and dining elegance. I was delighted to find my dinner bill came out to roughly $5.
Location: The entrance is on Street 13 (closer to Street 178) facing the river. Near the Royal Palace, Hours: 8A-5P daily, Admission:$3
Website: http://cambodiamuseum.info
4.  River walk (aka 'Pub street')

If you're not staying at Boeng Kak Lake or in the heart of downtown's city center, then a likely spot for tourists and travelers to stay is Sisowath Quay. The river walk is nicknamed 'Pub Street' for obvious reasons; this riverfront location offers a glowing nightlife of  its own. Locals and tourists stroll the riverfront boulevard, where occasional street performances setup a show or one can cross the street to duck into one of the many international restaurants and pubs, nightclubs and tourist hotels. Location: Sisowath Quay Boulevard (Between Streets 154 -118), From Riverside Suites Phnom Penh on St. 144 , the Night market is a 5-8 minute stroll.
5.  Night market (Psar Reatray)
Sisowath Quay, and Street  108 (map here)  Just north of the river walk, you'll find the night market. The market attracts both locals and tourists, with food vendors, rows of tented clothing shops, raffle/lottery games and live performances.  Location:  Night Market: Sisowath Quay, and Street  108  (map here) , Open:Weekends, Hours: 5PM -9 or 10PM.
A couple streets down near the neighboring Old Market , the low-lit streets are abuzz with food hawkers as if it's one long BBQ street cookout. It's your chance to explore Khmer street food as locals zip up on motorbikes to order their dinner like a drive-through takeout. Location: Old Market (Streets 108-110/between Streets 13-15)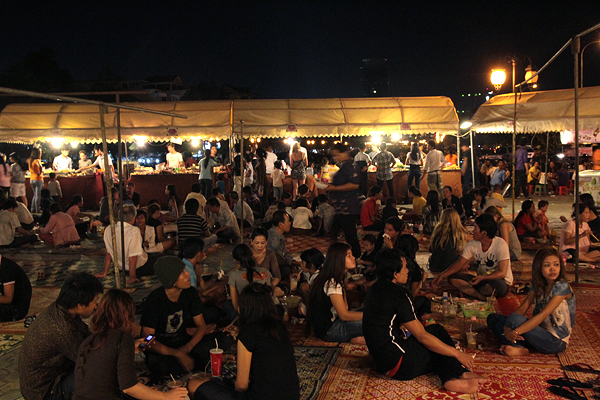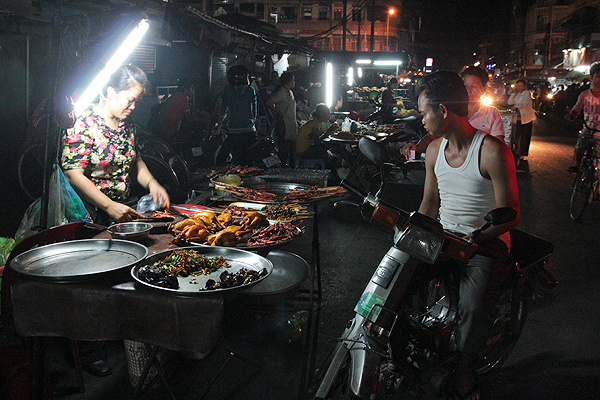 6.  Central Market  ( Phsar Thmei)
Central Market is perhaps the largest traditional market in Phnom Penh, housing everything from fashion, jewelry to food and various other souvenir shopping (if you'd like to get your nails glammed 'local style', you can find salon stalls here). This market is for the serious bargain and souvenir shopper.  The Art Deco style architecture stands out amongst surrounding buildings. It's a 5 minute walk from Sorya Shopping Mall.  Location: Where Charles De Gaulle, Kampuchea Krom, Street 130 all intersect.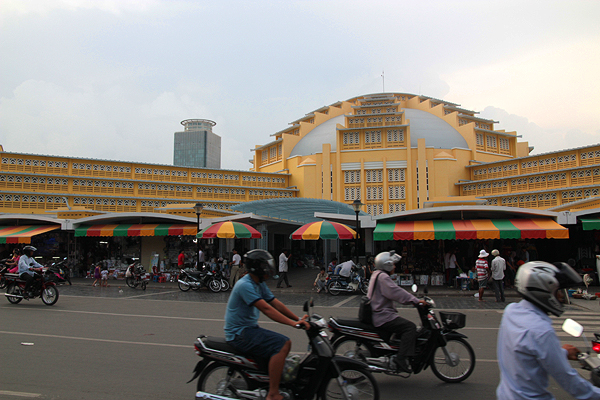 7.  Sorya Shopping Mall
Sorya is the largest modern westernized shopping mall in Phnom Penh with 8 floors of shopping and fast-food restaurants. If you want to stock up on your favorite snacks, bottles of water or you miss good ole western foods and products, Lucky Supermarket is a large western chained grocery store housed on the first floor. I found a yogurt cafe on the first floor also, which came to be my daily dessert haven. Location: Street 63 and 142, Hours: 8A-9P
Travel tip: Don't leave your motorbike with the moto parking people as they are said to steal helmets and accessories.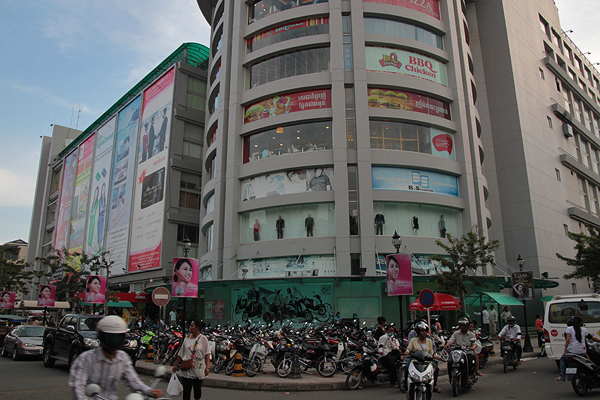 8.  Tuol Sleng Genocide Museum (Security Prison 21 aka S21)

If there's one must-see in Phnom Penh, it's Tuol Sleng Genocide Museum aka S21.   Cambodia's history doesn't get anymore hard hitting than this .If you want to have a greater understanding for Cambodian people, the tragic past they've emerged from, this is the museum to visit.  It's a little graphic at times, but it's real, eerie and just plain heartbreaking. Read my experience here.
Location:  Corner of Street 113 & Street 350 , Open: Daily, Hours: 8AM-5PM – Closed for lunch), Admission: $2.00
9.  The Killing Fields (aka Choeung Ek Memorial)
Now this site isn't walkable but I listed it, because it's a popular location you'll want to visit. You'll need to hire a taxi or a tour bus service.   Skulls, some grassy burial mounds, a small museum and a few artifacts make up this historical location, where the Khmer Rouge brought people to get executed. After S21, the Killing Fields (aka Choeung Ek Memorial) may not seem as gruesome; nevertheless, its an important part of Cambodia's history.
killing fields
Accommodations in Phnom Penh
Capitol One Guesthouse
At first Capitol One Guesthouse  looks like a YMCA building in the city center of  Phnom Penh. It's walking distance from the mall, S21, a lot. It's a little lackluster and basic.  I got a clean room with bathroom ensuite for $5. I didn't want to leave and considered staying in Phnom Penh longer just to stay there and rest from my travels for a few weeks.  Walls are a little thin so you can hear people if they're making a ruckus, but if you were a traveler wanting to hunker down for a bit, this would be the perfect place. Capitol Guesthouse also runs a restaurant, tour agency and bus service downstairs- perfect if you're looking to fill your itinerary.  Read my review here
Information
Thanks to Canby Publications free magazine for their maps and information. I  discovered these well-known streets upon accident and if I hadn't stumbled upon their maps later, those discoveries wouldn't have had a meaning or context.
 

What top things to do in Phnom Penh would you recommend?
Next Part Two>> Phnom Penh: What does a street say about its people?