Last Updated on October 23, 2017 by Christine Kaaloa
If you haven't heard yet, Hawaii has a love affair with SPAM! Yes, you heard me… SPAM.
Fish and chips, hush puppies, macaroni and cheese?… Those never flew in Hawaii. Instead, we love our "mystery meat". Growing up, my family's kitchen was always stocked with cans of it, as were my friends… and their families. In fact, you'll probably find few local households without them.
Table of Contents: Spam Jam Festival Waikiki | Hawaii's Love Affair with SPAM (video)
Why does Hawaii love SPAM ?
While the rest of the U.S. looks down on SPAM as a "poor man's food", here in the Hawaiian Islands, it's our comfort food, which traces back to World War II.
Eating saimin? Sprinkle some fried SPAM onto it. Making fried rice? Chop it up into cubes and throw it into the frying pan. Going to a family picnic?… Ball up some musubis and wrap it with some seaweed and SPAM.  It's gotten so that the innovations off of SPAM have grown Just in 7-11 stores alone, you'll find a handful of variations of SPAM Musubis- from SPAM and Egg, SPAM Katsu, Teriyaki SPAM, etc…
Today, Hawaiians are the top consumers of the meat, which can go without refrigeration and boasts a shelf-life of forever…  (I don't even want to think about what preservatives are in it…)
If you're not into reading, then here's something better… I put together a short and interesting video, quickly documenting what this love affair is about.  If you have the attention span of a teetsy fly and can't watch over a minute, turn it on and play it in the background, while you do your work (that's what I often do).  But let me know what you think of it!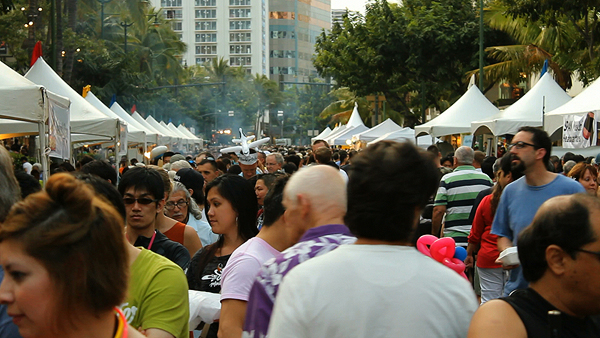 Spam Jam Festival Waikiki:  A celebration of Hawaii's Favorite 'Mystery Meat'
Spam Jam Festival Waikiki  is a yearly festival, where Waikiki closes off Kalakaua Ave, and restaurants cook up innovative recipes using the celebrity meat.  There are SPAM Jam Festivals all around the nation. But for Hawaii, it's probably a more than special event; it's a celebration of our comfort food.
I almost didn't make it to the event, because I don't eat meat.
But as an island gal who used to love my SPAM, as well, I was curious about what new recipes could be dreamt up using SPAM.
Some of the creativity at this festival is surprising.  There were innovative fusion items-  like Sicilian SPAM Pizza, Mango BBQ SPAM Sliders, SPAM Nachos, Mongolian SPAM radicchio cups– to spin-offs of favorite local foods, such as SPAM Loco Moco, SPAM Loco Moco w/Fried Rice and SPAM Manapua.
Maybe it's because I got there late (two hours past the actual start time).  I didn't see even half of those dishes!  Really.
Either you had to arrive early at the starting mark in order to see some these food items or maybe, the paper trays and plates downshifted the aesthetic value of them.  It could also be  that some items were more popular than others… or…or … or.  Nonetheless, the streets were filled with hungry attendees and curious tourists and I captured some unique ways of presenting SPAM.
Now I may not be able to eat Spam, but I'll always salivate on the topic of dessert… Or will I?
My top Spam festival picks
Okay, I don't eat meat, but there were many desserts I felt curious about. They seemed to be crowd pleasers…
1. SPAM in a pancake-  by  Eggs n Things
A cousin of pigs-in-a-blanket, this snack has SPAM deep fried in batter. You can eat it plain or add maple or chocolate syrup to it.  Would you consider this a breakfast, dinner or dessert?
2.  SPAM Musubi Ice Pops and Chocolate Ice Cream with candied SPAM  -by Ono Pops
Um, I suspect you'd either love it or hate it.  It's certainly a way you've never had your SPAM before. Would you dare to try it?
3. SPAM Cheesecake – by Hawaiian Cheesecakes
Does milky and SPAMmy a good fit? This cheesecake base has tiny sprinkles of spam on it, drizzled with chocolate. A bit of sweet, milky and salty for you.
Would you go to Spam Jam Festival Waikiki ?
Information:
Spam Jam Festival Waikiki (website)
Event Admission: Free
Location: Kalakaua Avenue, Waikiki