Last Updated on October 22, 2017 by Christine Kaaloa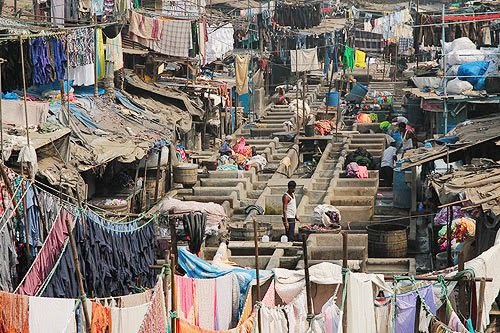 Dhobi Ghats, Mumbai, India
 Mumbai is an unrelenting and persevering city.
It drives hard to catch up to the city's honking horns, foot traffic and bustle. However, as much as it powers through on old railway cars, this international city never seems to catch up to the modern age (read my post here). In many ways, I'm glad it hasn't caught up. It preserves the kind of rigors and traditional jobs, which make you respect India's workforce all the more.
Visiting the Mahalaxmi Dhobi Ghats in Mumbai
Of all the interesting people and places Mumbai, I didn't find the most impressive site to be a temple.
… Or the Elephanta Caves, … Or seeing Shahrukh Khan's house (okay, I didn't really see it. It was too hard to find). The most awe-inspiring sight in Mumbai was the Mahalaxmi Dhobi Ghats.
What is a dhobi?
Tourists flock to reap amazement at this 140 year old open air laundering compound and its community of dhobis in action. In some senses, it's like a visit to a Moroccan tannery, but on a mind-blowing scale.
In 2010 the Bollywood movie Dhobi Ghat (aka Mumbai Dreams ) the dhobi ghats and its dhobi community was featured in a story following the
complicated struggle of four strained Mumbai lives. What made the film an interesting and unique gem was its masala of characters; one of them being a dhobi trying to break out and follow his dream of becoming an actor.
Movie Stills from Bollywood film, Dhobi Ghat
A dhobi (derived after 'dhona' which means 'to wash')  is a distinct caste, whose trade occupation of washing clothes was down generation after generation. Just think of them as India's dry cleaners. They handle much of the household dirty linens and soiled uniforms of Mumbais hotels and hospitals.
The dhobis go from house to house to collect dirty laundry, then bring them to the washing ghats or wash basins ,where they flog, scrub, swoosh, wring, dry and iron dirty laundry for paying clients. As backwards as this service may seem, it's remarkably efficient. Gross amounts of linens are handled daily and items are rarely lost. Each dhobi marks the items of the household with a symbol or character in indelible ink. Return service can be anywhere from a few hours to a couple of days and many prefer their service to dry cleaners, because it's much cheaper and just as good.
Leave it to India's workforce of simple laborers to tackle super-human feats. In fact, they are its technology!
According to the Asian Pacific Business News, there are anywhere from 5,000- 10,000 dhobi wallahs working and living with their families in the 10 acre ghat compound. They slave for 14-16 hours in the broiling sun everyday, except the holiday of Holi. They work as father-son teams, sifting through hundreds of clothes to make anywhere from 500- 1000 rupees ($10-20) a day, per takil (aka cement stall) station, of which they rent and share with others.
As with India and much of its trades, you'll only see men working here.
Dhobi castes are found throughout India. They are clan-like communities, a kind of family workman's union. The dhobis in this community of Maharastra are not allowed to marry within their own clan
Below is a short video of the Dhobi Ghats in action.
What site has impressed you the most?
Getting to the Dhobi Ghats:
Located next to Mahalaxmi railway station on the Western Railway's Saat Rasta roundabout.
It can be easily seen from flyover bridge of Mahalaxmi station.