Last Updated on June 7, 2023 by Christine Kaaloa
Udo Island is exactly what I thought Jeju Island would be– a small island swaying with a warm and tranquil vibe, the crisp mixed scent of island farming and seaweed, volcanic  rock beaches and gentle livestock grazing alongside small country roads. Best of all, as a day trip from Jeju Island, I was seeing Udo Island from a scooter and solo!
After a 3 hour bus ride from Seogwipo to Jeju's Seongsanri Port, I hopped a ferry and arrived at Udo Island at around 4:10P…the last ferry leaving the island was at 5:30P. Call me foolhardy, but if I just spend hours on a bus to get to a location, I'll be damned if I leave without seeing it! So there I was with a little over an hour to explore the island.
Casual biking excursion? An island bus tour or a Olle trek? Originally, this might've been my first agenda but with a waning clock, my options were now close to nil.
Scooter rentals and seeing Udo Island from a Scooter
What do you do if you have little time to cover an island you know nothing about? You find the quickest and most convenient mode of transportation (in this case, a scooter), shell out the money (a cheap 10,000 W for a couple of hours), grab a map (even if it's in Korean) and gun it as if you were on The Amazing Race.
Small snag.
Did I remember how to operate a scooter well enough to convince the rental folk I had driven one before?
Not initially. Driving a scooter isn't rocket science; yet, I forgot how to turn one on, which made the rental folk nervous.  So I handed my  passport over to the scooter rental and asked the scooter salesperson for a 5 minute window to resuscitate my memory. If I couldn't handle it, I'd promise to be back.

False starts, self-doubt and near death collisions
As soon as I pushed my bike forward, the wheels turned and I was off, whizzing through the salty sea air. Nothing could surpass this perfect moment.
… Nothing except for the SUV that whipped around a turn, almost swiping me. This shook me.
Maybe I couldn't handle it…

I forced on. Ten minutes later, wind in my face, whirring along the silent white sand shores and black rock beaches, I marveled at how the island was tinged with a bit of Ye Old World allure. I was seeing Udo Island from a scooter, alone and giddy with the freedom I was experiencing.
Was I still in Korea? Aside from the occasional fisherman, Korean flag mounted on the side of a house or drying bed of fish and seaweed, it didn't look or feel like it. The tiny web of farm roads, lined with rock wall spines leads you straight into greenbelt pastures, a bit reminiscent of a Scottish countryside.
The best things in life are experienced vs  seen through a book or on TV
My courage was paying off.  This was big time GRRR! and this scooter idea seriously rocked! However, I still wasn't confident I'd know how to re-start my scooter, if I turned it off! Stranded in the middle of rural Scottish Korea and missing my ferry back was a concern; so my bigtime GRRR! was chained to my scooter seat, shooting my photo journey in the foot.
Nevertheless, some things are to be lived than placed under a photographic microscope. To experience the tranquil qualities of an island as you weave through a hushed countryside on a scooter is an absolute Zen-rush. Experiencing liberation is an addicting; you don't want to stop the ride.

Enjoying the magic of a self-guided tour on Udo Island

Serendipity.
Nothing beats it.
When I meet travelers, who don't like to plan schedules or itineraries, I figure this to be  why they love it. There's a delightful poetry in following where your muse takes you; it creates opportunity where you might not have thought to look. Horseback riding, sightseeing off-the-beaten path or the opportunity for cultural exchange with locals along the way.
While I enjoy traveling with others, the solitary moments of self-guided tours are my serendipity. It's enhanced poetry. I can get lost in the landscape and roads, sip the "green" in the air and roll it around my palate like a full-bodied wine. Mostly, I love being able to listen to myself. Completely.
To be able to connect with yourself, the land, its people and lifestyle…
Completely.
This is one of the luxuries of solo travel.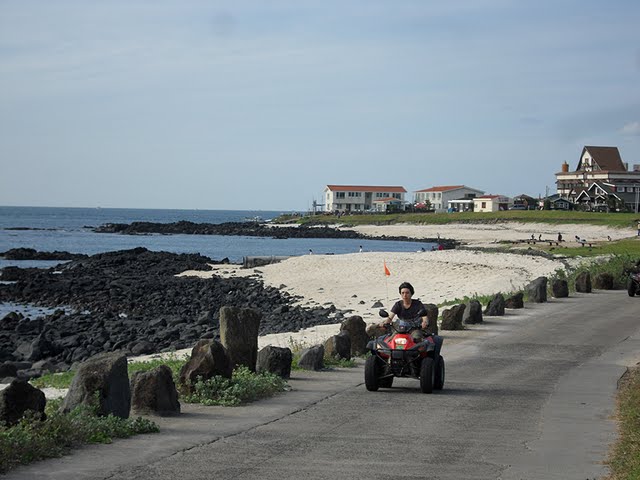 Exploring Udo Island and yourself when you're alone

Some people go through great lengths to "find themselves". They travel to exotic places, have many romantic partners, go shopping for new clothes, etc… to seek extraction, transformation or removal. Yet there's only one truth:
You will never be able to run away from you; so if you can't find yourself, then perhaps you're not listening.
The simplest and most direct way to find yourself is to simply be alone and be mindful of that fact.
They say "No man is an island". In fact, every man is an island with hills and peaks, rough terrain and rocky beach shores, fine sand, calm water…; and if you're alone, you can explore it.
Riding a scooter helps as well.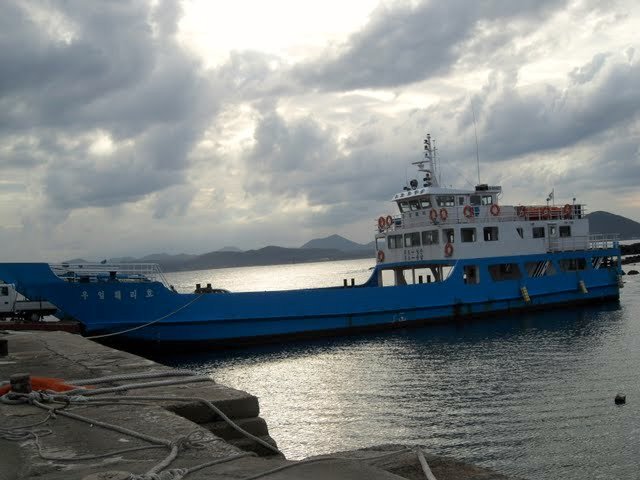 Getting to Udo Island:
Getting to Seongsangri Port by bus
From Seogwipo or Jeju si, take a bus to Seongsangri Port. The bus will drop you approx. 10 minutes (walking) from the harbor. Once at the harbor, the ferry terminal is visible. The ferry takes 15 minutes to get to Udo Island and if you wish, you may take your car over to the island.
* Ferry Fare
Age 13 or over: 2,000 won / 12 or under: 700 won
full size car: 13,200 won / mid-size, economy: 11,000 won / compact: 8,800 won
Bring your passport in case.
Transportation on Udo Island:
Car: you can take your car over on the ferry
Rentals: Bicycles to ATV's and *scooters (the latter is roughly 10,000W/hour). You can find them right off the ferry dock as you arrive into Udo Island.
Bus: There is an island tour bus that makes stops along tourist sites
Time:
It takes about 1 hour to get around the island; however for quality sightseeing, it will take longer.
Where to Stay:
There are pensions on Udo Island, however you'll need to ask Jeju or Korea tourism for information on listings and peak season could be booked full.  The alternate option is to stay at Seongsan (near Sunrise Peak, which is located near the ferry to Udo). Here's a map of places to stay in Seongsan.
Read  my free Jeju Travel Guide & South Korea Travel Guide