Last Updated on August 26, 2017 by Christine Kaaloa
On Sunday, June 14, 2009, the Honolulu Advertiser reported that the King Kamehameha floral parade held "50 vehicles, 10 floats and 8 bands". Was I at the same "sprawling pageant"?
Did the parade thin out within the span of where this article was written and where I stood waiting with my camera on Ala Moana Blvd? Perhaps there's a gross misinterpretation as to what's defined as a "float" or maybe the reporter fell asleep when he wrote his article based off of the original program.
The truth is that annual King Kamehameha floral parade is usually a must-see celebration in Hawaii island beauty and flowery spectacle I'd recommend both, traveler and local to see.
Unfortunately, the 93rd annual King Kamehameha floral parade fell a little short of spectacle bouquet for an excited crowd of tourists and local families waiting to be dazzled by florally-stocked floats and performances celebrating our Hawaii's tradition, culture and history.
The pageant program held two floral floats, eight bands (one being a band from Missouri?), around fifty cars carrying waving organizational representatives (aka Who 'dat?) in the back seat and a wonderfully crowd-pleasing Indiana motorcycle police performance.
The proud Honolulu parade seemed to be struggling for additional local pageantry.
The most beautiful display of old Hawaii was it's paniolo pageant style, of a Pa'u Queen and three Pa'u princesses escorted by court attendants on horseback. Three of our eight Hawaiian Islands were represented: Oahu, Kauai and Maui.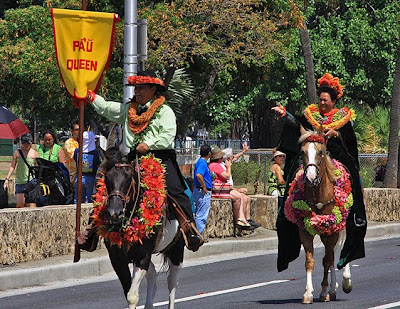 While parade organizers and participants tried their very best to make up for the lack of sponsorship by supplementing it with enthusiasic performances that kept the crowd in cheering and children off their seats, the Pa'u and parade came to a surprising "pau" (meaning: "end" in Hawaiian) as audience members were still waiting for their float expectations to be fulfilled and the remaining 5 islands to make a show.
As to the sparse float turn-out, some mentioned that maybe this year's lack of grandeur had to do with the shortage of flowers and the flailing economy.
"It's probably due to the recession we're in right now. Perhaps companies will put their money into the Aloha Day parade instead..." said one Aiea resident.
Still, the lack of sponsorship support and money for this year's parade floats was difficult for some to understand when one of the only two floats of the parade, aside from the opening King Kamehameha float, was sponsored by Waimanalo Hawaiian Homestead.
"I came to this parade to see the flowers and the floats and this year's turnout will discourage me from coming again. What we saw was really a spectacular effort on the part of the parade performers who did show– they really tried their best to make this show special for the crowd. But this event used to be really big with lots of floats, created and adorned with all types of flowers. This year, instead of floats, there were a lot of cars with small bouquet arrangements. It was barely floral. " said another local woman.
One wonders why the state of Hawaii could not support this event when it aids Hawaii's tourism and furthermore, when the state has no problem throwing its funds and public tax dollars into grand "sinking ship schemes" such as  the Hawaii Superferry (open & closed in under 3years) or TheBoat (a watertaxi vehicle rumored to possibly shut down).  These struggling  economic times do not bode well for Hawaii or the residents who want to put on a lavish show of their culture.
Yet, while the parade suffered in grandeur, it didn't keep the participants from performing in the best spirit of Aloha.
For more tourist information on TheBoat or to ride it before it shuts down,  go to www.trytheboat.com.
Operating between Aloha Tower, Kalaeloa (Barber's Point) and Kapolei, you can travel and sightsee Hawaii from the ocean. TheBoat has free Wifi and costs a cheap $2/OW trip.